Ideal customer support service always uplifts the growth of your business since it helps to establish your brand value in the market. Research has proven that nearly 70% of customers would spend money on companies that provide better customer service. Also, people trust in word of mouth from their friends and family before making a purchase decision compared to commercial advertisements. Hence, it is important and necessary to put effort into improving your customer assistance experience.
Excellent customer support will always help to receive positive reviews and ratings from customers. Customers who are new to your company will definitely take a look at previous customers' experiences through the rating and reviews on your website or on other platforms. They will make purchase decisions only after they are convinced with the rating and reviews from previous customers. So it is important to make sure each and every customer is treated well, and satisfied with your products and services.
Why Customer Support Service is Important in a Business?
Usually, people think customer service is simply solving the problems of customers they encounter while using the products or services of an organization. But, a perfect customer support software solutions team of a company is also responsible to avoid critical issues that could be encountered by the customers, by providing proper training and knowledge base documentation before or while purchasing a product or service.
It is a long term service as it starts from when a customer plans to buy a product from your store to the disposal or stopping the use of the product. The service includes customer assistance to help them choose the right product according to their requirements and budget, providing proper knowledge transfer, and providing precise and detailed documentation. In addition to that, a systematic channel should be there to receive customers' queries and concerns through tickets for solving them on time.
How Can You Make the Customer Support Service Process in a Systematic Way?
You may receive queries and concerns from the customers through email, chat, phone call, SMS, or even through your social media account. Receiving queries through multiple sources may lead to ignore or miss some queries from customers. The missed concern could be a critical issue faced by the customers. Or, even if it is a minor or small issue, it makes a bad impression on customers if you skip their queries. They may stop using your product or services, and even in the worst case, they would write a bad review or give a poor rating! Even a single bad review among hundreds of positive reviews could badly affect your business. Hence, concerns and queries from all sources must be gathered at a single platform to manage them properly.
To make the customer service in a systematic way, you can integrate a help desk system or tool in your business website, which is capable of handling the customer tickets seamlessly by distributing them to the multiple agents in your customer support team.
There are so many customer support help desk systems available in the market from which you can add one to your website based on the specifications and features it offers and the website platforms it supports.
Some customer support systems or tools would work only on certain website platforms such as WordPress, Wix, Shopify, Magento, and so on. Hence, you need to check all features of a system thoroughly before choosing it for your business. And, make sure the features will match all your requirements.
Which is the Best Help Desk and Customer Support Ticketing System Available in the Market?
A customer support ticketing system can be a software, plugin, extension, or a tool that you can choose according to the characteristics of your website. Before choosing a system, it would be better if you make sure that the system can be hosted as a subdomain of your website to avoid the problem of website loading time and storage issues of both the main website and the customer support system. If your main website is 'maindomain.com', the help desk would be 'support.maindomain.com'.
Only a few plugins or software allows making the customer support system a subdomain of your main website. One of the best plugins that allow you to set up your customer support help desk system as a subdomain, that works in a systematic way is – WSDesk – ELEX WordPress Helpdesk & Customer Support Ticket System Plugin.
WSDesk in a Nutshell
This amazing plugin is basically a WordPress plugin that will help you manage the customer tickets in an efficient way and comes up with favorable features for agents in your store. In addition to these specifications, it also contains advanced features like IMAP and Google OAuth integrations and options to make the responses to customers as fast as possible.


The important peculiarities of this plugin are as follows:
Option to add unlimited tickets: It does not restrict the number of tickets you can receive from customers. There is no hidden cost or additional charges for adding tickets.
Excellent features for agents: You can add unlimited agent profiles in this plugin without any additional cost. It comes up with a simple interface wherein agents can view all tickets with their current status. And from this dashboard, they can filter and view the tickets assigned to them and the tickets handled by other agents. Hence there won't be any collision issues of tickets as each agent will get to know who all are managing each ticket.
Trigger notifications to agents: To open and close the tickets in a minimum time duration, you can set email notifications to be triggered to the agents on time. You can even trigger notifications through Google Chat with this plugin.
Convert all emails into tickets: Customers may send queries through multiple email IDs of your company. There is a chance you may miss some tickets that are sent to other email IDs. With its IMAP integration, you can configure to receive converted tickets into the help desk system that is sent to the configured email IDs.
Can set reply templates: You can set basic reply templates that can be used for multiple replies to customers for making the response time minimum.
Monitor and track agents' performance: This plugin provides an analysis report that contains enough data to analyze the overall performance of your customer support system and the performance of each agent in a selected period of time. You can even find the agent satisfaction score of each agent that totally generated through the customer's response after the assistance.
Effective integration of knowledge base articles: This plugin allows you to add the knowledge base and business case articles into your help desk system when a customer types a similar topic as the subject on the support form. This helps to reduce the number of tickets as customers can find solutions even before they raise a ticket.
These are the major specifications of this plugin. This plugin works well on the WooCommerce platform and you can add additional options to this such as charge for support, trigger SMS notifications, etc.
You can add this plugin to your WordPress website and provide the best customer support experience to your customers easily. They provide proper documentation and knowledge base articles to set it up by yourself.
Many customers find it easy to ask queries through chat since it is a convenient way and more informal to communicate with the support team. And, it is very easy to sport a chat widget on a website than searching the support form over web pages. So, it would be better if you add a live chat to your website to receive queries from customers and convert those chats into tickets if the queries need to be handled by the expert team.
Which is the Best Live Chat Plugin for Customer Support?
I would recommend WSChat – ELEX WordPress Live Chat Plugin as it is built with interesting features to improve the customer support experience. The main advantage of this live chat plugin is its compatibility with WSDesk – ELEX WordPress Helpdesk & Customer Support Ticket System Plugin. You can easily convert a chat from the customer to a trackable ticket and pass it to the help desk system's dashboard.


Other advanced features available in this plugin are as follows:
Ensures high security and protection as it allows you to store data on your own server.
Agents can track the customer's details and location.
Can monitor customers in real-time with the relevant details like the current webpage they are viewing.
Awesome features for WooCommerce stores as it allows them to recommend products to customers from agents' dashboard, monitor customer's purchase history, and can view products in their shopping cart.
Allows sending email notifications to customers as well as agents.
No restrictions to add agent profiles.
Unlimited chat history storage with no hidden cost.
Customizable chat widget according to the website theme.
Customizable chat header buttons according to the requirements.
Supports interesting emojis.
Can create a custom pre-chat form to take details from customers before proceeding with a conversation.
AI integration to generate automatic replies to customers in the form of text, audio, video, images, or in any file format.
Works perfectly on mobile screens.
These are the major features available in this live chat plugin that will totally help you to improve your customer support services.
If you checked all the customer help desk systems' features and you could not find any best fitting system, you can opt for an open source help desk system that is highly customizable according to your requirements.
If your budget does not allow you to build a tailor-made help desk system, this would be the perfect choice as open source software's are basically built with a scope of extreme customization. And, this open source help desk system must be compatible with your website platform and open for any third-party software or plugin integrations.
But, which is a robust and extremely customizable open source help desk and customer support ticketing system in the market?
Open Source HelpDesk & Customer Support Ticketing System – Simple & Flexible
This amazing open source help desk system is extremely customizable, even open for adding a new feature exclusively for you from the scratch. Their expert team will sit with you and understand all your business requirements to get an exact solution you wish. This system can also be used as an out-of-the-box solution as it already covers almost all essential features required for an ideal help desk and ticketing solution.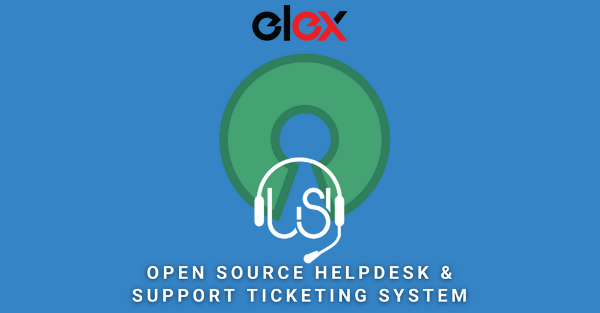 This system is not dependent on any website platform and it works well on any platforms such as WordPress, Wix, Magento, and so on without compromising on performance. The main highlight of this system is, it inherits all the features of WSDesk – ELEX WordPress Helpdesk & Customer Support Ticket System Plugin, except its dependability with WordPress platform.
If you are convinced with its features but require to tweak some features, they are also open for that. And, you can add more features according to your profession and integrate any third-party plugins, extensions, live chat, social media platforms and so on in accordance with your requirements.
Major advantages of this system are as follows:
Extreme personalization of your help desk and customer support ticketing system.
Ensures data privacy and security by storing data on your server without any external dependencies.
Works irrespective of website platforms and business domain.
Capable to manage unlimited agents and tickets at a time.
24/7 assistance to solve any issues you encounter such as any technical glitches, bugs or any other concerns regarding the system.
Expert assistance to integrate knowledge base articles into your system.
Seamless integration of third-party systems.
Easy migration from any existing help desk system without losing a single ticket.
You can add any feature and specification according to your work environment and profession by consulting their expert team. If you want to concentrate on your business and need a managed hosting of the help desk system, they are also open for that. If you choose this option, no need of worrying about the frequent system updates and feature upgrades.
To sum up,
Every customer is important to your business and every one must be treated well and properly. Hence, a potential help desk system must be there to fulfill the requirements of you and your customers. Open Source HelpDesk & Customer Support Ticketing System will help you to integrate a personalized system for assisting your customers in an ideal way!