The shipping cost of an order plays an important role in a customer's purchase decision. If the cost is a bit higher than they expected, shoppers would leave the cart and find some other store. If the cost is too low or free, it might affect your profitability. Hence, the best option is to provide an optimal shipping cost for the customers.
There are many ways you can configure shipping rates in your store – you can set a fixed shipping rate (flat-rate), or set the cost based on other factors like distance between source and destination, product weight, total amount, etc.
It would be great if there is an option to calculate the shipping cost dynamically based on the purchase behavior and the products chosen by customers. Shipping calculator plugins can help you to generate all available shipping costs for customers to pick the most reasonable one for them!
So, in this write-up, let us discuss some robust shipping calculator plugins in the market.
This WooCommerce shipping calculator plugin allows you to feature a portal for the retailers and customers to check the cost for shipping their packages from the entered source address to the destination. Using your EasyPost API, you can provide services of UPS, USPS, FedEx, and Canada Post. Retailers or customers can enter the source and destination addresses with zip code and country for checking the available services for shipping. They can also choose packages from the default available options or can create by entering the weight and dimensions of the packages.


Based on these details, a list of shipping services with their cost and estimated delivery days will be generated from which customers can choose the most convenient one for generating labels and getting the tracking link. You can charge a handling fee from the customers or retailers by adding it along with the subtotal of shipping service they have chosen.
Other key points:
Can create multiple packages together for a bulk number of items.
Can generate a bulk amount of labels and tracking links.
Admin can choose the required shipping carriers and their services must be available on the shipping calculator.
Admin can add a fixed or percentage price adjustment to the shipping service cost.
The generated label and tracking information will be sent in an email to the sender and receiver automatically.
Admin can customize the shipping calculator template.
Price: Starts at $79 for a single site license.
This shipping calculator plugin will help you to feature the shipping calculator on product pages, which allows customers to check the shipping cost even before they add the product into the cart. You can feature the shipping calculator on any page of your store using the shortcode. Customers can use the calculator smoothly without reloading the pages multiple times since it is built with AJAX. For more clarification for the customers, it allows displaying a custom message.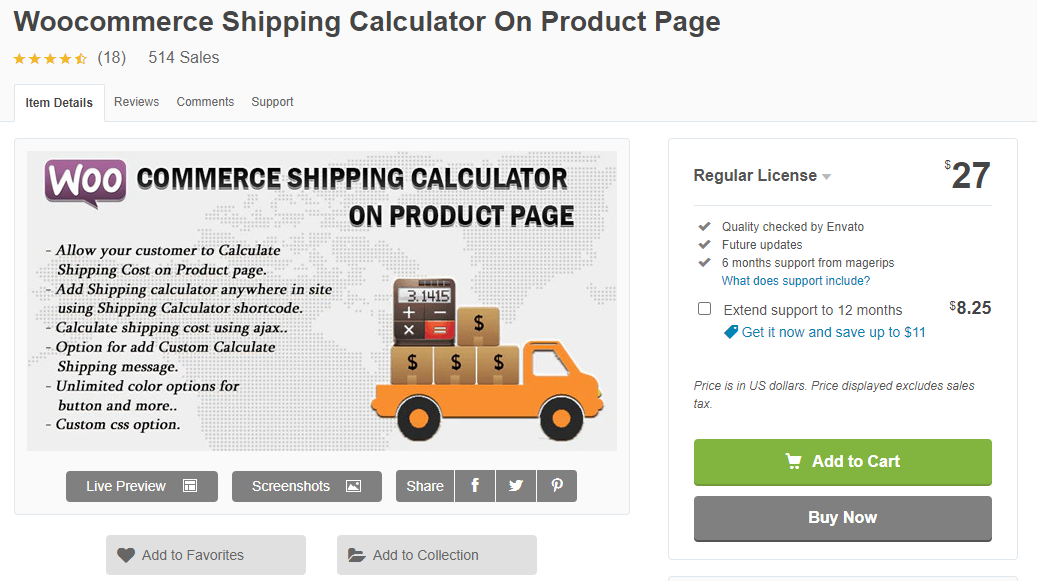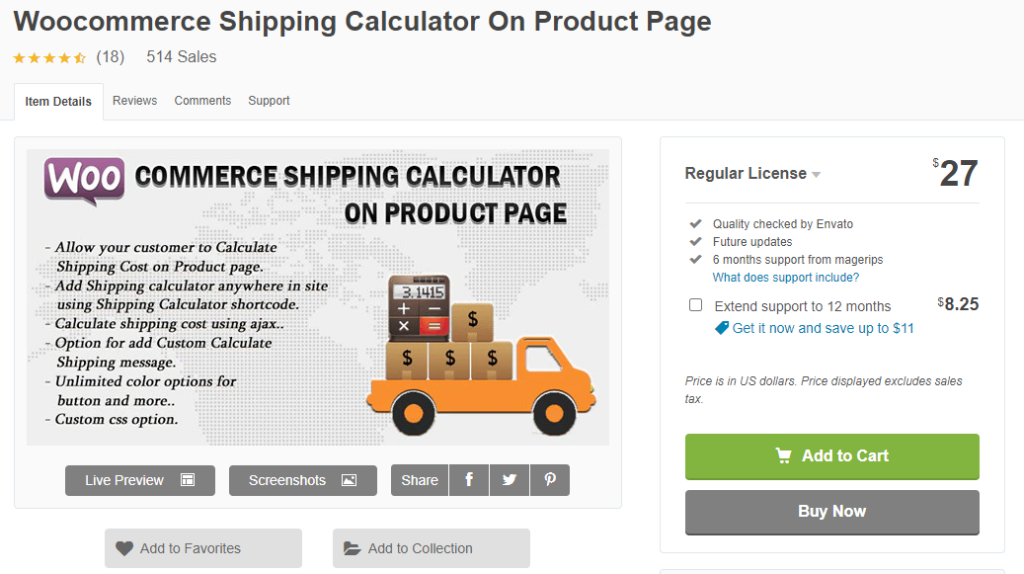 You can hide the shipping calculator from selected product pages and hide from multiple pages together as per your requirements. There are two options to list the shipping methods and their rate for customers, such as listing them using radio buttons or in a drop-down pick-up list.
Other key points:
You can customize the elements of the shipping calculator.
Hide shipping calculator from multiple product pages in bulk.
Customizable even using CSS coding.
Price: Starts at $27.
This plugin allows you to apply shipping charges dynamically based on the flexible parameters associated with customers and their purchase behavior. You can set certain conditions for applying specific shipping charges to be applied for customers. In this plugin, you can set shipping costs based on the user role, individual products, shipping methods, payment gateway, the number of items in the cart, and the subtotal in the cart page.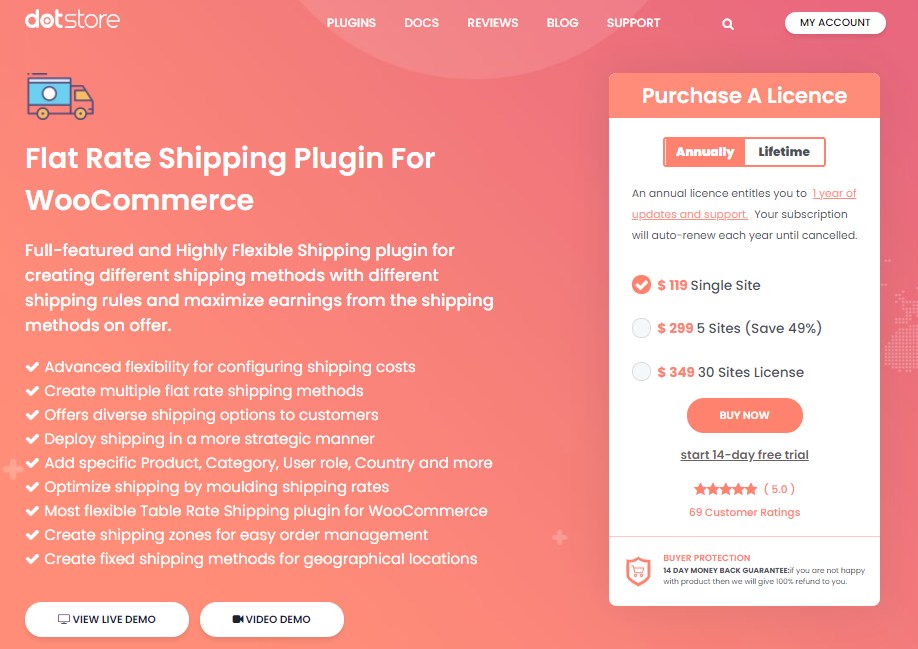 Also, you can set flat rate shipping costs for specific countries, locations, zip codes, and zones. It has an option to configure flexible pricing for products, product category, weight, and shipping class. Moreover, you can set conditions to apply free shipping for customers if they purchase products that cross a threshold amount.
Other key points:
Compatible with WPML.
Configure to apply shipping rates with minute details.
Apply tiered flat rate based on the order total amount on the Cart page.
Apply the smallest and largest shipping costs available to customers based on conditions dynamically.
Seamless import and export of shipping zones.
Price: Starters at $119 for a single site license.
This plugin is an ideal option if you want to calculate the shipping cost based on the distance between the source(you store or warehouse) and destination addresses. If you do not prefer providing real time shipping rates of different shipping carriers, you can use this plugin.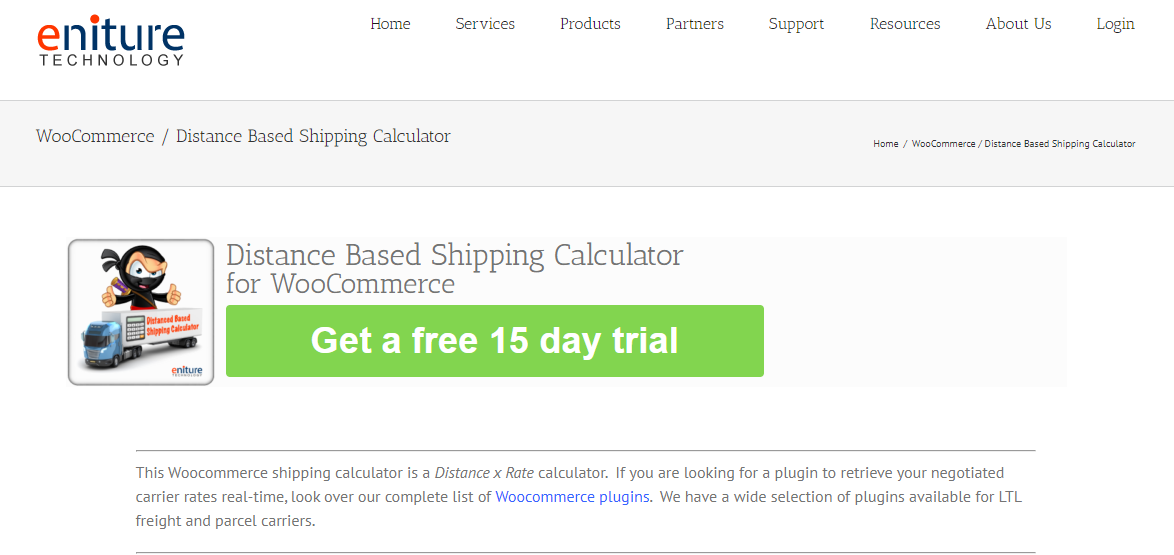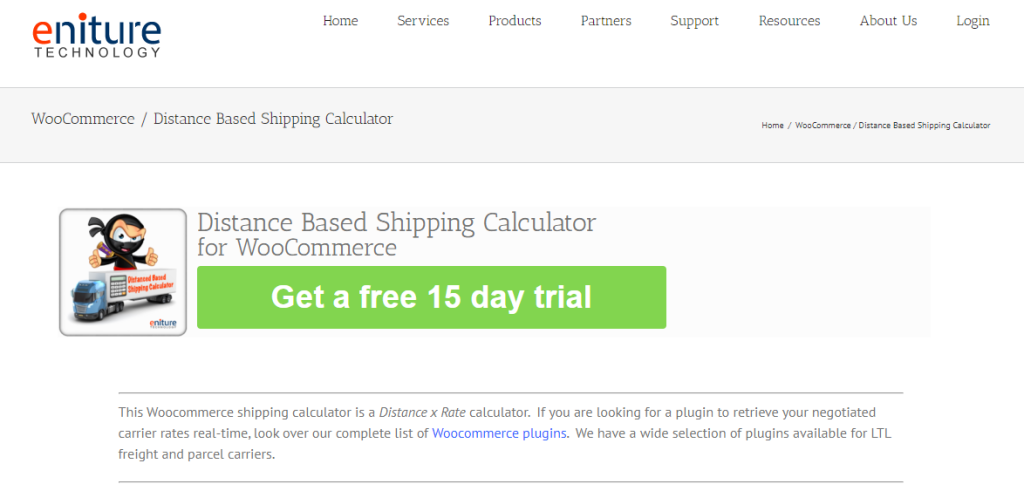 In this plugin, you can define a shipping cost by creating shipping profiles and setting the origin address. The shipping cost will be calculated by multiplying the defined cost with the distance between source and destination addresses. You can add multiple origin addresses in a shipping profile and add the different rates for each one. The plugin will consider the nearest origin address to the destination for calculating the shipping cost by default.
Other key points:
Supports origin and destination locations in all countries.
Can create shipping profiles for individual products separately or as product groups.
Can set the distance unit as miles or kilometers.
Price: You can get a 15 day free trial. Then, you can opt for any plan as per your requirements. It starts at $5 per month.

ReachShip is the ultimate solution to streamline your shipping process and offers multi-carrier and conditional shipping plugins for WooCommerce. You can seamlessly integrate multiple carriers, including FedEx, UPS, DHL, USPS, and Australia Post MyPost Business, into your WooCommerce store, providing your customers with a wide range of shipping options. The plugin automatically calculates shipping rates based on carrier APIs, ensuring accurate and real-time rates for every order.
But ReachShip doesn't stop at just basic shipping calculations. It offers advanced conditional shipping rules to cater to your specific needs. Set up rules based on factors such as weight, quantity, destination, or even product attributes to control shipping methods and rates. Create personalized shipping rules to offer free shipping, flat rates, or custom rates for different products or customer groups, enhancing your flexibility in pricing and promotions.
Other key points:
Access real-time shipping rates and obtain estimated delivery dates.
Automated creation and generation of shipping labels.
Effortlessly print shipping labels.
Monitor and track the progress of your packages, and keep your customers informed every step of the way.
Effortlessly generate bulk shipments and efficiently schedule carrier pick-ups.
Flexible shipping options such as customized shipping rules and table rate shipping.
Support for multiple carriers and accounts.
Comprehensive reporting and analytical capabilities.
Detailed bulk label generation history.
Price: Free
This plugin allows you to customize the default shipping calculator available on the WooCommerce Cart page. You can enable or disable the fields such as City, Postcode, and State. It comes with options to set labels for calculating shipping and updating the total button. In addition to these, it has an option to enable the Force Block Open.

Price: Its premium version starts at $8.99 per month.
This premium shipping calculator plugin allows calculating the shipping cost based on the total number, weights, and price of all products in a customer's shopping cart. You can offer free shipping to customers if they override a configured threshold price. Also, you can exclude certain shipping methods from the Checkout page based on specific rules.


With this plugin, you can also configure shipping costs based on a specific time on a day or time on a week. Furthermore, you can set the shipping cost based on the products' maximal dimension.
Other key points:
Supports currency switcher.
Allows creating unlimited shipping rules for each shipping zone.
Provides detailed documentation and use cases for customers.
Price: Starts at $89 for a single site subscription.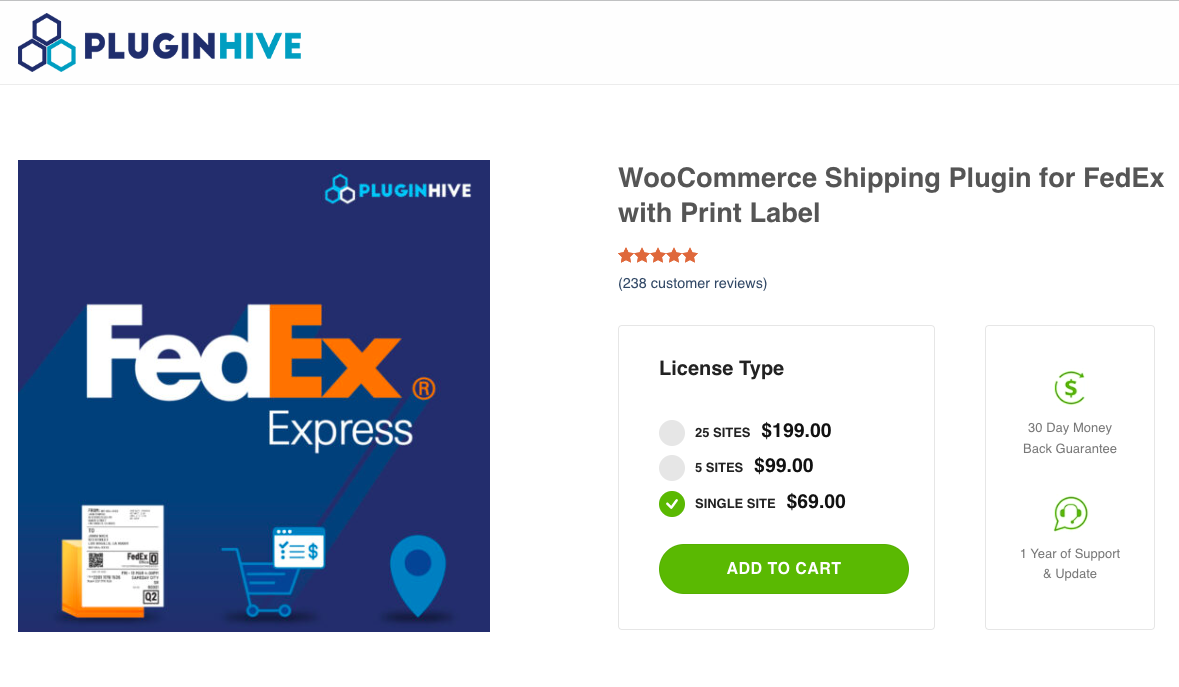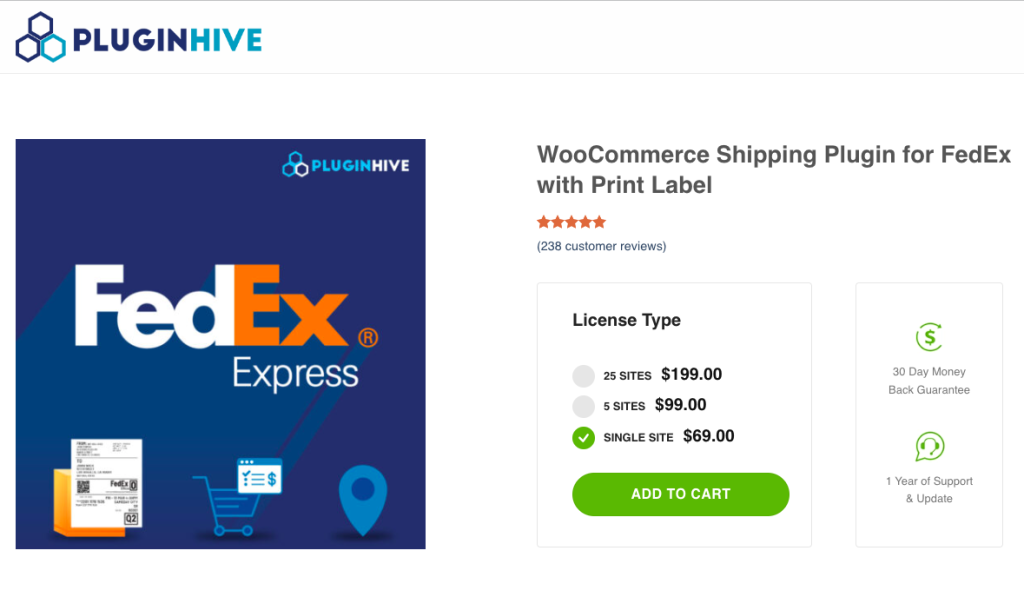 Shipping is an integral part of any e-commerce business, and finding the right shipping solution is crucial for ensuring a smooth and efficient order fulfillment process. If you're running a WooCommerce store, you're in luck! The WooCommerce FedEx Shipping Plugin with Print Label from PluginHive simplifies your shipping operations and enhances the overall customer experience. The WooCommerce FedEx Shipping Plugin seamlessly integrates with your WooCommerce store, allowing you to offer real-time FedEx shipping rates to your customers. With this plugin, you can display accurate shipping rates based on package weight, dimensions, origin, and destination, ensuring transparency and avoiding any surprises during the checkout process.
One of the standout features of the WooCommerce FedEx Shipping Plugin is its ability to generate and print shipping labels directly from your WooCommerce dashboard. This eliminates the need for separate label printing software or manual entry of shipment details. With just a few clicks, you can generate professional shipping labels that adhere to FedEx standards, saving you time and effort.
Keeping your customers informed about the status of their shipments is essential for a positive buying experience. The FedEx Shipping Plugin automatically tracks shipments and sends tracking notifications to customers, keeping them updated on the progress of their orders. This feature helps reduce customer inquiries and enhances post-purchase satisfaction.
Other Key Points:
Officially certified by FedEx
Support FedEx domestic & international shipping in 220+ countries wherever FedEx operates
Supports FedEx shipping features including FedEx One Rate, FedEx Freight, Fedex Express & Ground services
Compatible with WPML, DOKAN, WCFM, Multi-currency & Multi-warehouse plugins
Regularly updated for seamless compatibility with WooCommerce & WordPress
More than 230+ 5-star customer reviews
Price:
From $69/year for a single site license to $199/year for up to 25 site license
This premium plugin calculates the shipping cost of ACS courier on the Checkout page based on the destination address entered by customers and the total weight of products.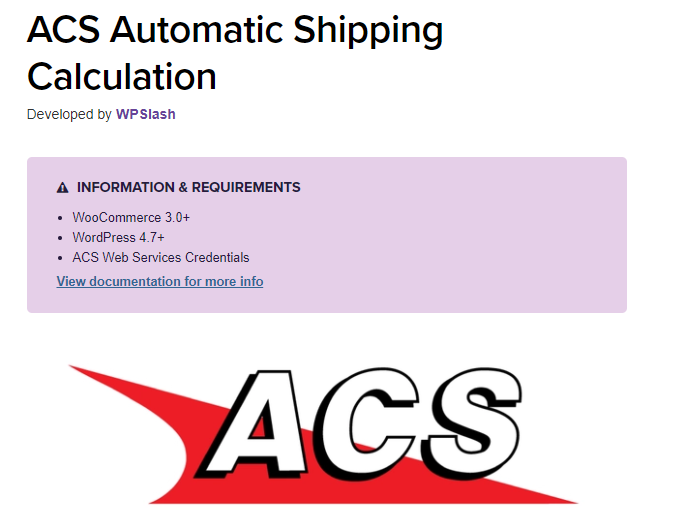 It automatically checks whether the entered address is serviceable or not by ACS. If not, they will charge an additional amount to the shipping cost for delivering products to those places. Also, you can configure to round the shipping cost up or down by $1, if the calculated amount has a decimal value.
Price: $49, billed annually.
This plugin helps to calculate the shipping cost from the product page itself based on the location entered by the even before adding the products into the cart. It will display all shipping methods and their cost available for the customer. Before a customer enters their shipping address, it will display all available shipping methods on the product page based on the shipping zones you have set on WooCommerce.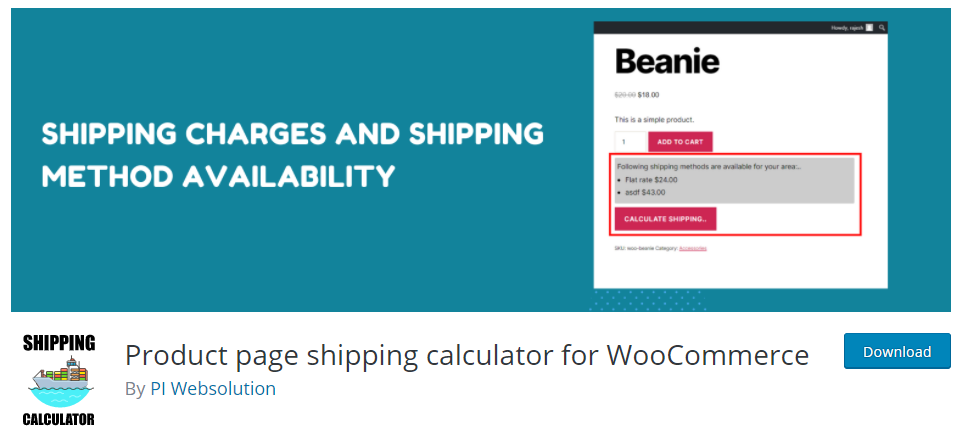 The position of the shipping calculator on the product page is customizable. Since the calculator is built with AJAX, it won't reload the entire page after each calculation. If the customer changes the shipping address, it will again calculate and display the available shipping methods and rates based on that address without page loading.
Other key points:
WPML compatibility.
Can disable automatic loading of shipping methods.
Can also configure to calculate the shipping cost based on the number of products added in the quantity field by the customer.
Price: It is a free plugin.
This WooCommerce plugin will allow you to configure shipping costs based on the advanced rules and conditions you have set using the parameters like the weight of the products, total cart weight, subtotal, shipping classes, shipping address, product categories, and so on. If these conditions are matching with the customer's cart, the configured shipping cost will be applied.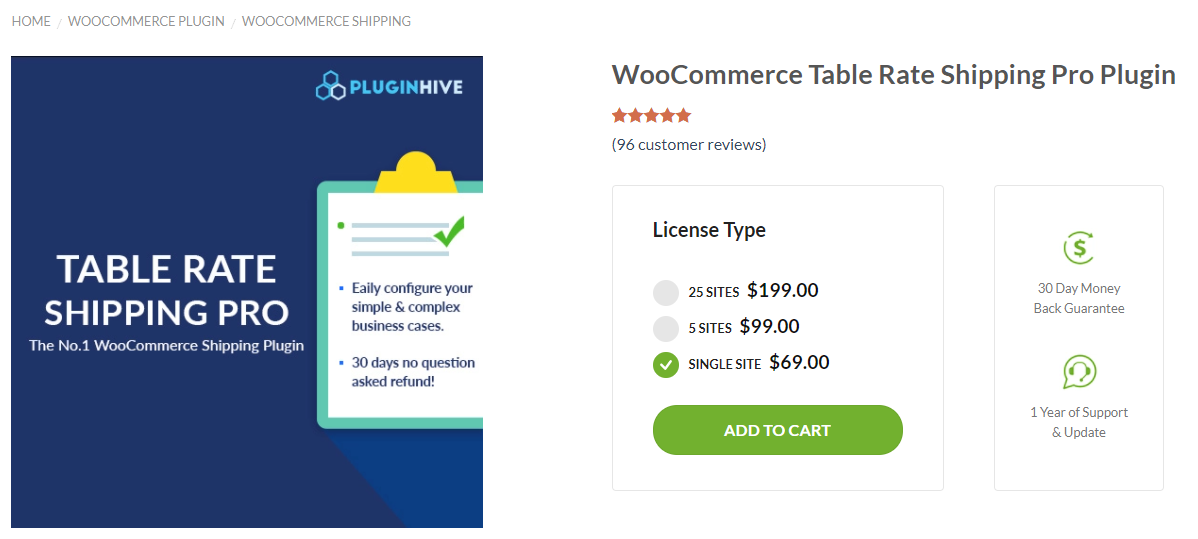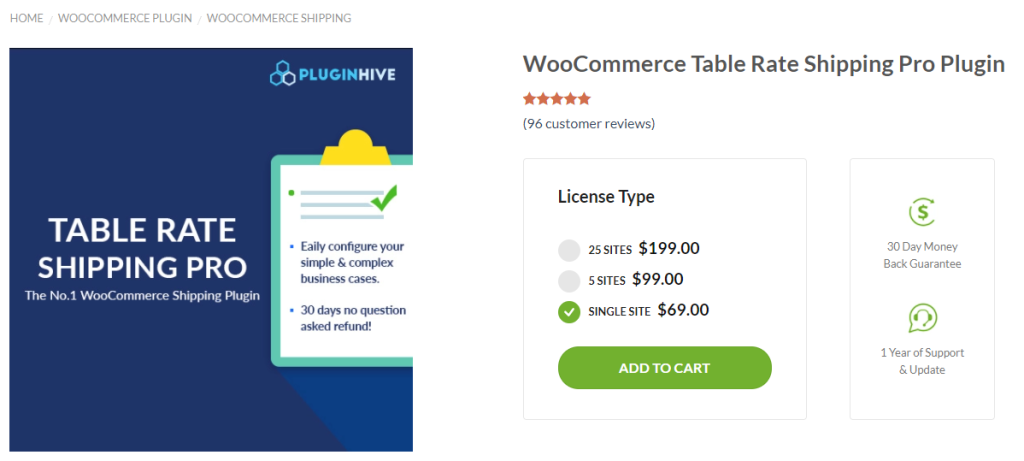 It supports table rate as well as flat rate shipping based on the conditions. Using its free add ons, you can even configure product-based shipping as well as bundled rate shipping.
Other key points:
Allows to import or export shipping rules in CSV files.
WPML compatibility.
Price: Starts at $69 for a single site license.
This shipping calculator plugin calculates the shipping cost of Royal Mail based on the weight and dimensions of products. You can also set default weight and dimensions to be taken for products that are missing these details. This plugin helps to calculate both domestic and international shipping rates.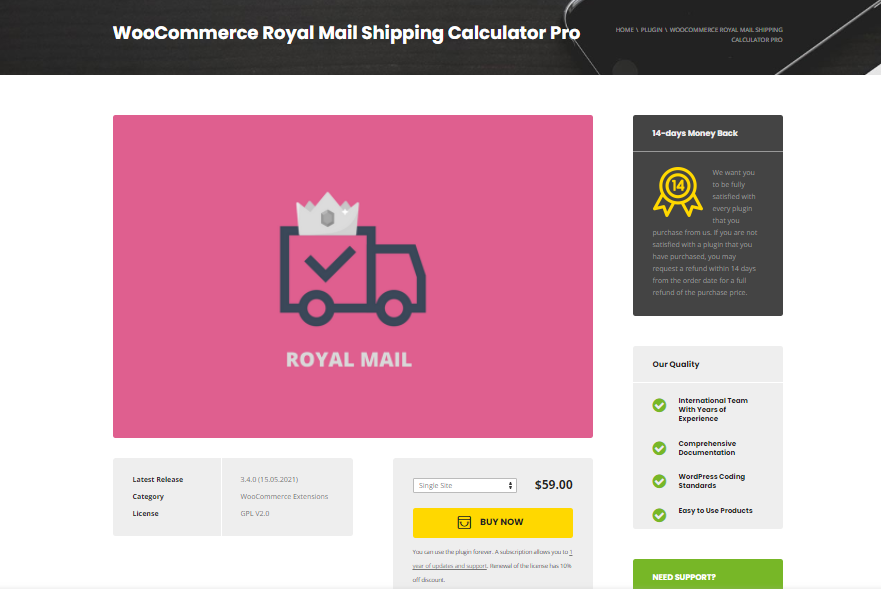 It has an option to add a handling fee to the shipping cost. And, store owners can also offer discounts on shipping costs to the customer. In order to make the checkout flow of customers easier, the plugin displays the cheapest shipping rate by default.
Price: Starts at $59 for a single-site subscription.
Wrap Up
Hope this article helped you to figure out the most suitable shipping calculator plugin for your store. There are a handful of shipping calculator plugins available for your online store, with different features sets. Based on your business requirements and shoppers' preferences, you can go for the most suitable one from the list.