Is your WooCommerce store losing sales due to cart abandonment? Let's look at how you can recover the lost sales using best WooCommerce Abandoned Cart plugins in this article.
Research says 7 out of 10 customers abandon their carts, leading to huge revenue loss.
But with an effective abandoned cart recovery email campaign for WooCommerce, you can recover at least 20 to 30% of your lost sales.
This article lists the best 5 WooCommerce Abandoned Cart Recovery plugins to help you recover abandoned carts.
These best abandoned cart plugins for WooCommerce can send email reminders when customers abandon carts and help them complete their purchases.
Still looking for effective ways to recover your carts?
What is WooCommerce Abandoned Cart
WooCommerce Abandoned Cart is a term that refers to customers abandoning their carts and leaving your store without purchasing. Cart abandonment in WooCommerce is a major problem faced by merchants worldwide.
According to the Baymard Research Institute, 69% percent is the cart abandonment rate in eCommerce stores.
Fortunately, it can recover at least 20 to 30% of abandoned carts using a WooCommerce Abandoned Cart plugin.
Reasons for Cart abandonment – Why do customers abandon carts?
There are a number of reasons for customers to abandon carts in your WooCommerce store. The following are some of the top reasons for cart abandonment:
Extra costs too high (example: shipping, fees)
Complicated checkout process
Lack of guest checkout or mandatory account creation
Slow delivery
Not able to calculate order cost upfront
The returns policy is not satisfactory
Lack of payment method choices
The following chart from Baymard Research captures all the reasons: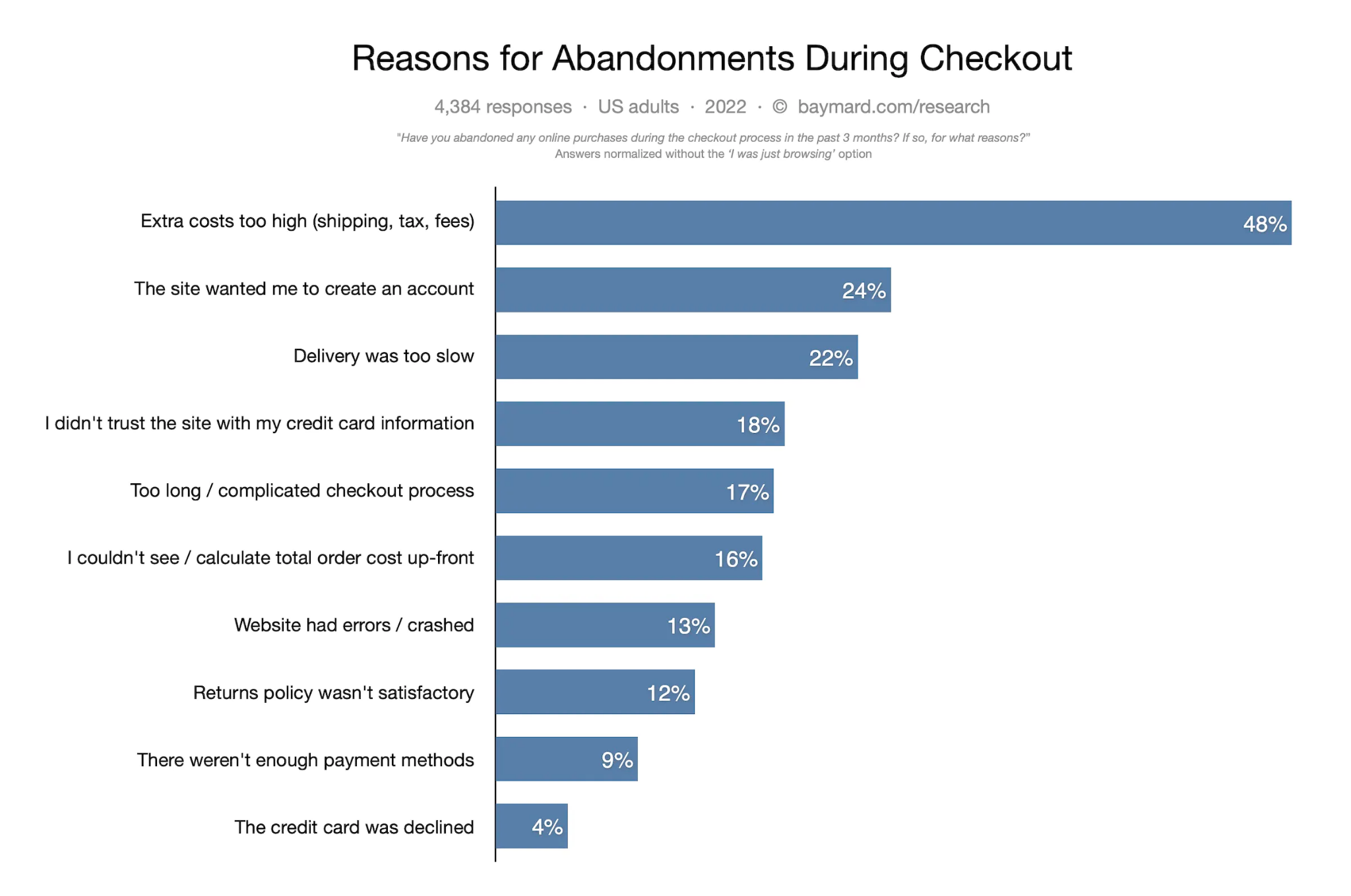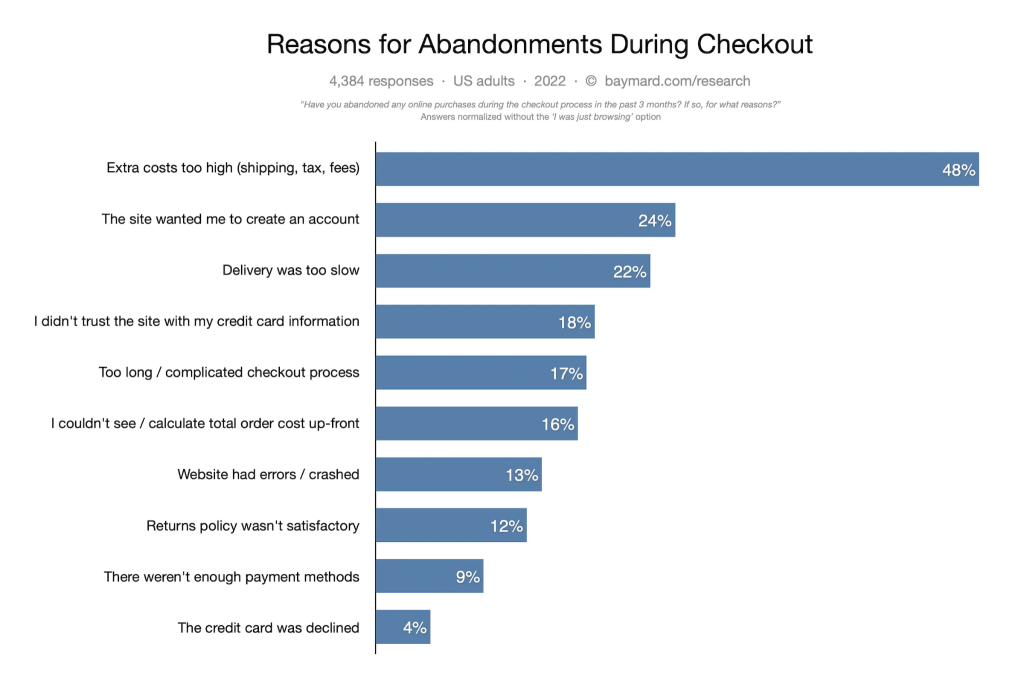 All of these could impact your sales. But, you can stop shopping cart abandonment and recover the lost sales using an abandoned cart plugin for WooCommerce. You can also automate the abandoned cart recovery email campaign with a plugin.
The fact that 7/10 customers abandon their carts is quite hard to accept. That's 70% of potential sales volume.
And yes, 70% of potential sale conversions are lost due to cart abandonment in WooCommerce.
Imagine how much revenue you can make if you can recover even 10% of your WooCommerce abandoned carts.
Imagine how much revenue you can make if you can recover even 10% of your WooCommerce abandoned carts.
List of Best WooCommerce Abandoned Cart Email plugins
The following is a list of the best WooCommerce abandoned cart email plugins that can help you recover the lost sales.
Retainful – Automated WooCommerce Abandoned Cart Plugin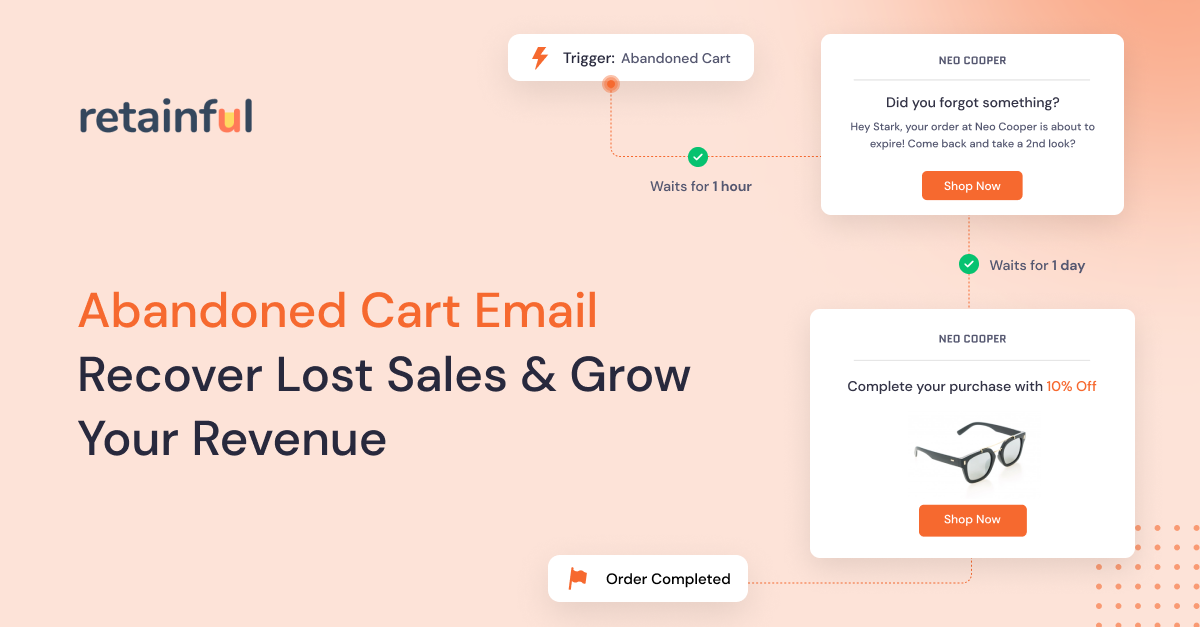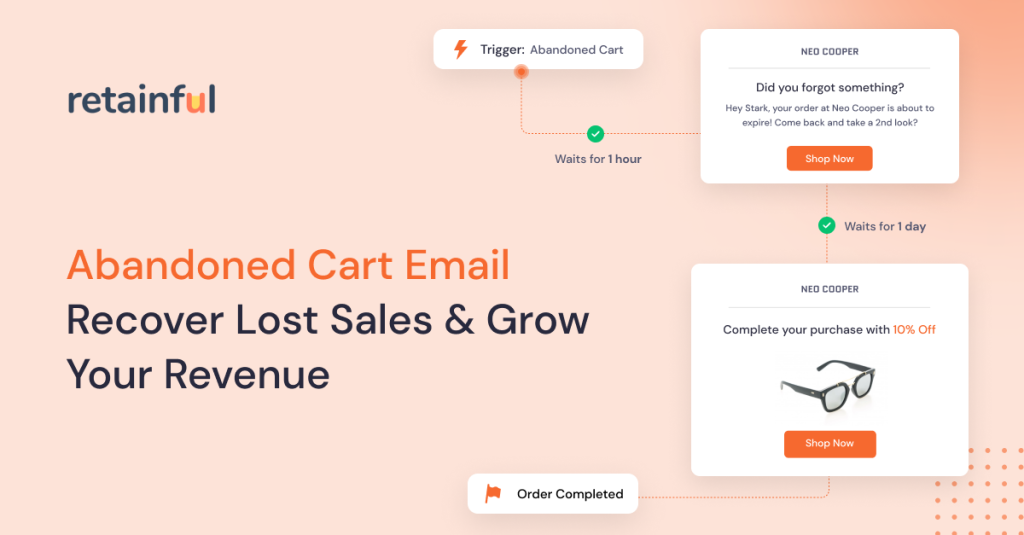 It is one of the best WooCommerce Abandoned Cart Recovery plugins to automate your abandoned cart email campaign, order follow-ups, and other email marketing campaigns.
Retainful offers a single-click abandoned cart recovery solution for your WooCommerce store. It can track the carts in real-time, captures email addresses at checkout (both guest and registered customers), detects cart abandonment, and sends a series of well-timed abandoned cart email reminders when customers abandon their carts.
You can create an automated abandoned cart email campaign in minutes using the pre-built campaign templates in Retainful. By default, there will be three email reminders in the campaign. But you are free to add more emails.
These emails are fully customizable using a drag-and-drop email editor in Retainful. You can personalise these emails with the customer's name, items left in the cart, and more. You can also change the logo, edit the content, include abandoned cart items, a unique coupon code, and a single-click button to recover the carts.
Optionally, you can incentivise the customers with a unique coupon code in the abandoned cart emails and motivate them to recover the abandoned carts and complete their purchases.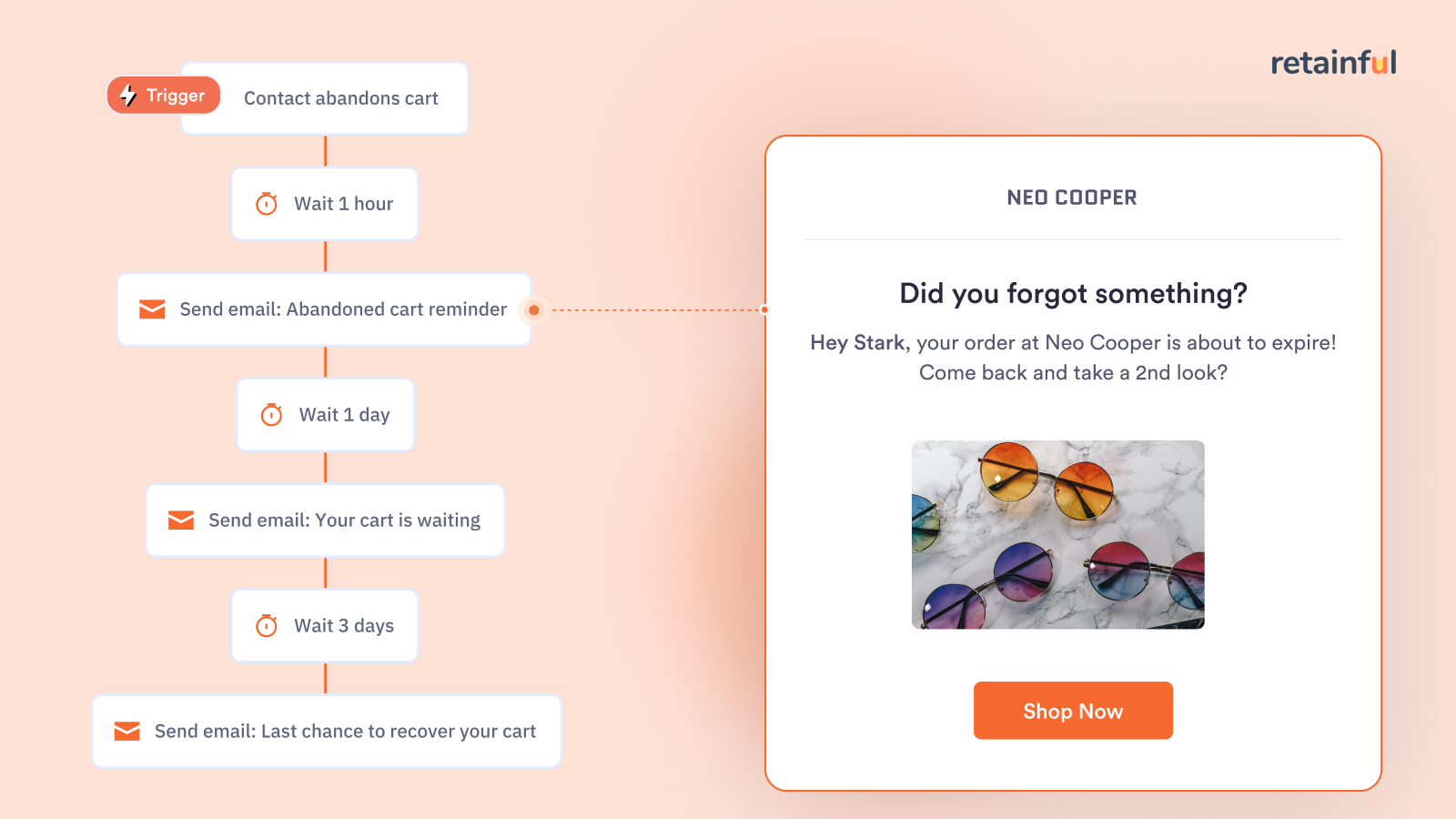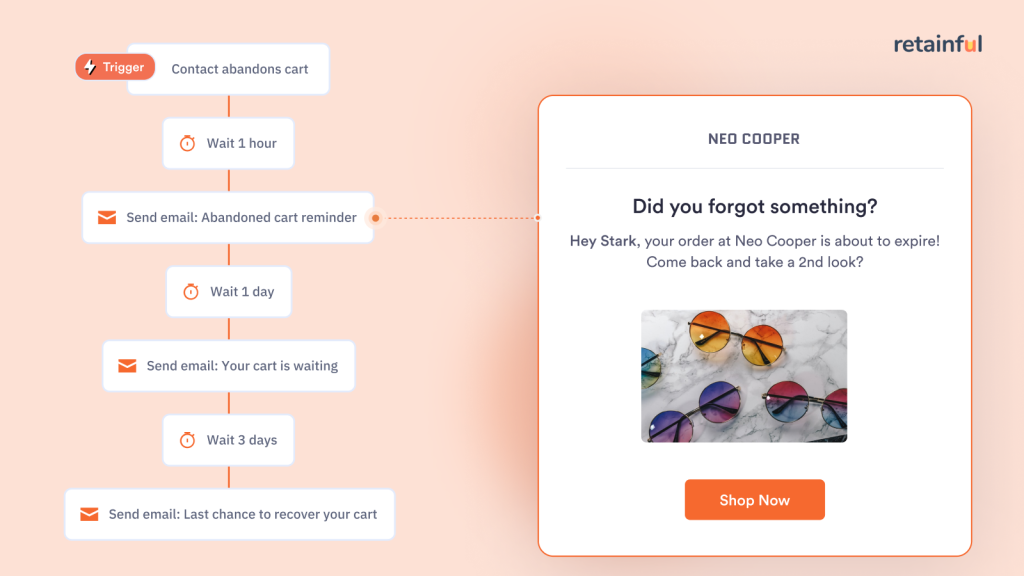 One of the biggest advantages of Retainful is that it can capture the customer's email address as soon as it is entered at the checkout. It also comes with an Add-to-cart popup to capture the email address when adding an item to the cart.
Here is a list of key features of the Retainful – WooCommerce Abandoned Cart plugin:
Capture the email address of both guest / registered customers at checkout
Add-to-cart popup/exit popup for capturing email address early in the checkout
Send a series of abandoned cart emails automatically
One-click email campaign creation with pre-built campaign templates
Readymade email templates for cart recovery emails
Unique coupon codes for abandoned cart emails – flat/percentage / free shipping coupons
Drag and drop email editor
WPML and Multi-currency support
Multi-lingual support
Personalisation of emails: Include items in the cart, the customer's name, and more with shortcodes
Save abandoned carts, track and monitor in real-time
Recovered cart notifications for store administrators
Retainful's user-friendly interface can help you reduce cart abandonment instantly without much effort. This WooCommerce abandoned cart recovery plugin can also help increase customer engagement through automated order follow-up emails.
Recover, Follow ups, Coupons everything under single Plugin.
This abandoned cart recovery plugin for WooCommerce is available in both the free and premium versions. The premium version of the plugin starts at $19 per month.
WooCommerce Recover Abandoned cart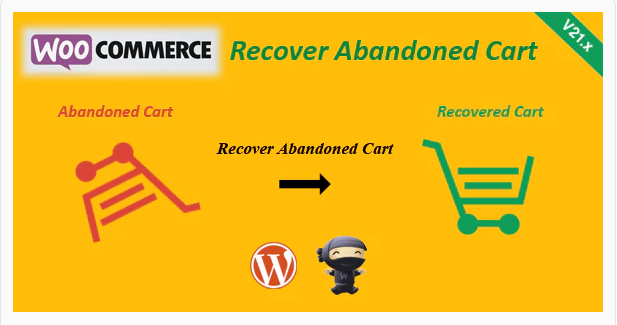 Customers abandon their carts for various reasons, but it is essential to remind them so that they can recover the abandoned carts helping you increase your sales. WooCommerce Recover Abandoned Cart is a plugin that helps recover abandoned carts effectively. The WooCommerce plugin tracks registered and guest customers and notify both regarding the abandoned carts.
The plugin can send abandoned cart emails with coupons to urge customers to purchase immediately and avail of the discount.
The abandoned cart recovery plugin for WooCommerce can also send multiple emails with different content with coupons and help increase sales.
The WooCommerce Recover Abandoned Cart plugin is available at CodeCanyon for $49.
Hubspot for WooCommerce


Hubspot is a popular Customer Relationship Management (CRM). This free Hubspot for WooCommerce helps you automatically synchronize WooCommerce orders to the CRM and can also send abandoned cart emails to customers.
This plugin can automate WooCommerce Abandoned Cart Recovery process using Hubspot's marketing workflows. Enabling the plugin's abandoned cart email settings, find out which contacts have abandoned their carts, and visualize the abandoned products in your Hubspot account.
The plugin can segment and organize WooCommerce contacts with Hubspot smart list segmentation. It can automatically update your Hubspot account's smart list (groups and properties) based on your configuration.
This WooCommerce abandoned cart recovery plugin can also create a smart list, enable automation and send customized marketing emails that help in more conversions.
The lite version of this plugin is free.
ELEX WooCommerce Abandoned Cart Recovery


The ELEX WooCommerce Abandoned Cart Recovery plugin reminds customers to complete their purchases after they have added products to their carts but have not completed the transaction. You can define intervals for sending abandoned cart email reminders and a time limit after which a transaction would be marked as abandoned.
This WooCommerce abandoned cart plugin takes care of everything from tracking abandoned carts to customizing recovery emails, offering cart discounts, and even creating comprehensive abandoned cart reports.
To prevent sending abandoned cart emails to everyone, you can only send them when certain requirements are met, such as the total transaction amount, items in the cart, the user roles, and so on. Furthermore, the email templates will make it simple to create high-quality abandoned cart recovery emails that are conversion-focused.
You can also check email records, logs, and order reports with ELEX WooCommerce Abandoned Cart Recovery. As a result, you'll be able to monitor how well your customers received your abandoned cart emails and which ones were effective. Further, the plugin includes an unsubscribe option for buyers who do not want to be notified of pending transactions.
The ELEX WooCommerce Abandoned Cart Recovery plugin is a premium plugin that costs $79 for one site per year.
YITH WooCommerce recover abandoned cart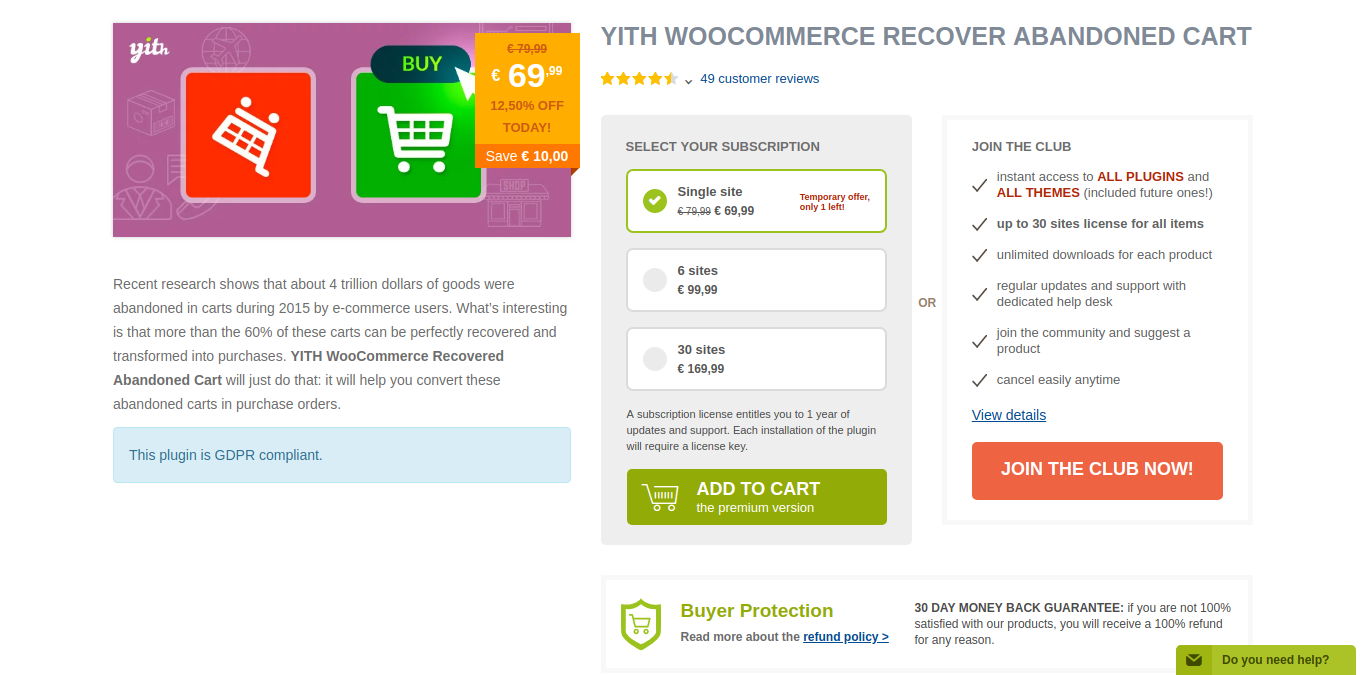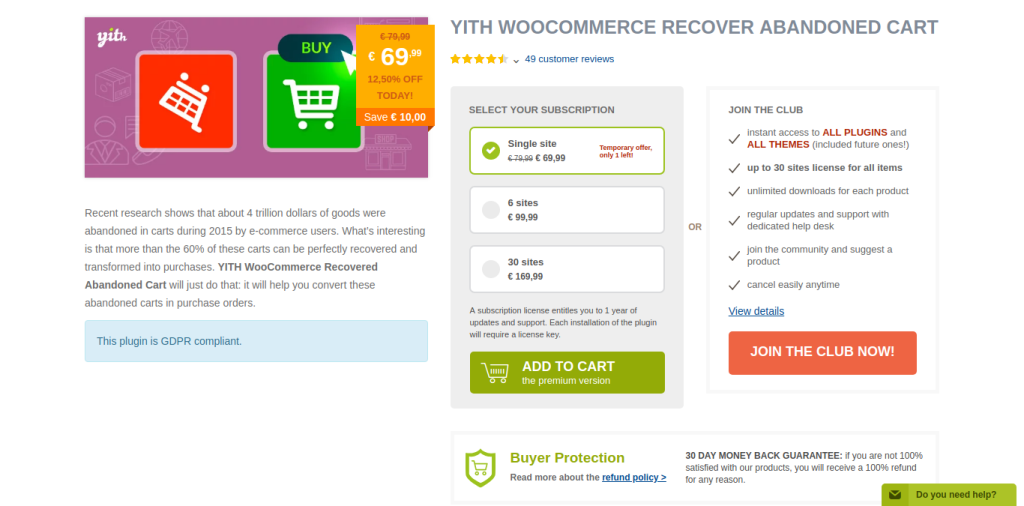 YITH WooCommerce recover abandoned cart is another plugin that can help convert abandoned carts into sales. The plugin sends coupons and customized emails to customers who have abandoned products in their cart. Not only for registered users, but the plugin also notifies guest users about their abandoned carts if they have given their email addresses during their purchase process.
The plugin can send multiple emails with different content for different users. It deletes all the abandoned carts after specific hours if left without recovering.
The plugin supports WooCommerce Multi-Currency and is also WPML compatible. It also maintains a complete report of the abandoned and recovered carts in a dashboard panel.
The WooCommerce abandoned cart recovery plugin can help you recover lost sales and add more revenue to your WooCommerce business.
The Premium version of the YITH WooCommerce abandoned cart recovery plugin starts at $79.99 per year and is available in 3 different plans.
WooCommerce Cart Abandonment Recovery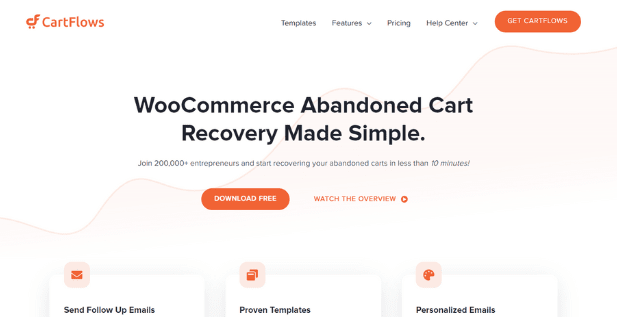 The WooCommerce Cart Abandonment Recovery plugin offers an easy way to recover lost revenue when customers leave without completing checkout.
It uses a flexible email follow-up system that can send a series of reminder emails to help encourage customers to complete their purchases.
The process is simple. The plugin collects email addresses on the checkout page. If the customer leaves before completing checkout, the plugin will email them after 1 hour, 24 hours, and 72 hours reminding them to complete checkout and, finally, offering a discount as an incentive.
WooCommerce Cart Abandonment Recovery includes unique checkout links to take the customer back to where they left off, includes email templates that are ready to use, and supports webhooks to integrate it with your email marketing tools.
WooCommerce Cart Abandonment Recovery is free
Abandoned carts result in substantial revenue losses. An abandoned cart recovery solution is a must for any store to bring back sales and customers effectively. When recovering abandoned carts in WooCommerce, the stores should create cart recovery emails that benefit both the customers and the business.
The WooCommerce market has a wide variety of WooCommerce abandoned cart plugins that could help in customer retention and increase revenue at your store.
List of ways to recover your abandoned carts.
Conclusion
All the plugins above are created to help you recover WooCommerce abandoned carts effectively. When choosing a solution, you should also consider all the features offered by the plugins. Just sending abandoned cart emails alone will not bring in conversions. You may want to incentivise customers, define well-timed intervals and be able to send post-purchase follow-ups to keep customers engaged and nurtured. Plugins such as Retainful can help you get all these features in one neat solution.
Choose the most suitable plugin and successfully bring back your customers to stabilize your growth.
Are abandoned carts can be seen or tracked in Retainful?
Yes. Retainful can track your abandoned carts, send email reminders automatically, send multiple reminders at well-timed intervals and notify you when customers recover the carts successfully.
Check abandoned carts in your store in real-time.
Find left out the items left out by the customers
You can view the cart abandoned rate and value.
Know when the cart is abandoned along with the visitor's email address.
What is cart abandonment?
Cart abandonment occurs when customers add a product to their shopping cart but do not complete the purchase.
How can I recover the abandoned cart?
Plugins like Retainful help you create a series of email reminders using drag and drop email editors and automate the abandoned cart email campaigns. When the emails are sent, a one-click recovery link is included. So customers can retrieve their carts with a single click.