If you're an eCommerce store owner, you know how important customer loyalty is to the success of your brand. With the best loyalty plugin like WPLoyalty, you can implement a loyalty program that can help you incentivize your customers to keep coming back to your store. In this blog, we will guide you through setting up a reward point system for customers for leaving product reviews on your website.
Not only are product reviews crucial for building trust and confidence among potential customers, but they also provide valuable feedback that can help you improve your products and services. By offering loyalty points for leaving reviews, you'll encourage your customers to share their experiences with others and promote your brand.
So, if you want to learn how to set up a loyalty program in WooCommerce, you're in the right place! We'll walk you through the process step by step, so you can start rewarding your loyal customers today. Let's get started!
Encourage customers to write product reviews and reward them with exciting discounts using WPLoyalty.
Significance of offering WooCommerce loyalty points rewards
Offering WooCommerce loyalty points rewards can be a powerful way to increase customer loyalty and encourage repeat business. Reward point system for customers can motivate customers to continue shopping with your brand. On the other hand, loyalty rewards points can encourage your customers to refer friends and family to your store.
One significant benefit of offering WooCommerce loyalty points rewards is that it can increase customer retention. Incentivizing customers to shop with you again and again can build a loyal customer base that is more likely to make repeat purchases over time.
In addition to increasing customer retention, loyalty programs can also help to boost customer engagement. Offering rewards for specific actions or behaviors, such as writing product reviews or sharing your brand on social media, you can encourage customers to interact more with your brand and become more invested in your success.
Another key benefit of offering WooCommerce loyalty points rewards is that it can help to increase customer lifetime value. Incentivizing customers to make larger purchases or shop more frequently can increase the amount of revenue that each customer generates over time.
How do loyalty points for product reviews work?
Loyalty points for product reviews work by incentivizing customers to share their feedback and experiences about your product. You can create a loyalty program in such a way that you provide rewards for reviews.
When a customer leaves a review, you can reward a certain number of points which the customers can then redeem for rewards such as discounts, free products, or free shipping.
The purpose of offering loyalty points for reviews is to encourage customers to engage with your brand and share their opinions, which can help you to improve your products. It also helps to build a sense of loyalty among customers who feel that their feedback is valued and appreciated.
Reward customers with points when they leave a review and earn their trust easily.
Different ways to ask customers for product reviews
Asking customers for product reviews is an effective way to collect feedback and improve your business. Here are some different ways to ask for reviews:
Ask for reviews through Emails
Social media platforms
Review request cards
Offer incentives
Here are some additional tips to make your requests for product reviews even more effective:
Timing: Consider the best timing to request a review. For example, if you sell clothing, you may want to wait until the customer has worn the item a few times before asking for a review.
Personalization: Use the customer's name and make the request personalized to their specific purchase.
Clear instructions: Provide clear instructions on how to leave a review, including links to your website or social media channels.
Make it easy: Streamline the review process as much as possible, making it easy and quick for customers to leave a review.
Acknowledge reviews: Thank customers for leaving a review and acknowledge positive or negative feedback.
Respond to negative reviews: If you receive a negative review, respond in a respectful and helpful manner. Address the customer's concerns and offer a solution if possible.
Showcase reviews: Display positive reviews on your website and social media channels to encourage others to leave their reviews as well.
By implementing these tips, you can increase the likelihood of customers leaving reviews and provide valuable feedback for your eCommerce store.
How To Reward Loyalty Points For Product Reviews In WooCommerce?
WooCommerce loyalty points for product reviews will entice consumers to write more product reviews. These reviews can help other customers in knowing more about the product.
So, downloading and installing the WPLoyalty plugin is all that is required to offer loyalty points for reviews. Follow the steps below to know more about rewarding points for product reviews.
Step 1: Install and Activate WPLoyalty
The WPLoyalty plugin allows you to reward loyalty points for product reviews in WooCommerce.
Rewarding points for product reviews is easy and simple if you have already purchased our plugin. If not already obtained, please get the WPLoyalty plugin before proceeding with its installation and activation.
Step 2: Create a Product Review Campaign
Let's create a point reward system for customers who write product reviews. Visit the WPLoyalty dashboard -> Campaigns -> Click on 'Create new campaign' -> Click on 'Write a review.'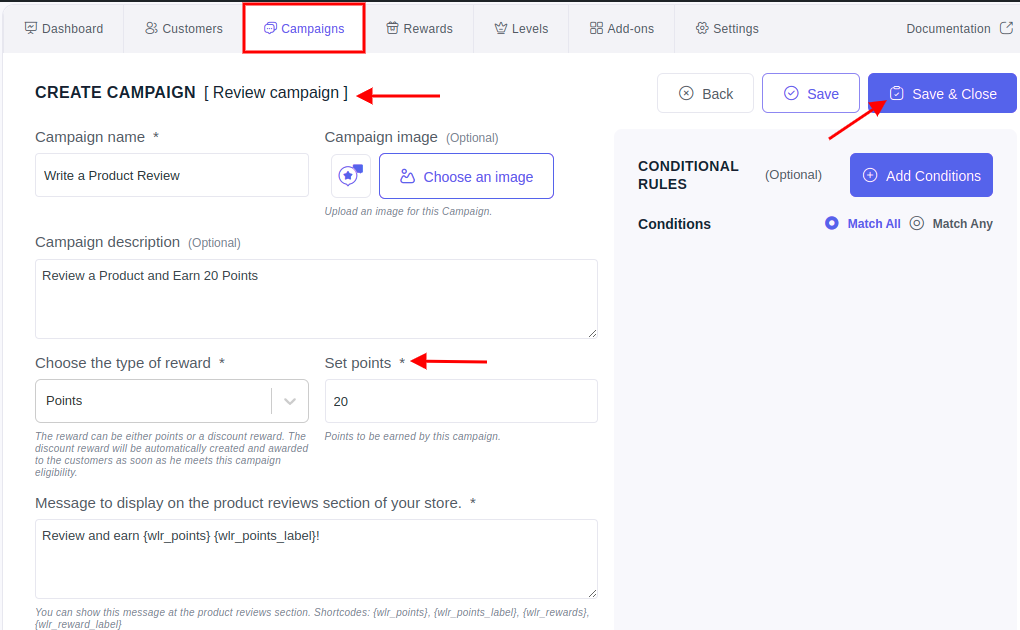 Fill in the necessary fields and click on save and close the campaign. Once you have created a review campaign, your customers can write reviews and earn loyalty points.
Step 3: Customer's Page
It's time to let customers know about your point reward system for writing product reviews. To review a product, your customers should look for the product they've purchased and write a review. They will earn 20 points for one review per product.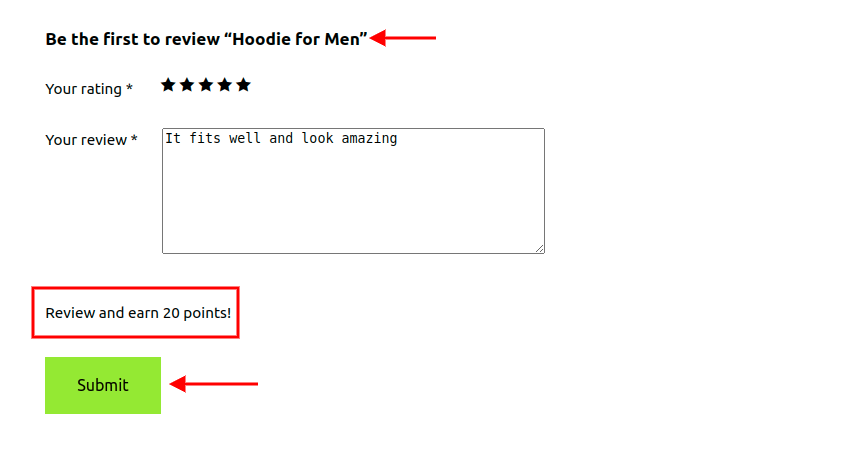 Once your customer adds a rating and review, they will earn 20 points.
How do I get more product reviews on WooCommerce?
Getting more product reviews on WooCommerce can be an effective way to build trust and credibility with your potential customers and also improve your search engine rankings. Here are some tips to help you get more product reviews on your WooCommerce store:
Simplify the review process
Incentivize customers to leave a review
Send follow-up emails
Ask for reviews on social media
Use reviews as user-generated content
Engage with customers
Reward customers with WooCommerce loyalty points for writing product reviews using WPLoyalty.
Conclusion
Loyalty programs are a great way to retain customers and increase their engagement with your brand. Rewarding them with loyalty points rewards for leaving product reviews on your WooCommerce store can encourage them to share their experiences with others and build a community around your products.
Implementing this feature in WooCommerce is relatively easy, and it can be customized to suit your specific needs. With the help of the WPLoyalty plugin, you can automate the process of rewarding loyalty points to customers who leave reviews.
It's important to note that while offering rewarding points for product reviews can be a great incentive. Also, responding to customer concerns and feedback can go a long way in building customer loyalty and trust.
How do you reward customers for reviews?
You can reward customers for leaving reviews by offering loyalty points, discount codes, or other incentives. For example, in WooCommerce, you can use plugins like WPLoyalty and offer loyalty points rewards to customers who leave reviews. It can help incentivize customers to spread the word about your brand and products to their friends and family.
Why are good reviews important?
Good reviews are important because they can help build trust and credibility for your brand. When potential customers see the positive feedback from others, they are more likely to trust your brand and make a purchase. Additionally, good reviews can improve your search engine rankings, making it easier for people to find your products online.
Can you reward people for leaving reviews?
Yes, you can reward people for leaving reviews. Offering incentives like loyalty points or discount codes can encourage customers to share their experiences with others.
How do you thank customers for reviews?
To thank customers for leaving reviews, you can send a personalized email or message thanking them for their feedback. You can also offer additional incentives or rewards as a way to show your appreciation. For example, you could offer a discount code for their next purchase or give free shipping.