Looking for a best WooCommerce Email Customizer plugin?
Want to make your WooCommerce emails look elegant and professional that fits your branding? Are you tired of sending the boring default WooCommerce order emails to your customers? You are not alone.
The default email templates that come with WooCommerce can be quite basic and may not fully reflect the branding and style of your store. Fortunately, there are a number of email customizer plugins for WooCommerce, which can help you edit your order email templates easily.
A WooCommerce email customizer plugin allows you to fully customize the look and feel of your order notification emails. This includes everything from the subject line and sender name to the color scheme and layout. With a good plugin like Email Customizer Plus for WooCommerce, you can create professional-looking emails that align with your store's branding and make a great impression on your customers.
To help you out, we have listed some of the best WooCommerce Email Customizer plugins in this article. These plugins will help you enhance the look and feel of your WooCommerce email templates & help you build a better branding for your store.
So, without further ado, let's jump into the article and see the best plugins for editing your WooCommerce Email templates.
Create attractive emails with unique email template in few minutes
Why should you customize WooCommerce emails?
Business is all about establishing a brand identity. If you want to create a lasting impression for your brand, then you need to nail your emails. The easy way to do it is by using an email customizer plugin for WooCommerce
Transactional emails such as the order notification emails have a higher open rates. Email conversion rates hugely depend on how good your email looks & how effectively can it persuade the readers.
If you're wondering why your email conversion rates are low and why your emails are ending up in spam, then poor customization must be the reason.
Here are some of the key reasons why you must customize WooCommerce emails:
Create a better impression
Make the emails fit into your branding so customers can easily connect with your brand
Increase the email conversion and engagement rate.
Personalisation
To make your emails worthwhile
Minimize bounce rate
Increase click-through rates
These are some of the reasons why you must customize WooCommerce emails. But editing the WooCommerce emails is quite difficult as it requires you to override the email template and require a basic coding skills. That is where the email customizer plugins come to the rescue. They offer a no-code interface for editing and customizing the WooCommerce emails.
5 Best WooCommerce Email Customizer plugins
The following is the list of best Email Customizer plugins for WooCommerce to customize your emails and make them look more elegant. The default WooCommerce email editor requires you to write code and is quite difficult for most of the store owners. So we have picked up 5 best plugins that allows you to edit the WooCommerce emails without any coding skills. All of them are no-code email editors for WooCommerce.
Let's have a detailed look into the plugins and their features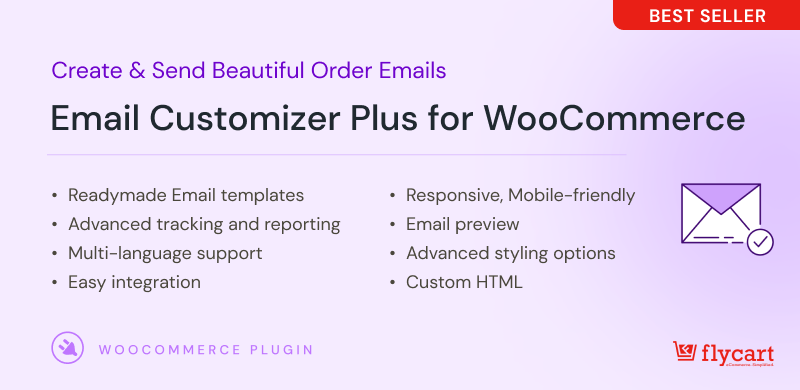 WooCommerce Email Customizer Plus is an easy-to-use email customizer plugin for WooCommerce, which comes with a drag and drop editor. Unlike other plugins, this email editor plugin helps you edit every aspect of the WooCommerce order notification emails.
You can change the logo, customize the email text, add buttons, add or remove customer addresses and more. The WooCommerce email editor plugin also offers short codes to include dynamic data related to an order. Say, you have captured the order delivery date when customers checkout and you may want to include that data in the order confirmation emails. This will be quite tedious when you use the default WooCommerce Email templates via overrides. But the Email Customizer for WooCommerce makes it easy to include dynamic data like order delivery date in a single click.
You can also customize the order summary section. For example, you can include the thumbnail of the products, add the customer note and even include a few product recommendations inside the order confirmation emails.
The WooCommerce Email Customizer plugin allows you to edit and customize all the default emails of WooCommerce, which includes:
New order email
Cancelled order email
Failed order email
Order On-hold email
Processing order email
Completed order email
Refunded order email
Customer Invoice / Order Details email
Customer note email
Reset Password email
New account email
The plugin also comes with built-in support for some of the popular WooCommerce plugins like WooCommerce Subscriptions, WooCommerce Bookings, WPLoyalty and more.
To create a custom email template in WooCommerce, please install the Email Customizer Plus plugin and go to your WordPress dashboard -> WooCommerce -> Email Customizer
Choose the email template you wanted to edit
This will open the email template in a drag and drop email editor
Add your store logo, customize the email body and add any additional information you would like to include.
Save the change and publish the email template
Now, WooCommerce will start using the customized email template when sending the order confirmation and other emails.
Check out the documentation for a detailed understanding.
It is also one of the most trending WooCommerce email customization plugins. As listed in a plethora of WordPress blogs and there is this awesome support they offer that's totally worth paying for!
Save 10% off when purchasing the Email Customizer Plus plugin with the following coupon code: SAVE10 Buy Now
Customize Pre-build email template without coding knowledge using drag and drop editor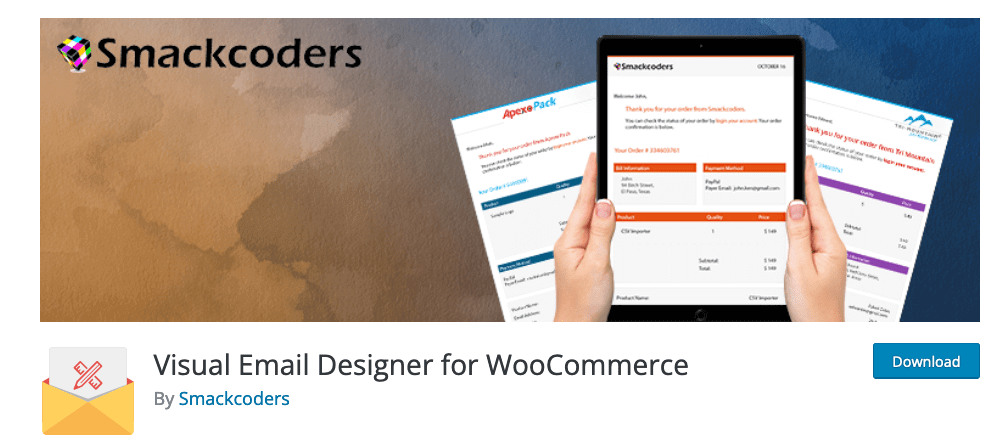 The Visual Email Designer is another effective WooCommerce plugin that can help you customize the email templates. This plugin allows you to easily customize the existing theme templates or create new email templates with the droppable elements. With this Email Customizer for WooCommerce, you can customize WooCommerce Emails based on the following 3 types
Order based template
Product based template
Category based template
Some of the key features of the plugin includes:
Design Unique templates for each WooCommerce order status
Design various templates for WordPress admin and users
Live preview option for sending test emails
Style your emails by adding background color and images
Customizable templates for the new account, New orders, Reset passwords, and more
Send emails based on categories and products.
Include a digital signature in each email for a WooCommerce order.
Update all WordPress emails, including the password reset one.
Craft your subject lines.
Customize layout for default and custom status "Product Delivery."

A free email template creator for WooCommerce is YayMail. YayMail also includes a drag-and-drop feature where you can quickly create or change your email templates. With this custom email WooCommerce, you can send personalized email templates to your customers. Further, YayMail comes up with 50+ third-party WooCommerce integrations.
The Key features of the plugin are:
Customize emails with the Drag and Drop interface
Send test emails to make sure how your email looks before reaching customers
Edit content, layout, and design of email body, email header, signature, and more
Powerful shortcodes to include dynamic data in emails
Fully customize WooCommerce order email templates.
The Decorator is another powerful WooCommerce Email Template editor plugin that helps you style the the default emails sent by WooCommerce. The plugin helps you change the default look and feel of the WooCommerce standard emails using the native WordPress customizer.
This plugin makes use of the built-in customizer feature of WordPress, which is one of the key difference when compared to other Email Customizer Plugins for WooCommerce.
The key features of the Decorator Email Customizer plugin are:
Ability to edit or modify email content like heading, subject, and more
Design your email background, header, and footer using sliders and color pickers
Add shortcodes/ placeholders to change the content and appearance
Edit all default WooCommerce emails based on order status
Send test emails to know how the customized template looks.
Get a real-time preview.
Publish or Schedule your customized emails at a later time

This is one of the latest WooCommerce email template editors. A quick and simple drag-and-drop email template builder is included with this plugin, allowing you to choose, alter, and send customers customized emails. This plugin enables you to add a wide range of components to your templates, including icons, social media hooks, and many others.
In addition to this, the plugin comes with features like:
Add elements of your choice and customize email templates.
Add dynamic placeholders like customer name, site name, user name, and more.
Send test emails to check out the appearance of the email templates.
Compatible with other WooCommerce plugins
Get a real-time preview to see the changes while creating the template.
Easy navigation with drag and drop elements
Add custom hooks at any position in the email templates
Set emails for each order status
Make responsive emails and reach every device users effortlessly using Email Customizer
Conclusion
We hope this blog helps you to discover the best WooCommerce Email Customizer plugins. As discussed, every email template editor for WooCommerce has its unique features and functionalities. But before choosing the plugin, do proper research, and analyze the features and compatibilities that suit your store's needs.
Finally, as a writer, the Email Customizer Plus for WooCommerce is the most recommended option to customize your WooCommerce emails. Apart from offering a wide range of features, it integrates with some of the popular WooCommerce plugins like WooCommerce Subscriptions, WooCommerce Bookings, WPLoyalty and more. This enables you to customize the default WooCommerce Email templates and also email templates of other plugins as well.
Be it text customization or design customization or building an entire WooCommerce email template from scratch or anything at all, there is a plugin to serve your purpose in WordPress. Make the right choice and build your brand with well-designed transactional emails.
What is a WooCommerce Email Customizer plugin?
A WooCommerce Email Customizer plugin is a tool that allows you to customize the email templates that are sent to customers in your WooCommerce store. With this plugin, you can change the layout, add custom graphics, change the color scheme, and there are a number of options to make your emails more appealing and professional.
What are the benefits of using a WooCommerce Email Customizer plugin?
There are several benefits of using a WooCommerce Email Customizer plugin, including:
1. You can make sure all your emails match your brand's look and feel.
2. Customized emails make the customer feel special and valued.
3. A well-designed email is more likely to be opened and read by the recipient.
4. By making your emails more engaging and professional, you can increase the chances of customers making a purchase.
What are the best WooCommerce Email Customizer plugins?
The best WooCommerce Email Customizer plugins are:
1. WooComemrce Email Customizer Plus
2. Visual Email Designer for WooCommerce
3. YayMailWhat features should a WooCommerce Email Customizer plugin have?
4. Decorator
5. Email Customizer by ThemeHigh
What features should a WooCommerce Email Customizer plugin have?
A good WooCommerce Email Customizer plugin should have the following features:
1. Customizable email templates
2. Easy to use drag-and-drop interface
3. Ability to add custom graphics and images
4. Option to add custom HTML and CSS
5. Ability to preview emails before sending
6. Option to test emails before sending to customers.
How do I customize my WordPress email template?
To customize your WordPress email template, please install the Email Customizer Plus plugin and go to your WordPress dashboard -> WooCommerce -> Email Customizer. This plugin offers a range of customization options, including adding custom HTML and CSS, changing font styles and sizes, and even adding custom images and logos to your email templates. Simply install the plugin, select the email template you want to edit, and make your desired changes using the intuitive user interface.