Receiving an order on your WooCommerce online store is pure joy. When an order arrives, the first thing you do is to send a WooCommerce confirmation order email to the customer. Surely, a boring email template is not what you must be planning to send, right? The emails you send have to suit your store's standards and be more than what the generic WooCommerce settings offer. Agree?
Most of WooCommerce store owners feel the need to customize their transactional emails (not just order emails) with their edited email text, logo, promotional products, and other details. If you feel the same way, then you are right. Let's dive deep into why and how customizing the WooCommerce email templates will help your online business.
Before getting started, make sure you have installed and activated the popular WooCommerce Email Customizer plugin:
Why is it necessary to customize WooCommerce order emails?
Transactional emails are the most frequent interactions between you and the customers. In fact, the first thing they receive upon signing up to your site is a welcome email. Shouldn't it look impressive?
Not only the welcome email, but every other transactional email like processing order, completed order, refunded order, password reset, and so on, need to look impressive. Let me tell you why:
The customer is actually looking forward to receiving them because they are confirmation of the customer's activity.
They are one-to-one emails and are meant for a particular customer.
The default WooCommerce emails aren't that interesting.
Your online store deserves well-designed emails.
So, your WooCommerce emails have to look nice and that's why you should customize them.
How to customize WooCommerce order email
The WooCommerce emails are formed from templates. The default WooCommerce templates can be customized up to a certain level from the WooCommerce > Settings > Emails panel.
You can customize some features using the WooCommerce settings, including the header image, footer text, font color, and background color. But if you need to alter many details, you will have to modify through code (which can be really tiring).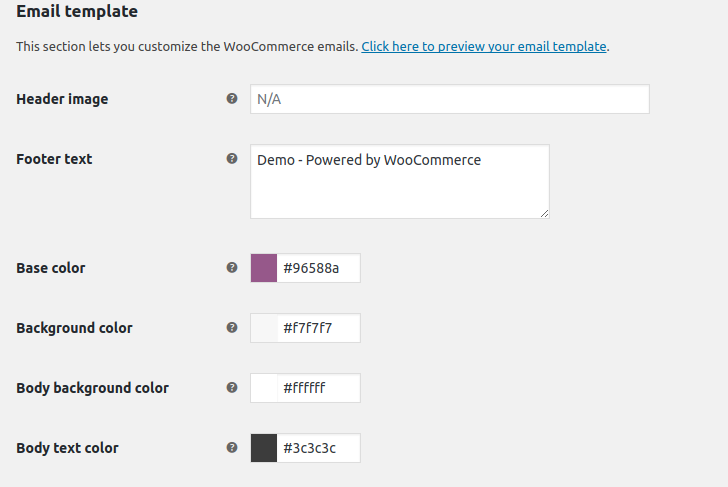 So, from what we know already, normal WooCommerce email customization using code is just too complex.
Now, the obvious solution is to go for a plugin and there are so many email plugins out there. Among all of them, a great tool for not only customizing but building an email from scratch is the WooCommerce Email Customizer Plus Plugin.
While other plugins merely let you change WooCommerce email header, footer, and add a logo, this plugin does more than just editing. Let's take a closer look:
Installation & Configuration of WooCommerce order email
Ready to create a warm welcome transactional email? To configure the WooCommerce order email, initially download the Email Customizer Plus for WooCommerce.
Step 1:
Login to the WordPress admin dashboard
Step 2:
In Plugins -> Click on "Add New" -> "Upload Plugin"

Step 3:
Browse the plugin and install the downloaded zip file

Step 4:
Click on "Activate Plugin" to initiate the plugin & complete the installation process.
Step 5:
In Dashboard, Go to WooCommerce -> Click on "Email Customizer Plus"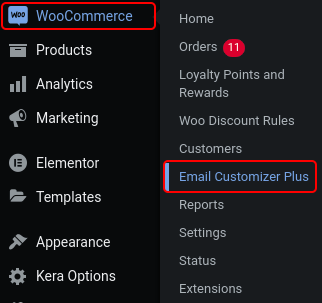 Step 6:
A tab of Email Customizer Plus will appear as illustrated below.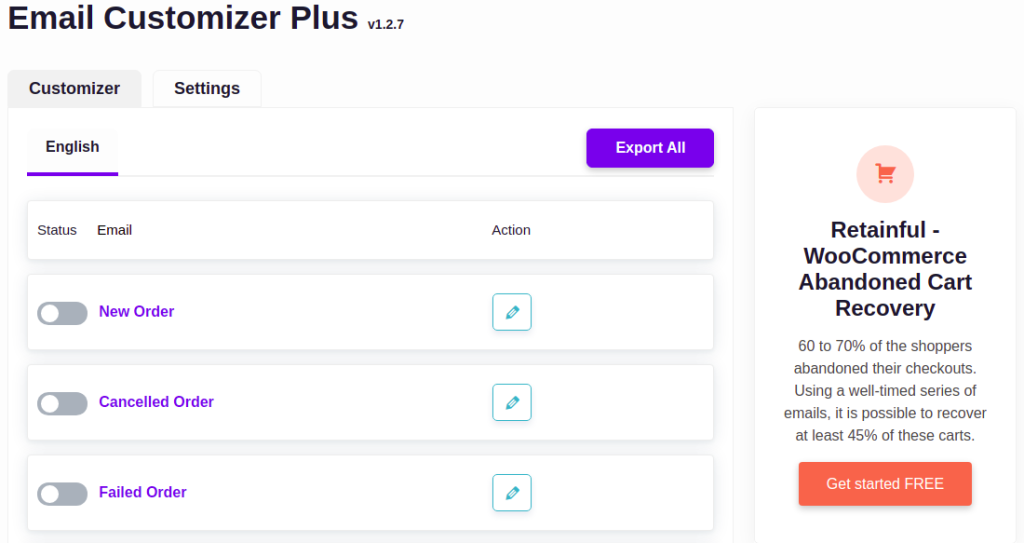 Step 7:
To configure the WooCommerce email customizer, Go to Settings -> Enter the received license key & click on the "Validate" button to verify it successfully.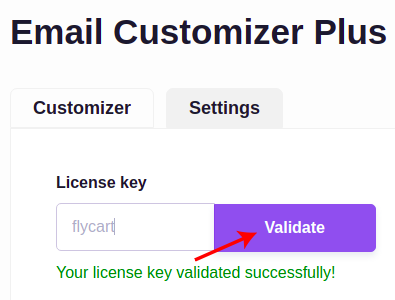 Complete guide to create & customize the first transactional WooCommerce email template
Is it your first time creating the email template in WooCommerce? Creating an email template can be done with a basic version of any tool but customize it more stylishly with multiple options following the given guidelines below.
Step 1:
After completion of the installation process, go to admin dashboard -> WooCommerce -> Click on "Email Customizer Plus"
Step 2:
A tab of Email Customizer Plus with 10+ different cool template types appears. As per your requirements, choose the relevant email template.
For example, as for orders received, choose the "New Order" template to notify a buyer who has placed an order on your WooCommerce store.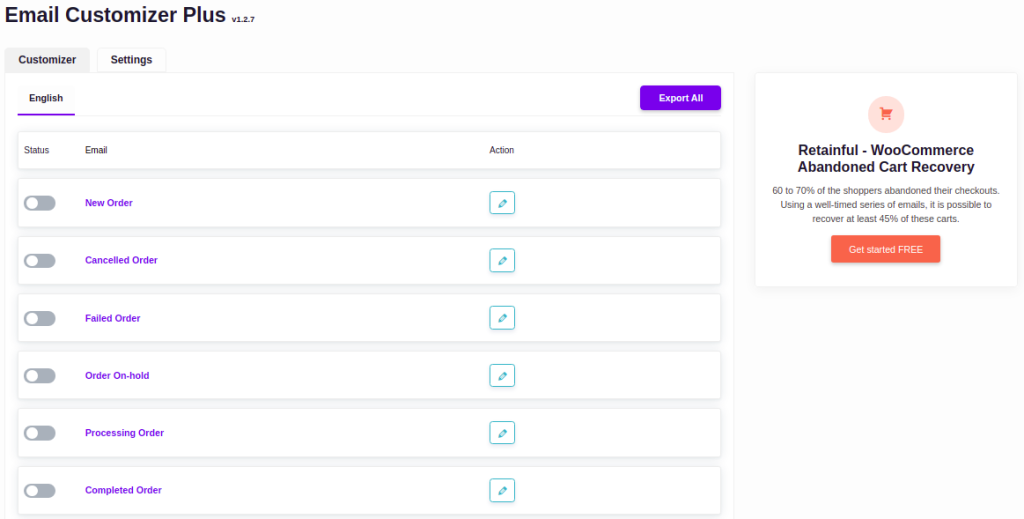 Step 3:
Click on customize option in chosen template.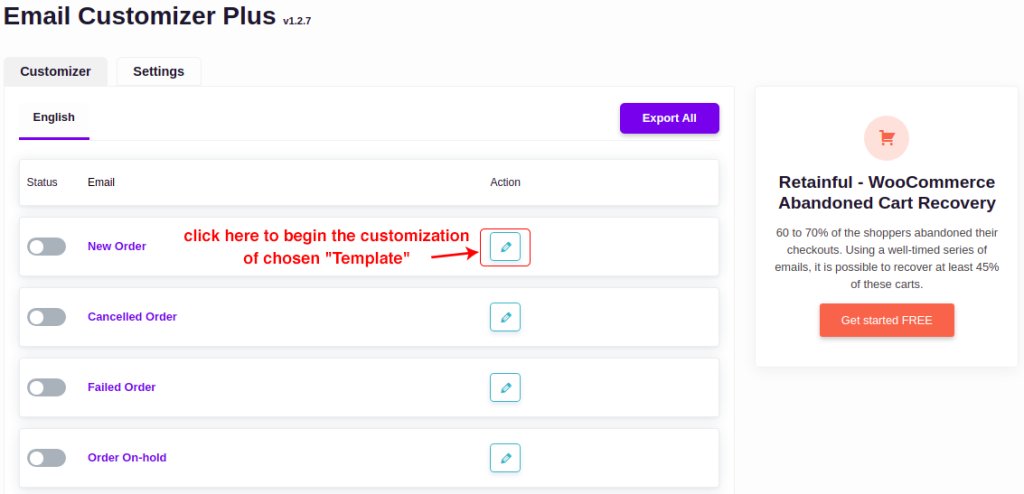 Step 4:
Choose the template layout and click on "Use" to initiate the process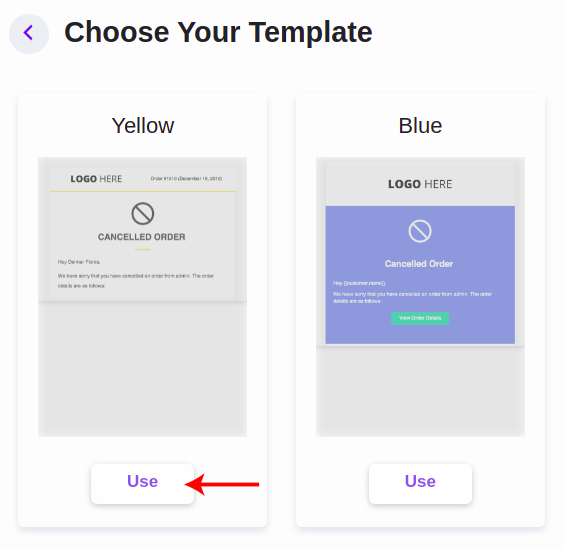 Step 5:
Based on chosen layout template appears as pictured below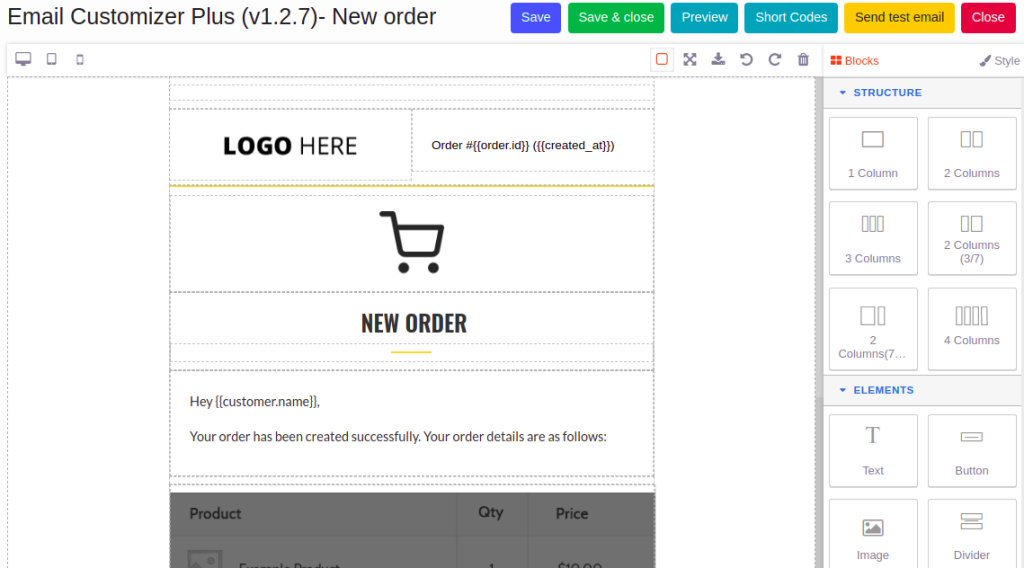 It's time to get creative with your designs. Let's get started.
For email template customization, two options are available such as,
Blocks
Style
Blocks – > Use to drag and drop the required segment in the template.
Style -> In here, you can customize & beautify the appearance of each segment.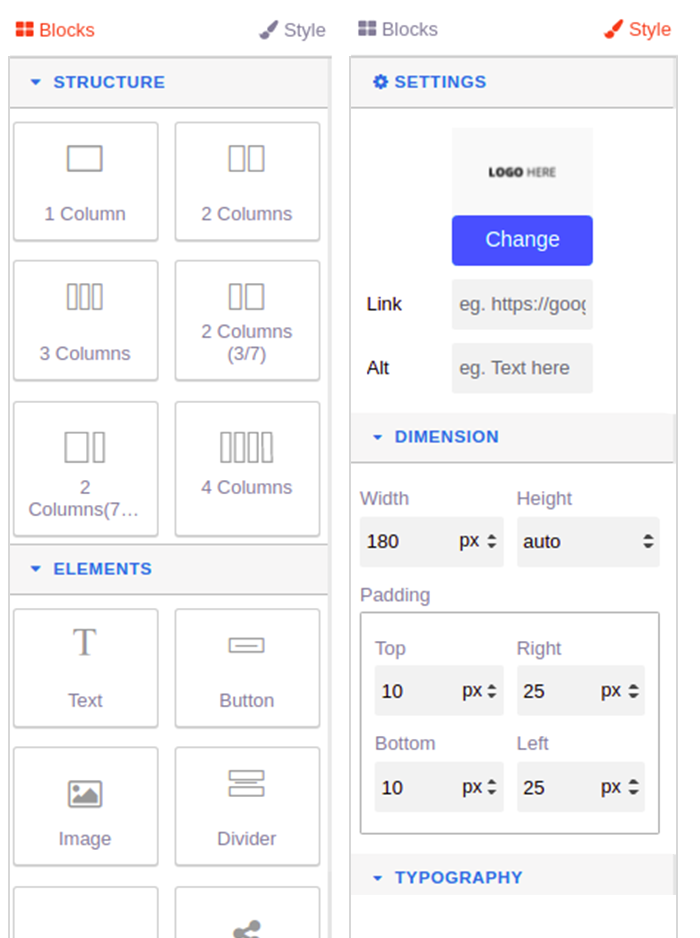 WooCommerce Email customizer plus with drag & drop builder
The WooCommerce email customizer plugin just eliminates all sorts of boredom related to emails. It comes with a drag-and-drop builder for constructing templates for all sorts of transactional emails. Yes, you can literally "build" an email in seconds and send it across to your customers. A sample customized template is shown below.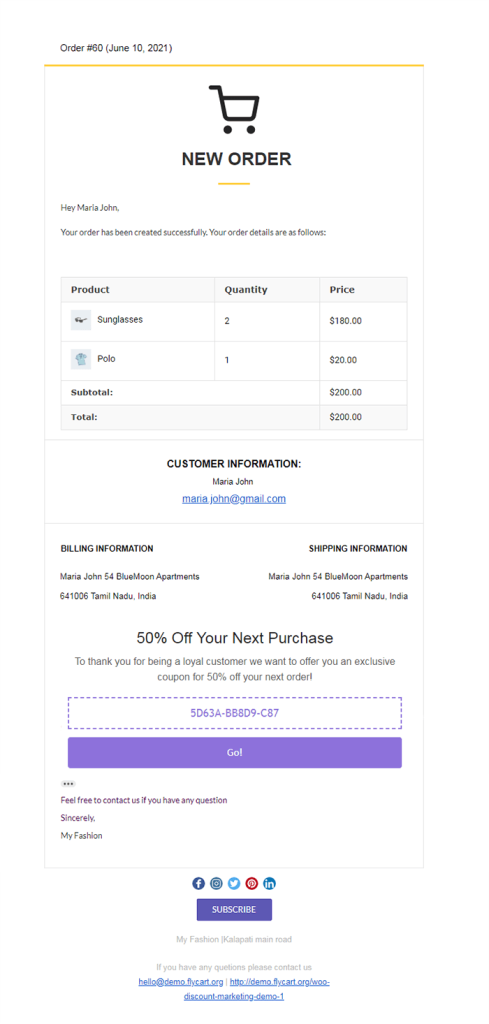 To get to know more information on drag & drop builder, let's narrow it down with block & stylings.
Blocks – Primarily consist of three blocks such as
Structure
Elements
Store Elements
Structure:
It consists of segments of blocks column-wise. Choose the required column and drag the column to the template and drop it on the necessary sections. In each column, you can create new content. Too easy isn't it?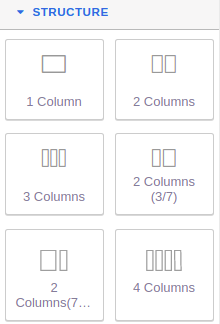 Elements:
In this block, we can drag & drop multiple segments such as
Text – Use to insert the text
Button – Create a new Call-To-Action button
Image – Add images by entering the source path of a destined image
Divider – Use to create a divider between two sections
Group Social – Multiple social media platforms can be added
Social Element – Used to add an individual social media platform inside the "Group Social"
Spacer – Create a space inside the sections
Logo – Additional logo images can be added by providing an ideal image source path

Store Elements:
Here's a basic needs of store content block's available such as
Address – Use to add the address of both billing and shipping information
Order Summary – Description of order details can be added
Retainful – To surprise & engage your customer, create the next order coupon in the email template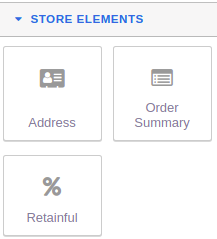 As for styling, you can bloom the template more attractively. When the customization or editing part begins style option arrives with various options as,
Settings
Dimension
Typography
Decoration
Settings:
Show the settings of the whole section or individual segment of elements inside the column. Where you can edit WooCommerce email text. The below image exhibits the settings of the "Logo Here" segment.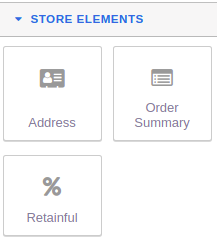 Dimension:
It will help to adjust the size of images, icons, or text of contents. For images – width & height can be altered & as for text – height can be modified. The padding determines the alignment position of the images/icons or text. The below snapshot shows the dimension of an image.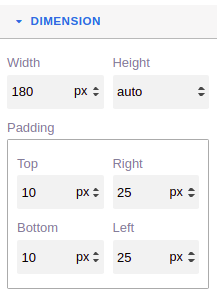 Typography:
Text customization & styling can be done here. Content of text can be modified with font type, size, color, height & align, text decorations. Use your creativity & improve the texture of the template.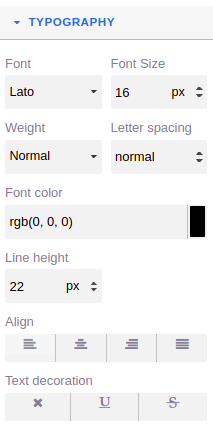 Decoration:
Edit the background color as per the preference. Create a dazzling template with a unique combo of complexion.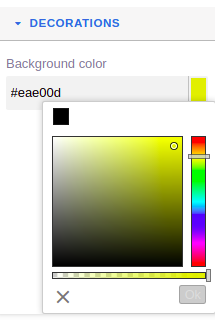 To make you a clear understanding of the drag and drop process, an example is shown below
For instance, 1 column is dragged from the structure and dropped in the required section of the template as shown in the following steps.
Step 1:
Select the column & drag it.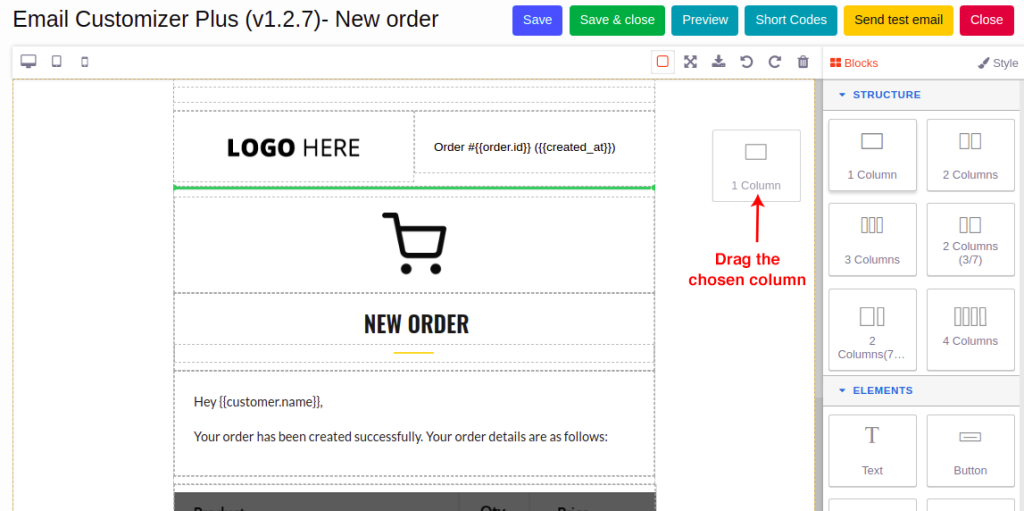 Step 2:
Drag the column near the chosen destination section and drop it.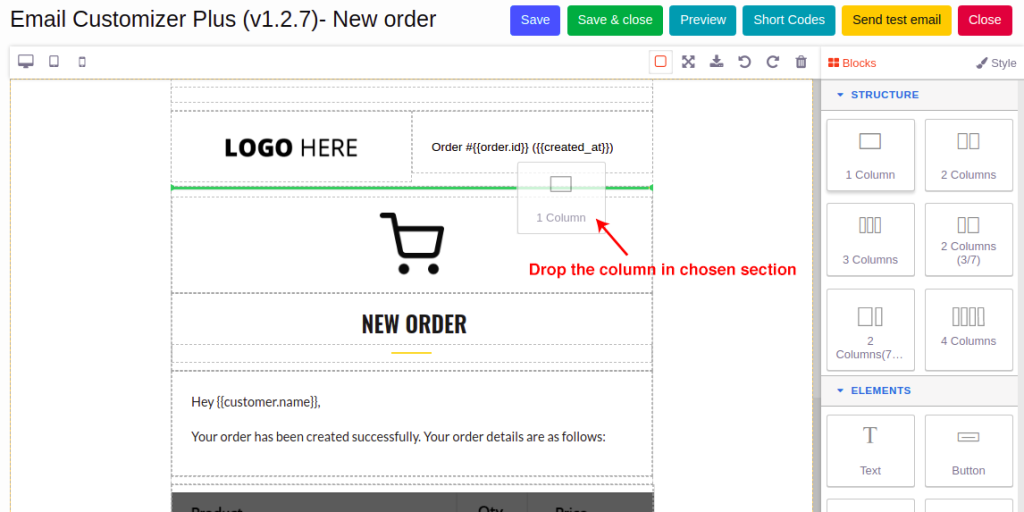 Step 3:
A new content section will appear as shown below.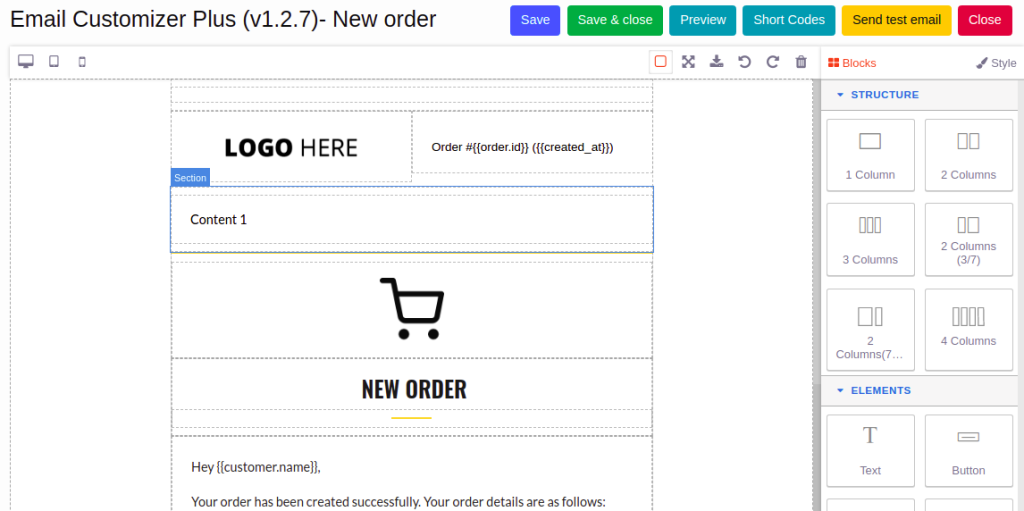 Step 4:
Start creating the content. A text tool palette appears on top of it. Makes the editing part to be done effective & easier.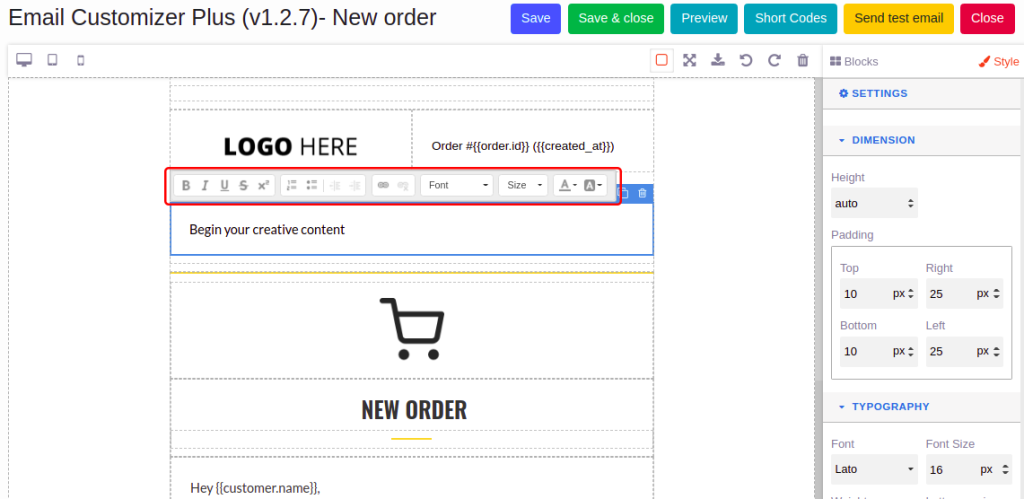 Step 5:
After the completion of customization, click on the "Save" button and send a test email to verify the created stylish email template.
Salient features of WooCommerce Email Customizer
Customize everything in your WooCommerce order email.
15+ elements including text, images, buttons, paragraphs, social icons, and more.
Include the dynamic data like order summary, customer information, products in the order using shortcodes.
Shortcodes will be dynamically replaced with the respective WooCommerce data before the email is sent to the customer.
Live-preview of your changes. Use an order to see how your emails would look like.
Send a test email to validate your design.
Support for "WooCommerce Custom Order Status manager."
Support for "WooCommerce Checkout Field Editor."
WordPress Multisite compatible.
Supports "Multiple Languages."
You can also customize the emails for every single order in a fraction of minutes if you wish. All you have to do is:
It's Easy-peasy!
Advantages Of Customizing WooCommerce Emails
Now that you know why and how to customize your WooCommerce order emails, let's talk about how it can benefit your business.
Let's say your WooCommerce completed order email consists of your brand logo, brand name, order details, shipping details, billing details, your social links, footer text, and a Call-To-Action button, all in your favorite font and color. Both you and the customer would feel satisfied with the detailing. This is possible with the email customizer plugin we just discussed.
Result: The customer may come back to your site by clicking the CTA button.
So, with customized emails,
Send nice looking transactional emails
Advertise products on email with images
Show your offers using banners/header images on emails
Gain customer interaction with Call-To-Action buttons
Your emails can do justice to your brand
In addition to the advantages, let's talk about the disadvantages of NOT having a customized email as well.
Imagine that you are sending the generic WooCommerce email, with just a header text, header image (logo), and order details with a default "Thank you for your order" text. Sounds good? No? That's how the customer feels, too.
Result: The customer does not even take a second look at the email. You might miss out on the chance of impressing and engaging the customer.
Wrapping Up
As I mentioned earlier, transactional emails are the most active communication between you and your customer. The customer either ignores them or is tempted to visit your site again. The look and feel of the email play a very important role in the customer's choice. Make the most out of your customer's attention by sending the best emails ever!
Have your transactional emails helped you make a change in your business? Share with us in the comments. We'd love to hear from you!
Happy selling!