Customer success is not something you get right after a sale but needs to be nurtured through continuous engagement. And that continuous engagement is done with follow-up emails. WooCommerce automated follow-up emails are sent as an acknowledgment to customers whenever they actively participate or shop at your online store.
Following are some of the common scenarios for drafting a follow-up email,
It is definite that your WooCommerce store will also experience the above scenarios. So, don't you need a proper email follow-up plugin to send all those follow-up emails?
List of 5 Best WooCommerce Email Follow-Up Plugins
Well, this post got you covered. Here is the comprehensive list of WooCommerce email plugins to create, customize and schedule follow-up emails.
1. Retainful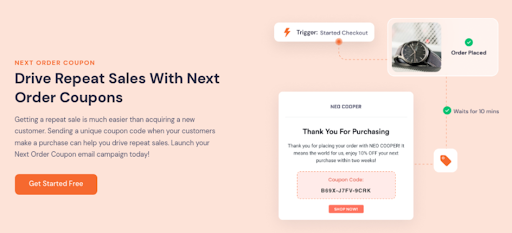 Let's put it this way: Your customer purchases a product in your store. Is that it? Will you let him go away, or will you try to keep in touch with them through Order Follow-up emails? We all would love to keep our customers engaged so that they don't go to other stores, don't we?
Sending order follow-up emails is the best way to keep in touch with customers. You can ask customers to write a review and recommend & upsell products.
Order Follow up emails in Retainful include Thank you emails, Welcome emails(post 1st purchase), product recommendation or upsell emails & general Order follow-up emails. You can engage with customers throughout their journey with automated Order follow-up emails.
Automate Order follow-up emails in a timed sequence with the help of Customer journey builder. Once you set it live, Retainful will automatically send WooCommerce follow-up emails to the customers that fulfill the trigger rules.
Retainful is equipped with a Drag & drop email editor that lets you customize your Order follow-up emails. Add logos, images, gifs & more to make your emails more persuasive and increase conversions.
Features
Send unlimited Order follow-up emails.
Build and launch email campaigns within minutes using the customer journey builder
Pre-built workflow automation templates
Pre-built email templates
Drag & drop email editor to customize follow-up emails
Next order coupons to drive repeated sales
Automate follow-up emails whenever a customer abandons an online cart
Send an unlimited number of cart recovery follow-up emails
Unique recovery link to buy back the items in abandoned cart
The plugin stops sending follow-up emails automatically when the cart is recovered
2. FluentCRM
FluentCRM is one of the finest email marketing automation plugins for creating well-segmented contact lists and designing automated eCommerce emails from your WordPress dashboard. It effortlessly integrates with the most popular eCommerce platforms like WooCommerce and Easy Digital Downloads, making email marketing easier for WooCommerce users.
With FluentCRM, you can send eye-catchy emails that reach the inbox and maximize your eCommerce revenue. The automation features of FluentCRM are handy. You can send welcome emails, post-purchase emails, targeted emails, and many more based on product or product categories.
For WooCommerce email automation, FluentCRM gives you two triggers, a purchase trigger and a refund trigger.
The purchase trigger starts once a customer purchases a product from your store. You can run this trigger for specific products or product categories. The product refund trigger does just as it says on the tin: it starts automation when there's a refund request in your WooCommerce shop.
The plugin also features a purchase history that'll show your customer's purchased product and its details.
Key Features:
Send countless emails and manage unlimited contacts.
Multiple integrations with other popular WordPress plugins.
Automated email sequence, email campaign, and more features to customize them.
Block-based email composing with custom HTML editing functionality.
Ability to build segmented contact lists
In-depth analytics to track your client activities, check total revenue, number of orders, etc.
A/B testing, link metrics, smart links, and so on.
Cons:
The abandoned cart trigger is still under processing. However, you can achieve this with webhook integration.
3. Follow-Ups developed by WooCommerce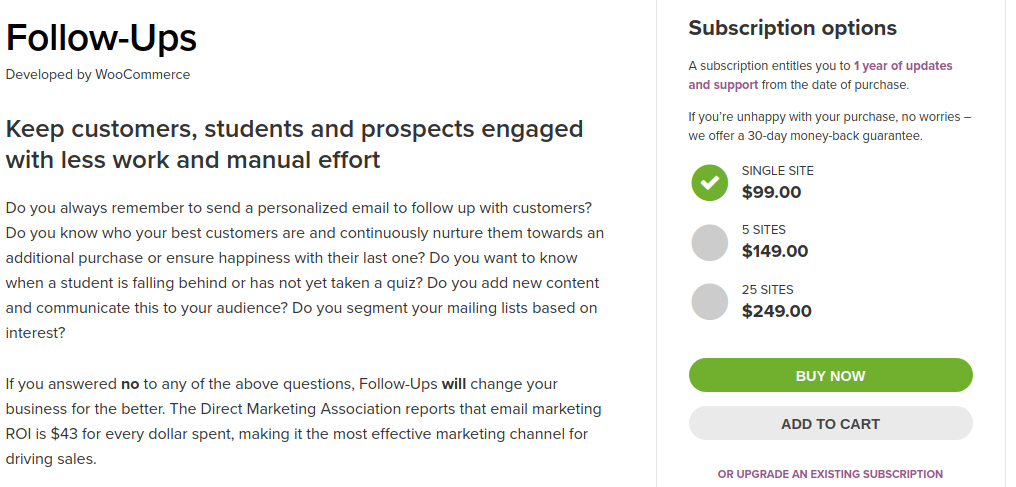 Follow-up is the most popular WooCommerce extension to create, schedule, and automate your emails. The follow-up emails plugin can get you more customer engagement with minimum manual effort.
Also, this powerful marketing tool lets you send targeted follow-up emails and drive sales to your online WooCommerce store. It uses the purchase history and customer behavior to automate data-driven drip campaigns.
Features
WordPress editor makes it easy to create your emails
Multiple mail templates to choose
Supports integration with WooCommerce Subscriptions and Google analytics.
Schedule follow-up emails on particular dates and events.
Automate drip campaign
Con's
$99/ single WordPress website is a huge pricing slab for a follow-up email plugin.
4. ShopMagic

Shop Magic, this marketing automation and follow-up email plugin for WooCommerce is specially designed to take the eCommerce business to the next level. The plugin can send follow-up emails, customized transactional emails, automation emails based on customer's order status, prioritizing emails, and much more. The plugin offers complete access to the customer's and store's data. It is so flexible that you can extend the plugin with additionals based on your requirements.
In addition, the plugin acts as a reminder in WooCommerce, where you can even create a thank you message set with a reminder, making it easier to send emails to your customers. Winback emails, notification emails to staff, feedback emails, and much more can be designed and handled effortlessly.
Shop Magic is for WooCommerce and even helps recover abandoned carts at your store with a special free add-on, "Recover Abandoned Carts." Another attractive feature is adding customers to the Mailchimp list during checkout. This would help you to send WooCommerce automated emails or newsletters to your customers, counting on their activities at the store.
A must-try, follow-up email, and marketing automation plugin if you are running a WooCommerce business. Easy to use and takes your business process to the next level.
5. WooCommerce custom emails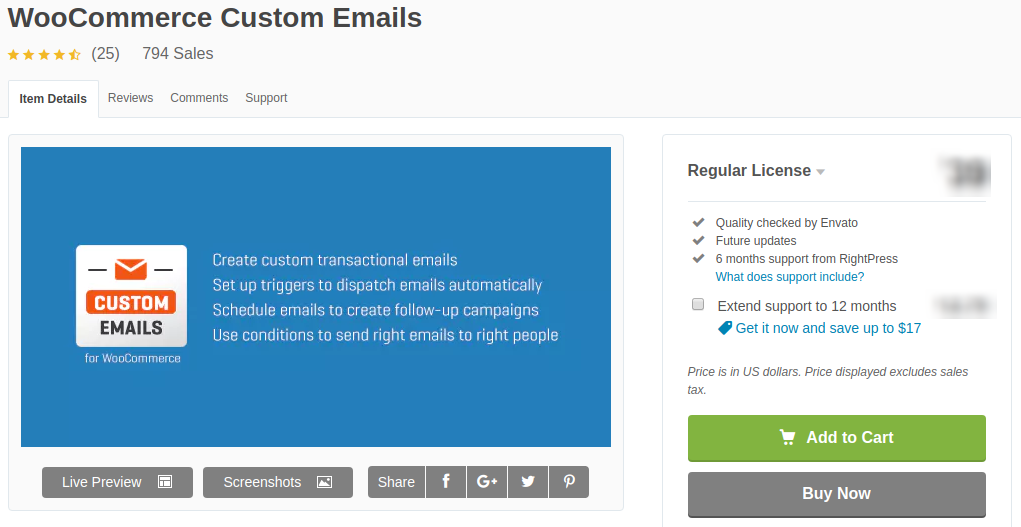 WooCommerce custom emails allow you to send customized & targeted transactional emails. The plugin ensures that the emails are sent only to targeted clients based on certain conditions.
Features
Easy to use email editor
Schedule follow-up emails on particular dates and events
Get reports on email events
Conclusion:
Now, it's all for you to choose the email follow-up plugin that meets your store requirements. But if you expect the Writer's choice, this one is for you.
Retainful- Coz' it helps in automating email follow-ups and improves my customer retention too. And yes, Retainful is FREE.
CampaignRabbit- If I look for an extensive email marketing and automation tool to promote my email campaigns.
That's my order. Get to choose your order smart!
Happy Growing!