Email marketing is money.
Infact, 80% B2C businesses say email marketing is the best channel to drive customer retention.
Speaking of WooCommerce and emails, you must have lots to do when it comes to creating an email using the default WooCommerce emails. Well, email marketing may be a tough task 'if' you don't have the right email customizer plugin.
Now comes the need for email plugins. Before purchasing an email plugin, get to know what makes a good email plugin for WooCommerce.
What to expect from an extensive email marketing plugin?
Well, if you are on the lookout for an email plugin for your WordPress site/WooCommerce store, make sure to check whether your email builder plugin has the following features.
The WooCommerce plugin you choose should be a,
Email template plugin having a huge email template library to create all your WooCommerce emails – Welcome email, New order email, order cancellation email and much more.
Email editor plugin with easy drag and drop builder to make email creation simple.
Email Marketing plugin to help synchronize your email list, automate email sending and track the performance of your email campaigns.
To say the least, the email plugin should Segment (email list), create, automate and track the performance of your WooCommerce emails
List of Best WooCommerce email plugin
And here is the list curated with the best email plugins for your WooCommerce store which can do everything, a perfect email plugin should do. The blog shares and compares the free and premium features of the email marketing plugins.
WooCommerce email customizer Plus
Retainful
MailChimp for WordPress
Email Verification for WooCommerce
WooMail Email Customizer
WooCommerce Email Customizer Plus


Customize WooCommerce email templates attractively and professionally using the Email Customizer Plus for WooCommerce by Flycart. The plugin is so flexible and reliable that customization can be done easily using the drag and drop editor. It is equipped with a simple interface and functionalities to customize the 10+ WooCommerce email templates using the built-in tool.
The WooCommerce email template customization plugin is easy to handle as it does not require any coding for customizing the WooCommerce email templates.
Get to know some of the salient features of this WooCommerce edit email templates plugin,
The most significant advantage of this plugin is, you need to start from scratch. The transactional email can be optimized easily by choosing the appropriate choice from the available WooCommerce email templates in the plugin.
The visual drag and drop editor of the email customizer easily customizes your transactional email.
Using the plugin you can add your logo/image to the order email which would increase your brand identity.
The usage of shortcodes will help in adding dynamic data to the transactional emails.
The editor uses the popular MJML email framework to ensure responsiveness across devices.
It supports major plugins like – WooCommerce Order Status Manager.
The plugin supports WPML and allows you to create the email template in the language you want.
The WooCommerce email preview plugin can send a test email in order to have a preview of the customized email.
Have a backup of your email design just by simply exporting it with a single click.
When your store's order notification emails are customized using this plugin it would increase ROI per email. Adding the social buttons to the transactional emails can increase your sharing rate.
The plugin is available in 3 different plans starting from $49 per year.
Retainful

Retainful is one of the best eCommerce marketing automation plugins that can help you automate all your email marketing campaigns like Welcome emails, Abandoned cart emails, Thank you emails, Win back emails and Follow up emails. In addition to this, you can also send Next order coupons to drive repeated sales and run a referral program to acquire new customers using Retainful. All of this can be done in simple steps, with no coding required.
Build your automation workflow instantly and set it live to engage with the customizer right away. Retainful is loaded with pre-built email templates that can help you create multiple campaigns instantly without any hassles. The workflow builder is loaded with trigger rules, customer rules, path splits, etc to send customers in customized sales funnels to get converted.
The key to conversions is sending enticing emails, Retainful's Drag & drop email editor will let you customize every aspect of your emails as per your preference so that you can easily persuade your customers. Right from adding your store logo to adding dynamic coupons in your email templates, all can be done without leaving the email editor.
Retainful is built around customer retention as a priority. Retain your customers by sending Next order coupons in automated follow up emails to encourage the customers to return to your store and drive repeated sales. You can offer fixed amount, percentage & free shipping discounts via Next order coupons.
Cost-effectively acquire new customers by running a referral program with the help of Retainful. Turn your existing customers into brand advocates and open your doors for new customers without breaking a sweat. Offer referral rewards to both the customers and his friend and foster customer loyalty in your store.
Some of the salient features of Retainful are,
Use dynamic workflow builder to build your automations effortlessly
Send automated welcome emails to greet new customers
Create and send automated cart recovery emails to recover abandoned carts.
Send Thank you emails to show gratitude to your customers for purchasing at your store
Use trigger rules & path splits to send customers in customized conversion paths
The WooCommerce reminder pro stops sending emails once the cart has been recovered.
You can send unlimited abandoned cart email reminders to your customers.
Shortcodes can be used to enter data and personalize recovery emails.
Bring back lost customers by sending a series of automated win back emails.
Abandoned cart reports are maintained – View recovered value abandoned cart value and more.
On successful purchase, the customer receives the "Next Order Coupon" through follow up emails.
The plugin sends a sequence of automatic reminder emails if the coupon is nearing its expiry date.
Generates unique coupon codes on every purchase.
The coupon codes can be associated either with flat price, percentage & free shipping discount. The coupons can be set with expiry/validity.
Notify store administrators when a cart is recovered.
The plugin allows you to earn more customers through the Retainful referral program.
The plugin notifies the customer with the refer-a-friend link through emails.
When the referral program is successful both the advocate and the friend are rewarded. You can create different offers for both.
The plugin sends reminder emails if your customer hasn't referred any customers.
Notifies your customer regarding successful referral purchases and rewards.
A/B test your emails to see which campaigns performs well
The plugin is available in both the free and premium versions. The premium version of the plugin starts at $19 per month.
MailChimp for WordPress

Increase your MailChimp list using the plugin and sending attractive newsletters to your subscribers. Create attractive and good-looking opt-in forms using the plugin. It even allows you to create or integrate with any form of your website. It is considered to be one of the best email plugins for WooCommerce with more than 2 million active installations.
Using default WordPress or WooCommerce forms, Gravity forms, Ninja forms or any other tool connected with MailChimp for WordPress grows your subscription list. MailChimp is responsive and provides great customer support. The premium version of the plugin offers several additional benefits like improved signup forms, styles builder, email notifications and more.
The eCommerce integration in the premium version of the plugin helps to understand your subscribers' behavior and also details about the revenue generated through MailChimp.
The plugin's free version can be easily downloaded from the WordPress repository and the premium version is available in 3 different plans starting from $59 per year.
Email Verification for WooCommerce


Improve the quality of your subscriber's list by adding WooCommerce email verification. The plugin Email verification for WooCommerce helps to add email validation for new users. You can also perform email verification for already registered users and also skip verification for specific user roles. This plugin even allows you to delete unverified users from the database manually or automatically once per week.
The premium version of this plugin can block certain actions for non-verified users, notify admin whenever a new user verifies his/her email, allows you to set email blacklist and more additional features to your WooCommerce emails. The plugin, Email verification for WooCommerce can help you to improve and maintain your email list neat and spam-free.
The free version of the plugin can be downloaded from the WordPress repository and the premium version is available in 4 different plans starting from $29.9.
WooMail Email Customizer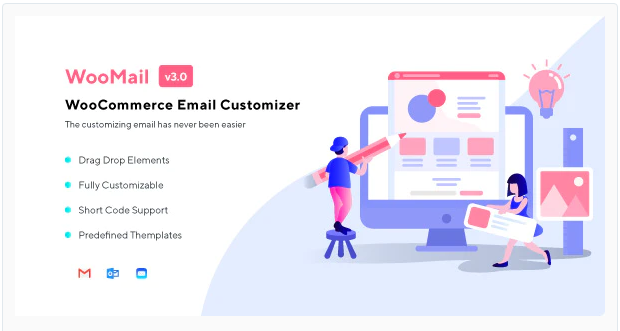 WooMail Email Customizer is equipped with nearly 10+ email templates which can be further customized using its drag and drop editor. It is one of the top email customizers that helps you to customize or redesign the predefined email templates the way you want.
The WooCommerce edit email template plugin can customize without using codes. It has great support for unlimited shortcodes and the plugin even allows you to send test emails after customizing.
The most significant feature about the WooMail Email Customizer is, it can send product recommendations in the emails that are sent to your customers. This WooCommerce email marketing plugin can implement the method of cross-selling through which you can market your products and it may help in increasing your revenue per order.
The plugin is available at CodeCanyon at a price of $39.
WooCommerce emails are through which you build connections with your customers. Sending the usual WooCommerce emails may not bring change both to the store and its customers. Add some value to your customers' inboxes by sending customized and professional emails. This can be easily achieved with some of the best WooCommerce email plugins. Customize your store emails and experience great benefits.
Every WooCommerce email plugin above has its own uniqueness. You can choose the best suitable one for your store. Some are good at customization, some are email marketing plugins in addition to customization and more. So, choose the WooCommerce email templates plugin as per your requirements and improve your communication with your customers.