Let's start the read with a quick questionnaire.
Which of the following marketing strategy looks smart?
Making 10 sales from one WooCommerce customer…
Or
Spending on converting 10 different leads to buy a product in your store…
Well, retaining a customer and driving that customer to make repeat purchases at your store is the smartest way to grow your online store.
And, this is how your fellow WooCommerce stores are getting smart…
You may say spending on new prospects can grow the customer base. But, there's a big uncertainty of how much lead gets converted.
In fact, the success rate of increasing revenue by selling to existing customers is 60-70%. So, How do you do it?
Next order coupons in WooCommerce
Say your customer buys at your online store.
What if the customers are offered a coupon code so they can use it and get an offer by the upcoming next purchase discount in your WooCommerce store?
Your customer will definitely use the coupon because 63% of online shoppers say they'd use coupons if offered with a discount coupon.
Now, that's a Next order coupon code in WooCommerce.
List of Best Next order coupon code generators for WooCommerce
Up & ready to create your next order discount coupons for WooCommerce? Follow the read to know the top smart coupon plugins in WooCommerce.
Retainful – WooCommerce Abandoned Cart recovery email & Next order Coupons
FREE WordPress Tool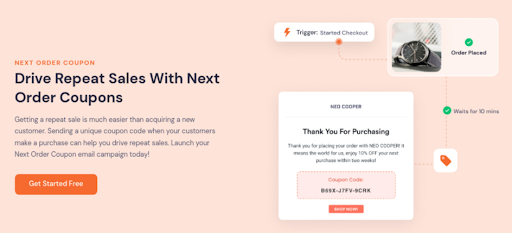 Retainful is one of the best Email marketing automation plugins with which you can send automated Next order coupons & drive repeated sales. The plugin allows you to automatically generate unique coupon codes and send them via Thank you emails.
You can offer a Fixed discount, Percentage & Free shipping discount via Next order coupons. Also, you can set a minimum spending conditions to earn the coupon, increasing your average order value. You can also set expiry dates and send email reminders to customers.
You can always track how much revenue is earned using the Next order coupon from the dashboard.
Added Advantage – Apart from sending Next order coupons, Retainful also helps you automate cart recovery emails and recover all those lost sales in the abandoned carts.
Sending Next order coupons via Thank you emails will help you foster customer loyalty and encourage customers to return to drive repeated sales.
Features
Retainful is FREE
Generate unique Next purchase coupon codes
Send email reminders for coupons
Use pre-built email templates to send coupon emails
Use shortcodes for personalization
Drag & drop email editor to customize emails
Create Flat amount, Percentage & free shipping coupon discounts
Share coupon codes automatically in the transactional order emails
Useful analytics and insights to track your revenue
Automate Cart recovery email reminders – No FREE WP plugin for this feature
Send an unlimited number of cart recovery emails.
Pricing
Free version available. The premium version of the plugin starts at $19 per month.
Discount Rules for WooCommerce

If you are looking for a WooCommerce smart coupon plugin trusted by most store owners, this is the plugin you got to have. The plugin functions more like a coupon management plugin that lets you create dynamic coupon discounts.
Creating cart-based coupon discounts is the biggest advantage of using this discount plugin. The cart conditions can be based on the purchase history of the customer, like previous order value, number of earlier orders, etc.
Advanced Coupon features
By configuring next order coupons in WooCommerce, discount rules allow you to create user role specific coupon discount, free shipping coupons, free BOGO discount coupons, and much more.
Features
Apply coupons automatically in the cart page
Create both price and cart-based coupon discounts
Validity bound next order coupons
Create user-role-based dynamic coupons.
Checkout Upsell for WooCommerce


Checkout Upsell for WooCommerce is one of the well-known Upselling plugins to offer Next-Order Coupons. With this Plugin, you can create unique coupon codes and show Next Order Coupons on the Thank You Page, Order Confirmation/Processing Emails, and My Account Page.
Offering Next Order Coupons is a smart way to engage customers with your store and get repeat purchases. To add on, You can create a positive shopping experience for your customers and easily increase sales.
Features:
Create coupons with percentage discounts or fixed discounts.
Schedule the next order coupon campaign.
Include or exclude coupons for specific products, categories, and other WooCommerce coupon limitations.
Use the Ready-made Template to create coupons.
Set Conditions for coupon creation based on user role, number of items, subtotal value, purchase history, and more.
Preview the Coupon.
Set Usage Limits for Coupons.
Set Coupon Expiry date.
Next move- WooCommerce Thank You page lite
The next move is an extended coupon plugin to customize your thank you pages and convert them into revenue assets. It allows you to share dynamic coupon and promo codes in the thank you pages.
When the customer gets to the thank you page after making a purchase, giving a next order coupon is the way to motivate her to shop more.
Also, turn buyers into repeat customers by offering gift coupons to customers whenever your customers share and like your content on social media.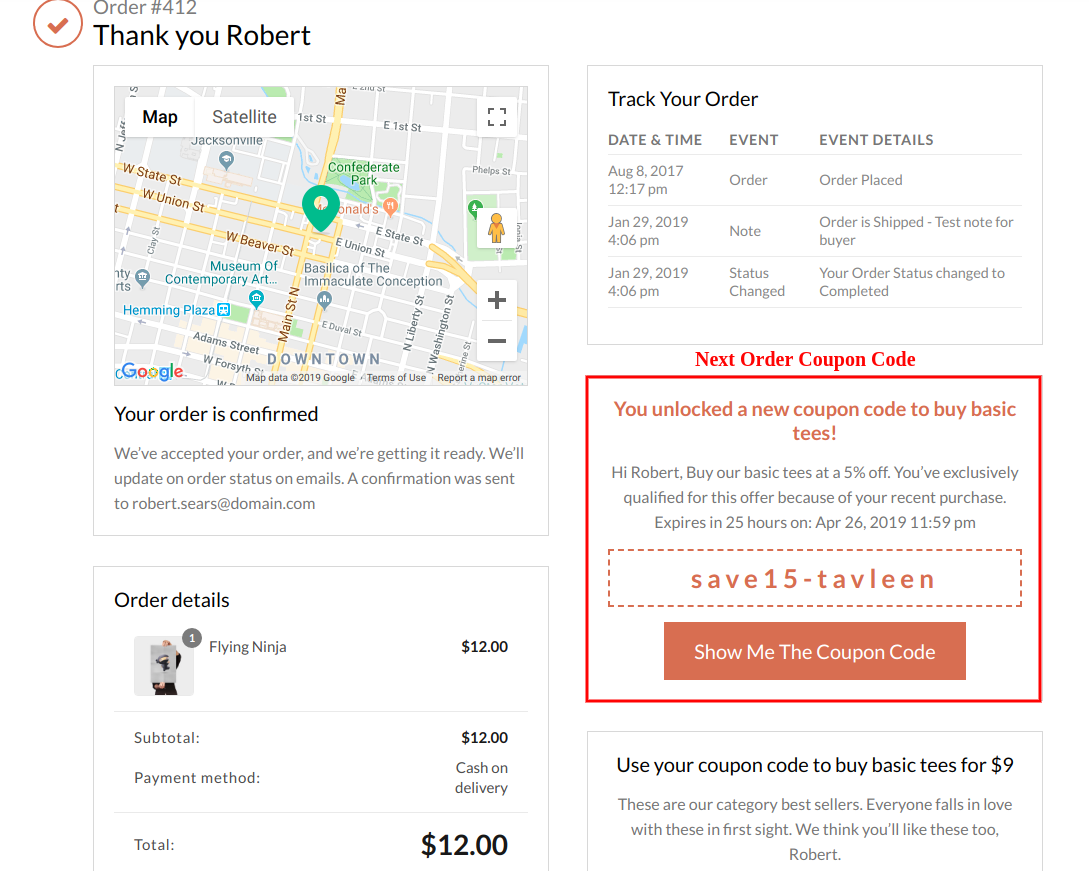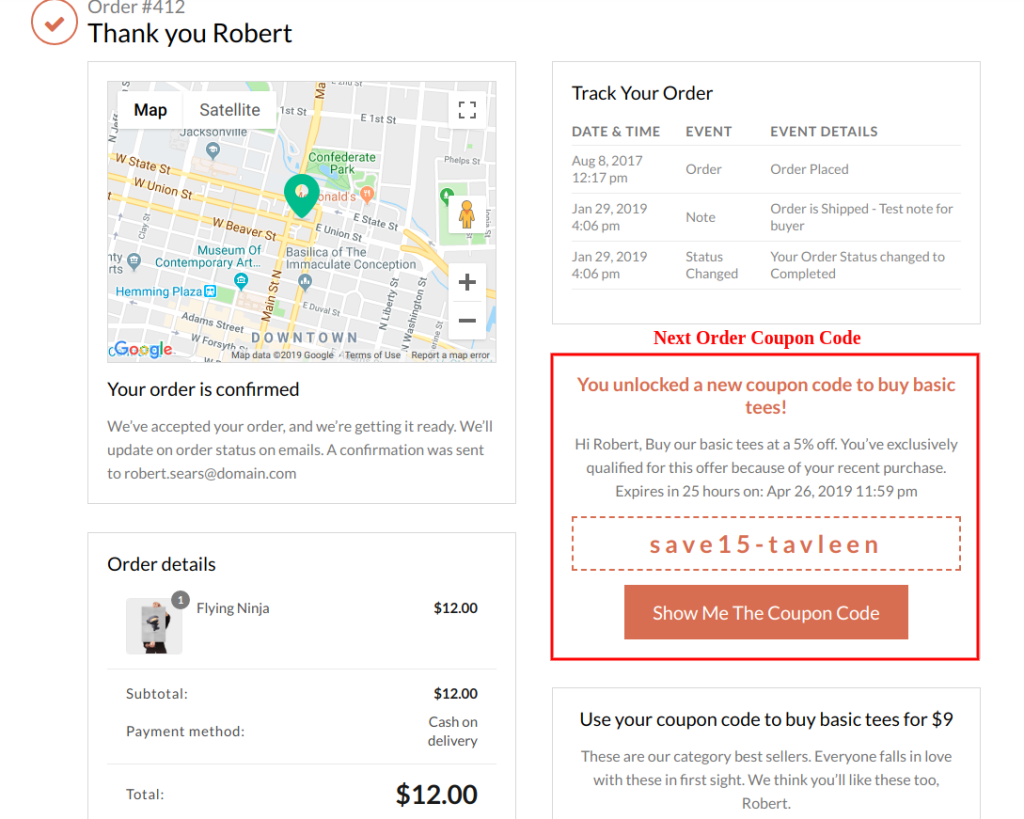 Features
Display discount coupon in the thank you page
Improve social media branding
Time-limited coupons create FOMO(Fear of missing out)
Increase up-sell and cross-sell revenue by showing product recommendations.
WooCommerce Next order Coupon

This is a simple WooCommerce plugin to create discount codes. All you need to do is set the coupon amount and code. The plugin automatically emails the coupons to customers after their successful order completion.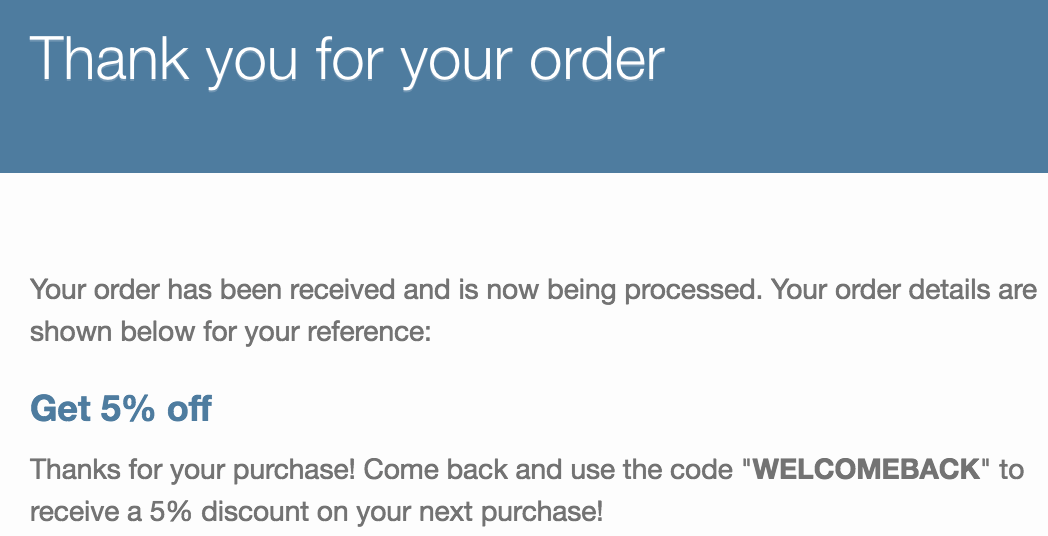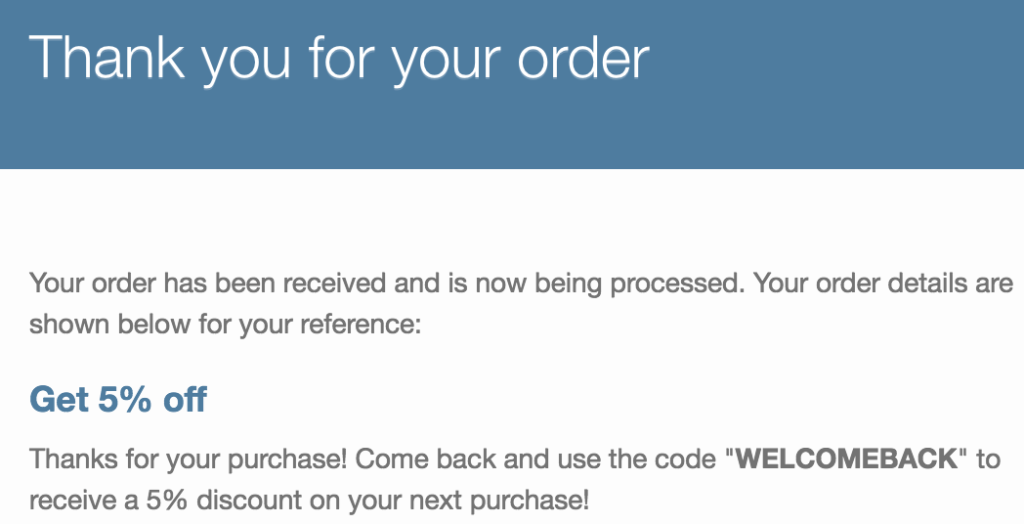 Features
Easy to install
Create coupons instantly.
Woo Rewards- Loyalty and Reward Program for WooCommerce
Woo rewards allow you to introduce a reward and loyalty program to your WordPress site. You can reward customers with loyalty points for their purchases. The customers can use the reward points to avail of discounts on their next orders.
You can create your discount code and associate the reward points with the coupon. The plugin then shares an email to the customers with the coupon details.
Features
Offer loyalty points
Improve brand credibility
Increase customer engagement with your coupon emails.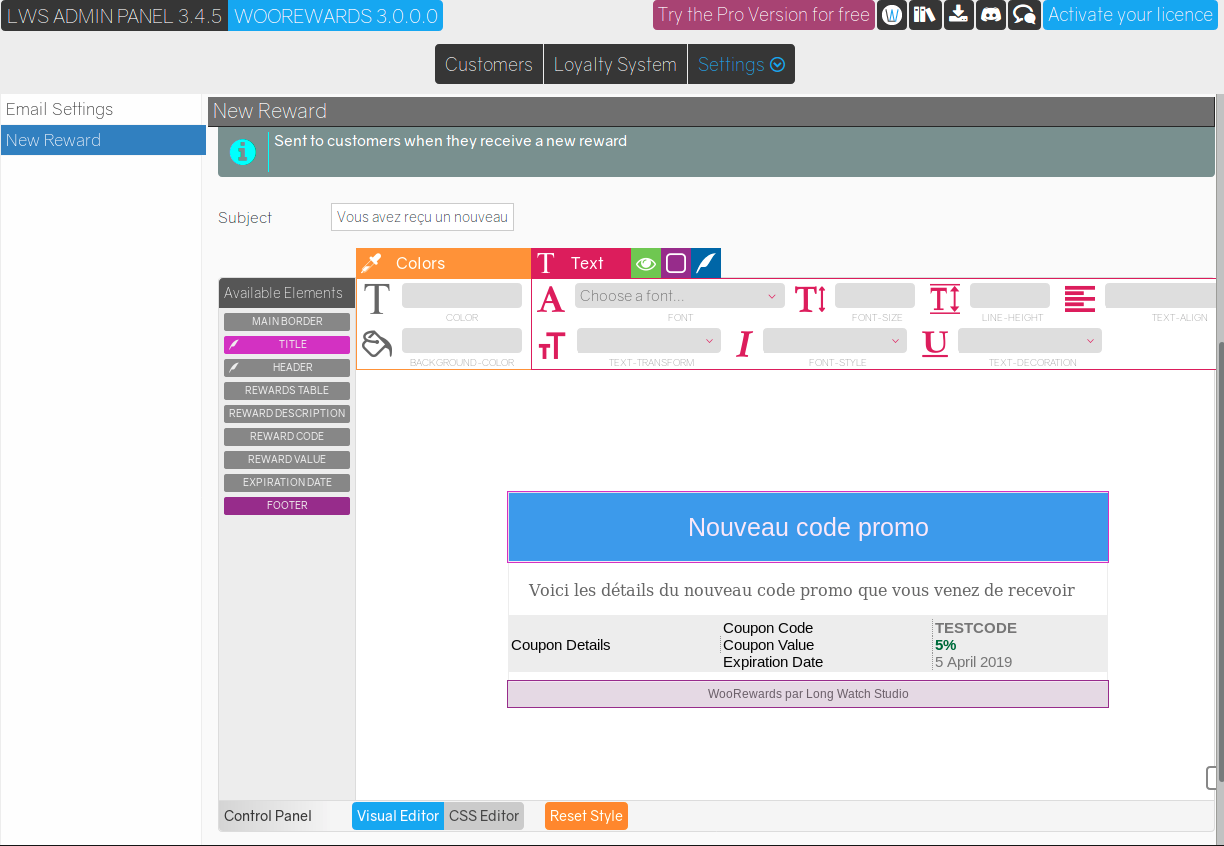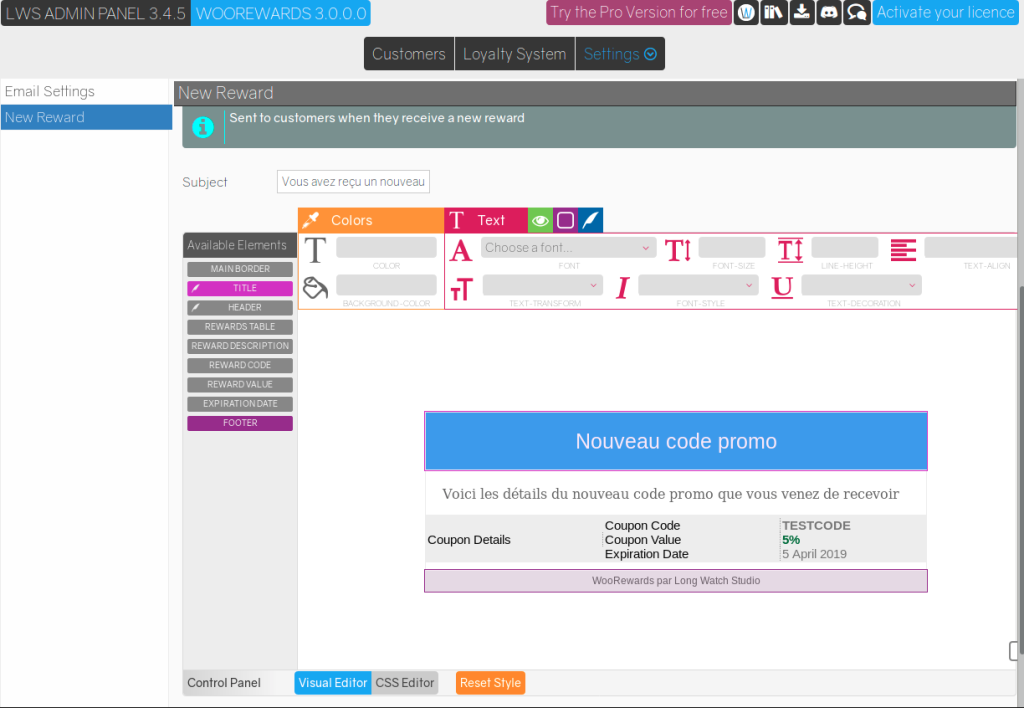 Conclusion
Now that you know why to create an automatic next order coupon in WooCommerce and where to create it don't wait too long. Get ahead of your fellow WooCommerce store owners by creating your coupon discounts now.
Cheers!