Since the beginning of time, customer loyalty is considered prudent.
All the WooCommerce stores are on the lookout for the "best WooCommerce loyalty program" in the digital spectrum.
When it comes to loyalty programs or WordPress loyalty cards, choosing the right one is extremely important.
Loyalty programs are more effective when it comes to retaining customers over a long period of time. Also, the WooCommerce reward system in every loyalty program encourages customers to make more purchases. Apart from it the best WooCommerce loyalty program plugin is capable of converting potential customers into lifelong loyal customers.
Simply put, the best WooCommerce or WordPress loyalty program plugin should unleash the true store potential. Getting hold of the perfect WordPress loyalty card or WooCommerce rewards plugin-free version is a unicorn to find in the jungle of the digital landscape. As there are numerous plugins available, the one you select should not vitiate your WooCommerce store.
A top-notch WooCommerce loyalty rewards download should be capable of filling a gap in your WooCommerce storefront.
This article brings to you the best WooCommerce customer points system that can enhance your WooCommerce store's assurance.
Get to know the WooCommerce ultimate points and rewards system, create the perfect WordPress loyalty card by making use of the WooCommerce loyalty program.
Learn the essential features of a loyalty program including the big question "how to create a point system for rewards?" along with allocating reward points for customers.
Before getting started, make sure you have installed and activated the popular Loyalty Points and Rewards for WooCommerce plugin:
Step by Step Guide – WooCommerce Loyalty Program Creation
When it comes to the case of the rewards plugin, WooCommerce store owners are looking for a simple yet powerful method to increase store credibility among the users. Equipped with effective handling of WooCommerce points and reward referrals this plugin needs no coding or technical expertise to install and create an exceptional loyalty program.
A couple of clicks and you are good to go. Deliver the best WooCommerce loyalty program without any hassle.
With so many advanced features, the WooCommerce loyalty rewards download will be the best decision for expanding your business in terms of revenue and audience.
Let us create an exciting loyalty program and reward points.
Step one – Plugin Identification
Select the WooCommerce ultimate points and rewards plugin and download it.
Now log in to your WooCommerce site and click on Add New Plugin.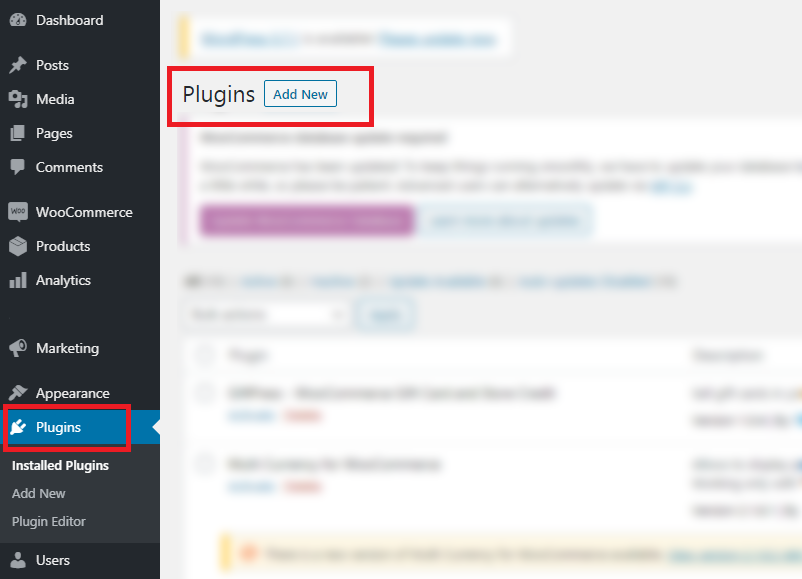 Step Two – Plugin Installation
After selecting the option "add new plugin", you will be redirected to a page where you can either download the plugin or upload the already downloaded zip file of the plugin.

Step Three – Complete Installation
Once the upload plugin is selected, you will be provided with an option to select the downloaded zip file of the plugin and install it.

Step Four – Plugin Activation
As soon as you install the plugin, you need to enter the license key of the product and click on the Activate Plugin button.
Now the plugin is activated and you are ready to create exciting WooCommerce loyalty programs.

Step Five – Loyalty Program Plugin Overview
Once the plugin is activated, you can select a loyalty program based on your business need and implement it. For example, you can choose to refer a friend and other such loyalty programs from the settings section.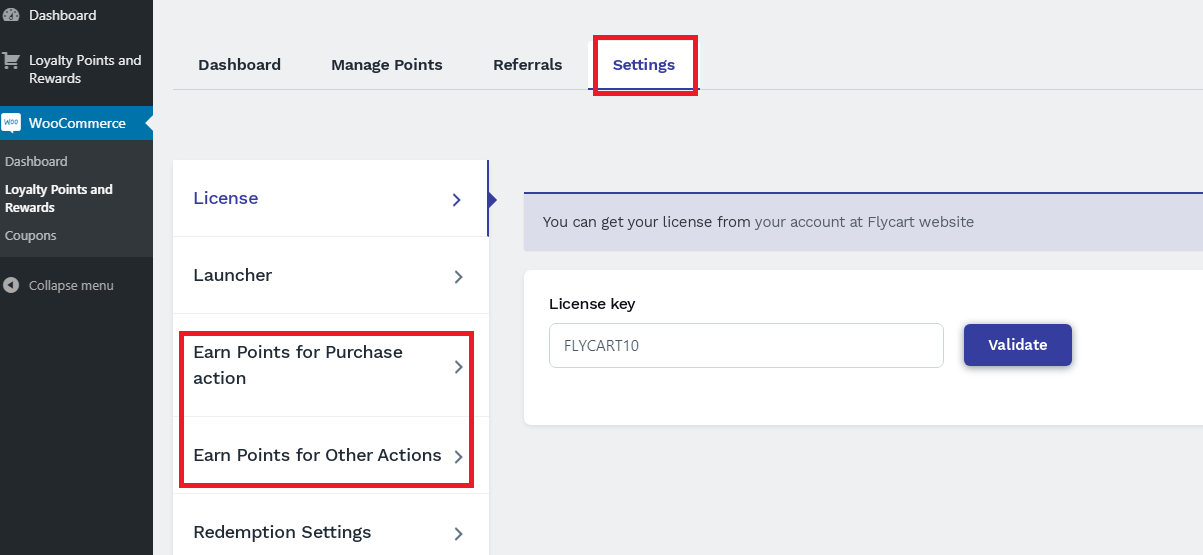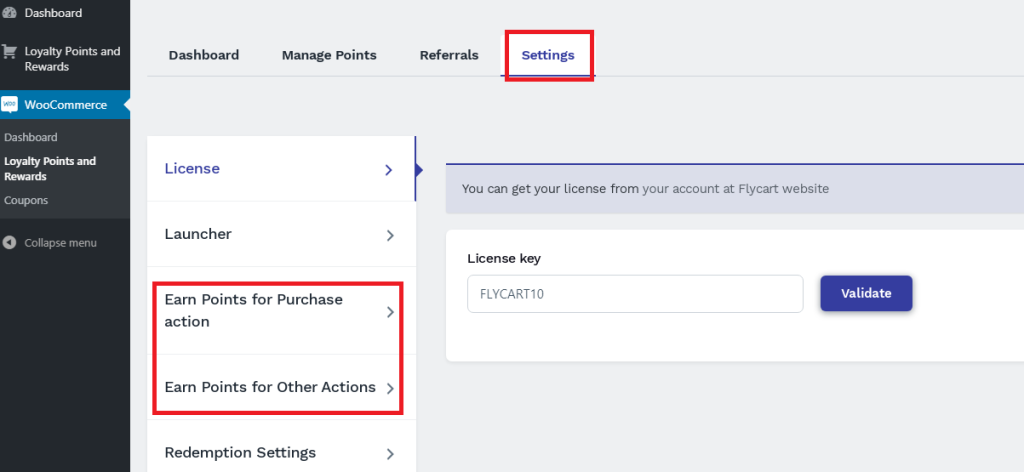 Step Six – Earn Points for Action
There are numerous options available under each section; they are kind of WooCommerce incentives for a loyal customer.
For example, take earn points for another action section containing the condition under which a customer earns loyalty reward points.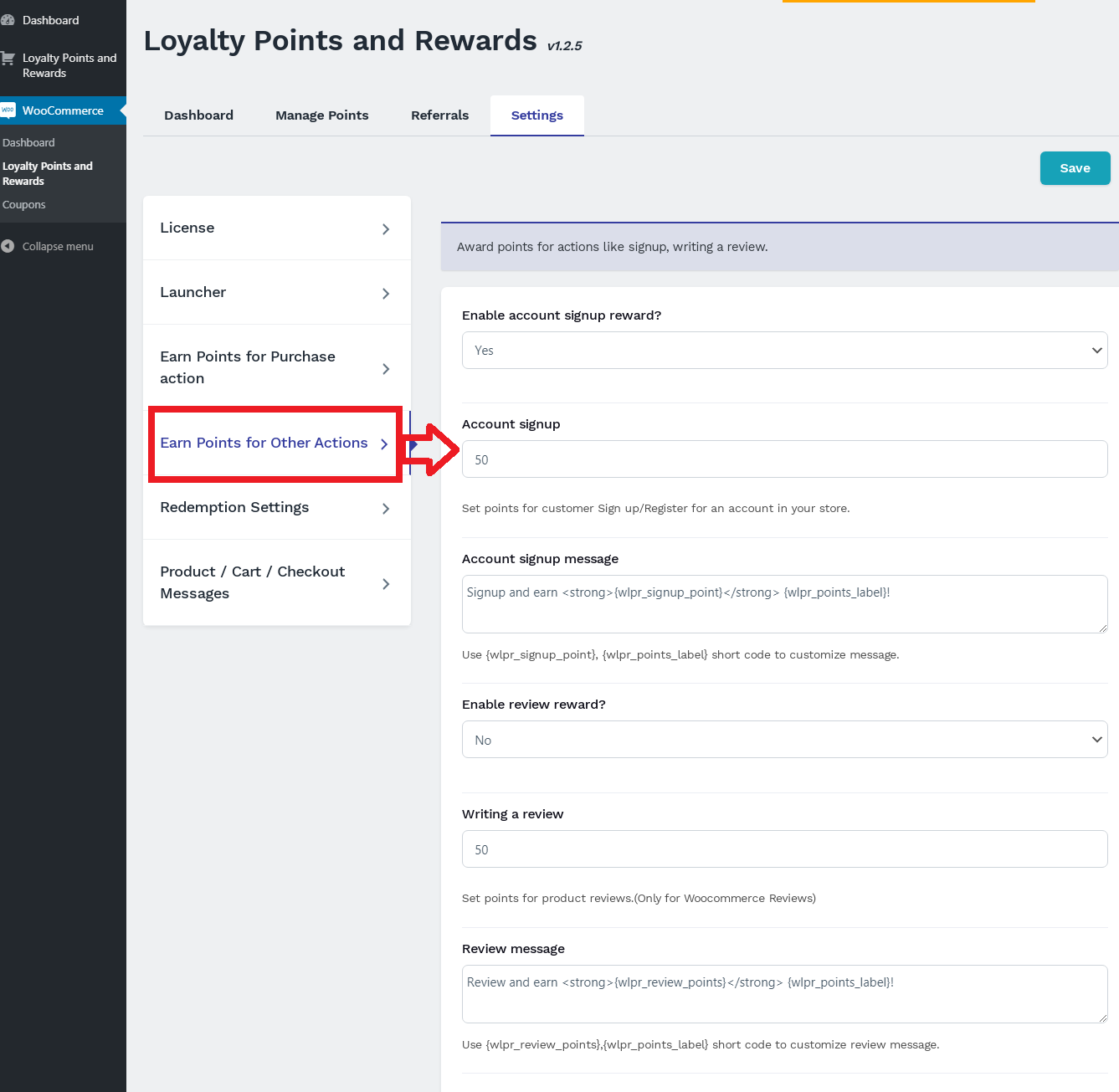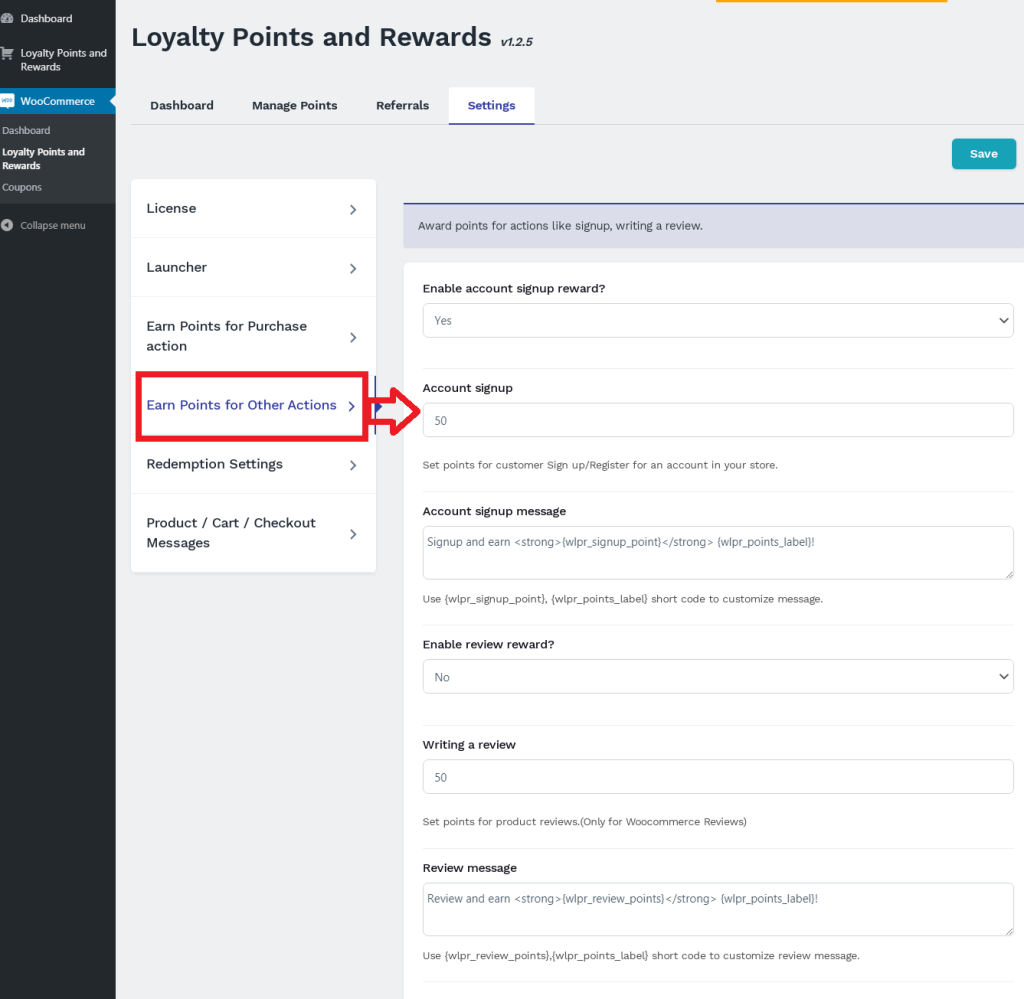 Once this earn points for another action option is enabled, the customer who signs up will be rewarded 50 points. You can fix the rewards points for sign up as per your wish. A customized message can be delivered to the customer after they sign up, a welcome message.
Also, from the above image, you can clearly see that there is an option for rewarding customers for their review. In the above example, each customer review will be rewarded with 50 points. Just enable the options and you are good to go with the best loyalty program that is available.
These options are tailor-made to increase customer satisfaction and engagement. Make the best of the best loyalty point plugin in the digital space.
Step Seven – Earn Points for Purchase
With earn points for purchase enabled, customers will be assured a certain amount of reward points for every single purchase they make. This will encourage customers to make more purchases and the points earned can be redeemed at will by the customers.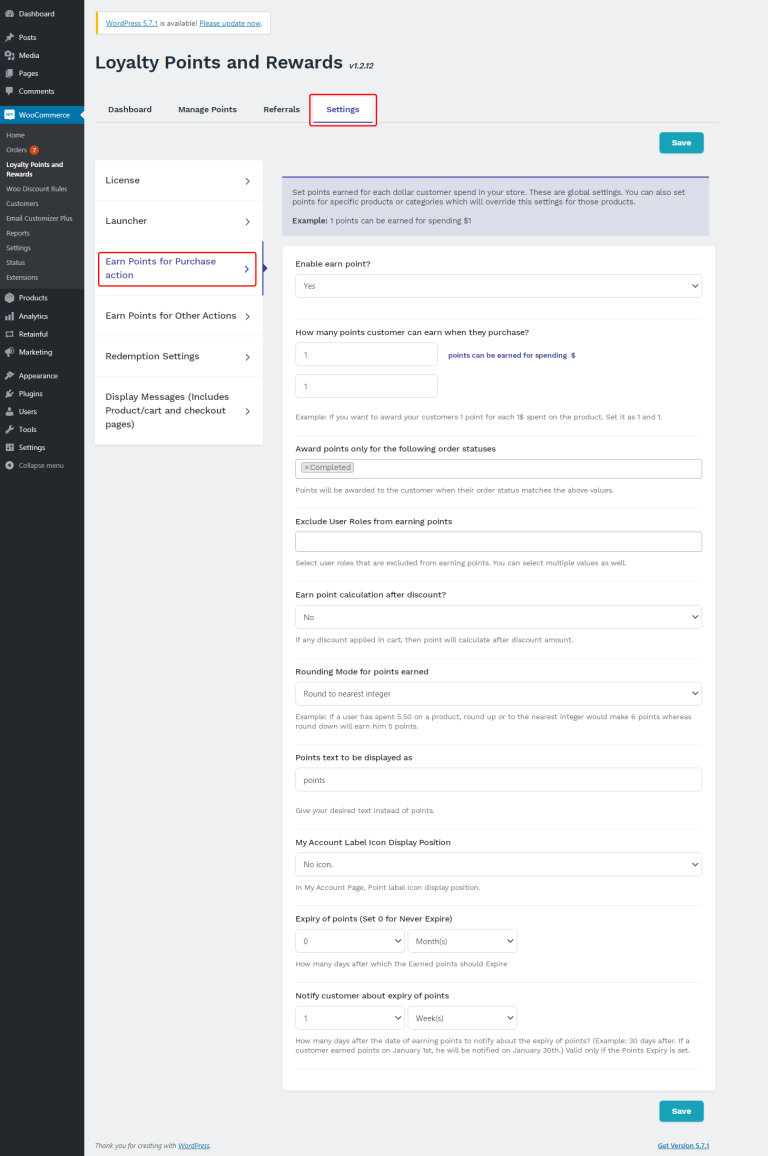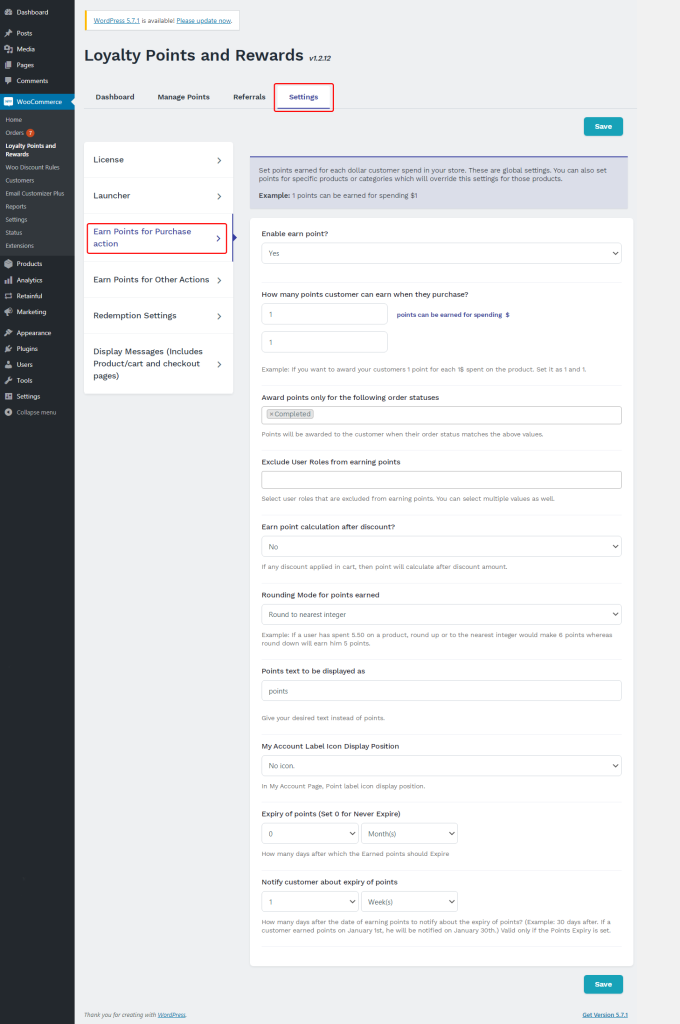 You can define the expiration period of the points along with the ability to determine the number of points that can be earned in a single purchase and more options. An administrator can fix the conditions for earning points.
Step Eight – Points Redemption
Redemption settings under the settings section will assist in the conversion rate for redeeming points. In this section, you can determine "how the redeemed points are to be spent?".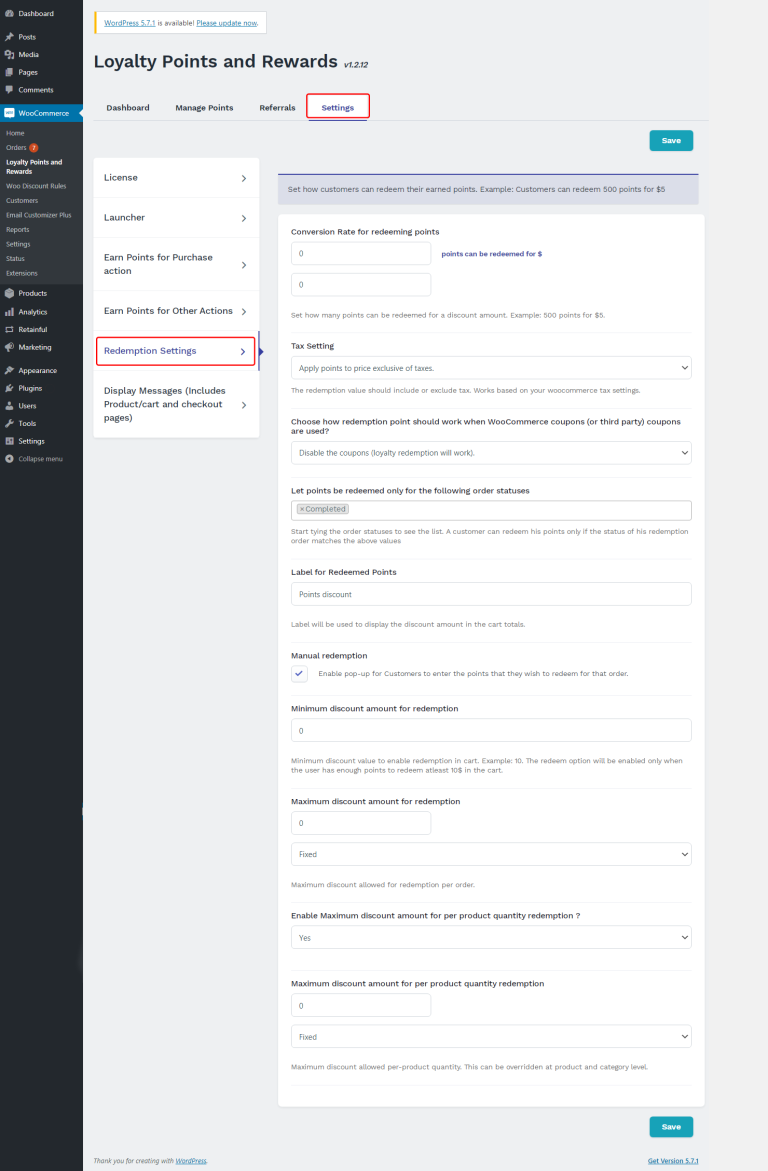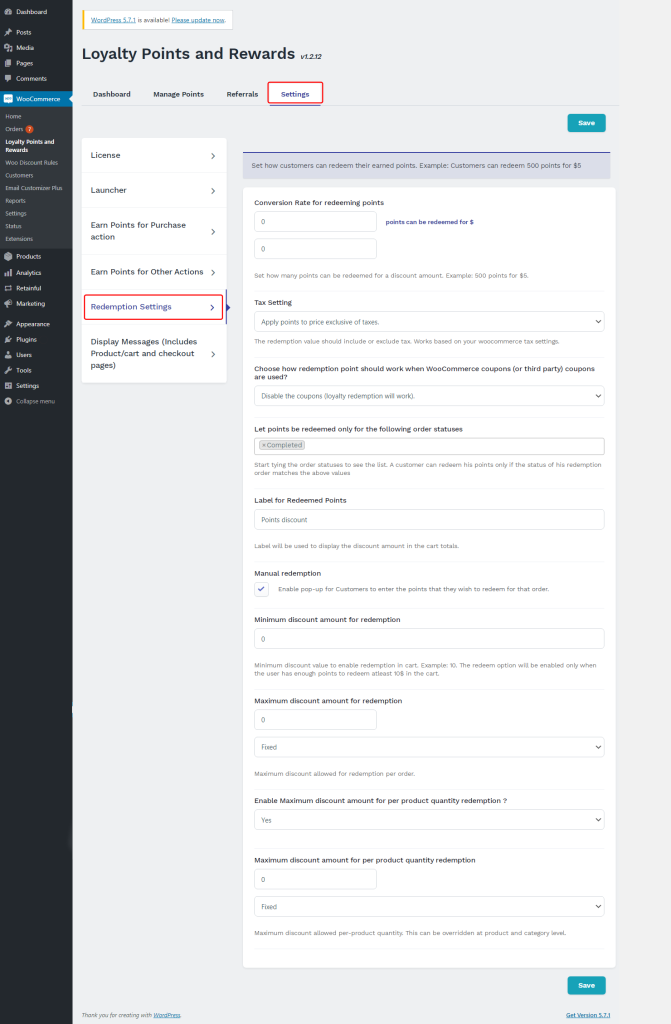 You can allow customers to redeem points with the help of these options; Maximum discount amount for per product quantity redemption, Enable Maximum discount amount for per product quantity redemption?, Maximum discount amount for redemption, Minimum discount amount for redemption, Manual redemption, Label for Redeemed Points, Let points be redeemed only for the following order statuses, Choose how redemption points should work when WooCommerce coupons (or third party) coupons are used?, Tax Setting.
All these options are available to make things easier yet effective when it comes to delivering loyalty points and rewards.
Step Nine – Customized Messages
Once you are satisfied with the options and changes you have created, click save, your loyalty program is good to go.
If required, you can customize the message delivered to your customer in the checkout window or on the product and cart page.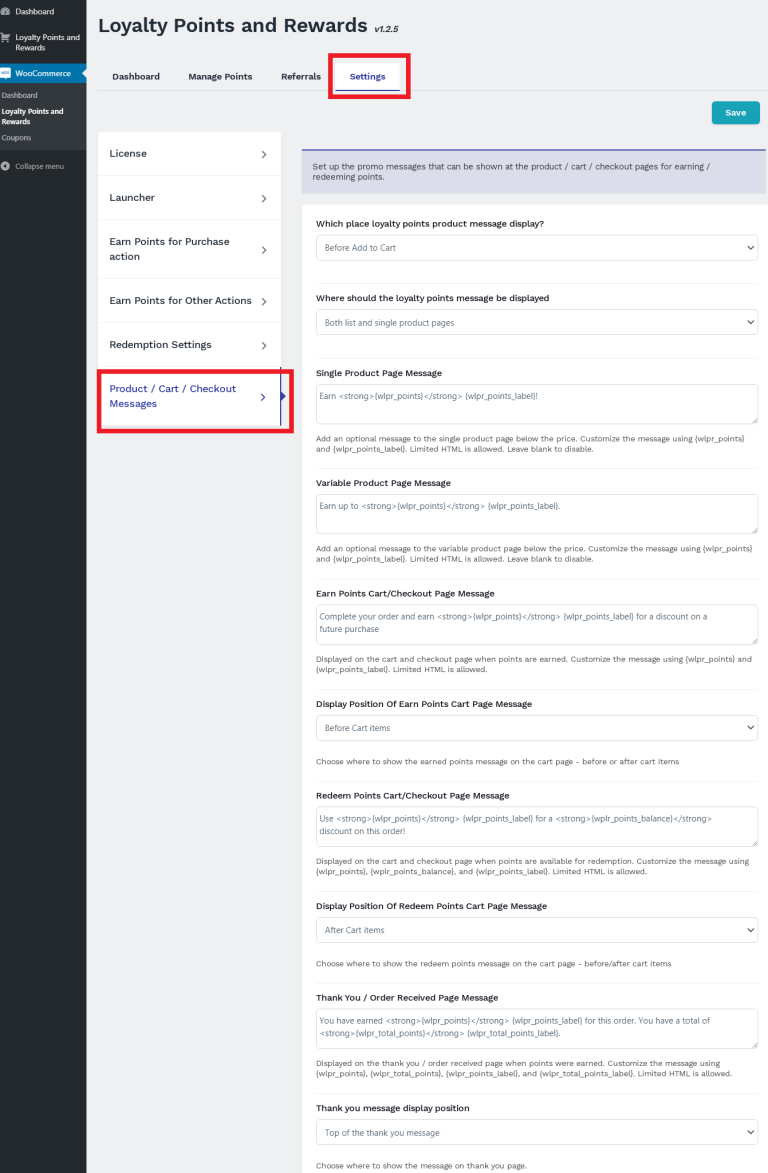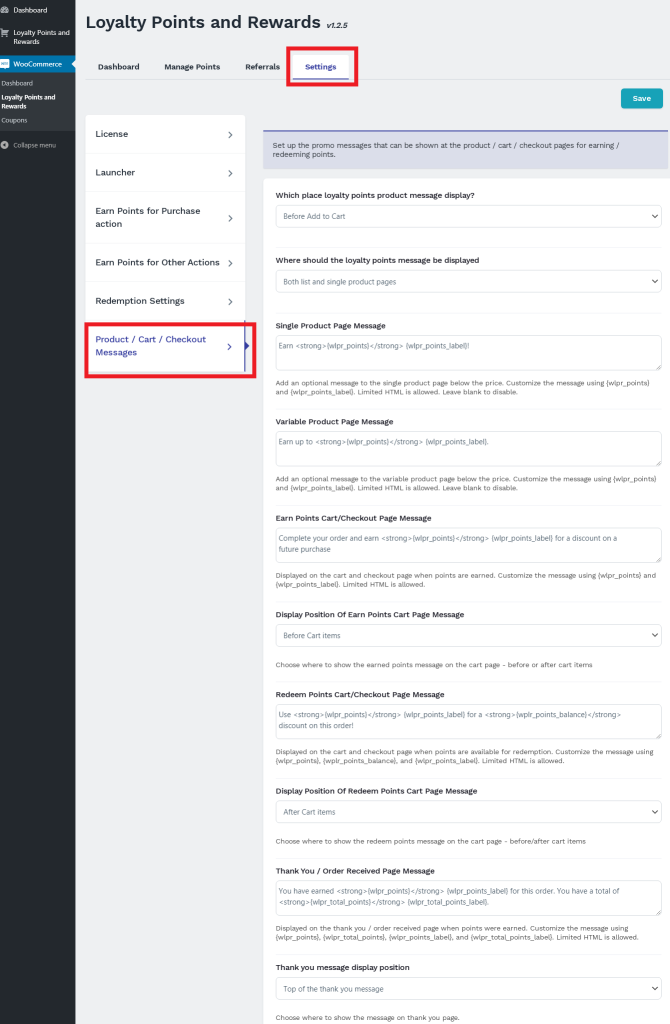 Simple, right? All it takes is a couple of clicks and you are equipped with the most powerful WooCommerce loyalty and reward points plugin. When it comes to loyalty points rewards and referral plugins for WooCommerce, there is only a handful that can do the job for you. But to have the best WooCommerce loyalty program you need to get your hands on the best plugin.
Rewarding points WooCommerce you need to have an efficient WooCommerce loyalty rewards download. Select the best WordPress loyalty program plugin that is laudable by users.
Benefits of using an Effective WooCommerce loyalty program
Customer loyalty should be the top priority of your WooCommerce business if you plan to reach the top of the ladder. And to do that, you need the best possible tools out there, select the best one, and there will be no looking back. With the right plugin, you can make everything add value to your customers' shopping experience, make refer a friend program for fun by rightly incentivizing your loyal customer. Understand the process involved to boost sales with perfect loyalty programs.
Improve positive customer experience by selecting the right loyalty plugin
Make the customer understand that a second visit to your store is worth it.
Encourage referrals and reviews, make them a part of your growth team.
Clear and engaging communication with your customers
Incentivize and show gratitude for their help in your growth
For example, when using a WordPress referral points plugin, the customer should understand their gain from it. It may be a WooCommerce referral widget or rewards launcher widget; you need to make your customer understand their importance in your growth. Smooth integration with your existing system but if you feel necessary you can take a complete backup of your WordPress WooCommerce store.
On a concluding note
Successfully navigating through WooCommerce is a tricky one, but not impossible. To place your business among the best, you need loyal customers, and for that, you need the right tool. Without the right plugin, it will be like "bringing a knife to a gunfight." Select the perfect loyalty plugin that can intensify your business operation and, at the same time, retain your customer base. Implement the best loyalty program and reap the rewards for a long time.