WooCommerce is an open-source, optimized, and flexible solution for your online store with limitless customization. It is the fastest growing eCommerce platform in the market. It authorizes any level of business and supports building a store for your goods/services. If you're planning to monetize your project through WordPress then, WooCommerce is one of the efficient platforms that could skyrocket your (online) business to greater heights.
It is an eCommerce platform that has 5+ million active shops and nearly 26% of global online stores use it.
Just launched? or if WooCommerce has already caught your attention, there are plenty of WooCommerce marketing tools and extensions that would bring in more traction. Further, here are some of the essentials to implement a discount booster for WooCommerce sales.
8 Simple Ways to Boost Sales in Your WooCommerce Online Store
Planning your marketing strategies is quite hectic as it is difficult to find out good suggestions from a single roof. We are here to help you with this. Below are some of the simple marketing strategies which would help your WooCommerce boost its sales and also attract more visitors.
Provide Discounts and coupons
Offering discounts at your WooCommerce store would bring in more sales and conversions. The strategy of providing discounts is a win-win concept where both the store owner and the customers are benefited. Various methods like percentage discounts, price discounts, product discounts, bulk discounts, bundle discounts, and more can be configured through which your WooCommerce boost its sales, revenue, and conversions. The discount and coupon visibility can be increased through popups by integrating one of the best WooCommerce popup plugins.
There are various WooCommerce discount plugins like Discount Rules for WooCommerce, WooCommerce Dynamic Pricing, and more that would help in configuring exciting discounts for your customers.
Look at the attractive discount offered by Dollar Shave Club,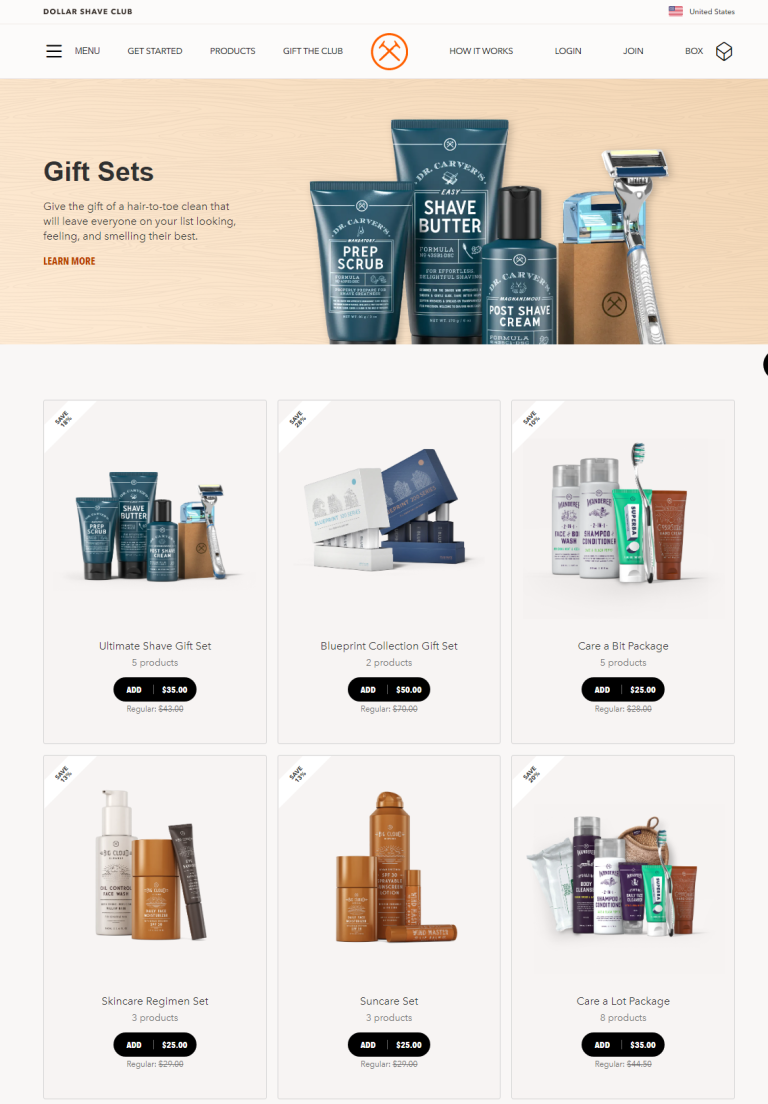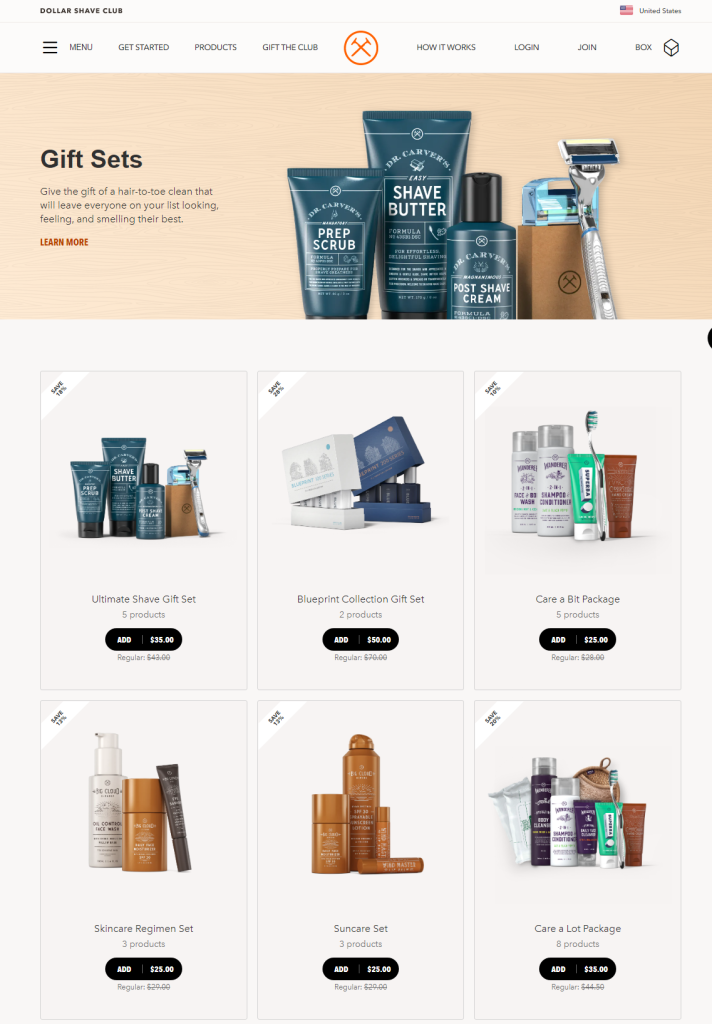 The Dollar Shave Club sells bundle or grouped products in the name of "Gift Sets" which sounds very attractive and sensible for an easy purchase. The products in the "Gift Sets" can be either be purchased to groom yourself or can be gifted to your friends with a Gift Wrap.
Providing discount coupons is a great way of promoting your business. The coupons offered can be used by the customers to redeem your deals and offers. It is a feature that functions as a WooCommerce sale booster in building a better business. There are various WooCommerce marketing plugins that support in creating and managing discount coupons at your store.
For example: Use "COUPON123" and get a discount of 25%.
Configuring these types of discounts would bring in more conversions and also help WooCommerce boost your sales. You can also have control over the impact by offering discounts or coupons for specific products or store-wide.
The discounts and coupons can also be created with the duration of validity and who gets the coupons/discounts (specific customers, specific user-roles). All you have to do is to choose the right WooCommerce sales channels and coupon distributors for your promotion campaign.
WooCommerce Upsell and Cross-sell
It will be nice if your WooCommerce website is able to suggest related products to your customers during their purchase. There are various WooCommerce marketing tools and extensions to configure which provide flexible features to boost your revenue.
But this built-in feature of adding upsells and cross-sells to your WooCommerce store would help your customers to add more to their bags as well as your store to gain profit.
Upsells:
WooCommerce upsell discount is a technique that encourages customers to spend more by recommending similar and better products. Spending more means making customers purchase upgraded or expensive products through recommendations.
Check out the upsell strategy configured by Apple,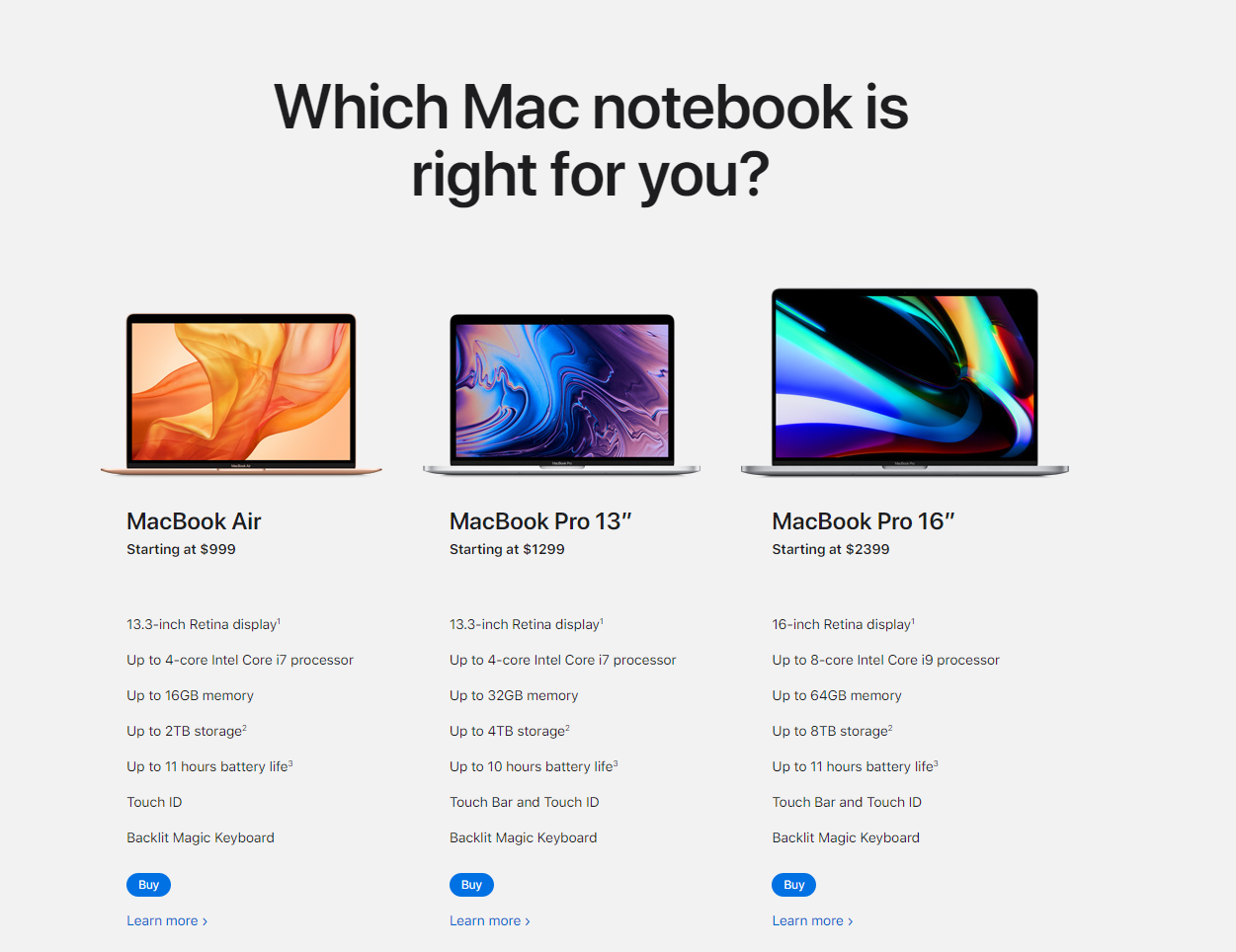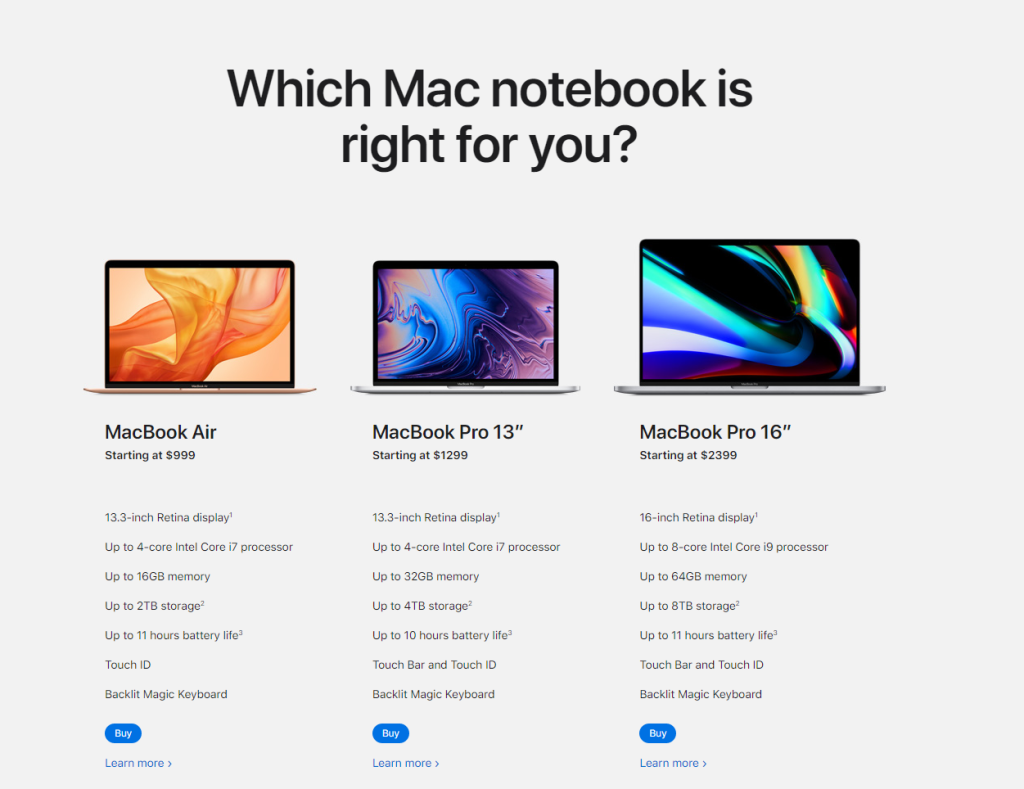 Apple displays three similar products with increased pricing for higher variants. Allowing the prospective buyer to choose a better product at a slightly higher price.
Cross-sells:
Cross-sell is another concept of convincing customers to purchase additional accessories, services, or products that are related to the items already selected.
Look out how cross-sells are configured by Amazon,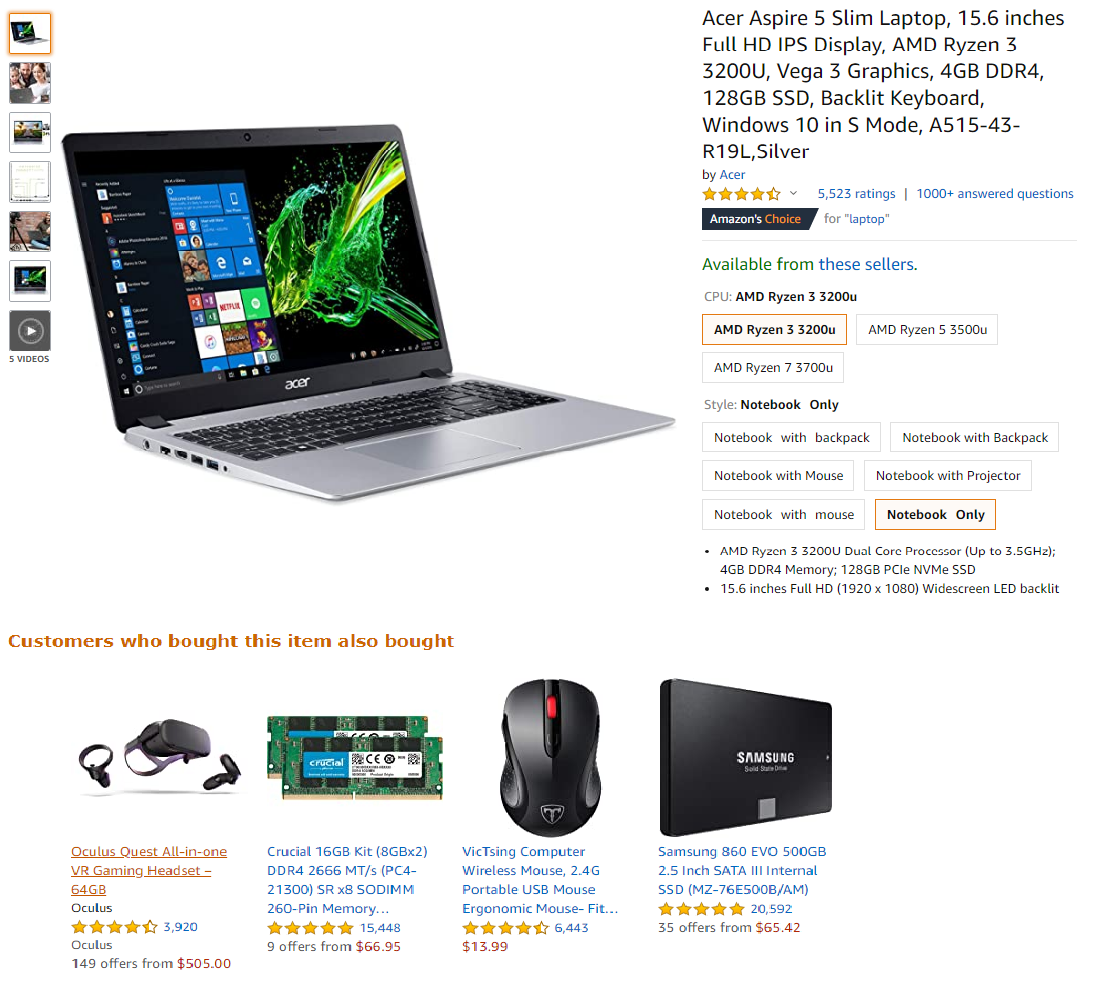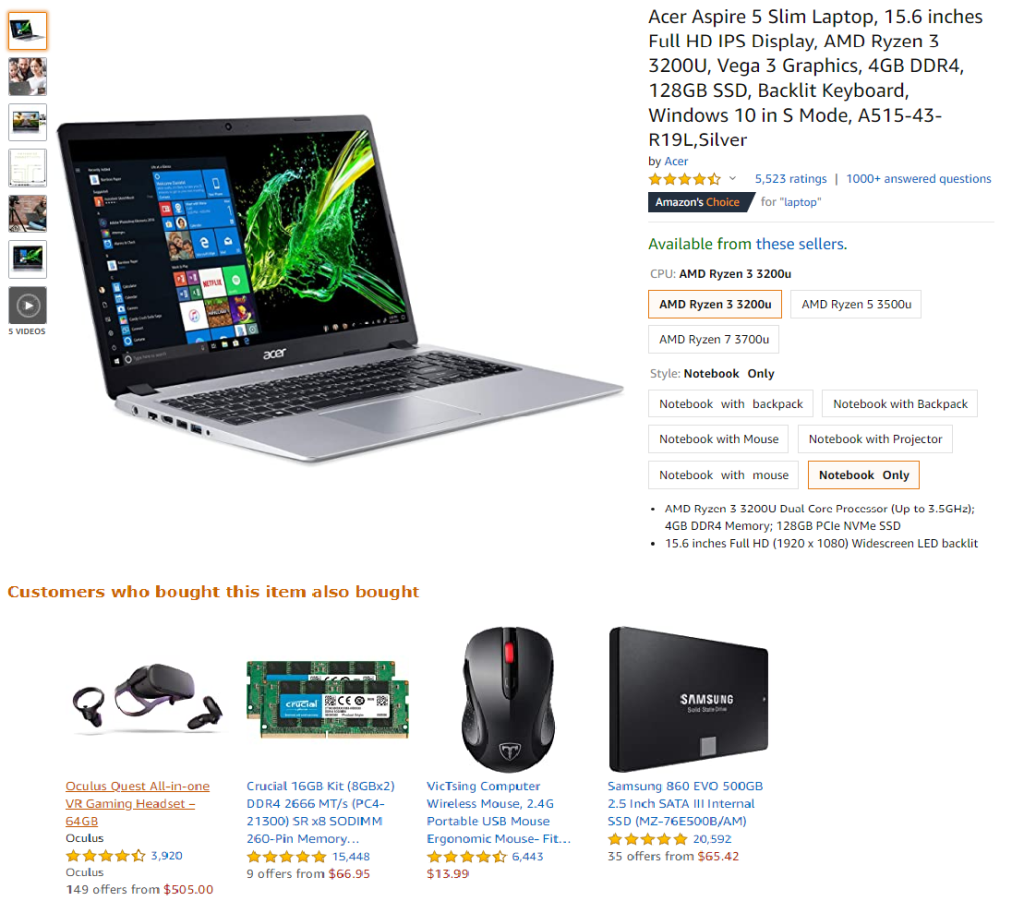 When the website displays related accessories as shown above (example) that may help your customer's bag to add its count and also helps WooCommerce boost its sales.
Flash Sales
This popular promotional strategy is used as an occasional technique to acquire new customers and boost sales. Flash sale is an effective strategy for any level of business. The flash sales are an eCommerce method in which the site offers discounts on a single product or limited products for a short period of time.
These sales play upon the sense of urgency in which visitors to the store can actually see the number of available stock going down or the number of days left. When coupled with the very visible ticking timer, flash sales result in increased sales.
Have a look at the website of theClymb,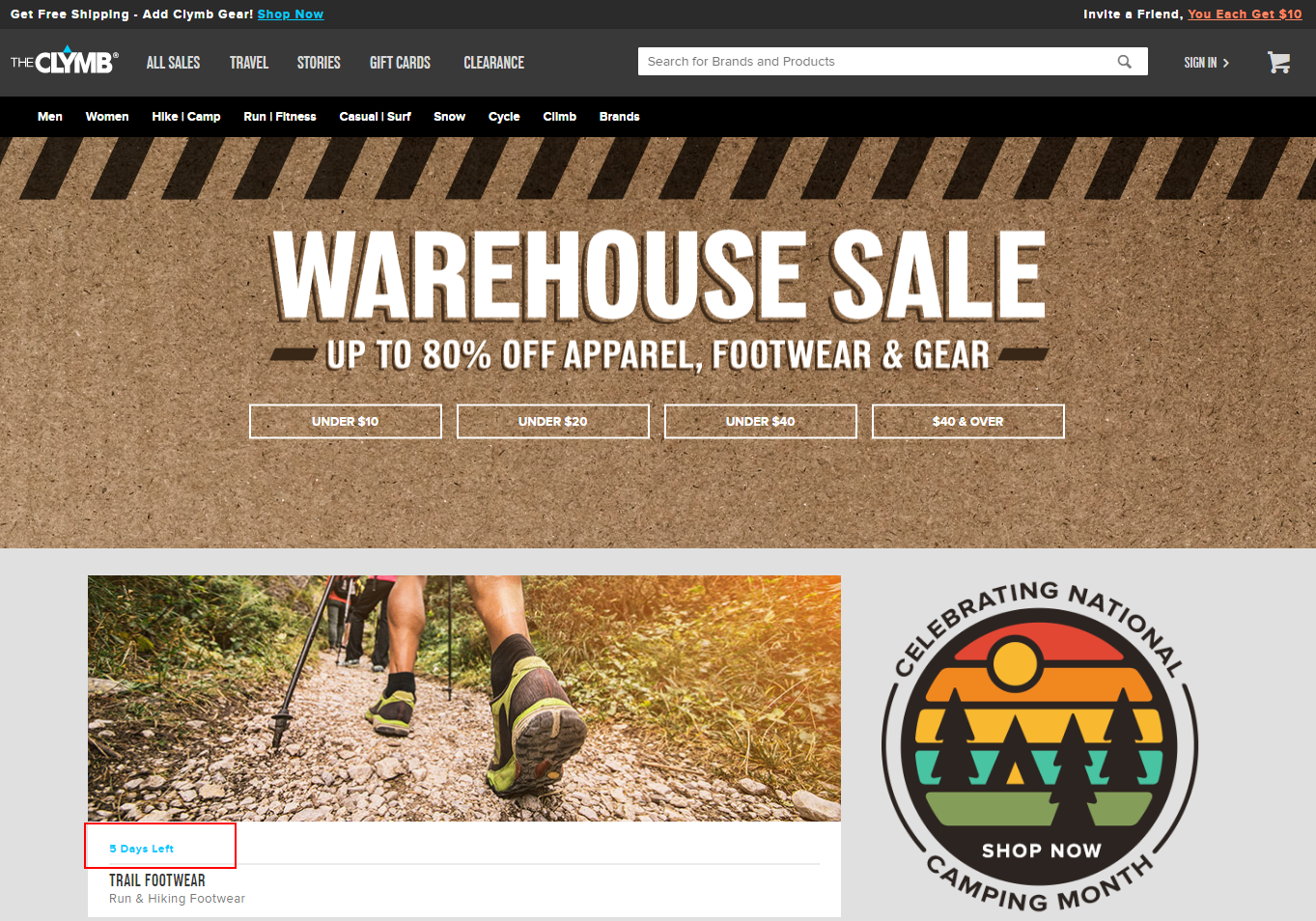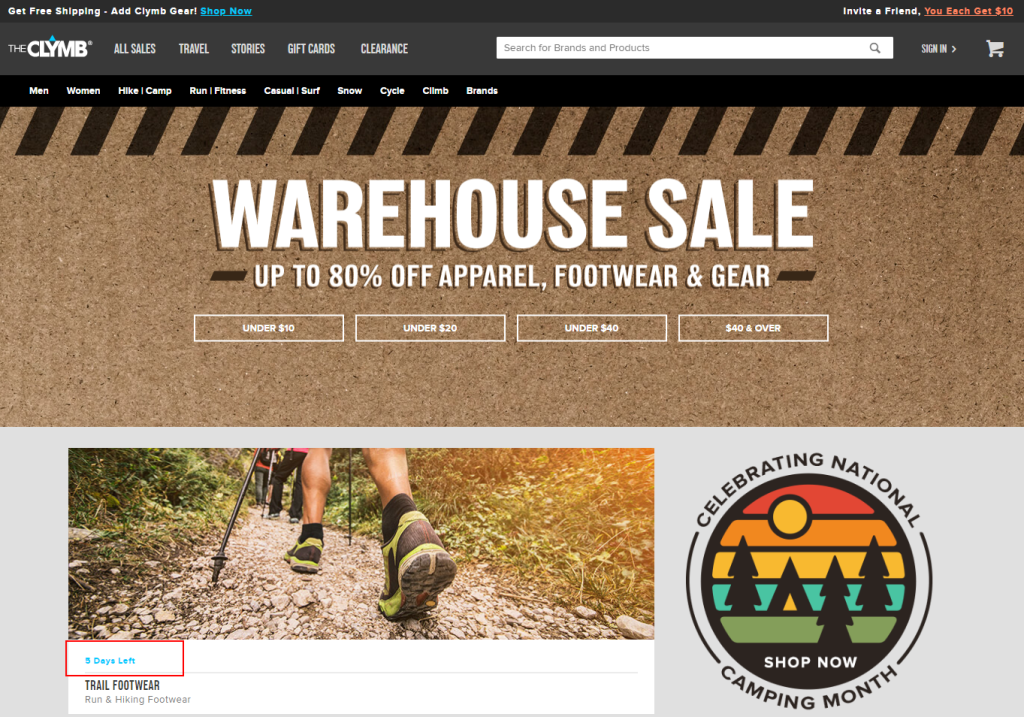 The website has announced its "WareHouse Sale" of 80% with visible days counter display as "5 days left".
There are various plugins available in the market, choose the best WooCommerce boost sales plugin to configure this strategy of urgency marketing.
Sell Gift Cards
Gift Cards with redemption are on its rise and this is the right time to start with it. Selling gift cards would help you notice the huge trend with great revenue and sales. You now have an opportunity to upgrade your store by selling gift cards using one of the suitable WooCommerce boost sales plugins. Experience a colossal success with this WooCommerce sales booster and build in great customer relationships.
Look at the website of Sugarcane Market,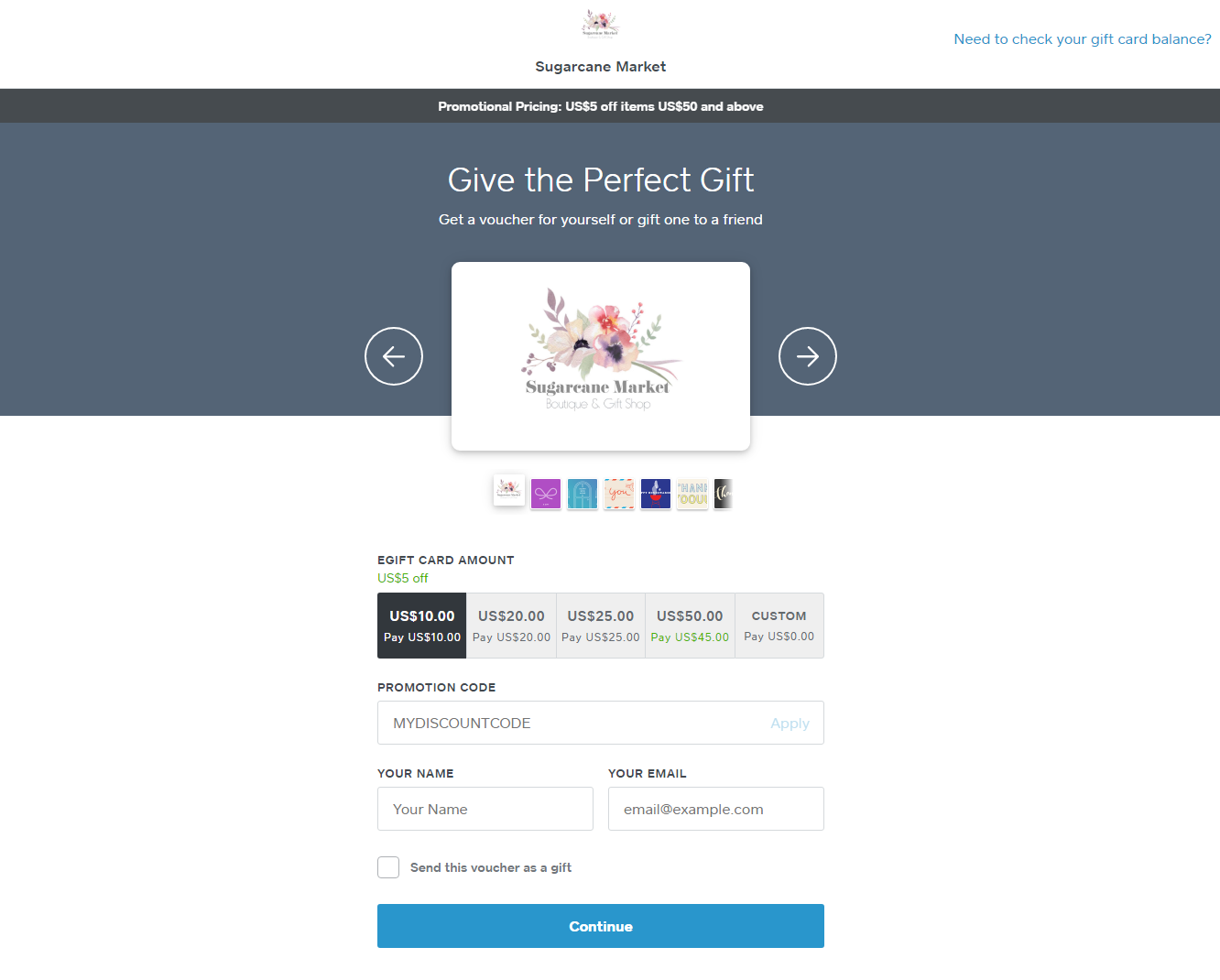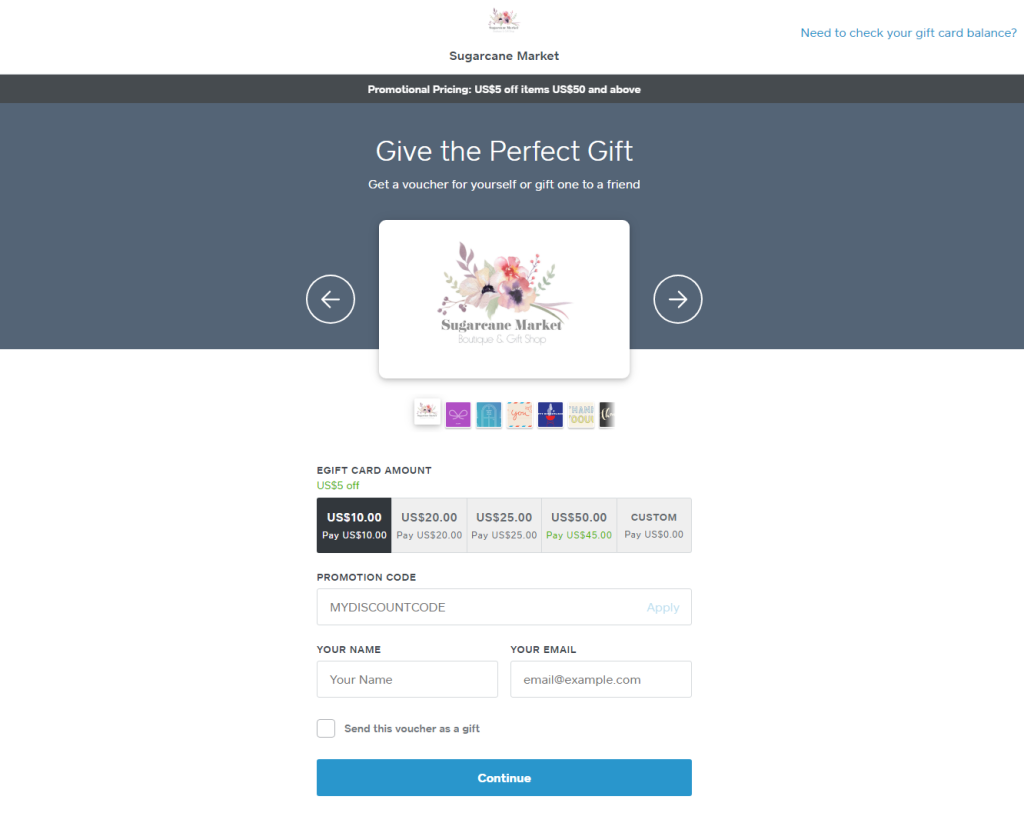 The website sells gift cards that are redeemable by the purchaser itself or simply can be purchased and gifted which is further redeemable by the recipient. The gift cards at Sugarcane Market can be customized by choosing a suitable template from the available ones.
There are various gift card plugins like Gift Press -WooCommerce Gift Cards, and more that help in configuring WooCommerce gift certificates at your store. Start selling WooCommerce vouchers/gift cards to bring in more sales.
Offer points for the purchase
Increase customer engagement and sales by offering points and rewards for the purchase made. It is a powerful incentive for your visitors and customers to shop from you. Offering points on a purchase, referral would bring in more sales and signups to your store. This strategy can be configured using the WooCommerce boost sales plugins like Loyalty points, Rewards, and Referral plugin for WooCommerce, and more.
This is the best promotion idea when these points are redeemable and also it acts as a WooCommerce sales booster to increase your store's revenue. You can even couple these points with the flash sale for maximum benefits.
Look at the website of StarBucks,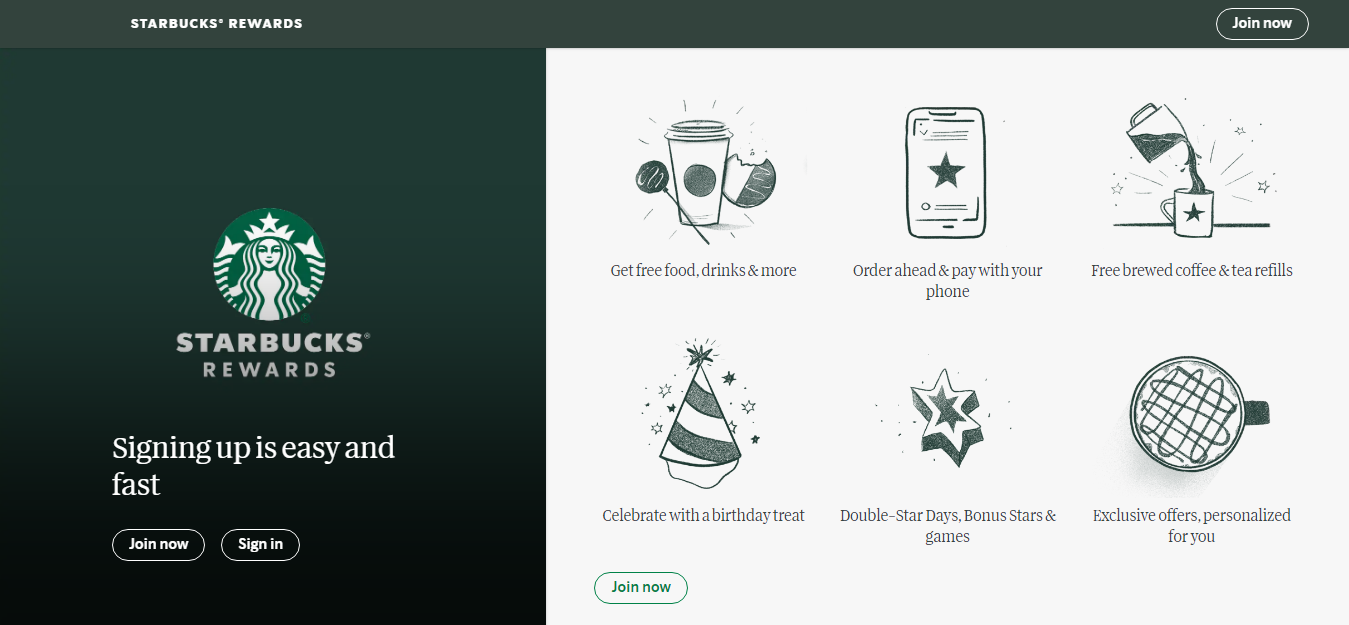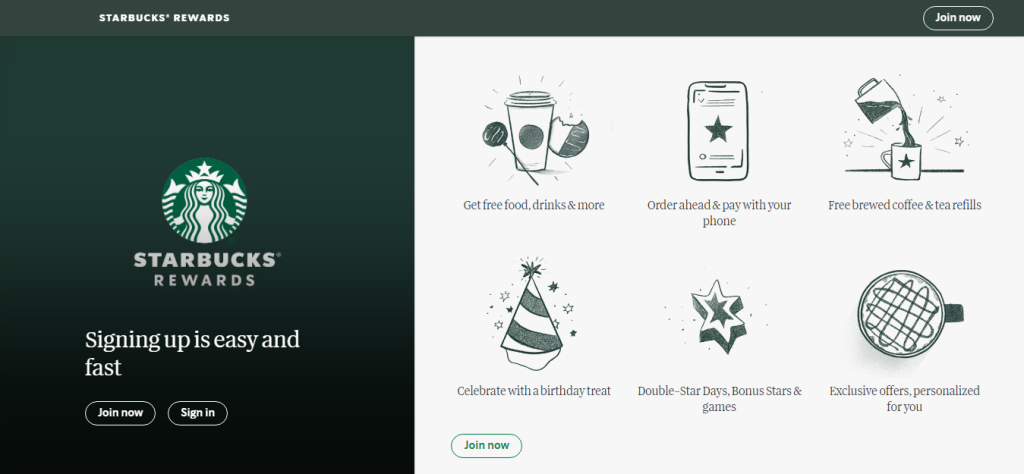 At Starbucks, you can collect stars on almost everything you buy. They use a star system that enables customers to visit, buy, and earn often. Starbucks allows its customers to redeemed the starts with free products or discounted products.
Send Abandoned cart emails
The target here is to convert an abandoned cart visitor to your customer. Sending cart recovery emails would turn out as a campaign to recover sales. These reminder emails are the most economical way to bring back your customers who have abandoned their carts.
Always remember that the recovery emails should not be boring and crappy, sent at a perfect sequence of follow up. It is difficult to get the attention from the very first reminder email so, follow a well-planned sequence until the cart has been recovered. You can offer your customer a discount on the next sequence.
The abandoned cart emails must be catchy and impressive, which should drag your customers back to your store and complete their purchase. There are various WooCommerce marketing tools like Retainful, Abandoned cart reports for WooCommerce, and more. which can send attractive recovery emails in perfect sequence.
Look at the website of French Connection,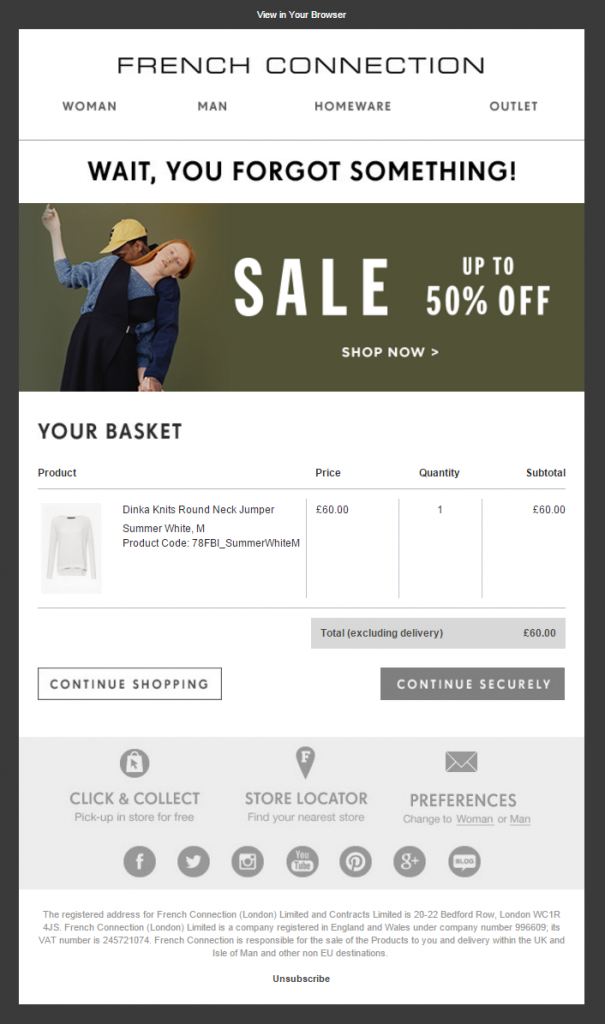 The website with its attractive subject line "Wait, You forgot something" and exciting offer up to 50% would easily bring back its customer. Here, the chances of visiting the store again are higher as the recovery email is quoted with a discount.
Personalized Newsletters
Every store sends out promotional newsletters but very few customize it according to the recipients. It is important that the newsletters are to be customized according to the recipients to bring in more traffic and sales through your newsletters.
The newsletter should contain products based on the purchase history of the customer receiving the email. Though the design and content of the newsletter count the essential is to present the newsletter with offers that would tempt the recipient to visit the store and make the purchase.
Social Proofing
Social proof is a psychological phenomenon where people's tendency is to consider an action/service to be more appropriate when other people are doing it. Social proof is a great convenience for consumers to shop by simply looking into what others do/bought/behave.
eCommerce social proof helps the customers to get an overview of the product before purchasing it. It also helps to know whether it is worth purchasing from the reviews. The more buyers to a product would make more potential buyers purchase it. This is how social proof would bring great conversion to your store.
Let us look into an example of social proofing with customer testimonials.
Customer testimonials are genuine enough that create credit and trust in your store. Testimonials are usually submitted by customers who have already purchased and tested the product. Since these testimonials are from the customer's personnel experience they are considered to be trustworthy.
Check out the below screenshot from Poo-Pourri,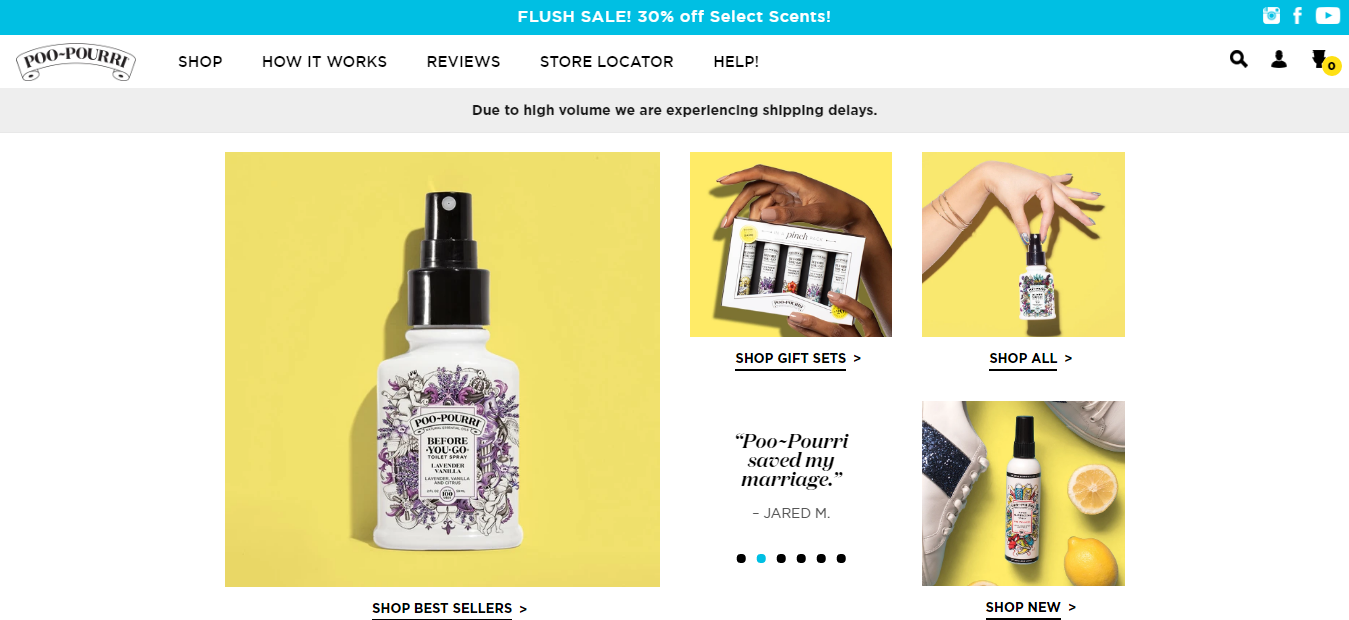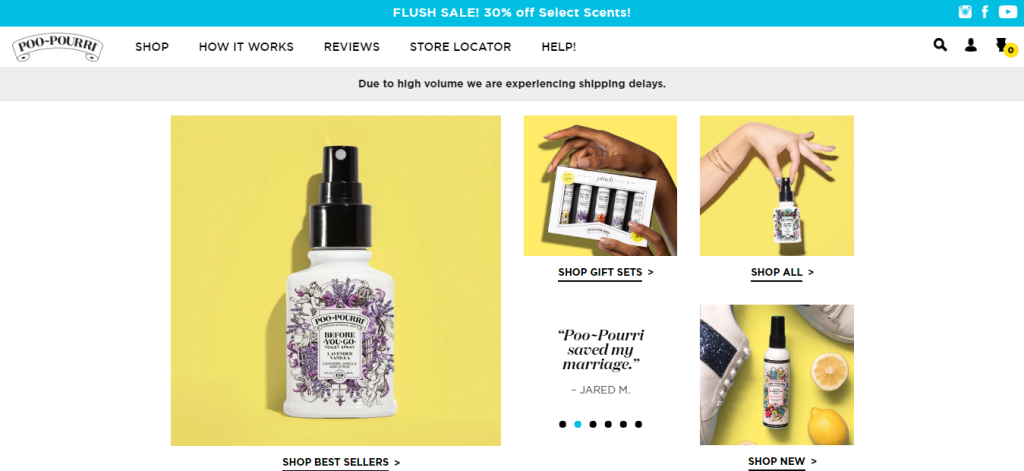 These are derived from the survey feedback. These testimonials are a gist overview of the product. They can be either displayed on a separate page of your website or can be displayed on the product page.
The above tips are the WooCommerce sale boosters that can be achieved by simply configuring the best WooCommerce plugins to increase sales. Keeping yourself updated and implementing the best suggestions will help you to dominate the market. Nail your business by trying out these suggestions and bring in more sales and revenue.
How to boost WooCommerce sales?
There are various methods and strategies to boost your WooCommerce sales as follows,

1. Offering discounted coupons
2. Selling Gift cards/vouchers
3. Offering points and rewards by counting customers action at the store
4. Implementing urgency marketing
5. Announcing flash sales
6. Offering personalized discounts
7. Sending cart recovery emails and more.

There are so many strategies that could help you out to increase your revenue. Study and implement the best suitable method for your WooCommerce store and bring in great results.
What are the best WooCommerce booster plugins to increase sales?
The market has a wide variety of WooCommerce marketing tools and plugins which helps in achieving your target in no time. Some of the best WooCommerce boost sale plugins are,

Discount Rules for WooCommerce – for configuring simple discounts and discounted coupons, flash sales, and also for implementing WooCommerce upsell and cross-sell.

Gift Press WooCommerce Gift Cards – to create, sell and manage gift cards at your store.

Loyalty Points and Rewards for WooCommerce – to reward your customers for their purchase, referral, and reviewing a product.

Retainful – to send well sequenced and customized cart recovery emails.

Email Customizer Plus for WooCommerce – to design and customize your transactional emails and cart recovery emails.
Can I upsell a product in WooCommerce?
Yes, it is quickly possible to upsell a product in WooCommerce as it is one of the built-in features of the eCommerce platform. It can also be achieved by configuring any suitable WooCommerce upsell plugins to your store.
What are the marketing techniques available to boost WooCommerce sales?
Below are some of the common marketing techniques to boost your WooCommerce sales,

1. Provide Discounts and coupons
2. WooCommerce Upsells and cross-sells
3. Flash sales
4. Sell Gift Cards
5. Offer points for the purchase
6. Send Abandoned cart emails
7. Personalized Newsletters
8. Social Proofing
9. Offer Free Shipping
10. Offering Complimentary Products
11. Providing discounts for signups.
How to automate sales using WooCommerce plugins?
Automation for your online store is all about the automatic flow of data to or from your store that is triggered by specific events. Receiving email notification for a new order is a form of automation which we would have failed to realize. Let us look into some of the automation that can be used at your WooCommerce store,

1.Email notifications
2. Printing shipping labels and sending tracking number
3. Creating and attaching invoices to the order emails
4. When order status changes, the respective notification is sent automatically.
5. Automatic abandoned cart recovery
What are the 5 must-have WooCommerce extensions?
Below are the 5 essential extensions for a WooCommerce store,

1. Discount Rules for WooCommerce
2. Gift Press WooCommerce Gift Cards
3. Loyalty Points and Rewards for WooCommerce
4. Retainful
5. Email Customizer Plus for WooCommerce.