Social proofs play a bigger part in influencing e-commerce customers.
Need more convincing?
Well, that's how Amazon- the big eCommerce brand sells its product.
What's the sequence people follow when shopping online?
Pick a product
Read the Product review
Look for the sales count
Hope I had put it right?
Before purchasing anything, say electronics from online, we as customers check online reviews of the product and only if reviews suffice our minds we proceed to purchase.
In general, Social proof is a factor that leads to conformity (a normative influence). Customers will certainly be pleased to read reviews from your existing customers before shopping any merchandise at your store.
Social proofs play a bigger part in influencing e-commerce customers
Time for some Stats
70% of customers tend to purchase something only after looking out the product's reviews.
First up, social proof can be categorized on the following basis.
Reviews from existing customers.
Existing customers are the assets of your e-commerce store in the best of all ways. They are the reason for your growth and development. The credibility and trust in a product or service increases when a new customer checks the reviews from existing customers. The reviews of existing customers reflects the store's customer relationship with it's audience. And this might definitely influence a new customer's interest in purchasing your service.
Well,
Here's a classic example from Codecanyon.
Any website visitor looking for an email customizer plugin for WooCommerce will definitely be impressed and influenced on viewing the user reviews.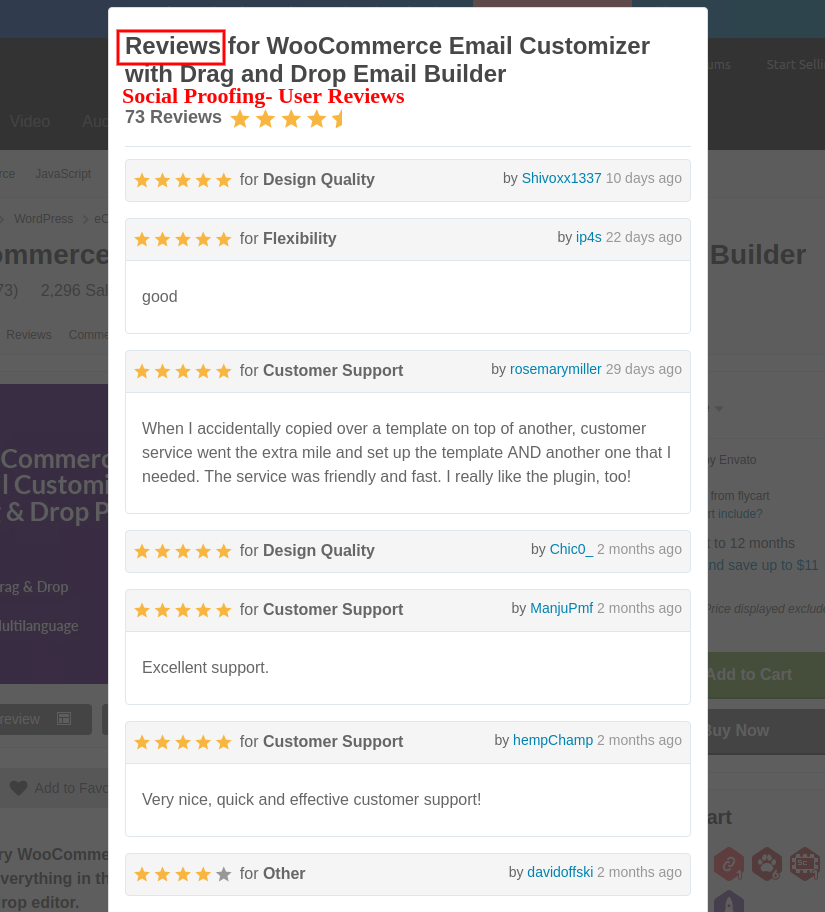 Number Game– Showing number of Active Users/ Installations/ Buys
It's always about the numbers. People trust your business more if you can share them with product data and information in actual numbers.
What happens if you see a product of your choice is already installed by 10K+ users?
9 out of 10 times you'll buy the product. And 70% of online shoppers make instant purchases getting influenced by social proofs.
What follows is the best example of how to use sales count as social proof. Discount Rules for WooCommerce is a WP plugin to create discounts in WooCommerce. The plugin is popular with over 30K+ active users. Using that as social proof in the product page is the best way to influence customers.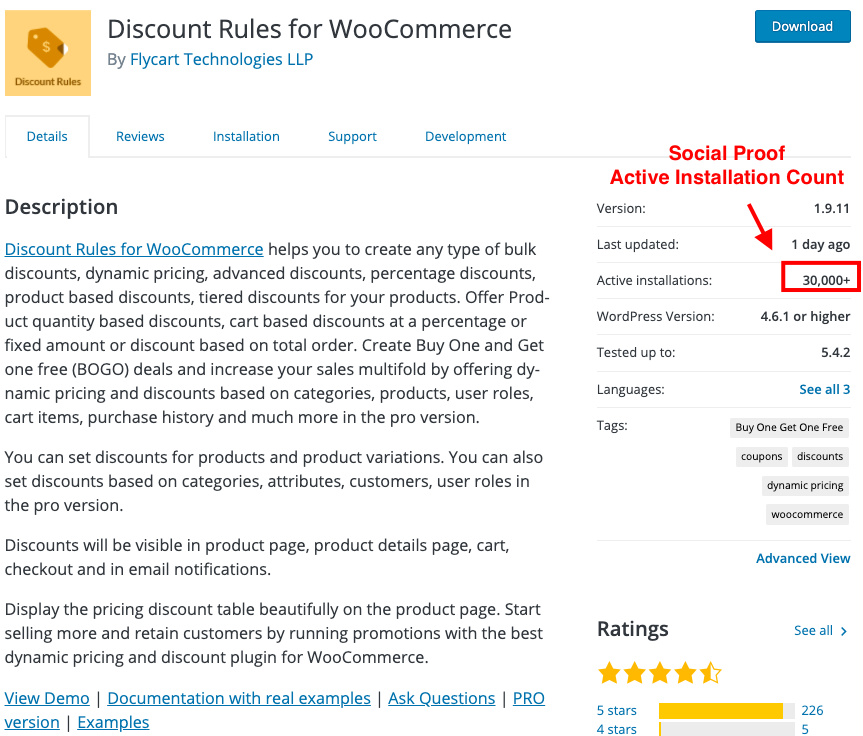 Influencers or celebrity reviews and recommendations.
The success of an advertisement campaign heavily shoulders on the brand ambassador of the product.
We all love our celebrities. And when your famous celebrity becomes a brand ambassador of a product and promotes the same, you would without any doubt, tend to purchase that product. This is how influencers help in social proofing.
Display Live Sale Notification
Show customers with real-time data of new users signing in with your business. By this, you can show your website visitors that people are actively subscribing your service and that could very well be your selling point.
And this is actually one of the social proof strategy followed by Optinmonster.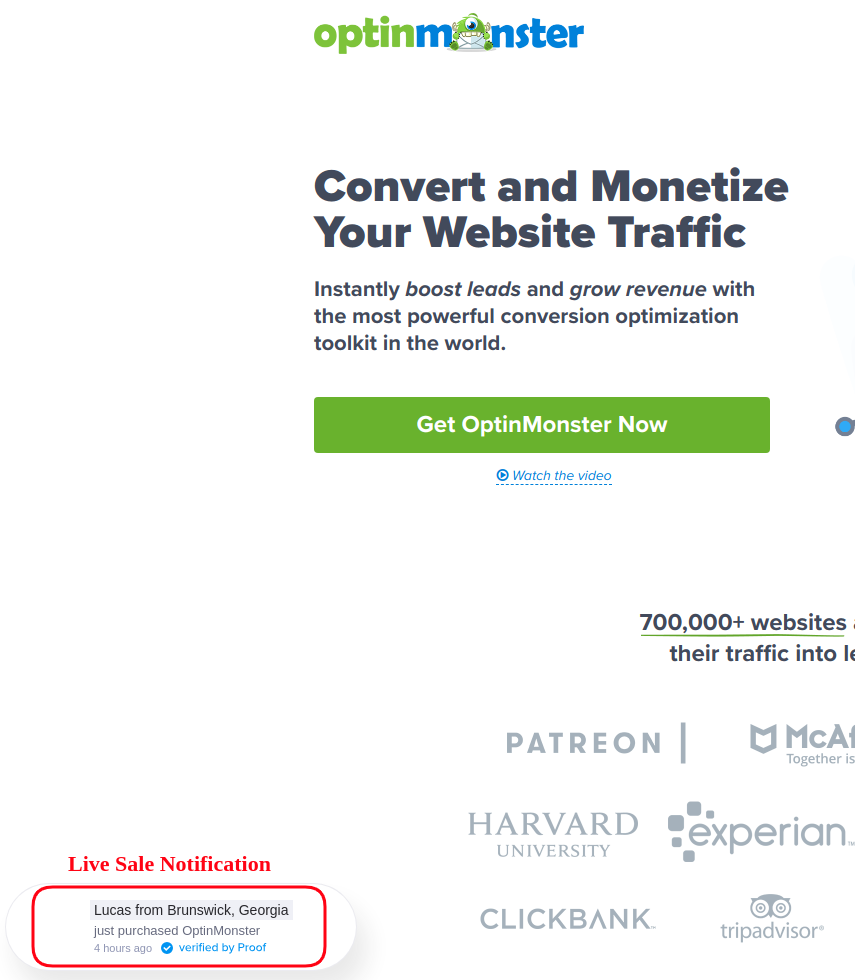 Certifications from authenticated sources.
When your brand has certifications from an authenticated source, who would not indulge in the merchandise with your e-commerce store. To say, ISO certification is the most trusted certification when it comes to electric and electronic products. So, when someone makes a purchase regarding the same they will definitely look for ISO certification. Make sure your brand meets authenticated certification standards.
Social Proof with Scarcity & FOMO
Hurry! Only 10 left!
Order Now! 17 People have added the product to their cart
Remember seeing such such messages when shopping online? You see, this too is an urgency marketing strategy to hurry the customer in making a quick buying decision.
Countdown bars, Sale timers are some factors to trigger FOMO. Trust me, Fear of missing out triggers people to make instant buying decision. Well, if you are looking to add such features in your eCommerce store, here's something that might be useful in creating countdown timers.
For instance,
Your social proof can fall under any of these categories.
Social proofs have a striking psychological impact on your customers. While we focus on how celebrity endorsements and customer testimonials matter, we also should consider the fact that case studies come as a blessing which easily fixes your ways.
Responding to your customer's opinions matter equally & maybe even more. It allows the customers to have proper communication with the dealers and also brings about satisfaction. Who would not want to talk to store owners either to thank them or bash them?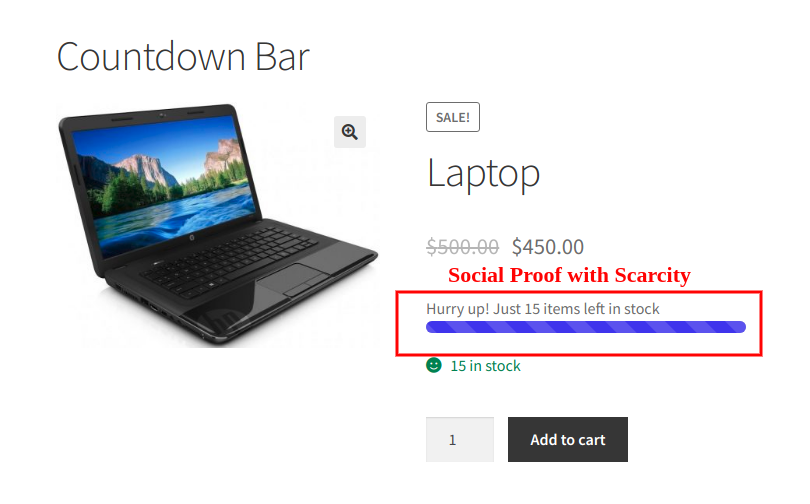 We look at the positive aspects of reviews always and forget that there exists something called negative reviews. Negative reviews drive your customers away. It is up to you to reduce negative reviews which is a repercussion of selling awful products. Also, as we always say, complaints from the customers provide you with a room to bring in a lot of changes. Sources state that abundant negative customers reviews for your brand in Google Search results can lead up to a loss of 70% of budding customer base.
78% of consumers in the United States read reviews prior to buying any products says YouGov.
Other statistics indicate 40% of consumers form an opinion about a brand by just reading 3 reviews.
A minority population of 13% ignores a brand if it has only 1-2 stars. The higher the ratings, higher is your business conversions.
Social proofs are the electronic word of strategy schema. It helps you in a lot of ways be it decision making, be it consistent indulgence with your customers or be if for the success of achieving new customers on a regular basis. It not just helps, it makes you analyze marketing phenomena and for a powerful decision making in the future.
Needless to say, when it comes to social proofs, the more the better!