Launched your WooCommerce website? Want to enhance your WooCommerce website for its betterment? This article will guide you with some easy and quick tips that will be a booster for your WooCommerce store, taking your business to its next level. Configure the suitable method and enjoy the benefits at your WooCommerce store.
Why choose WooCommerce?
WooCommerce an open-source platform is apt for establishing your online business without limitations. It is an eCommerce platform that has 5+ million active shops and nearly 26% of global online stores use it.
Reasons to choose WooCommerce,
It's free, you pay only for the additional features that need to be configured.
Easy to setup and user-friendly
Extensible, you add new functionalities to your store using plugins or extensions.
Highly compatible as it works well with all types of devices and browsers.
WooCommerce can offer you with secured functioning of your eCommerce store
SEO friendly platform
Great for web development
Delivers powerful analytics and reporting
Selling made easy
WooCommerce themes are highly responsive customizable and attractive
WooCommerce has excellent forums and documentations which would guide you while establishing your eCommerce website.
Variety of payment gateways
Excellent shipping management feature
The WooCommerce community is strong.
The above are some of the common reasons to choose WooCommerce. Have a detailed study about this excellent eCommerce platform, establish your store, and have a great selling. In addition to these features, the hubspot for WooCommerce offers a full stack of software for marketing, sales, and customer service, with a completely free CRM at its core.
Tips to enhance your WooCommerce store
This section has some of the quick steps to enhance your WooCommerce store. The below are the WooCommerce tips that we are going to discuss in detail in this article,
Offer Advanced Discounts
Display Upsells and Cross-sells
Add Wishlist to Your WooCommerce store
Reward Your Customers
Sell WooCommerce Gift Vouchers
Recover Your Abandoned cart
Speed Up your WooCommerce store
Have a Clear Navigation
Make Your Products Discoverable
Create SEO Based Website Content
Are you ready to see the easy WooCommerce tips we have for you? Let's begin.
Offer Advanced Discounts
Discounts can be referred to as a concession in price. Offering discounts act as a booster for the WooCommerce store. The discounts would bring in more conversions and increase sales in WooCommerce stores.
Configuring simple and advanced discounts is like a win-win concept where both the customers and the store are benefited equally. One of the best WooCommerce plugins for discounts – Discount Rules for WooCommerce comes up with features of configuring simple and complex discounts. The plugin is so reliable and flexible that it is easy to set up any level of discounts in a few clicks.
A combination of discounts like percentage discount, flat price discount, dynamic pricing deals, multi-tier pricing, BOGO deals, and so on are collectively called as advanced discounts. The WooCommerce boost sales plugin offers these discount options both at the product and cart level along with great benefits.
Have a look at the example of configuring a BOGO deal using the discount plugin – Discount Rules for WooCommerce.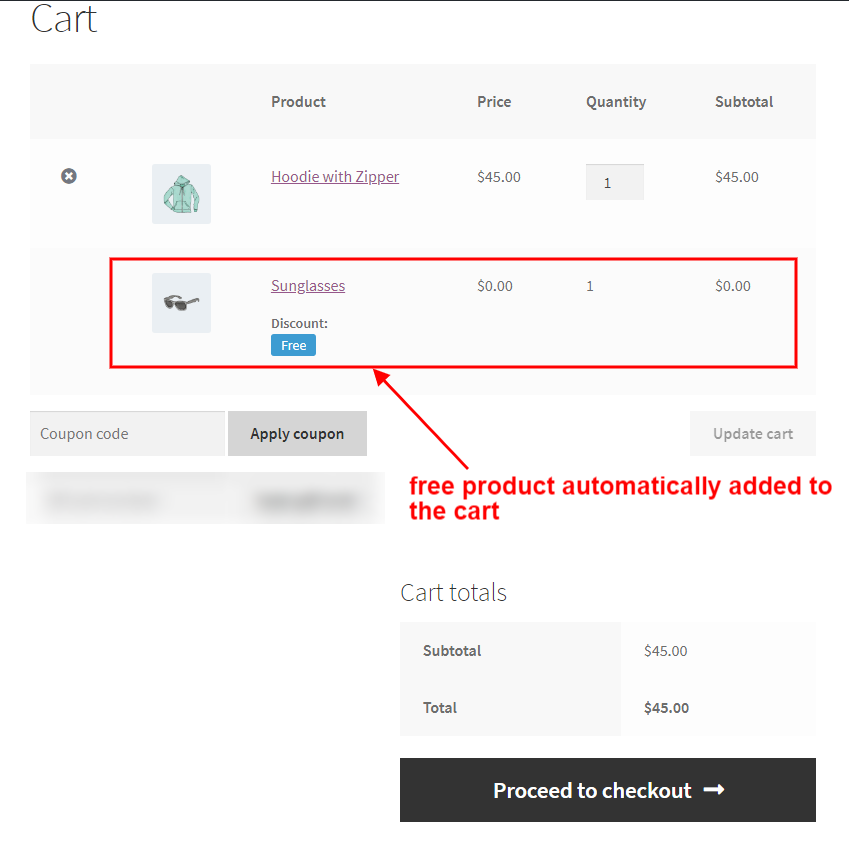 The plugin even allows you to provide discounts using the WooCommerce coupon. Providing discount coupons is a great way of promoting your business. The coupons offered can be used by the customers to redeem your deals and offers.
Using this best discount plugin you can configure any combination of discounts at your store and increase your WooCommerce revenue and conversions.
Check out the installation of the best discount plugin – Discount rules for WooCommerce.
There are other various best WooCommerce plugins to increase sales like WooCommerce Dynamic Pricing, Easy WooCommerce discounts, and more that support in creating and managing discounts and coupons at your store.
Display Upsells and Cross-sells
You can simply boost WooCommerce sales by offering relevant product recommendations using upsells or cross-sells.
Upsells – Upsells means you offer the upgraded or premium version of the same type of product. Upsells encourages and gives an opportunity to your customers to choose a better option suited to their needs. Through this technique, you are letting your customers know what else you offer and also vitalize them to add more functionality to their money.
For Example:
If the customer wants to purchase a MacBook Air, displaying higher versions like MacBook Pro 13 and 16 are considered to be the upsells of MacBook Air.
Cross-sells – Offering additional product recommendations complementing the already selected product. It is a technique to make your customers purchase additional accessories or services or products related to the purchasing/purchased product.
For Example:
If the customer wants to purchase a Nikon DSLR camera displaying additional accessories like a leather case, battery charger, rubber eyecup, lens cleaner are considered to be the cross-sells of the camera.
Set up your website to display the product recommendations at several places like,
Checkout page
Order confirmation page
Product and Category pages
Displaying upsells and cross-sells to your customers act as the booster for WooCommerce sales. Do not delay it anymore its the right time to configure cross-sells and upsells using the best WooCommerce plugins like Recommendations Engine, Product Recommendations, WooCommerce Force Sell and more to increase your WooCommerce revenue.
Add Wishlist to Your WooCommerce store
Adding a wishlist to your WooCommerce store is a strategy to improve sales and customer loyalty. This feature allows both your visitors and customers to add unlimited products for later purchase. Configuring a wishlist to your store will help in sharing with your friends and others. The probability of visitors coming back to you is more when you have a wishlist at your store.
This is actually a booster for your WooCommerce store and also gauges the popularity of your store items. The eCommerce market has the best WooCommerce plugins for wishlist like WooCommerce Wishlist Plugin, Yith WooCommerce Wishlist plugin, and more. This feature would definitely bring in benefits to you and your customers.
Reward Your Customers
Keep your customers close to your brand and service by simply rewarding them for their loyalty. Rewarding your customers by counting every action they perform at your store would help you to increase and retain the customer base. It is a powerful marketing strategy that would help in reducing WooCommerce cart abandonment at your store. Rewarding your customers with redeemable loyalty points would make them come back to you often.
This can be easily set up using one of the best WooCommerce plugins for rewards – Loyalty Points and Rewards for WooCommerce. The loyalty points plugin provides in-depth analytics of the points and rewards under one roof.
The plugin allows you to set up individual reward points for the following actions,
Making a purchase from your store
Submitting a review on your products
For referring a friend
Through this reward program, you can achieve long-term success while gaining a competitive advantage over others. It also builds a strong relationship with your customers. As the points are redeemable at your store it brings in benefits both to the customers and the store. A customer tending to hold on without proceeding further might be inclined to process further to make use of the redeemable points.
Have a look at the below screenshot where points have been awarded using Loyalty Points and Rewards for WooCommerce plugin to a customer for submitting a product review,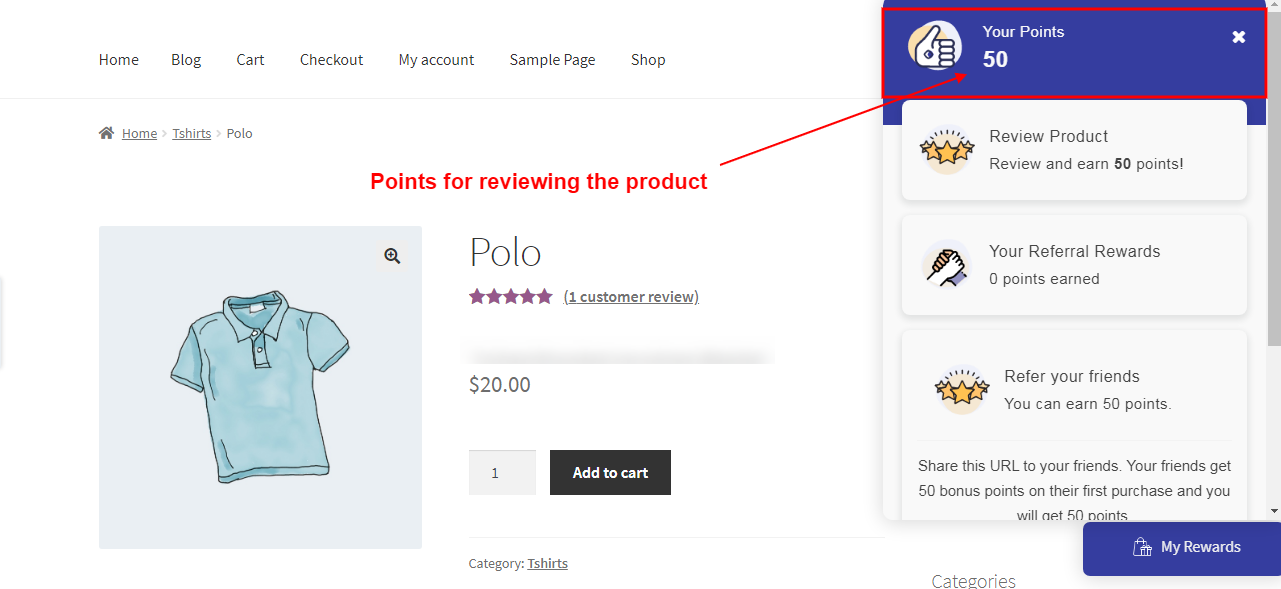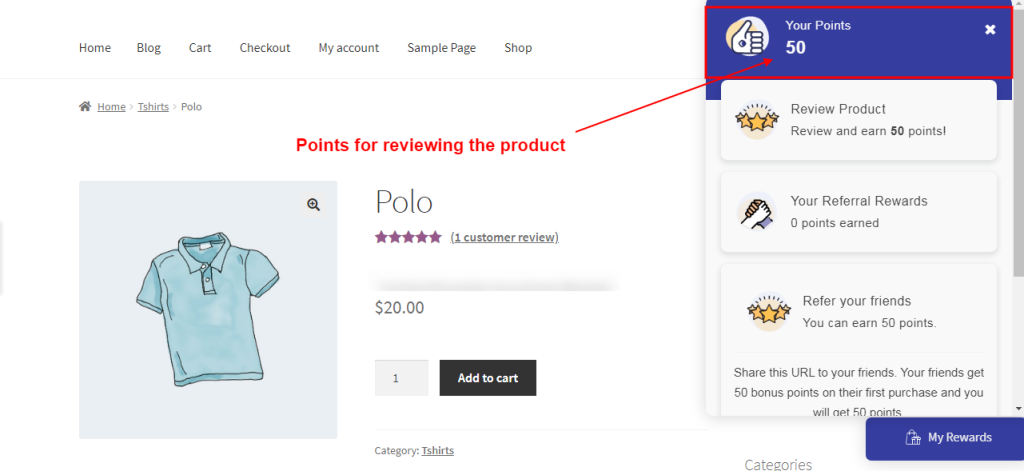 The loyalty points and rewards program is really a booster for WooCommerce sales at your store. Configure it and bring in great results to your business.
Sell WooCommerce Gift Vouchers
Selling e-gift cards at your WooCommerce store would increase your revenue, customer loyalty, and conversions. Giving and receiving WooCommerce gift cards is more convenient and payments using these gift cards are secure and faster.
You now have an opportunity to upgrade your online store using some of the best WooCommerce gift card plugins – Yith WooCommerce Gift cards, PW WooCommerce Gift Cards GiftUp- Gift Cards for WordPress.
Your customers can use these gift vouchers to make their purchase easier and even gift them to their dear ones which are redeemable at your store by the recipient. Gift cards are available for all occasions and some of the plugins are so flexible that your customers can schedule their gift card delivery without any restrictions. The WooCommerce gift vouchers substitute the need for physical movement in procuring gifts.
Configure the WooCommerce gift vouchers at your store to increase your revenue and conversions.
Recover Your Abandoned Carts
The recent statistics say that nearly 88.05% of the carts have been abandoned. Cart abandonment is a factor that really affects the growth of your business. Whether you are running a small scale or large scale business doing nothing to your abandoned carts is of no use to anyone. It's important to bring back your customers by implementing different methods to recover the abandoned carts.
Before you start trying out the recovery methods it's necessary to know the reasons behind the WooCommerce cart abandonment.
Below are the few common reasons for cart abandonment,
Hidden and high additional charges
Complicated checkout process
Forced account creations
Security concerns
Slow website speed
Better pricing in other site and more
One of the best methods to bring back your customers is by sending cart recovery emails. You can send the best recovery emails using the plugin Retainful – Abandoned Cart Recovery through which personalized recovery emails are sent in a perfect sequence.

The above screenshot displays a next order coupon that can be configured and sent through the recovery emails using the cart recovery plugin.
The recovery emails can be sent with a WooCommerce discount coupon which would probably bring back your customers to avail the discount.
Another method that could help your carts from getting abandoned is by displaying exit-intent popups using the Optinly-Global based WordPress popups. The exit-intent popups, when displayed along with promotional messages like discounts or offers, would probably bring back your customers to complete the purchase. This strategy would help in reducing the WooCommerce cart abandonment at your store.
Implement the most suitable method to recover your abandoned carts and boost WooCommerce sales.
Speed Up Your WooCommerce store
If you feel that your WooCommerce website is running a bit slow this could affect your development. Customers always expect an online business website to be running with its best optimized speed. Slow running WooCommerce website would hardly be visited by the public.
Clearing up your customer sessions, optimizing your WooCommerce scripts, styles cart fragments and product images would help with optimal load time. Use a good cache plugin with CDN to increase your memory limit to make your WooCommerce website more optimized.
There are various ways to optimize the speed of your website. Look into it, your website, and implement the necessary actions to speed up your load time.
Have a Clear Navigation
Navigation has a great impact on your WooCommerce store. A good navigation system will help your customers to find out what they need from your store efficiently. You have very little time to grab a visitor's attention so make sure the navigation works in the right way. If the customers have any difficulty in finding out their requirements from your store they may leave your shop immediately because of the complications.
The navigation should be significant, clear, and understandable language. Configure dropdown indicators wherever necessary as it would indicate the customers that the menu is expandable with more options. A breadcrumb menu can also be implemented under the primary navigation which would help your site visitors in utilizing them.
The WooCommerce market has various plugins like WP Mega Menu Pro, Max Mega Menu, SuperFly and more that could help in optimizing your navigation. Create a condensed menu structure and reduce the number of clicks between the home page and the deepest layer (customer's destination page).
Make Your Products Discoverable
It is very important that your store products are sorted out in their respective categories. This would really help your customers to look for their requirements more efficiently. Usually, we forget to add categories to the products while building the WooCommerce store. Missing out this step may lead to a lot of complications at your WooCommerce store.
All the products at your store should be organized and categorized into their respective product type for the convenient shopping experience.
The product categories should be showcased in the main navigation menu so that they are front and clear. Getting lost in which product to buy may lead to missing out on the sale. Build your website with the functionality of easily locating your products which acts as a booster for the WooCommerce website.
Create SEO Based Website Content
Work for better rankings through search engine optimization methods so that you can easily be found when Googled. Make sure you utilize the main keywords that are relevant to your products and content. If you don't appear on the search engine page then SEO optimization with relevant content along with keywords is necessary.
Another important step for this optimization is to understand and learn about what's happening at your WooCommerce store. This is easily achievable by signing up in Google Search Console and making the necessary improvements at your store. It is a primary requirement to make yourself visible to reach your customers and increase your WooCommerce revenue.
Wrapping Up
The above tips would surely help you to build a remarkable WooCommerce website. These tips are not too complicated to handle and can be set in no time. The eCommerce market has the best WooCommerce plugins for various features that would help to increase your WooCommerce revenue. So, do not delay it anymore, start enhancing your WooCommerce store with these tips as a guideline.
Happy Selling.
Wishing you Good Luck.