Customizing your WooCommerce emails is highly important as they are the only communication channel with your customer. Whatever be the WooCommerce email you are sending, it must definitely have all the information related to the purchase and the customer.
So, how to customize your order and transactional emails with customer data?
Before getting started, make sure you have installed and activated the popular WooCommerce Email Customizer plugin:
And we already know the fact that WooCommerce has its limitations when it comes to email customization.
How about a simple drag and drop email builder to customize WooCommerce emails?
Can an email customizer plugin save the situation?
Yes, Of course. Email Customizer Plus for WooCommerce is an email builder plugin with simple drag and drop feature to customize all your WooCommerce emails.
And the interesting part is that the plugin offers a long list of shortcodes to make your email customization more simple. Whatever be the data you need to add in your transactional emails, there is a shortcode for every information.
So, read along to know the easy way to fetch customer data in your WooCommerce emails.
How to add customer data in your WooCommerce order emails?
Before you start, kindly download and install WooCommerce Email Customizer. The guide assumes that you already have the plugin installed and activated.
Select WooCommerce Email customizer in your WooCommerce dashboard
Choose the type of email to which you want to add the customer data. The following example takes the idea to customize New order email.
Well, if you look at left side on the screen below, it has all the drag and drop features. You just need to click-drag- and drop the email builder options in case you are creating a new WooCommerce email.
For this example below, customer data that includes Customer name, email, Shipping and Billing address are to be added using the shortcode.
The grid icon on the left side of the email builder panel is selected to enable customer data options.
Add the short codes corresponding to the customer data to the text box that is viewable on the email builder's right side
Well, the plugin always shows you the live preview of how your emails look.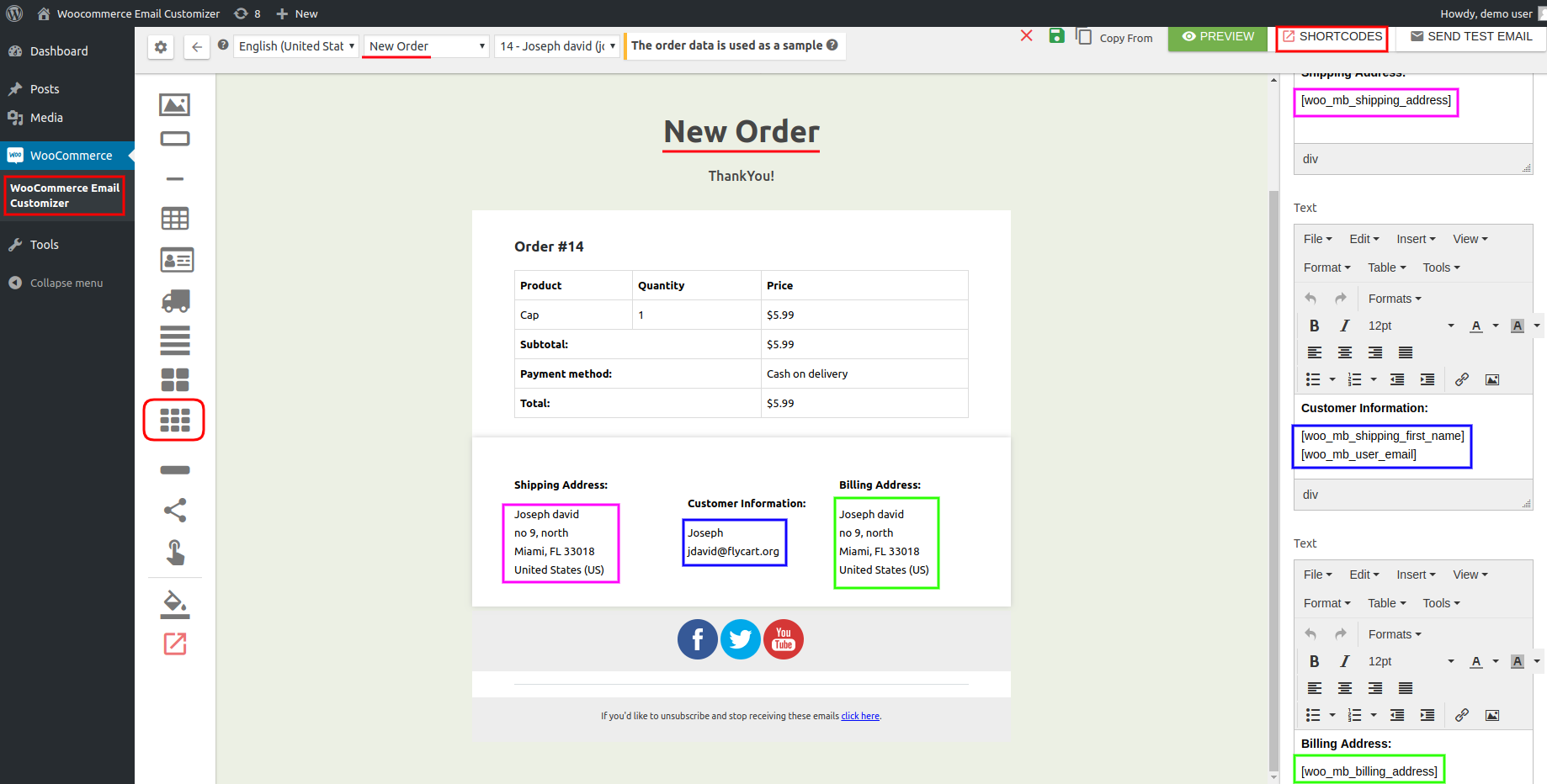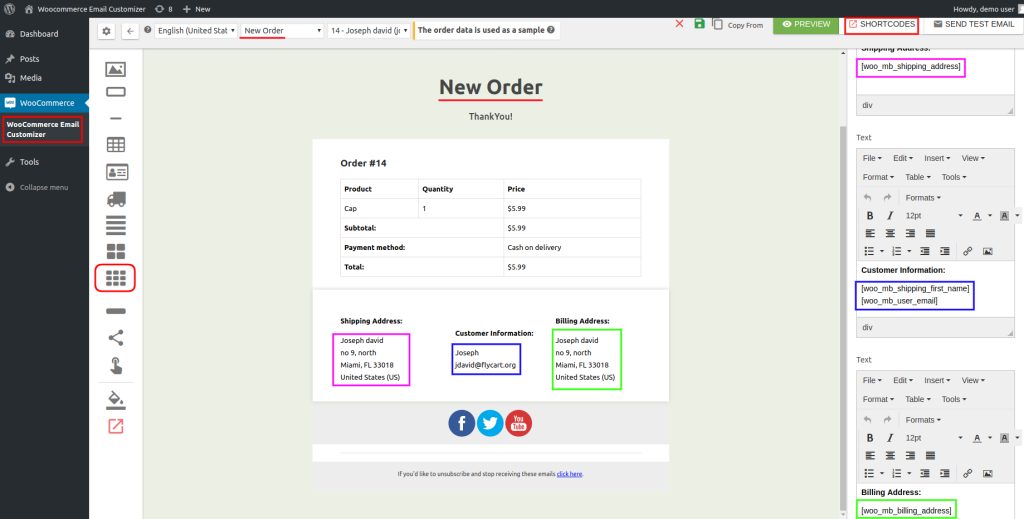 The Short Codes used to add Customer data are,
[woo_mb_user_name] -To get User's Name
[woo_mb_shipping_address]- To get customer shipping address
[woo_mb_billing_address] – To get customer billing address
I guess the blog is brief. Well, I also assure that the plugin is also so simple that you can create all your WooCommerce emails in just few clicks.
Looks Impressive, right?
Ask me, there is no simple email customization plugin other than this one. Get your WooCommerce emails build efficiently with Email Customizer plugin now!