Running a successful WooCommerce store requires strategic pricing and marketing efforts. One effective strategy that can significantly boost your sales is offering bulk discounts to your customers. Bulk discounts not only entice customers to buy more but also help you move excess inventory and increase customer loyalty.
Offering bulk discounts is one of the effective strategies to increase your average order value and sales. It encourages customers to purchase in bulk quantities.
Setting up a WooCommerce Bulk Discount is simple. You only need a plugin like Discount Rules for WooCommerce to create bulk discounts and go live with your offer quickly. The WooCommerce ecosystem offers many plugins for creating bulk discounts.
This blog listed the seven best WooCommerce Bulk Discount plugins that help you offer your store quantity-based, tiered bulk discounts.
Drive More Sales Effortlessly – Get Started with Exclusive Discount Offers Now!
What is a WooCommerce Bulk Discount?
WooCommerce Bulk discount, often referred to as quantity discount or volume pricing, is a pricing strategy where you offer reduced prices to customers who purchase larger quantities of a product. This encourages customers to buy more, thereby increasing your sales and revenue. In WooCommerce, you can implement bulk discounts using dedicated plugins, making it easier to set up and manage these promotions.
Bulk discounts attract wholesale customers and encourage individual customers to buy products in bulk to get discounts.
For example, imagine you are selling T-shirts at a standard $20 price and offer a 5% discount for purchases of more than five. This simple strategy makes customers buy more and increases your revenue.
In brief, bulk discount in WooCommerce is the best way to clear your inventory by selling bulk products.
Why Use WooCommerce Bulk Discount Plugin?
When it comes to offering bulk discounts in WooCommerce, the default setup falls short. Fortunately, there are several WooCommerce plugins, such as Discount Rules, that can help you create and manage bulk discounts effectively.
WooCommerce bulk discounts come in various forms, including storewide discounts, discounts based on the quantity of items in specific categories, volume pricing for particular products, and discounts tailored to specific user roles.
In this article, we've carefully curated a list of WooCommerce bulk discount plugins that cater to these diverse discounting needs. Let's explore these plugins and see how they can enhance your online store while adhering to Google's SEO algorithms for optimal search engine performance.
Skyrocket Your Revenue with the Ultimate Discount Solution – Get Started Now!
Best WooCommerce Bulk Discount Plugins
You should check out the features of each of these plugins before choosing the right one for your store.
1. WooCommerce Discount Rules

Supercharge Your WooCommerce Store with Discount Rules for WooCommerce- The Ultimate Bulk Discount Plugin!
Are you ready to boost sales and thrill your customers with fantastic discounts? Look no further than Discount Rules for WooCommerce, the plugin that's making waves in e-commerce.
Why Choose Discount Rules for WooCommerce?
Imagine having the power to create a variety of compelling bulk discount offers with ease. With over 100,000+ active installs, our plugin is your go-to solution for WooCommerce store owners looking to increase their revenue effortlessly.
Craft Bulk Discounts with Ease
No more complex setups. Our user-friendly interface lets you create WooCommerce Bulk Discounts in just a few clicks. Set quantity tiers and bulk discounts quickly, and watch your promotions go live.
Endless Discount Possibilities
With Discount Rules for WooCommerce, the discount possibilities are endless. Customize your discounts to match your store's unique needs:
Category-based Discounts: Target specific product categories for enticing bulk discounts.
Wholesale Discounts: Reward your wholesale customers with exclusive bulk discounts.
Storewide Savings: Launch a storewide bulk discount event.
Diverse Discount Types: Create percentage discounts, bulk coupon deals, dynamic pricing discounts, product discounts, cart discounts, shipping savings, Buy One Get One Free offers, and more.
Stay Ahead of the Competition
Compared to the default WooCommerce coupons feature, our WordPress discount plugin covers a wide range of discount scenarios. The plugin automatically applies bulk discounts based on conditions and showcases the bulk discount table on product pages, ensuring customers are enticed by the savings they can enjoy.
Unlock a World of Discount Scenarios
Here's a glimpse of the discount scenarios you can create with Discount Rules for WooCommerce:
Storewide Savings: Buy ten or more items and get a 5% discount. Grab 20 or more for 10% off!
Category-Specific Specials: Shop in the Shirts category; buy five items for a 10% discount. Snag ten or more for a fantastic 15% off.
Wholesale Magic: Wholesale customers, rejoice! Buy 20 or more items and enjoy a 10% discount, or go big with 30 or more for a sensational 25% off.
Product Pricing Power: Buy five or more Herbal Soaps and receive a delightful 2% discount. Hit the jackpot with ten or more for an incredible 10% off.
…and countless other amazing deals!
100+ Discount Rules at Your Fingertips
Discount Rules for WooCommerce offers over 100 discount rules, allowing you to create any discount combination you desire. From bulk discounts to product-based deals, cart-based offers to user role-specific discounts, and even discounts based on order totals – we've got you covered.
Don't miss this opportunity to transform your WooCommerce store. Join successful e-commerce entrepreneurs who rely on Discount Rules for WooCommerce for explosive growth.
2. WooCommerce Quantity Discounts


WooCommerce quantity discount helps you to add quantity rules and change the quantity design to your WooCommerce store. The plugin allows you to set bulk discounts for all products and selected categories as well.
Starting at $49, it is still one of the best WooCommerce quantity discount plugins available in the market.
Some of the key features of the plugin include:
Possibility to replace default WooCommerce quantity box with beautiful swatches.
This plugin has multilingual support.
The quantity discount plugin is suitable for beginners as it has an ease-to-use interface.
The plugin is updated to the recent WordPress and WooCommerce versions and provides a better user experience.
You can add interval-based quantities using this plugin.
3. Conditional Discounts for WooCommerce

Conditional Discounts for WooCommerce is previously called WooCommerce All Discounts, the other best bulk discount plugin in this list.
It is a simple and powerful dynamic pricing plugin that helps you to set up bulk discounts, customer role discounts, gifts, BOGOs, and much more. It also provided good customer service.
Some of the key features of the plugin include:
Create automatic discounts.
Create discounts based on product categories and subtotal.
Offer bulk discounts to specific customers, user roles, and non-logged customers.
Create bulk discounts on simple and variable products.
Create bulk discounts using intervals.
4.Discounts Manager for Products

As the name suggests, Discount Manager is one of the amazing WooCommerce extensions to create and manage discounts for your online store.
Discount Manager helps to implement multiple discount criteria with ease of interface. It is compatible with WooCommerce and S2Member plugin.
Some of the key features of the plugin include:
Show discounts on the checkout page.
Show discounts on the order details page.
You can display discounts in WooCommerce order emails and invoices.
It displays the applied discount when hovering over products in the cart.
Depending on the configuration rule, you can use this free plugin with or without a coupon code.
5.WooCommerce Dynamic Pricing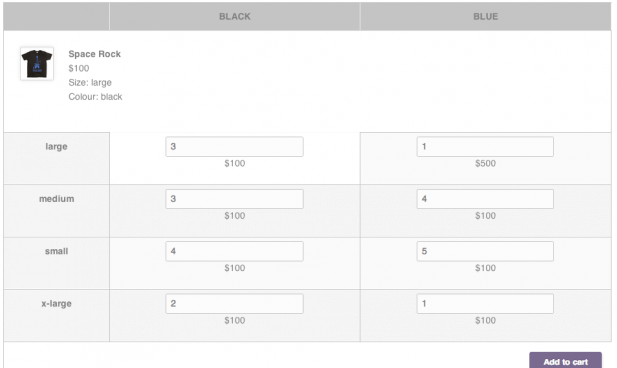 WooCommerce Dynamic Pricing is another bulk pricing discount plugin in the market. It allows you to create bulk discount pricing right inside the product edit page in WooCommerce. You can create several product pricing tiers and set up discounts for bulk quantities.
In addition to supporting bulk discounts, the plugin can also let you create user-role-based pricing, customer-specific pricing, category-based bulk pricing, and more.
For example, you can let your Wholesale customers get a 5% discount over the retail customers. Similarly, you can let customers enjoy a 10% discount if they buy 50 or more quantities.
The plugin is a paid option, costing you $129 for a single site license.
6. WooCommerce Simple bulk discounts

WooCommerce Simple bulk discount, as the name suggests, is a simple plugin for creating bulk quantity discounts.
For instance, you can give customers a 10% discount if they purchase five or more items in your store.
Some of the key features of the plugin include:
Supports percentage or fixed discounts
Define discount based on quantity – for example, get 30% or $10 off when you purchase three or more items
Discounts based on the order total or based on the user role
Combine the discount rules
The plugin is available as a paid option and costs $19
7. ELEX WooCommerce Dynamic Pricing and Discounts Plugin

The ELEX Dynamic Pricing and Discounts plugin makes it easy to create and activate dynamic pricing and discounts for specific products, specific categories, or the entire shopping cart.
The plugin has flexible options to offer percentage discount and flat discount, with which you can easily create and implement complex discount rules for your store.
You can set a maximum discount restriction on each rule based on user role, order history of the users, and more. In addition, the plugin has options to display pricing table and an offer table on the product page that detail any applicable discounts.
Key features of the ELEX Dynamic Pricing and Discounts plugin include:
Offer product, category, and combination conditional dynamic discounts.
Offer conditional buy one, get one free deal (BOGO)
Implement discounts based on the WooCommerce product tags.
Offer BOGO discounts based on the product tags.
Display a pricing table and an offer table on the product page.
Provide discounts based on the total quantity purchased, the weight of the products, or a predetermined value.
How to Use WooCommerce Bulk Discounts Effectively?
Offer discounts for specific products: To make the most of bulk discounts, you should offer them for specific products rather than your entire store. This way, you can target customers interested in purchasing large quantities of a specific product.
Create tiered discounts: Tiered discounts increase as the quantity of a product purchased increases. For example, you can offer a 10% discount for the purchase of 10 products, a 15% discount for the purchase of 20 products, and a 20% discount for the purchase of 30 products. It encourages customers to purchase more to get a better deal.
Use bulk discounts to clear inventory: If you have products not selling well, you can offer them to encourage customers to purchase them. It will help you clear your inventory and make room for new products.
Combine bulk discounts with other promotions: You can also combine bulk discounts with other promotions, such as free shipping or a buy one, get one free deal. It will increase the appeal of your bulk discount offer and encourage more customers to take advantage of it.
Maximize Your Profits – Start Offering Irresistible Bulk Discounts Today!
Conclusion
You can offer bulk discounts to targeted customers to increase your average order value for each sale. Bulk discounts help increase sales revenue, clear inventory, and encourage customers to purchase more from your store.
With the list of plugins available, choosing the best WooCommerce bulk discount plugin makes a difference. Look for features, ease of use, and store compatibility, and select the right plugin that satisfies your requirements.
You can also combine the bulk discounts with other offers like a WooCommerce Buy One Get One Free, WooCommerce Free Shipping discount, and WooCommerce User Role based discounts to get the best sales.
What is Bulk Discount?
Bulk Discount is a type of discount offered based on the quantity of the items purchased. The more the customer buys, the lesser the value becomes. For example, Buy 20 products and get a 10% discount; Buy 40 products and get a 20% discount.
How do you add a 10% discount to a price?
1. Go to your WordPress Dashboard-> WooCommerce->Woo discount rules ->Add New Rule. 
2. Choose the products you want to provide discounts in the filter section. 
3. In the discount section, choose 'Percentage discount' and enter the discount value as '10'. 
Make sure to 'save and enable' the rule.
How do I manage bulk orders?
Managing bulk orders is quite difficult. But you can follow these steps to execute well.

1. Plan work in advance
2. Monitor stock levels and make sure you have enough stocks. 
3. Set up bulk pricing using discount plugins like WooCommerce Discount Rules
4. Manage to ship using a good shipping plugin
5. Communicate with customers
6. Make a simple checkout process
7. Keep monitoring and optimizing
How do you give discounts for bulk orders?
1. You must install and activate Discount Rules for the WooCommerce plugin to give discounts for bulk orders.
2. Go to your WordPress Dashboard->Woocommerce->Woo Discount Rule
3. Click 'Add New Rule'.
4. Choose discount as 'Bulk Discount.'
5. Enter the discount value as a percentage or fixed
6. Save and enable the rule.
What is an example of bulk pricing?
Bulk pricing is a pricing strategy that offers a lower price for the customer who orders in bulk. For example, Let's say a company sells T-shirts for $5. Customers who get 50 T-shirts will get the T-shirt for $3 each.
How to bulk edit woocommerce products?
You can bulk edit the products in WooCommerce within a few steps:
1. Go to WordPress Dashboard -> WooCommerce -> Products.
2. Select the products from the list that you want to edit in bulk
3. On the top of the list, click 'Bulk Action -> Edit' and Apply.
4. Now, you can change your product categories, prices, tags, and other requirements in bulk.
What is a WooCommerce quantity-based discount?
WooCommerce quantity-based discount is also known as bulk discount or volume discount that offers discounts to products based on the quantities. The price per item will reduce when a customer purchases bulk quantities of the products.