Choosing a secured and fast payment gateway plugin is a pivotal part of starting an online business. One small mistake or transaction failure may affect your customers' trust towards you to choose your store next time. Customers always prefer their favorite payment method for transactions. So you should make sure that the payment plugin you are going to choose supports most of the payment methods.
Since customer satisfaction is the most important part of running a business, you should not let any security breach or any transaction errors occur during the checkout time.
Many plugins make the checkout process easier and keep your customers on your site rather than redirecting them to a third party webpage. This method has already proven that it increased the conversion rate, meanwhile, it increases the time a customer spends on your website. It will always favor your site among other competitors to rank in Google SERP.
So these factors need to be considered before you are planning to choose the perfect payment gateway plugin that satisfies you and your customers' requirements. In this write-up, I would like to discuss with you the 7 WooCommerce payment gateway plugins for your WooCommerce store.
They are:
Now, let us go through one by one.
Amazon Payments Gateway for WooCommerce
Amazon Payments Gateway for WooCommerce is a fast, secured, and easiest payment gateway for shopping online. Its flawless services help customers to pay with the credit card information stored in their Amazon account. If you are dealing with many customers you can go for this premium plugin, which makes each transaction safe and fast. This plugin also helps you to make your customers stay on your website even after they check out after the transaction.


Since Amazon Pay has already proven that it helps to grow the customer-business trust, it will give the best experience even if your company is small or large scale. One of the peculiarities of this plugin is you can add the Amazon Pay Checkout button on the cart page itself. Its user-friendly interface will help you to initiate and proceed with the partial and full payments. It also helps to process recurring payments for subscription-based products.
When it comes to security, you are already covered by Amazon Pay's fraud protection if you are a customer of its services. And customers need not enter their account details every time as it stores the customer details safely on its server.
Authorize.Net
Authorize.Net is one of the most popular payment gateway service providers in the US, offers easy, safe, and affordable credit card and electronic check payments through their website over an IP (Internet Protocol) connection. This is a premium plugin that offers a number of advanced features in addition to basic Authorize.Net integration.


This plugin accepts major cards like MasterCard, Visa, American Express, Discover, JCB, and Diners Club. Its user-friendly interface helps you to initiate and process safe partial and full refunds easily. Using this plugin, you can redirect your customers to the desired web page after the checkout.
It is the right choice if you are looking for a payment gateway plugin that integrates Authorize.Net as well as supports recurring payments for subscription-based products. In this plugin, your customers can save their credit card details safely for easy and fast checkout experience from their next purchase onwards. Along with these features, this plugin offers a number of customization options to set custom text and messages on the checkout page for making customers proceed with the payments easily without any confusion. If you want to choose a free plugin, you can go for its free version that offers basic Authorize.Net payment integration features.
PayPal Express Checkout Plugin for WooCommerce
PayPal Express Checkout plugin provides a flexible and faster checkout experience for customers in WooCommerce. You can accept credit, debit cards, PayPal balance allow buy now pay later, etc., within your WooCommerce store with the plugin.


It reduces the number of clicks and allows users to enter checkout from cart or product pages (pro feature) itself. In addition to PayPal express this plugin supports PayPal standards as well.
Guest checkout (for users not having a PayPal account), processing of full or partial refunds, checkout page customization, support for subscription, etc., are additional features offered by the premium version of this WooCommerce PayPal plugin.
PayPal Pro
This premium plugin allows you to accept credit card payments directly on your site using PayPal. As it is a premium plugin, you need to pay a monthly charge for using its services. Since PayPal is one of the most trusted and popular payment methods, this payment gateway plugin will be the right choice for your WooCommerce store. Your customers only need to enter their credit card details on your store during the check out time. PayPal Pro will handle the rest of the payment processes safely.
This plugin also lets your users stay at your store even after the checkout process. Currently, this plugin supports stores from the US, UK, Canada, and Australia. Hence you should have a PayPal Pro merchant account if your store is in the USA, the UK, or Canada, and a Payflow account if your store is from Australia. For making payments through PayPal Pro, your customers need not have a PayPal account. Make sure that your site has an SSL certificate for integrating this plugin. If your store sells subscription-based products, you cannot make recurring payments through this plugin as it does not support subscription-based payments.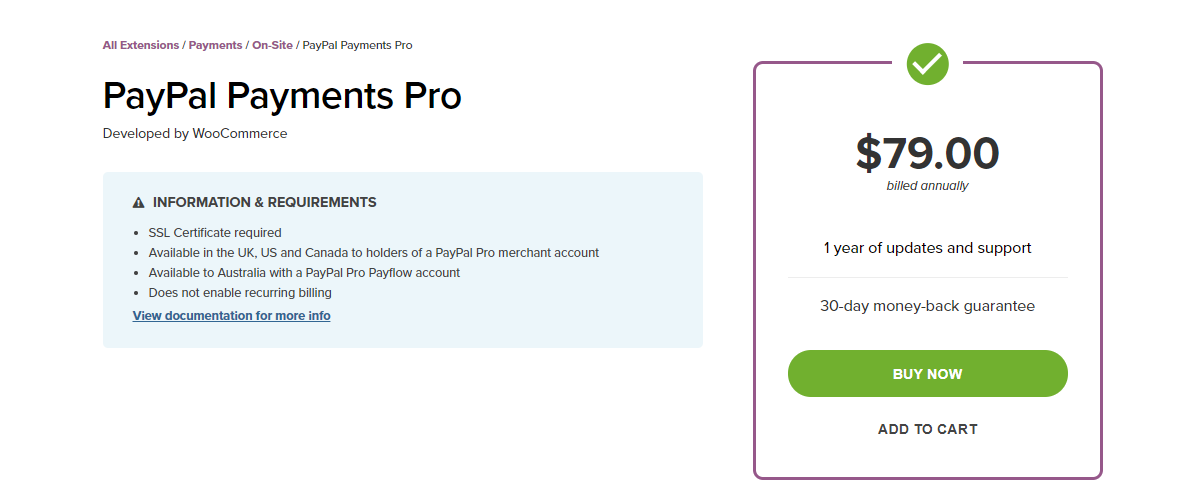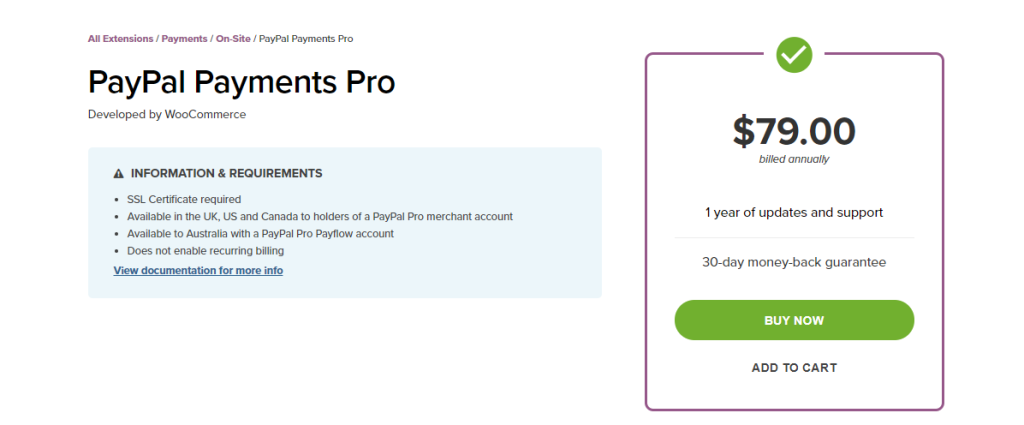 Stripe
Stripe is one of the most popular payment gateway plugins among WooCommerce store owners. This plugin is freely available on WooCommerce and you can download it in one click. It supports major debit & credit cards, Apple Pay, and Bitcoin globally around 25 countries. This will satisfy all your customers as they can choose their favorite payment method using this plugin.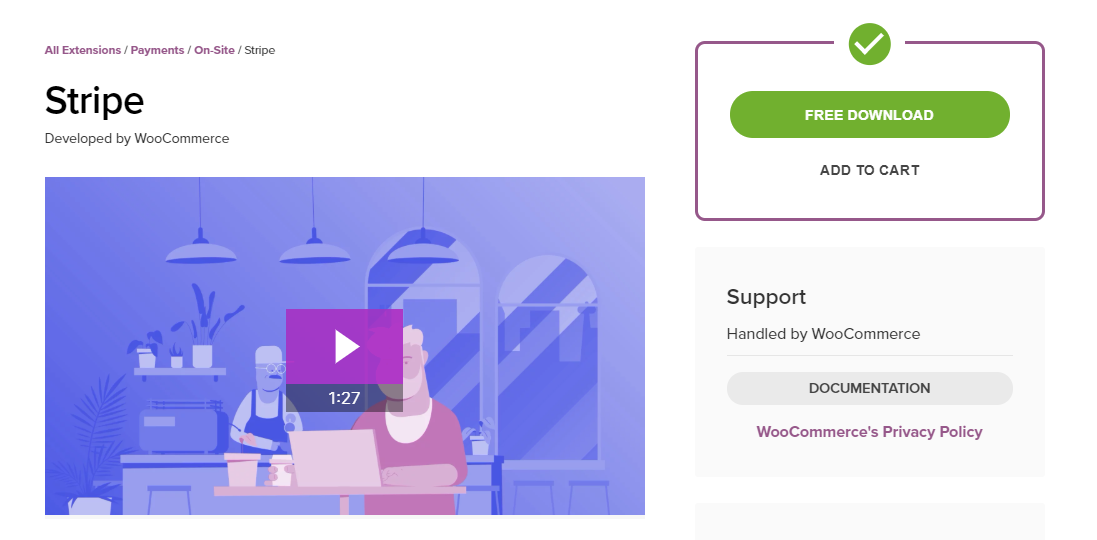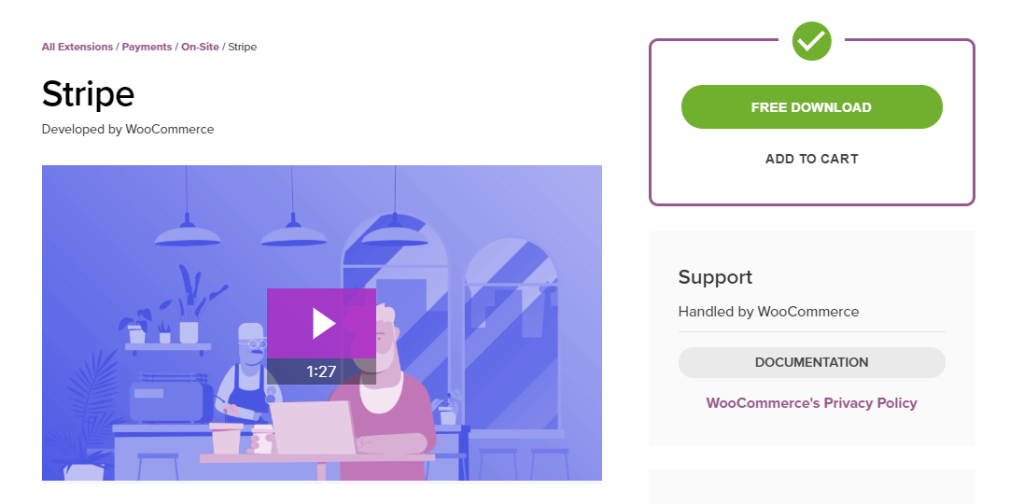 One of the main advantages of integrating Stripe on your store is, it helps customers to make the transactions without redirecting them to any other external website during the checkout. You can accept payments from the customers to your store directly through websites or mobile devices. In addition to that, you can customize the checkout flow on your site by making use of Stripe Elements.
Stripe Radar helps to prevent the transactions from any fraudulent activities by its fraud detection feature. It also supports recurring payments for subscription-based products by integrating with the WooCommerce Subscriptions extension. In addition to that, this plugin also helps to save the credit card details of your regular customers for making their upcoming purchases faster. If you do not want to spend on the payment gateway, you can definitely go for this plugin as it offers the best payment gateway service.
WooCommerce Amazon Pay
WooCommerce Amazon Pay makes the customers' payment transactions to your store using their Amazon accounts. Customers can easily check out without any errors and redirect them to your store itself. This helps to increase the conversion rate and customer engagement to your site.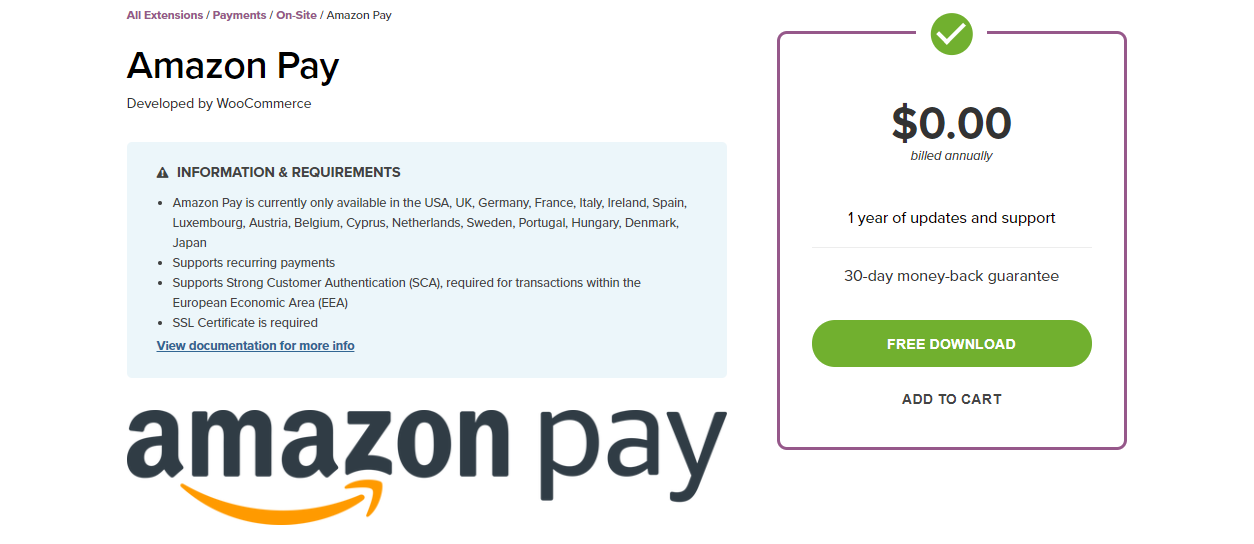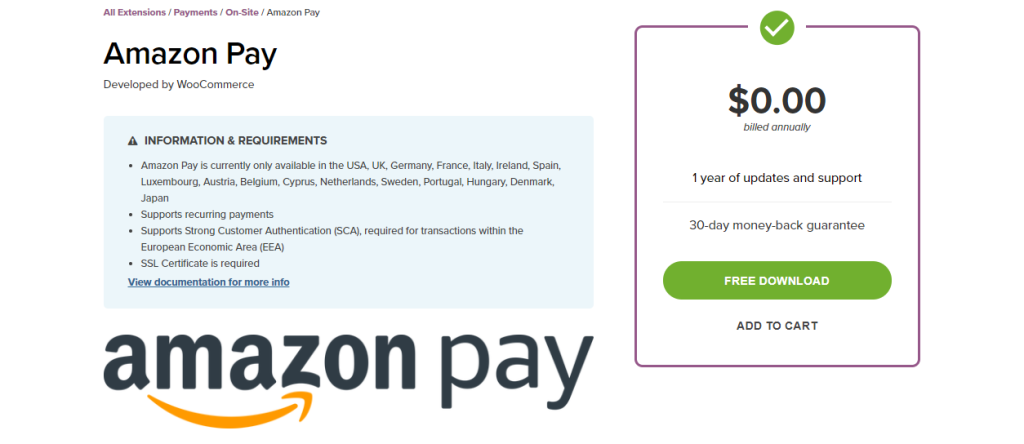 This is a free plugin, you can easily download and integrate with your WooCommerce store. This plugin helps you to provide a mobile-optimized widget, that helps your customers to easily access your online store from any device. If you are looking for a plugin, which provides multi-currency functionality, you can choose this plugin. This will be very helpful if your customers are from different regions and they need to do the payments in their currency.
Another advantage of this plugin is, it supports recurring payments by processing payments for subscription-based products. This plugin comes up with Amazon fraud protection and detection technology. Its improved recovery mechanism maximum avoids unsuccessful and errors during transactions. One thing you need to note is that, this plugin requires an Amazon Seller Central account for integrating with your WooCommerce store. If you are looking for a free plugin that integrates Amazon Pay and offers these features, you can choose the WooCommerce Amazon Pay plugin.
CyberSource
If your customers demand Apple Pay for the transactions, you have to find the best payment gateway plugin that supports Apple Pay. Currently, there are a few plugins that provide Apple Pay services. WooCommerce CyberSource payment gateway premium plugin supports Apple Pay and helps you to take credit card payments via CyberSource directly on your WooCommerce site.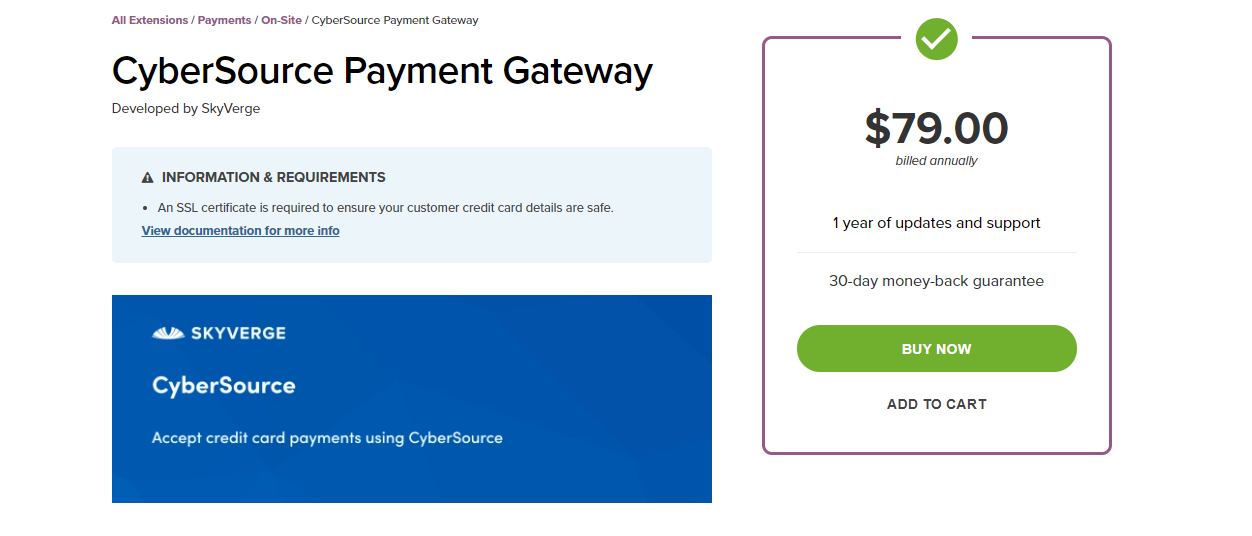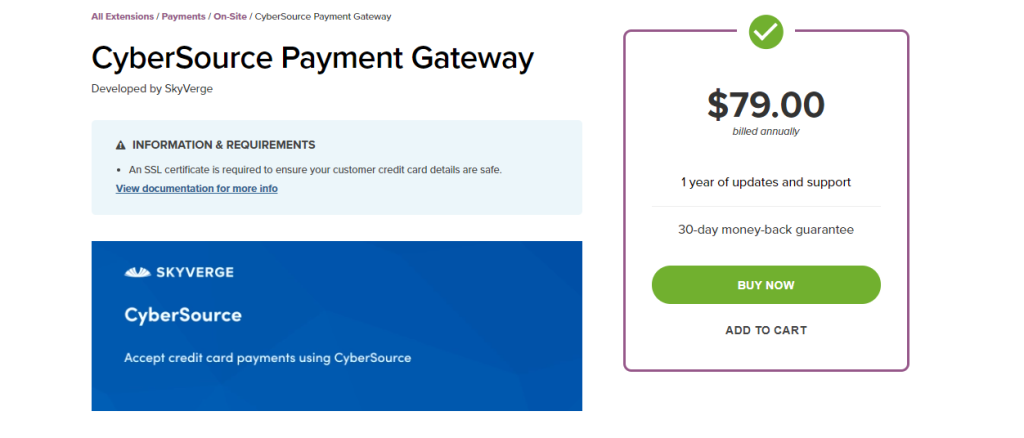 This plugin makes the integration process with your WooCommerce store much easier as your customers only need to enter their credit card details directly on your online store during the checkout process. The remaining transactions process and checkout will be managed by CyberSource. When you integrate with Apple Pay, you have to generate the certifications of Apple Pay manually. It enables Apple Pay locations individually and supports USA locations and currencies exclusively. The person who generates these certificates must have a MacOS, and your merchant account provider must support tokenization.
Wrap Up
Before choosing a perfect plugin for your online store, you have to clearly analyze all the features of it such as whether it is free or premium, it supports the required payment methods that your customer prefers, and features that require your business type. Maybe you have multiple stores, or you need a plugin that supports multiple currencies, etc. Therefore, before choosing a payment gateway plugin, make sure it satisfies all the requirements of your store. And moreover, consider the security and fraud detection methods of the plugin you are choosing.