Getting back to your customers with the right solution and responding to their queries right after they dropped a message will always improve your sales and conversion rate!
It is important to assist and guide the customers until they get used to your products or services. Similarly, it is important to convert a simple query into a valid lead by your informative responses.
Nowadays people are reluctant to send queries through email or forms. They are more convenient and comfortable with chatbots. So for implementing a chatbot to your WordPress site, a robust chat plugin is needed. Each plugin provides a different set of features. In this article, let us discuss the 5 best WordPress live chat plugins for 2022.
They are:
Let us go through one by one.
WSChat – ELEX WordPress Live Chat Plugin
WSChat – ELEX WordPress Live Chat is a robust and handy live chat plugin for your WordPress site. If you are looking for a plugin that is able to integrate with Artificial Intelligence (AI) and Natural Language Processing (NLP) to trigger automated responses to the customers, you can choose this plugin.
Another advantage of using this plugin is its security and privacy. Since you may pass sensitive data to your customer or they pass some data to you through the chat conversations, it must be protected. And any third-party server issues should not affect your workflow. This plugin gives you full control over your data and ensures you are the only owner of your data. Since it is independent of any other external entity, you can access it from anywhere at any time using a browser.


It comes up with many features for agents as you can create unlimited agents and generate a sound or email notification to the agents while a customer raises a query. This will help to get back to them as soon as possible.
You can monitor the live visitors of your site and initiate a chat from your side using their details displayed on a tab. It provides unlimited chat history and an option to set pre-chat forms if you are not available online to reply to the customers.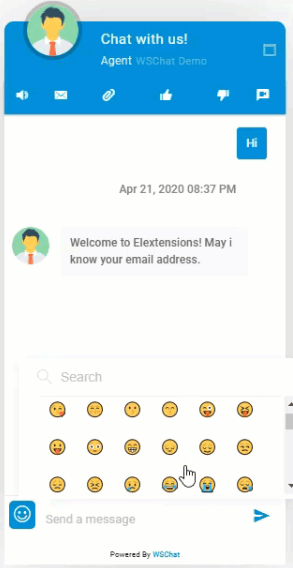 Its rich customization options let you customize your chat widget to fit perfectly into your site by personalizing the colors of the widget. And you can add additional buttons along with a default mute button provided by this plugin such as an option to attach files by the customers, an option to send the entire chat conversation to an entered email ID, an option to record and send a video and, a 'like' and 'dislike' option to notify their satisfaction on your assistance. Since it is an AJAX-based live chat plugin, it works well on the mobile screen too. You can seamlessly convert chats into tickets with WSDesk – ELEX WordPress Helpdesk & Customer Support Ticket System Plugin as both plugins are highly compatible with each other.
Here, you can check How to Integrate Live Chat in your WordPress Website.
Olark
Olark is a premium live chat plugin that helps you to get connected with your potential customers. When it comes to the marketing perspective, it can play a key role in your business by improving your customers' satisfaction, sales, and conversions, etc.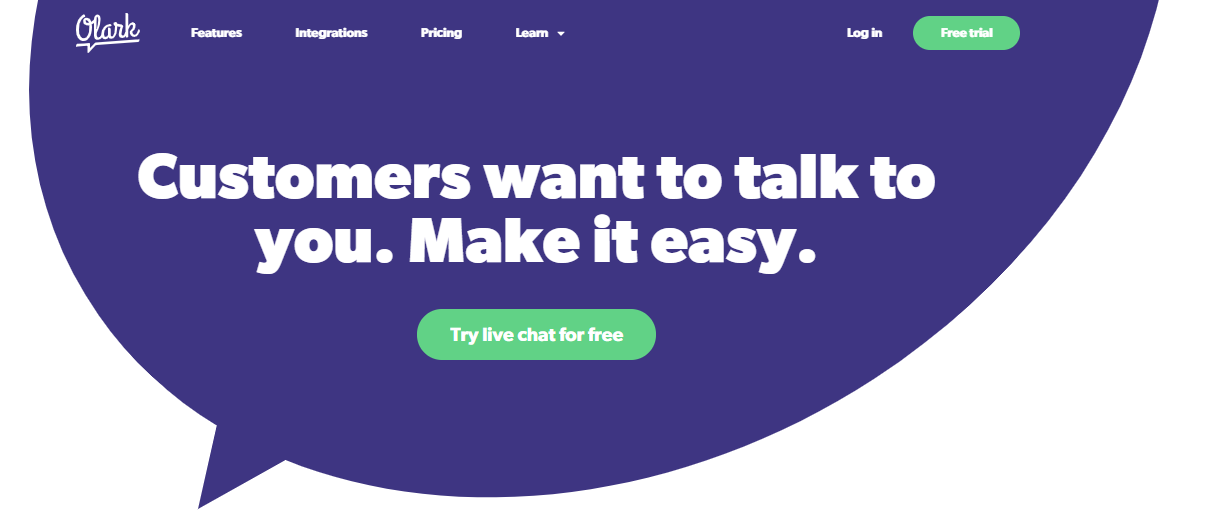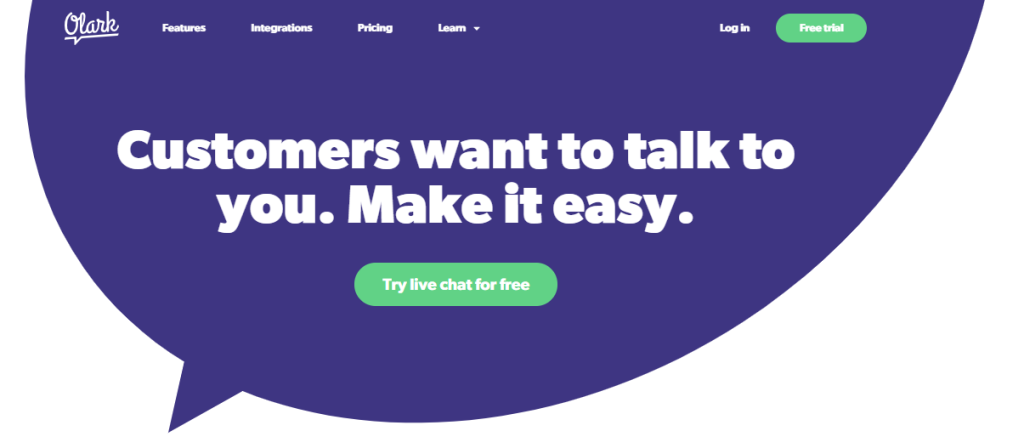 This can be used as a supporting tool as well, so that your customers can reach you if they need your assistance if they are stuck on any problem while using your product or service. This robust plugin helps to optimize your workflow management and acts as a tool to do follow-ups on leads received.
Its compatibility with other tools and advanced features will help you to integrate with your WordPress site seamlessly. Since it is a premium plugin, you have to pay a subscription fee on 'monthly', 'yearly', or 'every two years' basis.
It comes up with a lot of customization options like you can customize the chat widget according to your site theme color and design. And the translation option helps your customers to feel free to communicate in their comfortable language.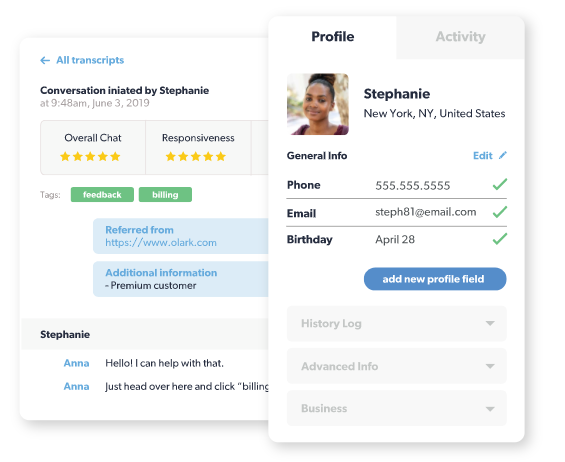 Your agents can add their profile picture with this plugin. Its automatic reporting features help you to understand customer satisfaction and analyze what are the most common questions raised by your customers. Based on that, you can also set some automated replies to the customers. This plugin is highly compatible with Zendesk, Salesforce, HubSpot, Slack, Help Scout, etc.
LiveChat
LiveChat is a premium live chat plugin for your WordPress store for customer support. It also plays the role of customer helpdesk plugin as your customers can reach you through the chat conversation easily and quickly by sending text messages through the chat widget on your website.
It also helps to increase your sales by helping on presale queries to your potential customers and doing follow-ups frequently on leads and many more. LiveChat ensures the security and privacy of your data and it is well optimized for web and mobile phones. For analyzing the overall performance of your customer support, it provides an option to analyze the performance report of individual agents who assist your customers.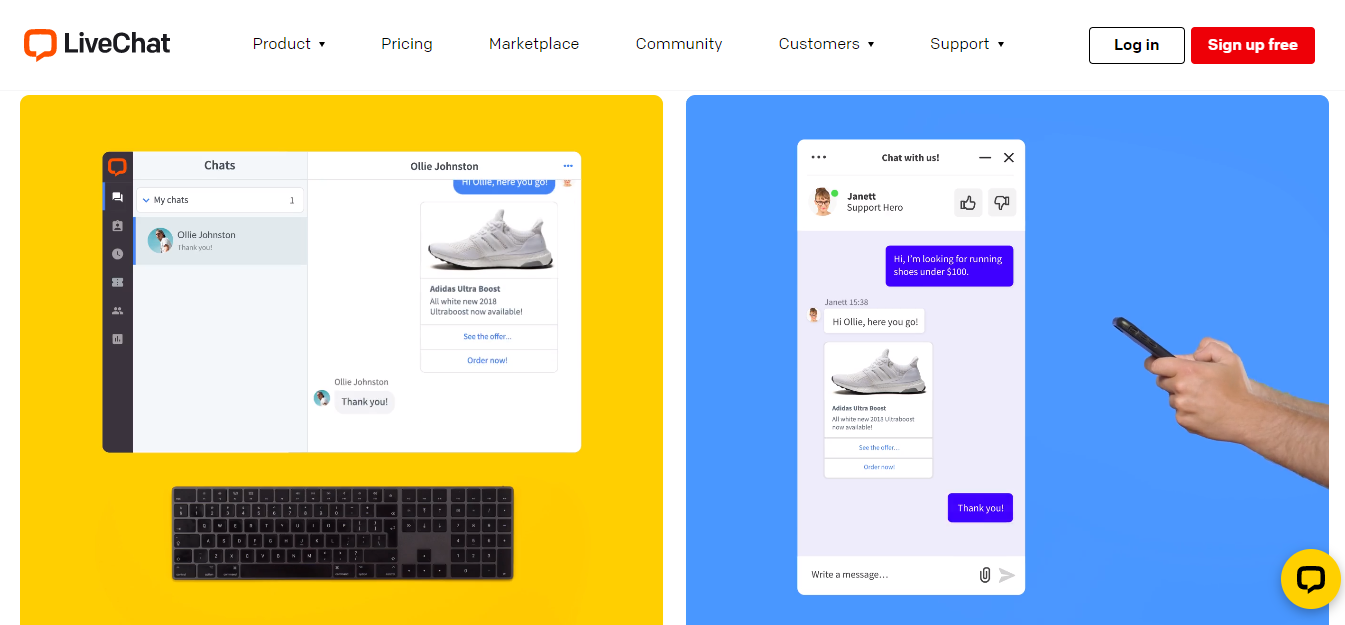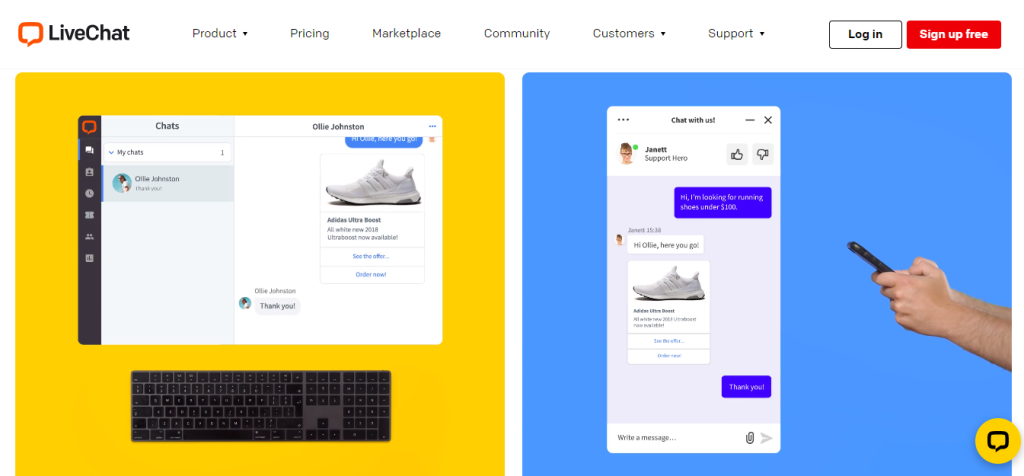 You can create unlimited agent profiles in this chat plugin. When it comes to chatting history storage, it will hold the chat history for up to 60 days. If you want unlimited chat history features and many more customization options like agent grouping, you can upgrade the plan.
You can also find some customization options to customize your chat widget, featuring the profile of the agent, and translation of around 45 languages. All these features will help you to make the customers more comfortable interacting with you and in addition to that, it gives a personal touch to the conversation.
WP Live Chat Support
If you do not want to spend more on a live chat plugin, you can choose this handy free plugin. This plugin comes up with a lot of customization features to set the chat widget to fit it on your WordPress website.
It has so many predefined themes from which you can choose the one which matches your site. In addition to that, you can set it to generate an automatic pop-up and add some animations to make the chatting experience more interesting to the customers.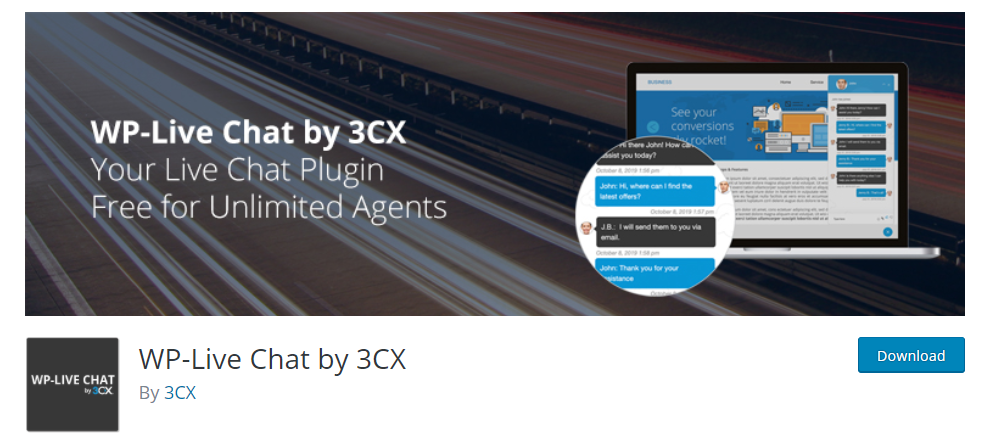 Even though it is a free live chat plugin, it has lots of handy customization features. Its easy navigation option and the user-friendly interface let you configure the chat widget and its functionalities as you wish. You can even allow customers to drop a chat message without entering their details, and ban some users who send messages from a particular IP address.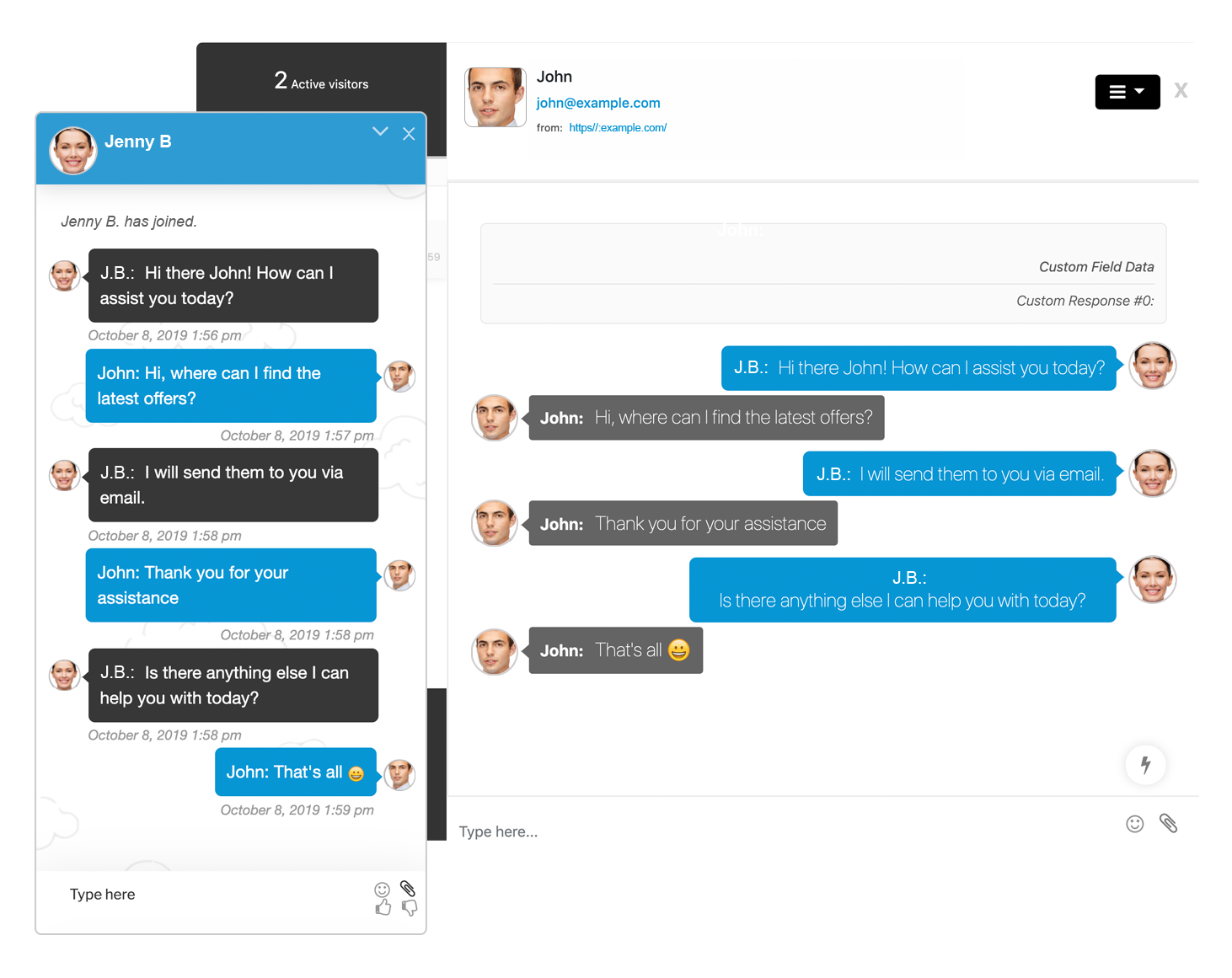 It also stores the chat messages received when you are not online. Later, you can reply to them at your convenience. And it will show the messages you have missed to reply as well. Since it is a free plugin, the only feature you cannot find is unlimited agents. You cannot add unlimited agents with this plugin for assisting your customers.
Kayako
If you are looking for a plugin to personalize the customer support experience of your business, you can choose this premium live chat plugin.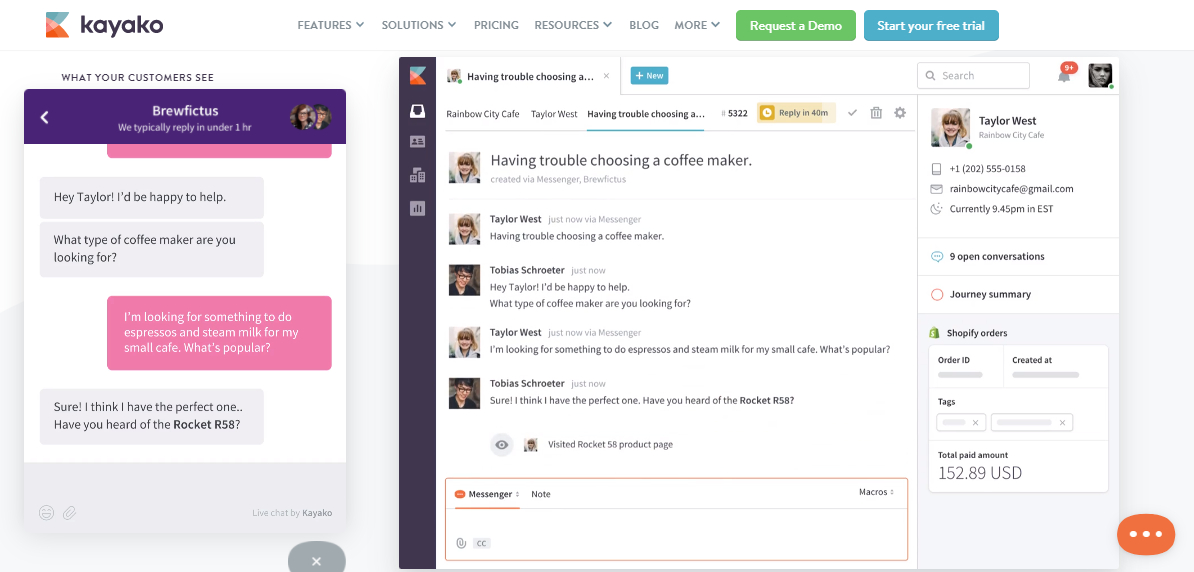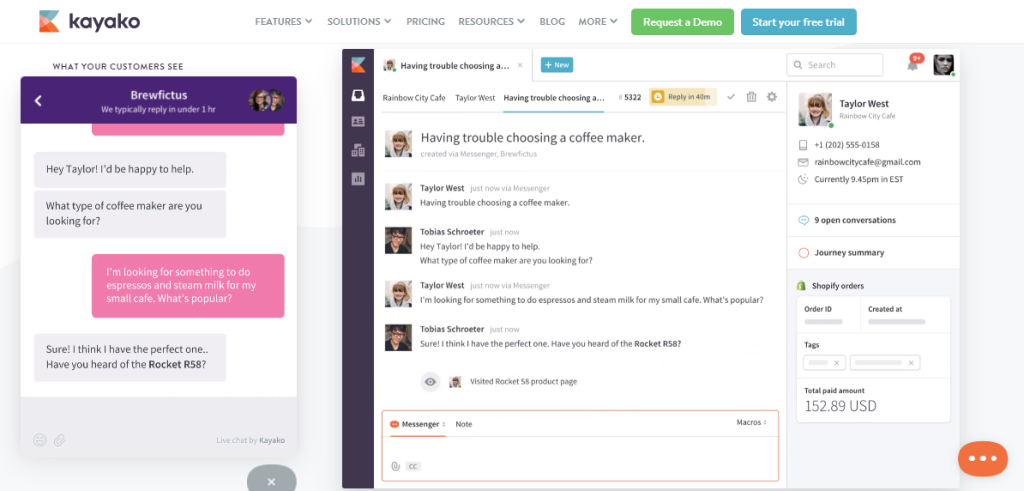 Kayako helps to make the customer support handy and personalized to provide real-time responses to your customers. This will improve the customer's trust towards you and they will frequently visit your site, which will improve the conversion rate as well.
There are many plans for Kayako, from which you can choose one which provides all features you require. Whether your business is small, medium, or large, you can choose a plan according to the scale of your business. It makes the responses faster and makes the customers engaged by helping your agents to get back to the customers in a more refined manner.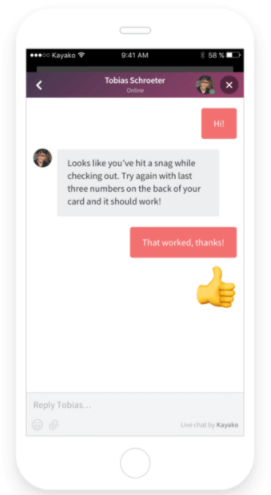 It provides purchase history and browsing patterns of a particular customer. This will help you to understand customers and make changes to your workflow for making improvements. You can also set up some automated messages based on user actions as well as their locations.
If you have an ecommerce store you must use Email Customization to create a beer impression on your brand.
Wrap Up
There are many live chat plugins available to integrate with your WordPress site. In this article, I have picked 5 WordPress live chat plugins for your site. You can go through their features thoroughly and visit their respective product pages for more details. Since customer support plays a vital role in any business it is your responsibility to be there for your customers as and when they need you for assistance. Since everyone is more comfortable with chatting rather than form submissions or telephone conversations, you can integrate a perfect live chat plugin to your store.