Want to set up WooCommerce Discounts? You can provide any kind of dynamic pricing deals besides percentage discount, fixed price discount, or a BOGO deal in just a matter of minutes by configuring the WooCommerce Discount Rules plugin. Increase your sales with this best discount plugin on your WooCommerce online store. Let's see how.
Woo Discount Rules extend the functionality of WooCommerce in a very simple and effective way. The default environment only lets you create coupons in WooCommerce. There is no way you can give flexible discounts or club multiple discount rules into one feasible rule. You definitely need a plugin if you want to increase your sales with discounts.
The best plugin you can get is the WooCommerce Discount Rules. Here's why:
Before getting started, make sure you have installed and activated the popular WooCommerce Discount plugin – Woo Discount Rules:
WooCommerce Discount Rules – Features
Woo Discount Rules is one of the best selling discount plugins in the WordPress + WooCommerce community. It is very user friendly with the following general features:
Easy to set up
Neat and clean interface
Free and Pro versions available
Zero learning curve – you can implement even complex discounts in a few minutes.
Expert customer support
The customer feedback for this plugin frequently says that it works like a charm and is very simple to use.
Apart from the above qualities, the plugin provides a variety of discounting options like:
Price level discount
Percentage discount
Fixed price discount
Dependant product based (Buy Product A and get 20% discount on Product B)
BOGO deals (Buy One and Get One Free)
Cart level discount (cart quantity and total)
Dynamic pricing deals
User role-based discount
Bulk and store-wide discount
Category based discount
Option to set discounts for each variant
Sale badge for discounted products
Shipping/delivery address based
Date range based discount
Let's walk you through how to use WooCommerce Discount Rules to setup discounts on your online store.
How To Setup WooCommerce Discounts?
The steps are very simple. Let us take an example to better explain the process. Imagine you have to create a discount on your store that says, "All orders above $500 will get a 15% discount". Here's how to do it using the Woo Discount Rules plugin.
Install WooCommerce Discount Rules.
It only takes less than 5 minutes to download the plugin and install it in your WordPress Website.
Let's get in detail with the installation of Discount Rules for WooCommerce.
Step 1: Log in to your WordPress Admin
Step 2: Select "Plugins" from your dashboard
Step 3: Click on the "Add New" button as illustrated below,

Step 4: Search for "Discount Rules for WooCommerce" in the search panel as shown below,

Step 5: Click on "Activate" to install and activate the plugin to your WooCommerce store.
The plugin can also be installed manually to your store by downloading
Discount Rules plugin from WordPress repository
The above process explains the installation of the free version. It is important to get upgraded from the free version to Pro because BOGO deals can be created only in the PRO version of this plugin.
Thus, the installation process for the plugin has been completed successfully.
Create a new Discount rule – Price discount rule or Cart discount rule.
A price level rule applies the discount on the product level (on products or categories). Whereas a cart level rule applies the discount on the cart level (on subtotal or number of cart items or based on other cart details like billing city).
Since our example deals with the cart subtotal, let's create a rule in the Cart Discount Rules tab.
Go to Your WordPress Dashboard-> WooCommerce-> Woo Discount Rules -> Add New Rule as illustrated below,


On the Rule page, enter the Rule name and choose the discount type as "Cart Adjustment" as shown below,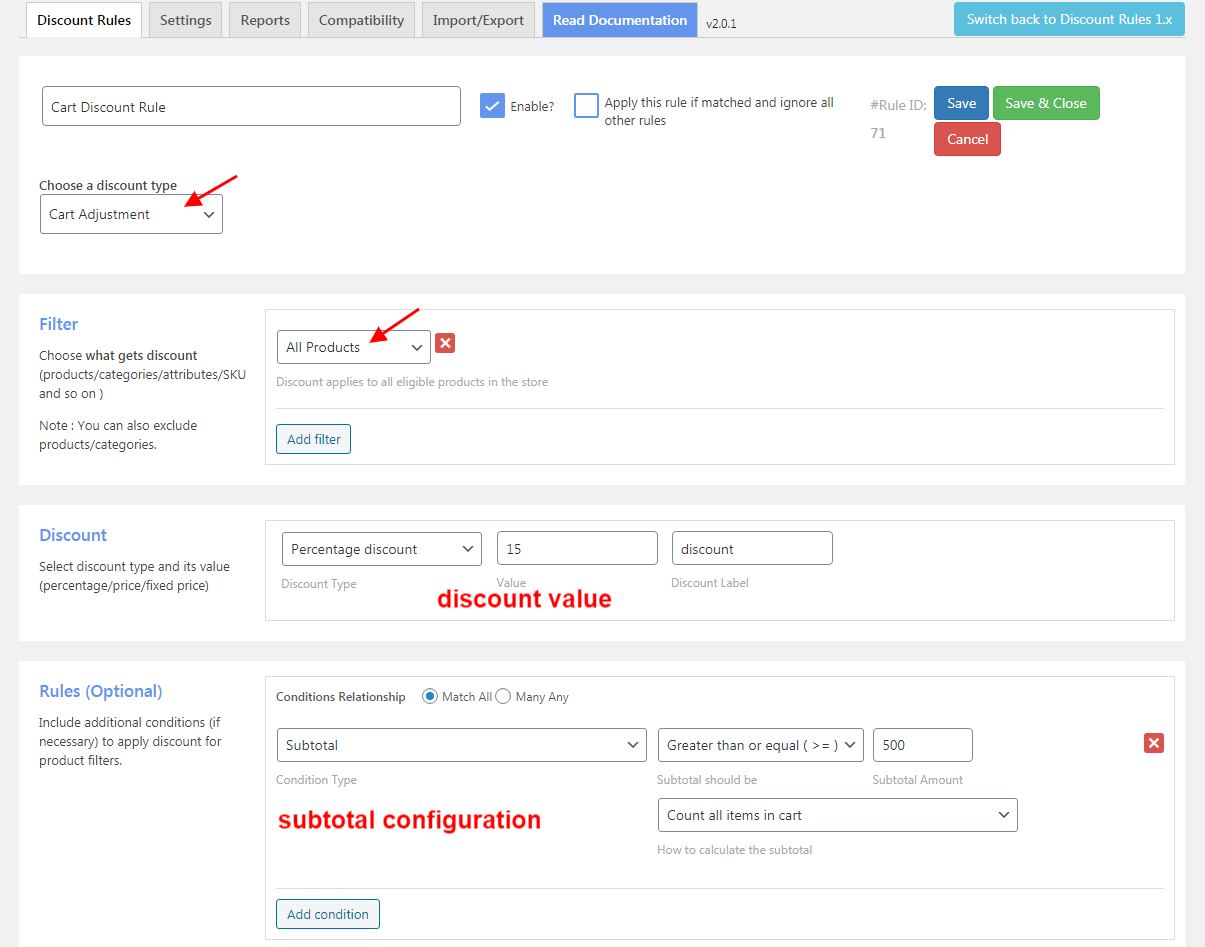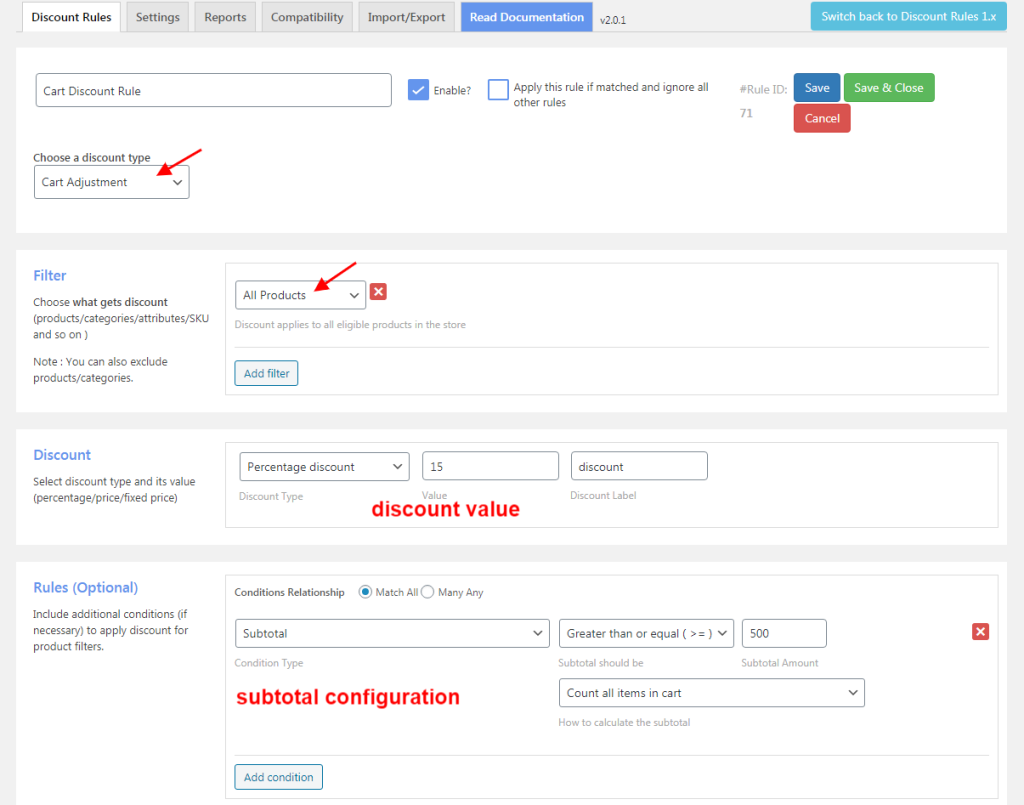 In the filter section,
Choose "All Products" as it is a store-wide discount.
In the discount section,
Select the Discount Type as "Percentage Discount" and enter the discount value(15%).
In the rules section,
Set the subtotal configuration by selecting,
Condition Type as "Subtotal" with its value greater or equal to $500.
Save the rule and you are good to go! Your store now provides a 15% discount on all orders above $500. I guess it took five minutes. Or four?
Have a look at the cart page for a better understanding,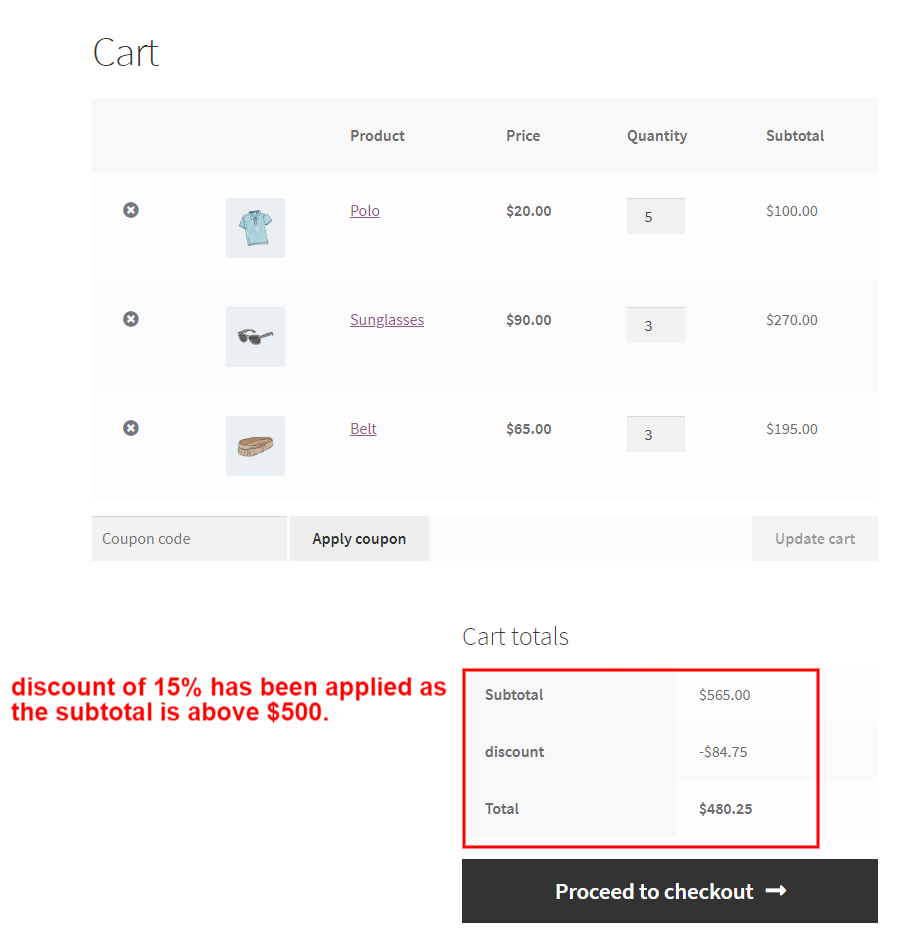 You can create as many discount rules as you want for your store, and they wouldn't clash with each other. The settings to prioritize the different rules can be modified in the general settings tab to set up store-wide preferences.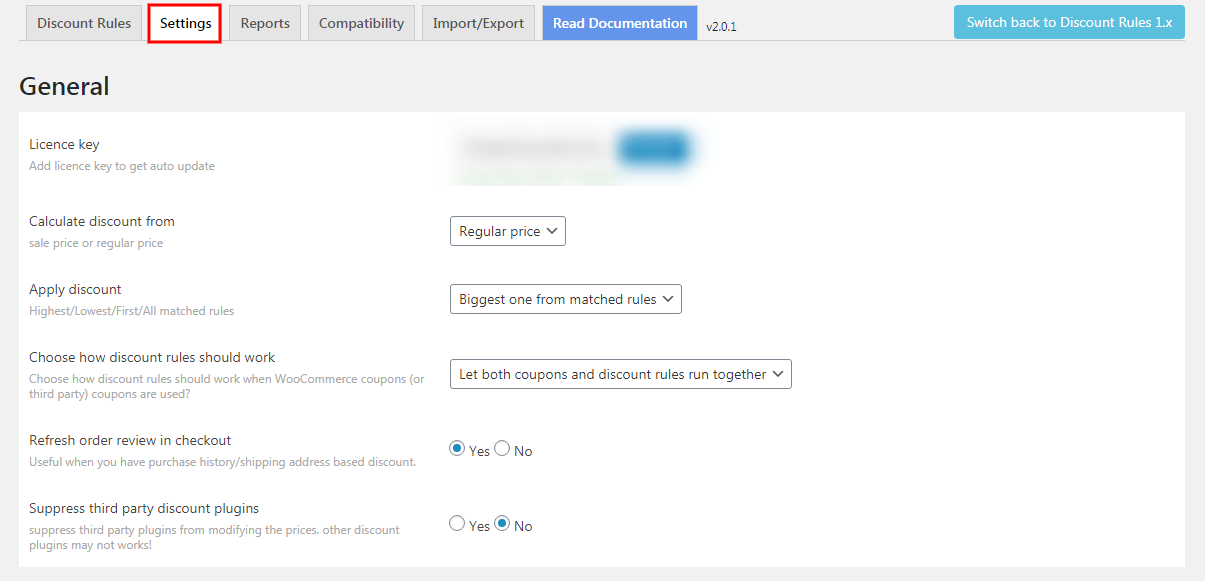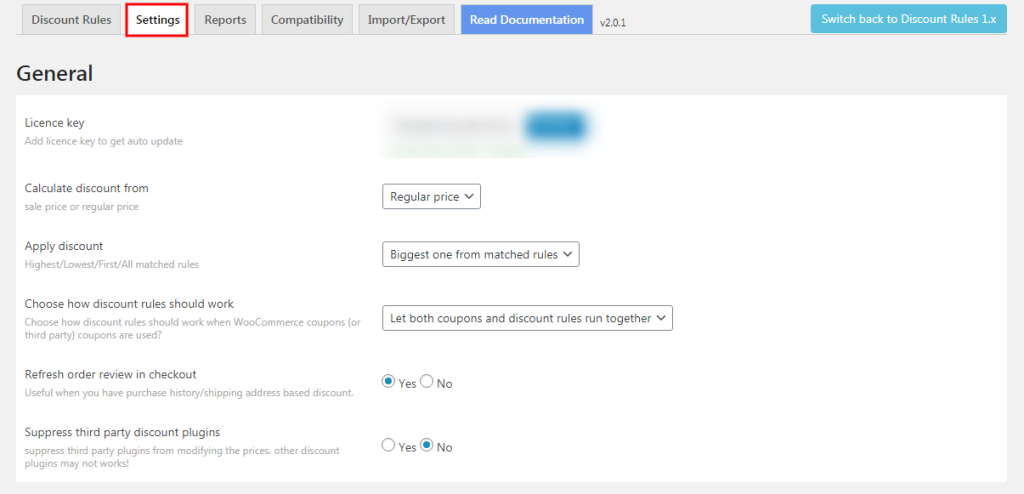 Pretty simple, isn't it?
Use our demo site to work with Woocommerce Discount Rules by yourself.
In a nutshell, this is the best discount plugin to work with, if you want to do the following in your WooCommerce online store:
Provide simple as well as complex discounts
Create different kinds of discounts with a single plugin
Have a lightweight plugin that works smoothly
Provide dynamic pricing deals in a few clicks and keystrokes
Not waste a lot of time in learning how the plugin works
Support from the best-in-class expert customer success team
A plugin with both free and pro versions
Just BOGO Deals?
Now, there is another way you can set up discounts in WooCommerce. If you want to focus mainly on giving BOGO deals, that is, the classic Buy One Get One Free deal, you might want to look at this one. WooCommerce BOGO Discount Pricing Deals on the same product and different products.
The WooCommerce BOGO Discount Pricing Deals are exclusively developed for BOGO lovers. Many store owners around the world feel that BOGO deals drive sales better than the other types of discounts. This is partially true because it is used mainly for stock clearance and to increase sales. At least two products move in a single sale.
We cannot ignore the psychology of buyers involved here. A freebie always looks better than a percent off, even though it offers the same value. Isn't it? That's why using a dedicated discount plugin for offering BOGO deals would provide you with better optimization during the high selling sale period.
Here's what the WooCommerce BOGO Discount Pricing Deals have to offer:
Buy X Get X – Buy a product and get the same product free
Buy X Get X Recursive – Buy any number of a product and get the same number of the same product free
Buy X Get Y – Buy a product and get another product free (Same category / Different category)
The quantities can be manipulated as you want.
Read in detail how WooCommerce BOGO Discount Pricing Deals works.
Advantages of BOGO deals:
Faster stock movement
Increased sales
Increased cash flow
Attractive than other forms of discounts
Discounts are the inevitable angels in disguise for retail stores. Most of the time, especially when you are dealing with slow-moving inventory, discounts are the go-to solutions. Wouldn't you agree? Be it BOGO deals or any kind of dynamic pricing deal, your store deserves the best discounting plugin to do it for you.
So, what are you waiting for? Choose among the best WooCommerce discount plugins and inch up your sales more than ever before!
Happy Selling!
Have a story to share? Tell us how your store made that great sale in the comments below. We'd love to hear from you.