Discounts! Oh, yes! This is not a new term for you. I agree.
If you are a WooCommerce store owner, you might know that "Discounts" are a sale-savior. Offering discounts in your store will encourage customers to purchase more thus increasing your sales.
Now, we have come up with an interesting feature in Flycart's Discount Rules for WooCommerce plugin. (If you haven't installed it, do not be last in the queue, Install it now)
Guess what?
You can set up fixed cart discounts for your WooCommerce store at ease. Let us know the way and how well it benefits the store owner.
What are Fixed Cart Discounts?
Rather than providing discounts for each product or category, fixed cart discounts are the type of discounts that apply to the entire cart.
Example,
Scenario 1: You have provided a fixed cart discount of $10 for all products in your store.
If a customer purchases 4 items worth $50. They will get a $10 discount and the total purchase amount will be $40.
Scenario 2: "10% Off For Orders Above $400"
On the other hand, if you have provided a minimum purchase value to avail fixed cart discount, it triggers the customers to buy more.
If you provide a fixed cart discount with a purchase value in it, it boosts your sale and increases the customers' cart size too.
Working on Fixed cart discounts with the Discount Rules for WooCommerce plugin seems like a cakewalk. Now, it's time to add value to your store.
Why Are Fixed Cart Discounts in WooCommerce Important?
Among the different types of WooCommerce discounts, fixed cart discounts have earned separate popularity. Fixed cart discounts definitely have an impact on your conversion scale.
Fixed cart discounts, according to many customers, are an excellent approach to acquiring and converting new clients. At the same time, they've stated a need for a tool to help them enhance retention.
As a result of the rapid expansion, the Discount Rules for WooCommerce plugin automatically provides incentives or coupon codes to the customers when they enter into the checkout page of WooCommerce.
How To Setup Fixed Cart Discount In WooCommerce?
Setting Up a Fixed Cart Discount with Discount Rules for WooCommerce Plugin is not a big deal. Here comes the brief setup guide that helps you to Instal, activate, and run your Discount campaign.
Let us get started.
Installing Discount Rules for WooCommerce
Step 1:
Search for "Discount Rules for WooCommerce Plugin" in your WordPress Plugin search and Install It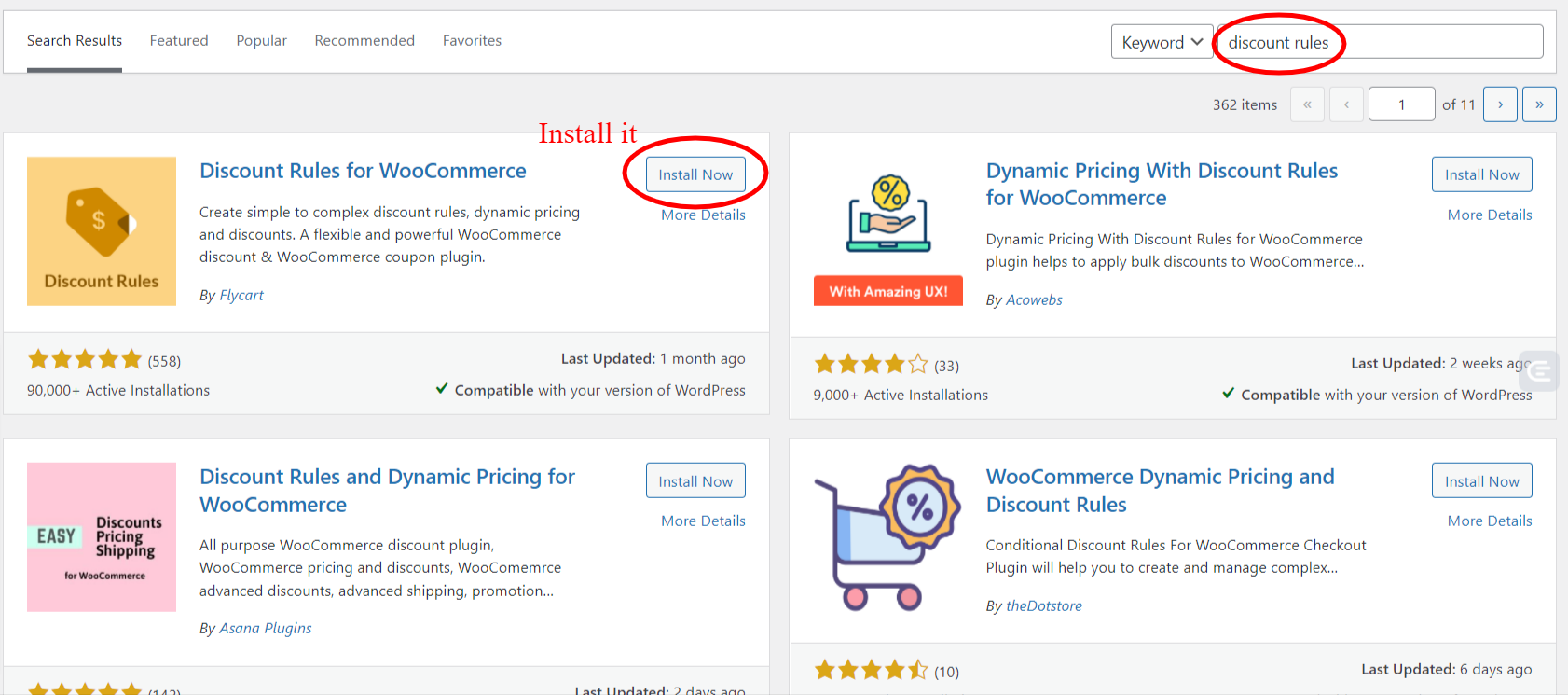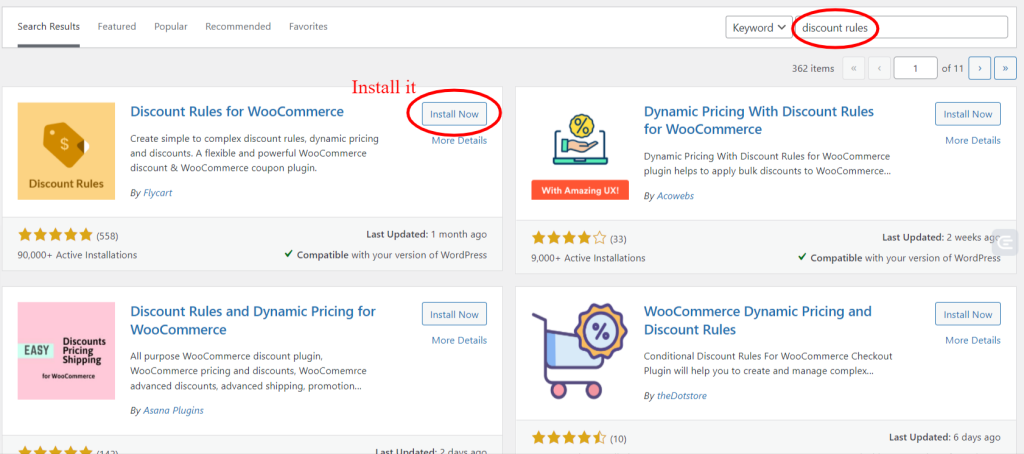 Step 2:
After installing and activating the plugin in your WooCommerce store, it's time to customize the discounts according to your requirements.
Go to " WooCommerce Discount Rule" and click " Add New Rule"


Step 3:
Once you click it, you will get a page that requires you to fill in the campaign name and the type of discount.


You can choose the right one as per your requirement from the different discount types available.


Say, if you wish to provide a bulk discount, you can choose "Bulk Discount" and proceed further. As we are discussing fixed cart discounts, let us select " Cart Adjustment"
Step 4:
Once you have selected cart adjustment, you need to filter the products that you do not wish to give discounts for. As the fixed cart discounts apply in the cart level, you can add or exclude giving discounts to certain products.


But, if you have an idea to provide discounts only to a particular "category" then choose it.
For example, if you are selling beauty and apparel for women and you wish to give fixed cart discounts for lipsticks, you can make your choices accordingly by selecting the category in your store.

On the other hand, if you wish to give a discount on all products in your WooCommerce store, you can continue to the next section.
Next, you can fill up the fixed percentage of discount you wish to provide.


Next, we are stepping into the Rules Section. Every discount converts into huge sales when the rules are on the right track. When you use rules properly, you can gain profit out of the fixed cart discount you ought to provide.
In the rules section, you might have the flexibility to add specific conditions. But, in the fixed cart discount, you can use Subtotal coupon conditions.
The subtotal condition helps you to provide discounts when the customer reaches the minimum purchase limit you have fixed for your store.


Let us assume that your discount slogan says, Purchase for $400 and get a 40% discount. So, to make the condition more applicable, you can use the subtotal condition.


Once you have done placing subtotal conditions for your cart, you can click add a condition to add a new condition. You can also fix the timing for the discount that you wish to offer in your store.
The next section is the Discount Bar Section where you can display the discounts on the product page using the customized discount bar.

And, Yes! You have filled in all your requirements. Now, it's time to see the live results of your Discount Rules for WooCommercec Plugin.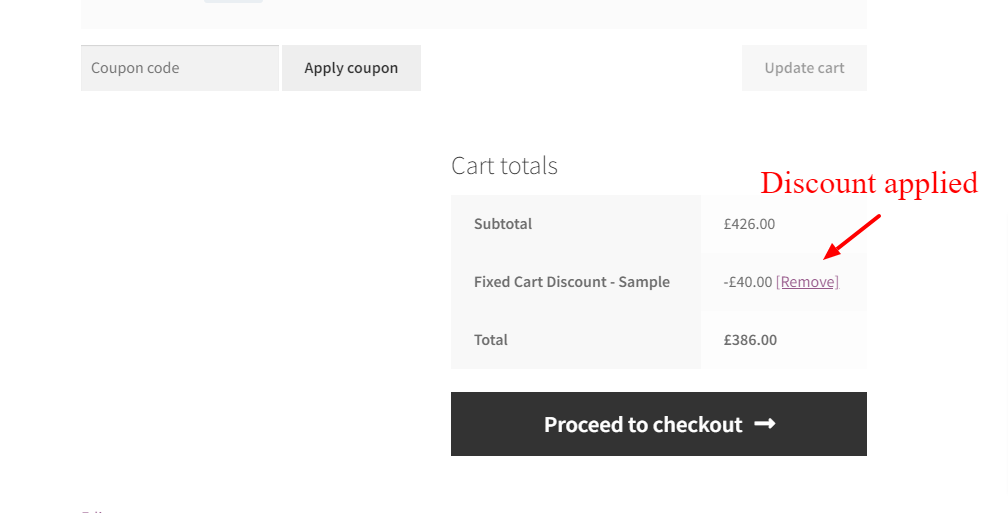 From this result, you can understand that the discount has been applied once the cart value exceeds over $400. This is how a fixed cart discount in WooCommerce works.
Strategies to Provide Fixed Cart Discounts in Your WooCommerce Store
Many plugins increase your traffic if you pour your smartness into them. The strategies enlisted here help you to set up top-notch fixed cart discounts with an increase in your conversion rate.
Strategy 1: Create an Urgency in Your Discount – Simply "Close the Sale"
This is the most straightforward discount for the buyer to comprehend and emotionally process in order to act.
This strategy's purpose is to simply complete the deal. In order to acquire an order, you must protect your product margins, basket size, and perceived product value.
When employing a Fixed cart discount of $20 or $50, be careful to establish a minimum purchase amount in the cart and then clarify it in the fine print of the email. (I've seen many clients who haven't done this, so it's worth mentioning so you don't get a bunch of $3 orders to buy the cheapest products by accident.)
The other two tactics will necessitate a little more planning on the part of the customers (or you as a business owner).
Strategy 2: Increase Your Cart Size With Fixed Cart Discounts
With fixed cart discounts, the WooCommerce store owner can cleverly maximize the minimum limit for the cart.
For example, you can provide " $40% Off For Orders Above $1999"
The purpose of this method is to persuade a user to spend more money with you. You're setting the precedent that this requires a higher overall purchase, almost like a mini-wholesale customer, even if the per-product pricing is lower.
The first step is to research and determine the average First Order Value and discount amount for your clients (by dividing the Total Value of Discounts by the Total Value of Orders).
Most carts display the Average Order Value, however getting the average/median value of the initial order is more difficult.
When you get to know the average order value, you can easily fix the minimum purchase price for the orders in the customers' cart.
Strategy 3: Offer Free Shipping Over a Perceived Value
Fixed Cart Discounts are not only about giving discounts in dollars. Instead, you can reduce your users' burden by freeing up their shipping costs if they reach your minimum purchase limit.
This is the same as the above strategy. But, when it comes to free, customers would love to add products to their cart without giving a second thought.
The purpose of this technique is to lower the order price while keeping the price and perceived value of the core product the same.
You're offering discounts on your main product, but not on the product itself. Because you didn't start with a direct percent or dollar reduction on your main offering, this sets a better pattern for getting a full price on the customer's second order.
Final Takeaway
Discounts have become the most awaited attraction for many customers. Irrespective of the season, discounts are warmly welcomed throughout the year.
In order to provide and track the discounts, it is necessary to rely on a plugin like Discount Rules. Whether it is a bulk discount or a segmented discount or a fixed cart discount, the plugin helps you handle things at ease. Cheers!