As a WooCommerce store owner, have you ever explored any ideas or approaches to increase your customer's spend and store's average order value?
If not, we will assist you in achieving it using a successful marketing method known as upselling.
WooCommerce one-click Upsell is a strategy that various brands widely use to increase their profits and average order values. A customer's revenue potential continues after purchasing from your WooCommerce store. Beyond the point of final purchase, there is a wealth of opportunity for more WooCommerce stores at each initial purchase and practices known as WooCommerce upsell.
WooCommerce Upsell can help you increase sales and revenue by displaying relevant products on the checkout page. This blog guides you in creating WooCommerce one-click upsell using the plugin Checkout Upsell and Order Bump for WooCommerce. Without further ado, let's look at the features, benefits, and configuration of upsell plugins for WooCommerce.
Increase your sales and revenue by upselling.
What is Upselling?
Upselling is a sales technique where it encourages customers to upgrade to premium or enhanced products. Additionally, it persuades customers to purchase add-ons to increase their spending value.
Upsell always offers an upgraded or premium product version relevant to the items purchased by the customers. Based on customers' initial purchases, it does not offer any lateral products.
For example, when you visit the store to buy a watch, the salesperson shows you a product with a better version and explains to you the additional features compared to the regular version. This induces us to purchase the premium version, and this marketing strategy is called upselling.
Why is it necessary to create an upsell in WooCommerce?
Instead of focusing on selling a product or service, upselling aims to increase sales by giving customers more enticing upgraded or premium options and ensuring they have other options that can better meet their wants and needs. This approach will entice new and existing customers to purchase from your WooCommerce store. WooCommerce's one-click upsell, however, is one way to achieve this.
Here are some factors that support the significance of one-click upsells in WooCommerce.
Upselling helps WooCommerce store owners build customer trust and loyalty.
Upselling, getting to know your customers and their needs.
Upselling leads to an increase in average order value.
Upselling offers more personalized products or services that improve customer relationships.
How to Create Upsell in WooCommerce?
Whenever a customer is purchasing, as WooCommerce store owners, we can boost our sales by upselling relevant or premium products. Add One-click upsells and order bumps to your WooCommerce checkout page, encouraging customers to buy more. Create unlimited Order bumps with the best WooCommerce Checkout Upsell and Order Bump plugin.
Ensure the WooCommerce plugins for Checkout Upsell and Order Bump are installed and active. Do you not have the plugin?
Buy Checkout Upsell and Order Bump Plugin
What is the Checkout Upsell/Order Bump plugin?
WooCommerce checkout upsells a simple way to encourage customers to buy more. Whereas this checkout upsell offers products relevant to the items in the cart, customers can simultaneously add them with a single click to their shopping carts.
Here's why to use WooCommerce Checkout Upsell and Order Bump Offers
WooCommerce upsells and order bumps entice customers with personalized offers on the checkout page without interrupting the customer's checkout progress.
Customers can upsell products to their cart in a single click to complete the purchase, and you can personalize upsell offers with powerful targeting rules. With the WooCommerce one-click upsell and order bump plugin, you can enhance your revenue and give your customers a seamless shopping experience.
Raise your profit with WooCommerce Upsell.
Features of Checkout Upsell and Order Bump for WooCommerce
Customers can add their upsell products to their cart in one click.
Offer upsell products with discounts such as percentages or fixed value discounts. (For example, 20% discount on smartwatch accessories)
Create personalize and powerful targeting rules
Provide offers based on products in the cart, categories, order value, and more
Display upsell WooCommerce products at various locations on the checkout page. (For example, before/after payment gateway and before/after place order button)
Prioritize and display your WooCommerce one-click upsell offers to your customers
Customizable and ready-made upsell templates to display your offers.
Creating one click upsell on WooCommerce using Checkout Upsell and Order Bump
Creating WooCommerce one-click upsell is quite simple. Before getting started, check the type of upsell products you would like to offer your customers at the checkout page. Ensure that you have installed and activated the Checkout Upsell and Order Bump plugins for WooCommerce.
Let's get started
Step 1: Creating an Upsell Campaign
Before upselling the products, it is essential to create a campaign. Follow the below steps to create a checkout upsell WooCommerce campaign.
Go to your WordPress dashboard -> Checkout upsell -> Campaign -> Click on Create New Campaign.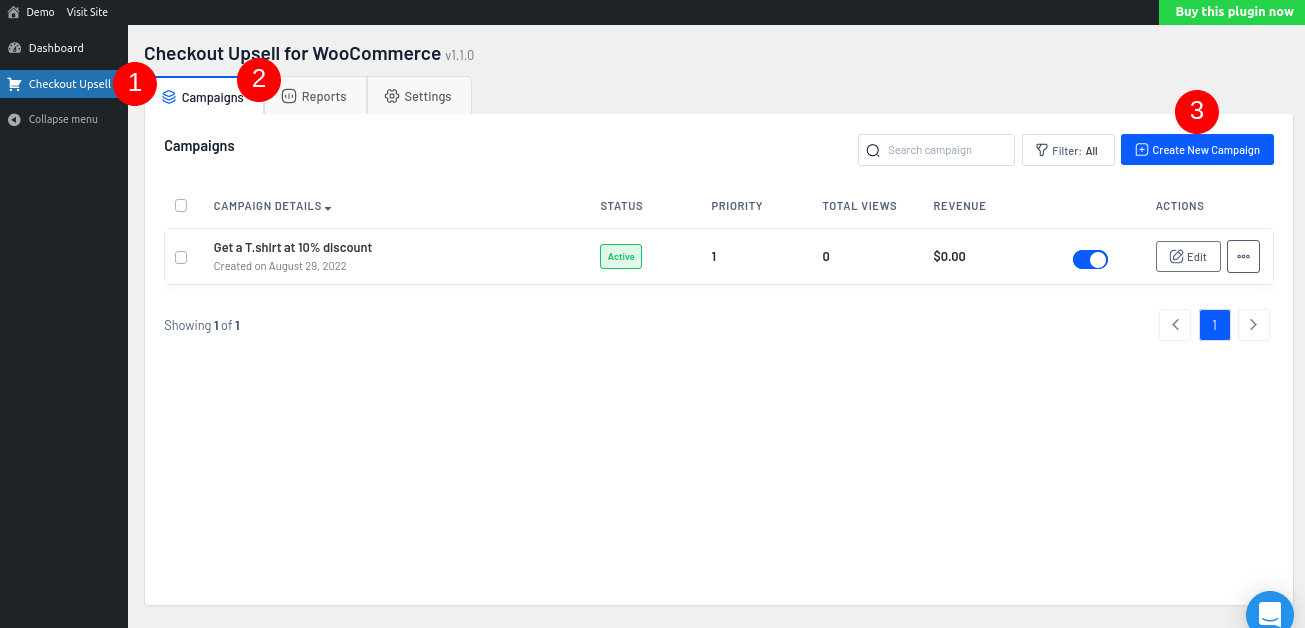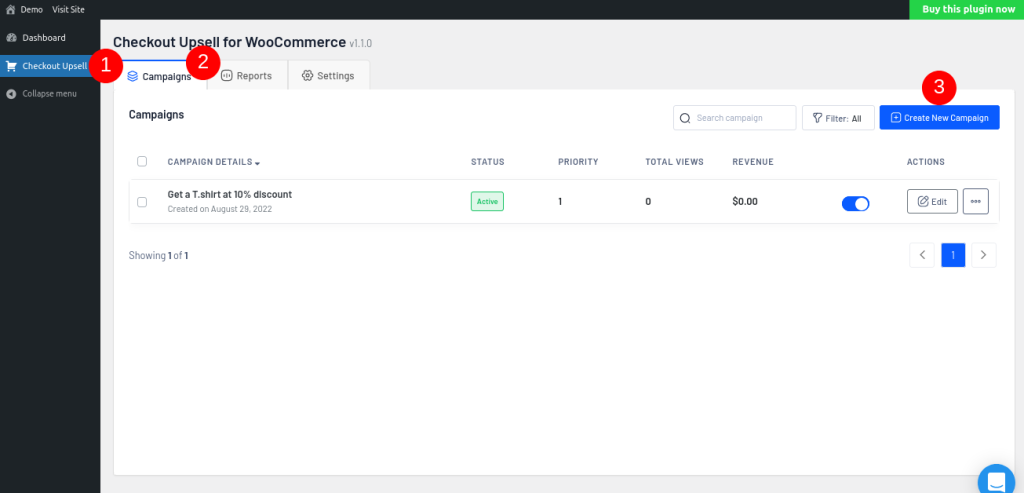 Step 2: Adding and configuring offers to an Upsell Campaign
1. Give a title to your campaign and click on "Add Offers."


2. Select the product from the list you want to offer as an upsell during checkout. You can add a maximum of 5 upsell products in a single campaign.
3. Set the discount type and discount value. (For example, get a beanie at a 10% offer)
Note: You can set the discount type in two ways:
Percentage Discount: Choose this option if you want to provide a percentage discount on the upsell products. (Example, 5% discount on belt)
Fixed Discount: Choose this option if you provide a fixed discount for upselling products. (Example, $10 for all shirts)
4. (Optional) If you want, you can set the offer usage limit. (For example, if you set the offer limit as 20, then the first 20 customers can avail of the discount offer on upsell products. Alternatively, you can leave it empty for unlimited scenarios)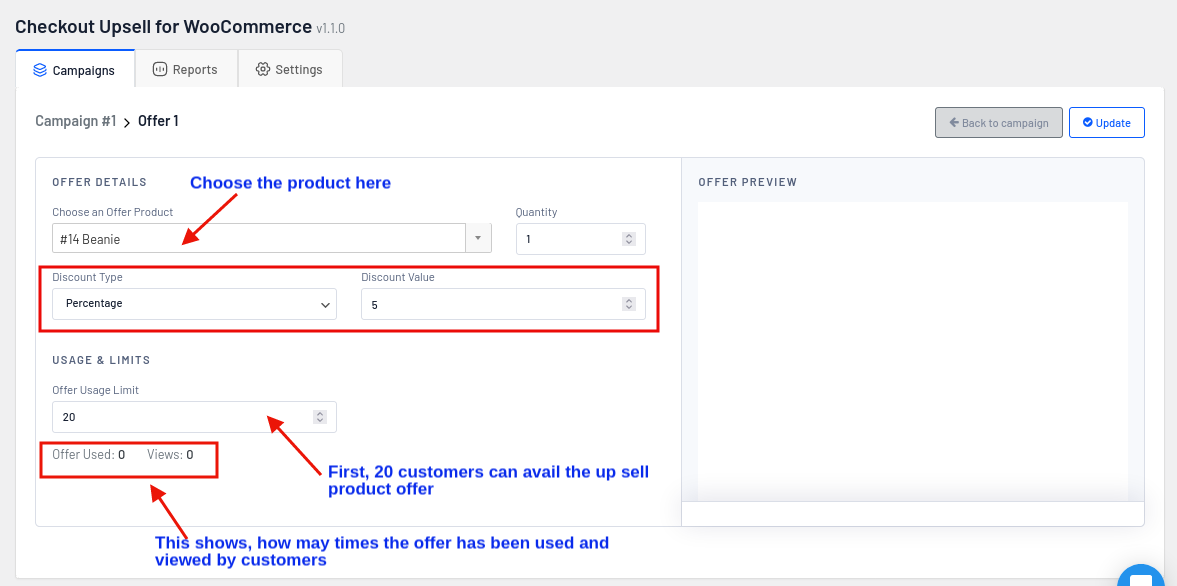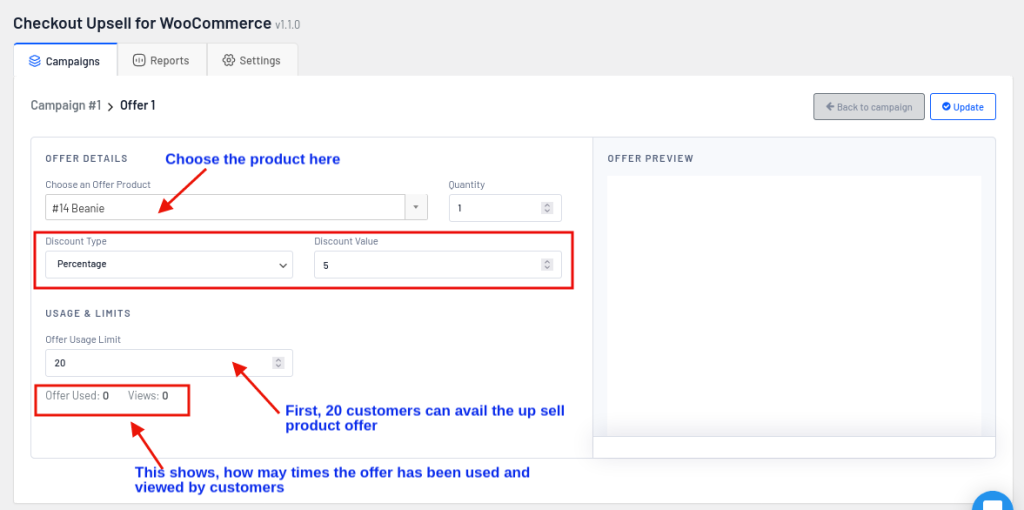 5. Click on Add offer, then click Save to save the upsell campaign.
Step 3: Choosing Offer Display Method
Adding WooCommerce upsell products adds value to the customers, increases your sales, and encourages customers to buy more products in a single click.
Similarly, displaying your upsell products at the correct location ideally induces customers to buy more than one product and enhances your brand value. With the Checkout upsell and order Bump for WooCommerce, you can choose various display locations (Before payment Gateways, Use Global settings, Bottom of the Checkout page, and more), and display methods at the checkout page are,
All Offers: Choose this option if you want to display all the created WooCommerce one-click upsell products.
Random offer: Set this option to exhibit the offers randomly.
A/B Testing: Based on the customer selection, this option randomly displays the WooCommerce upsell products at the checkout page.
Step 4: (Optional) Setting conditions, scheduling offer, and Customizing offer preview
Note: Setting conditions to the checkout upsell WooCommerce are entirely optional.
You can also define multiple conditions if you wish to upsell products based on unique/tailored customers or specific conditions like (Products in the cart, Cart Subtotal, Cart items count, and more. For example, Display a 5% offer on the cap when a customer purchases T.Shirts in their cart.

Scheduling your offer:
You can schedule your One-click Upsell WordPress campaign for a particular period. Whereas customers can avail of the discount on checkout upsell WooCommerce products only for a limited period.


Customizing offer Preview Template
How does it make you feel when you have the option to try on your eyeglasses before buying them from a WooCommerce store? Undoubtedly, having options to try and choose the product that works for me before placing the order makes me delighted.
Checkout upsell and Order Bump for WooCommerce comes with a preview option. With the help of this plugin, WooCommerce store owners may instantly see a live preview of how the one-click upsell WooCommerce products are being displayed. Additionally, the store owner can customize the template using three different sections are
Content: In the content section, you can customize the WooCommerce one-click upsell campaign offer title, description, and CTA text.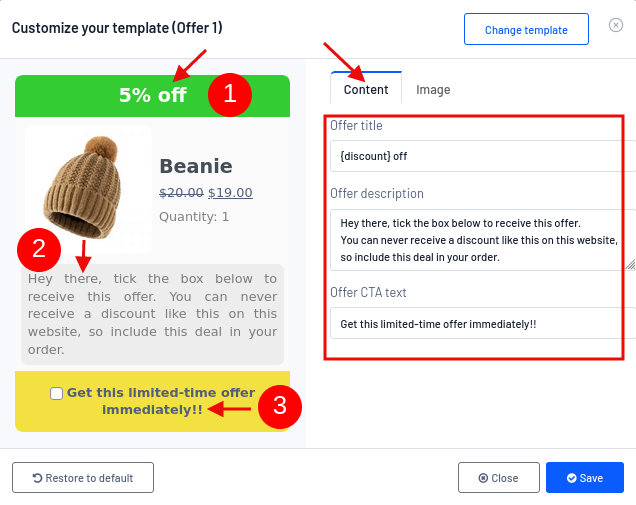 Image: In the image section, you can choose the product image option if you want to display an existing image. Additionally, WooCommerce checkout upsell allows you to customize and select the image according to the product.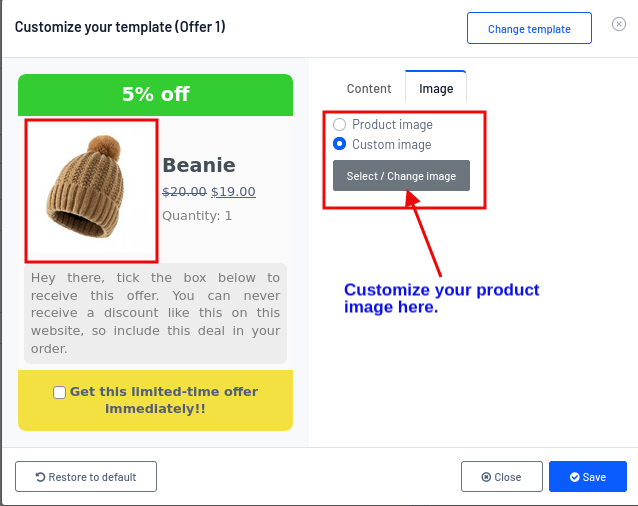 Change template – WooCommerce comes with four predefined themes for checkout upsells. You can display your WooCommerce upsell goods using any of the template designs.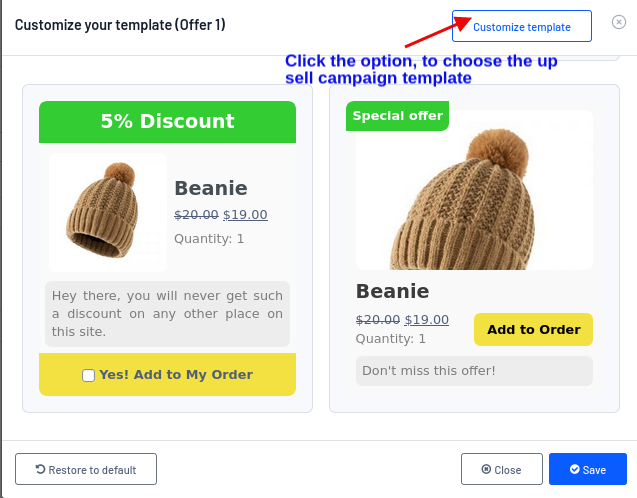 Step 5: Setting Priority
Now set the priority to your created campaign; the checkout upsell will select and show the offer from the campaign on the checkout page based on the priority value.
Note: Use a different priority number for multiple offers.




Look at the image to understand the workflow of WooCommerce upsells on the checkout page.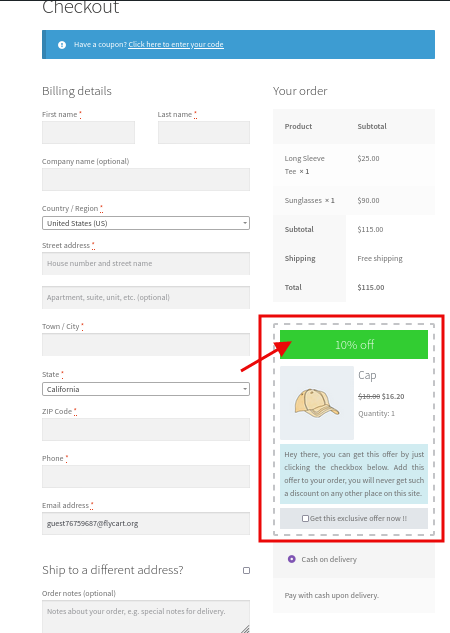 Based on the customer purchase, random 1-click upsell WooCommerce products are displayed on the checkout page. Customers can avail of the offer with a single click on the "Get this exclusive offer now !!."
Offering deals and discounts is essential for increasing sales in your store.
Similarly, running a WooCommerce store with correct reporting and analytics will allow you to track the success of your WooCommerce store as well as provide You with critical insights to understand your customers better and increase your revenue. Woocommerce store owners can look into and evaluate total revenue, offers used, and how many campaigns and offers are created using the "Checkout Upsell and Order Bump for WooCommerce" plugin. Additionally, the "Line Graph" will show the upsell revenue and offers used by the customers.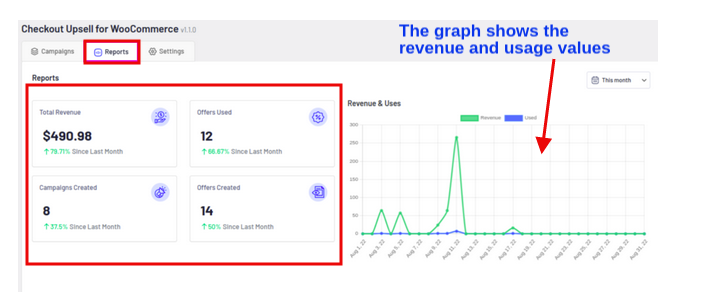 Increase your profit and Average Order value with Upselling.
Conclusion
It is now simple to make your existing customers spend more money at your WooCommerce store than to get new customers. This may be accomplished by using Checkout Upsell and Order Bump for WooCommerce. Whereas the WooCommerce upsells at checkout technique is an excellent way to urge customers to add more things to their cart gently. As a result, adding upsell products to your WooCommerce site advantages a variety of factors. As discussed, this blog shows you how to set up a one-click upsell in WooCommerce. Create effective upsell products with offers for your store and increase sales by encouraging customers to buy more.
What is an upsell funnel?
The upsell funnel is a sales approach that enables WooCommerce store owners to learn more about their customers and give them the product or service that best suits their requirements and desires. Upselling also includes add-ons that improve the product's functionality. Installing a plugin like One Click Upsell and Order Bump for WooCommerce allows you to develop WooCommerce upsell funnels on the checkout page.
How do you create an upsell funnel?
As discussed in this blog, you can create an upsell funnel in WooCommerce by installing the plugin Checkout upsell and Order Bump for WooCommerce. Here are the steps for creating an upsell funnel are:
1. Create an Upsell Campaign
2. Add and configure offers to upsell the campaign
3. Choose the offer display location and method
4. Set Conditions for the campaign
5. Set Priority
What is the best way to upsell?
As a WooCommerce store owner, you must find an effective way to drive your sales and increase your customer base. Here are some best upselling strategies to boost sales and encourage customers to buy more without compromising customers experience.
1. Personalize and custom upsell products based on customer purchase history. Make sure your upsell products are p
2. Evaluate the customer group that demand for additional services genuinely.
3. Provide substitutes or alternatives for things that are out of stock.
4. Bundle products to upsell them all at once.