Looking to create dynamic pricing offers in your WooCommerce? In this article, we are going to discuss how to create WooCommerce Dynamic Pricing rules like User role based pricing, bulk discount pricing, tiered pricing discounts, buy one get one free offers, and more.
This is a comprehensive guide that will help you understand all about Dynamic Pricing in today's context. It will also walk you through various popular strategies followed by successful online stores. And you have some crazy ideas as well.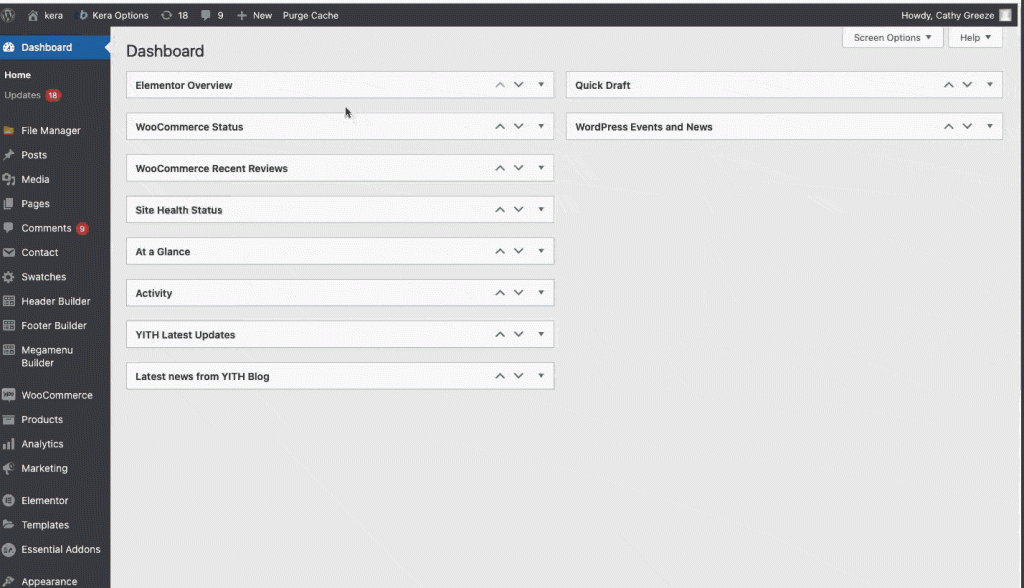 Before getting started, make sure you have installed and activated the popular WooCommerce Discount plugin – Woo Discount Rules:
What is WooCommerce Dynamic Pricing?
WooCommerce Dynamic pricing refers to "Price changes actively based on the rules we create." A simple example of WooCommerce Dynamic Pricing is the tiered bulk discounts. Example: Buy 5 or more, get 10% off, Buy 10 or more and get 20% discount. Another good example is user role based pricing where certain group of customers gets discounted pricing on products based on their user role like wholesale customers. Even the Buy One Get One (BOGO) is a type of WooCommerce Dynamic Pricing.
Here are some WooCommerce Dynamic Pricing examples:
Buy 5, get 10%, Buy 10, get 20% discount
Buy one, get the second at 50% discount
Buy Product A, and get a discount on Product B
Buy 2, get 1 free
These examples encourage the customers to buy more to get more discounts. In other words, we are motivating the customers to spend more. The right WooCommerce Dynamic Pricing strategy can help you boost your sales and increase the average spending of customers by several folds.
The advantages of advanced dynamic pricing for WooCommerce pro are listed below. Take a look at it and be assured of the benefits to your WooCommerce store.
Advantages of WooCommerce Dynamic Pricing
Like any discounting strategy, dynamic pricing encourages the customers to buy more to save more. Here are the advantages of creating dynamic pricing rules in your store:
Increases WooCommerce store revenue
Builds a huge customer base
Boosts sales conversion in your eCommerce store
Helps sell non-moving products and clear the stocks
Improves website traffic due to referral traffic source
Builds authority and credibility
Reduces cart abandonment
Saves purchase history of potential buyers on particular events.
Why should you use dynamic pricing discounts?
The objective is to sell more. With WordPress Dynamic Pricing and Discounts, it is quite easy to convert visitors into customers and make them buy more. Say you want to increase the sales of "Cap". When you create a percentage discount rule as "Buy 5 Caps or more and get 30% discount", only people who want to buy a minimum of 5 caps will make the purchase. Also, there is no idea of how many people will buy it.
What if your discount rule says,
"Buy up to 3 caps and get 10% discount"
"Buy 4 to 7 caps and get 20% discount"
"Buy more than 7 caps and get a 35% discount" – all in one rule?
So, What happens now?
The discount rule is useful for both type of website visitors who have the idea of purchasing 1 cap and also 10 caps. Now, this is a Win-Win trade scenario. Both the customer and the store owner gets benefitted.
Taking the 'cap' is a simplistic product example.
But in real time retailing, a trending product in the market during a particular season is sold based on dynamic pricing. Actually, the base price of the product is tweaked to be a little bit higher. It is then clubbed with WooCommerce discounts. That way, store owners can get the most out of the current demand without affecting profitability.
Got something trendy to sell in market? While you ponder over what to sell, let me tell you there is still more with the dynamic pricing deals.
WooCommerce Dynamic Pricing and Discount Rules Plugin
Let me introduce you to Woo Discount Rules – a very popular WooCommerce Dynamic Pricing and Discount plugin, which helps you create simple to complex dynamic pricing rules for WooCommerce. You can create bulk discounts, quantity based tiered pricing discounts, user role discounts, Buy One Get One (BOGO) free deals, combo discount offers, purchase history based discounts, order total discounts, loyalty discounts, customer specific discounts, and more.
The examples used in this article use the Woo Discount Rules plugin extensively. So before you start with the examples, make sure you have already installed and activated Woo dynamic pricing rules.
Types of WooCommerce Dynamic Pricing
Wanna try advanced WooCommerce dynamic pricing & discounts on your eCommerce store? Check the below types of Dynamic Pricing that you can implement in your online store.
10+ Best Dynamic Discount strategies for your WooCommerce Store:
Bulk Pricing Discounts
Bulk Product Pricing Discount
Category-wise Pricing Discount
User Role-Based Pricing
Cart Discount
BOGO Discount
Product Bundles Dynamic Pricing
Shipping region offers
Subtotal & Free Product Rules
Coupon-based Dynamic Discounts
Percentage Discounts
Purchase History Pricing.
The above 12 discount rules are most popularly used in WooCommerce stores.
Let's get started with setting up these popular WooCommerce Dynamic pricing Rules. Login to your WordPress dashboard and go to WooCommerce -> Woo Discount Rules to get started.


WooCommerce Dynamic Pricing Guide
1. How to create bulk pricing discounts
Thinking of a discount strategy to sell more? Well, try creating a volume discount rule which will offer your customers with bulk pricing discounts. Bulk product discount saves your valuable time because you can craft a single discount rule for all your best selling product categories.
Single product dynamic pricing strategy works the best for small scale B2B and B2C online store owners. WooCommerce store owners can target their best selling product and offer competitive discounts. Create this product discount in simple steps to boost your sales conversion,
Step 1: Create an identifying Discount Rule name & choose the discount type as "Bulk Discount"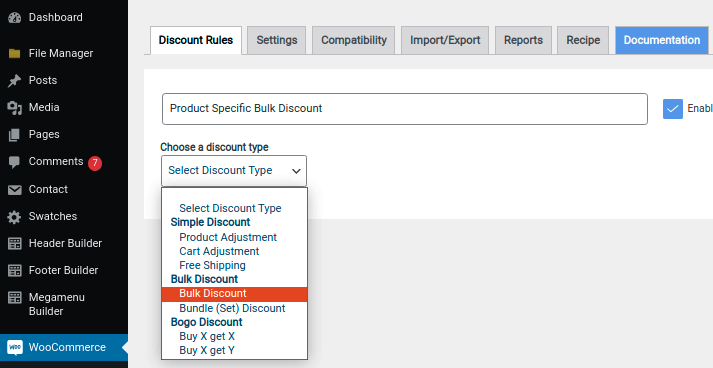 Step 2: Choose the specific WooCommerce product

Step 3: Set up Dynamic Pricing for a single product via Discount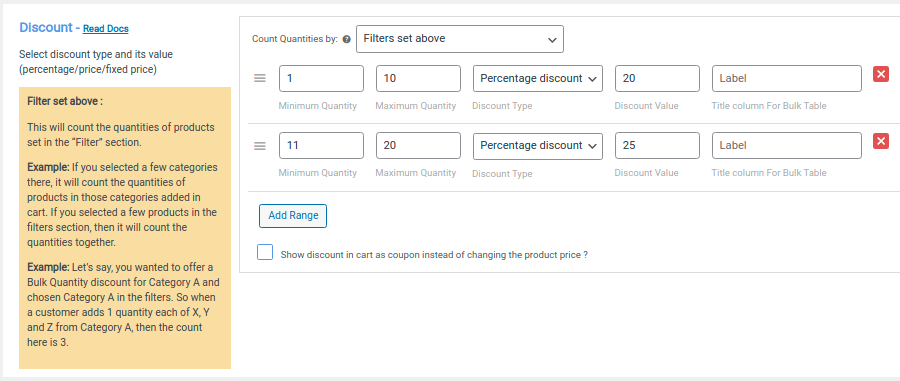 Output: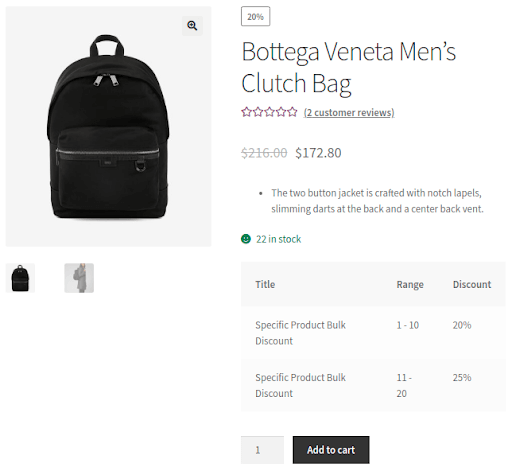 2. Category Specific Bulk Pricing Discounts
Category-wise discount is a dynamic discount type which allows you to create coupons and discount offers for a particular product category.
Look into this simple discount idea, Say, your online store wants to offer discount on accessories. Setting a Category-Based dynamic discount will offer your customers a discount on all accessory products.
Step 1: Edit the discount rule section for category wise discount pricing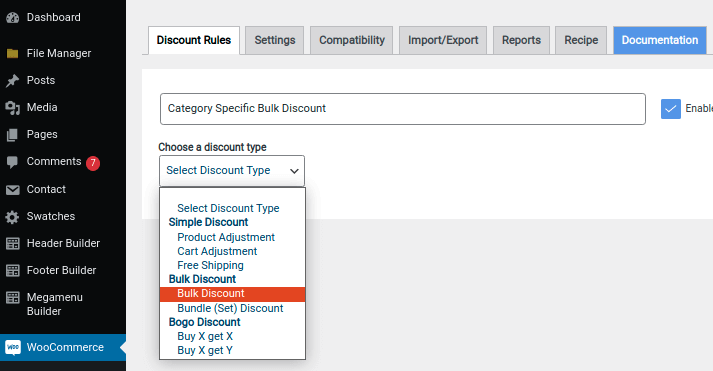 Note: You can very well notice the 'rule name' in the above image relates both 'Bulk discount' and 'Specific category discount'.
Step 2: To apply the Pricing Rule, choose the Specific Category

Step 3: Provide multiple ranges discount percentage in a single discount campaign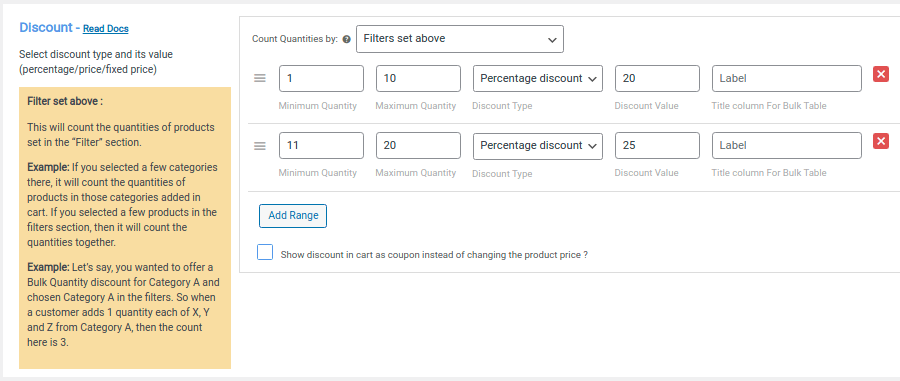 The 'discount' segment is where you define your 'bulk discount' rules. So, it's evident that when a customer shops a maximum of 5 product in accessory category, he gets a 10% percentage discount.
Similarly, the bulk discount rule will offer the customers with various percentage discount amounts if they shop more.
10% when the quantity is between 1 and 5.
50% when the quantity is between 6 and 10.
Output: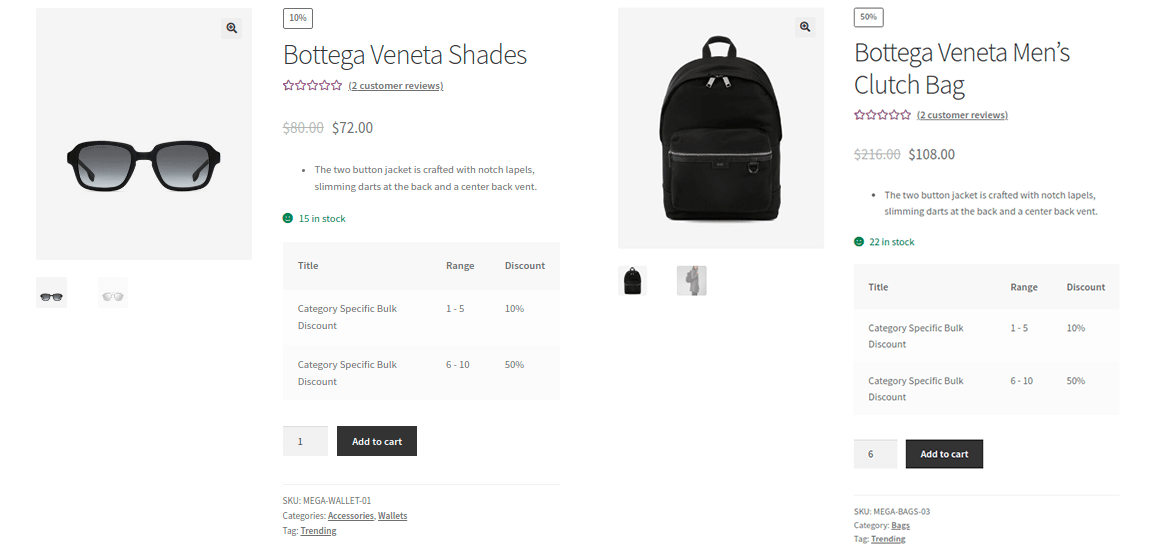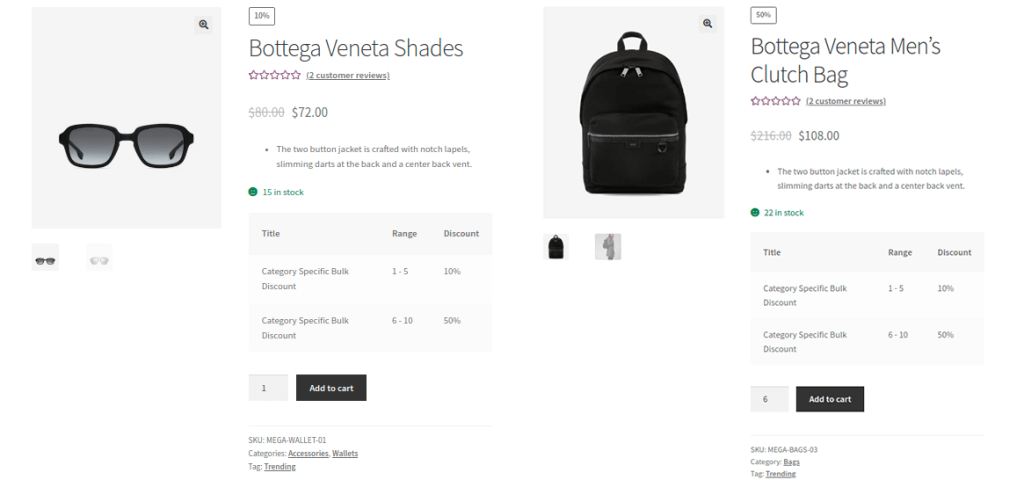 3. User Role based Discount Pricing
Looking to provide user role-based pricing deals in your WooCommerce store?
Well, try offering tailored discounts for your customers based on their WordPress user roles.
Step 1: Set up discount rule name & type section for User Role-Based pricing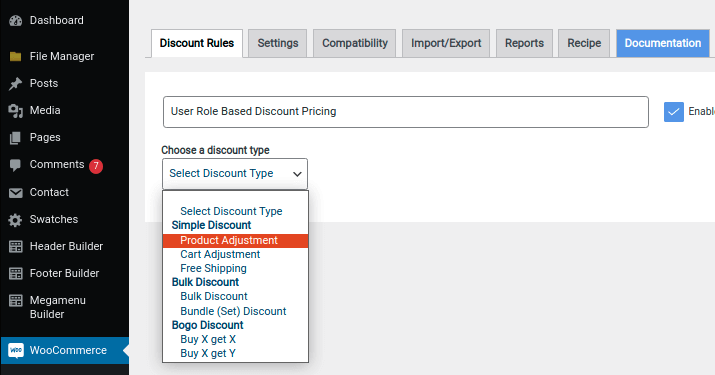 Step 2: In filter, choose "All Products" and Discount -> Set the discount percentage & choose your desired user role from the User drop-down menu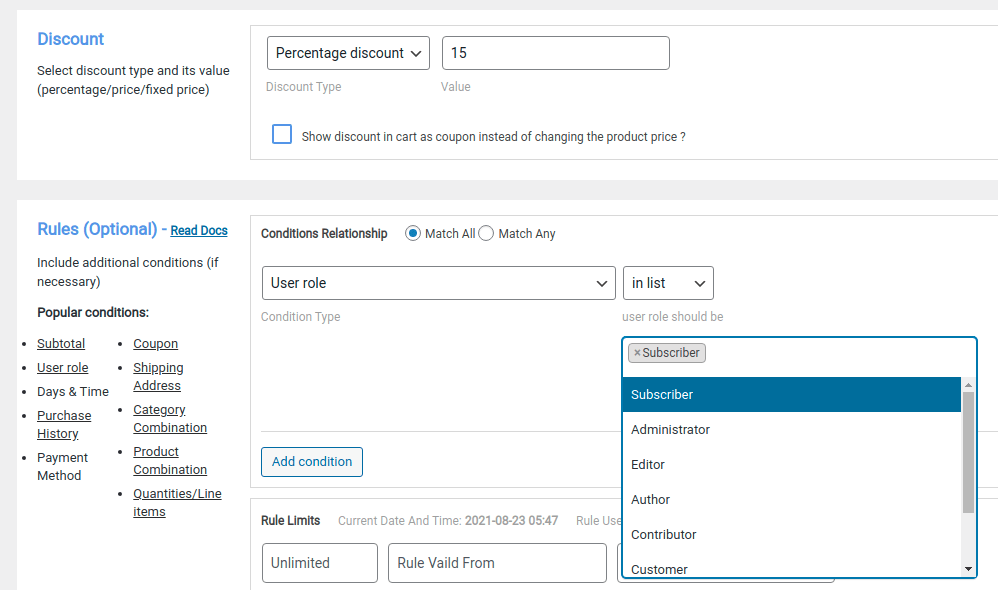 4. Cart discounts
Have you ever thought of the point of losing a potential sale? Well, most times it happens in your online cart.
So, what's the dynamic pricing strategy to tackle cart abandonment? Create Cart Discounts and give your customers a reason to checkout payment successfully.
Say, you can create a discount rule offering 10% additional discount for customers when they reach a specific cart total before proceeding to the payment page.
Dynamic discounts for cart deals:
The following is a discount rule which offers a 30% cart discount if the customer has a minimum of 5 quantity and maximum of 20 in the cart.
Step 1: Name your cart rule and set the discount type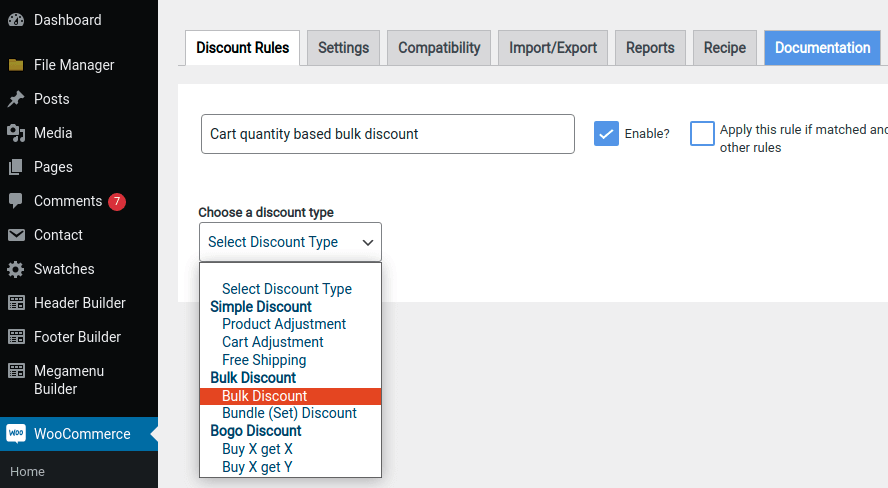 Step 2: Go to Filter -> choose "All Products"
Discount -> Create the cart rule with discount values


Step 3: Set up the condition for cart quantity limitations in the Discount rules


Output: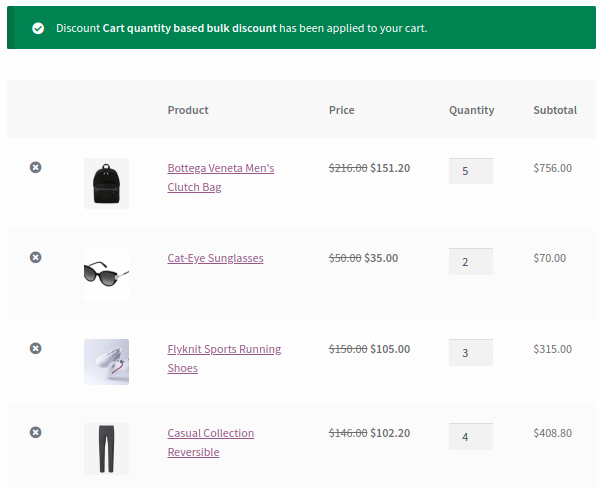 5. Buy One Get One (BOGO) Free Discount
BOGO – Buy One Get One discount is a well-known marketing strategy followed by both online and retail stores. Trust me, BOGOs still works. Online shoppers are always crazy when they hear about a 'Free' discount.
Well, BOGO discount is the smart way to improve your customer engagement rate and clear the pending stocks in your online inventory as well.
Dynamic Discount BOGO deal:
The following WooCommerce discount rule offers a free discount on the same product under the BOGO (Buy X Get X) deal. i.e, the customer buys a sports sneaker and gets the free same product in the cart.
Step 1: Enter the basic info in the WooCommerce Discount Rule section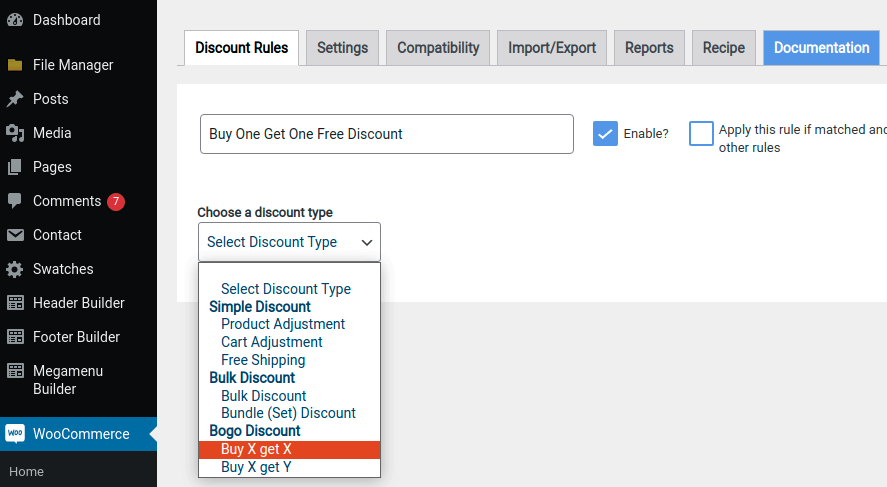 Step 2: Choose the product that you wish to implement BOGO deals

Step 3: Set up the discounts for the BOGO free product in the Discount Tab

Output: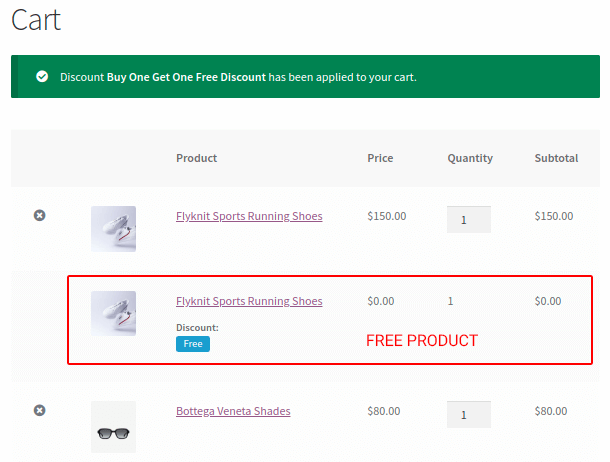 Note: You can also create BOGO discounts with variable product categories like "Buy one Trouser and get one cap free". Multiple variations and discount rules can be applied easily with Dynamic Pricing plugin for WooCommerce.
6. Product Bundle based Dynamic Pricing
Bulk advanced product rule creates a dynamic discount for multiple sets of product all at once.
Dynamic Pricing Product bundle: The following discount rule says when the customer buys three products together, i.e Product A + Product B, the customer will get a 20% on all the individual products in the bundle.
Step 1: Create a new Pricing Rule for the product bundle dynamic pricing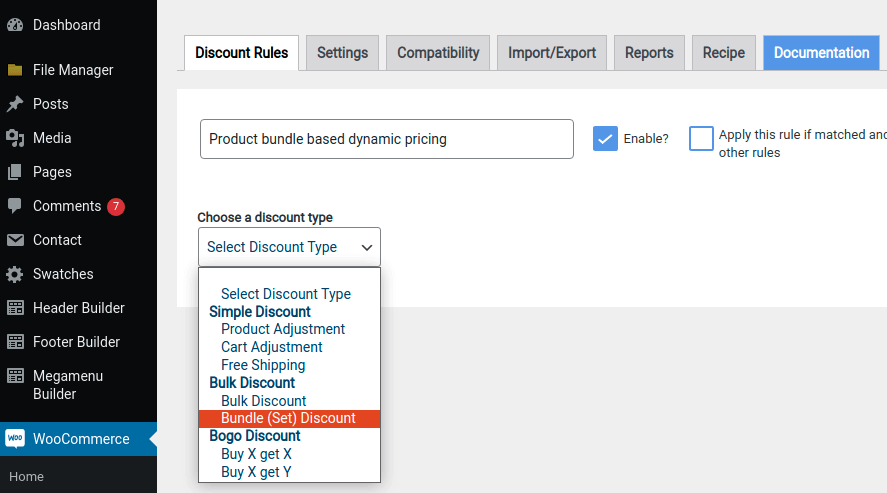 Step 2: Choose the list of products for bulk product dynamic pricing

Step 3: Offer Discount Percentage for the bulk products that you've selected in the previous steps

Output:
Note: Product Bundle based Dynamic Pricing applies accordingly in a cumulative method (i.e)., A number of quantities in the cart will be added & if it satisfies the given condition, a certain percentage will be applied to the cart.
7. Shipping region offers
Sometimes, popularising the brand in a particular locality will gather you quick audience. Localized branding is one strategy to grow your brand in a steady graph. So, what is the pricing strategy to achieve localized branding? Create discounts for specific shipping addresses.
Dynamic Pricing Shipping discount deal: The following discount rule is to offer a 30% shipping discount for online shoppers from United States.
Step 1: Edit discount rule section
Complete filling the data in the general section as shown in the below screenshot.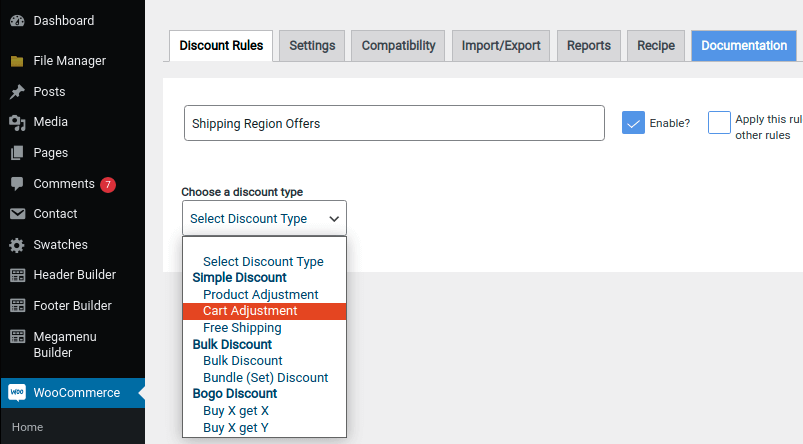 Step 2: Edit Cart Rule Conditions
Filter -> Choose "All Products"
Discount -> Provide your desired dynamic discount value in this section

Step 3: Enter Discount Rules
Now, select the country that you wish to provide the dynamic shipping discount.


Output:
After creating your WooCommerce shipping discount, you'll find the output as like the below screenshot.
8. Subtotal & Free Product Rules
Sometimes business is more than just making a sale. Creating happy customer relations is the way to craft your brand's future. Ready to make your customers smile? Now, you can club Free offers and Gifts along with any cart discount rule.
Dynamic Pricing Deal: The following discount rule is to offer a 10% percentage discount to customers when the cart subtotal reaches a minimum order value of 300
Step 1: Edit the Discount Rules section and set the discount rules name & discount type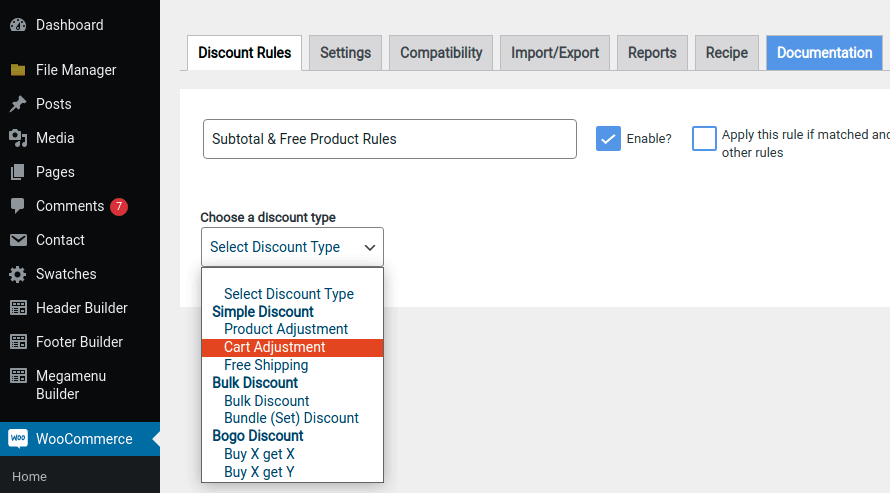 Step 2: In Filter -> Choose -> All Products. Discount -> Set your discount percentage value

Step 3: Edit Conditions for subtotal discounts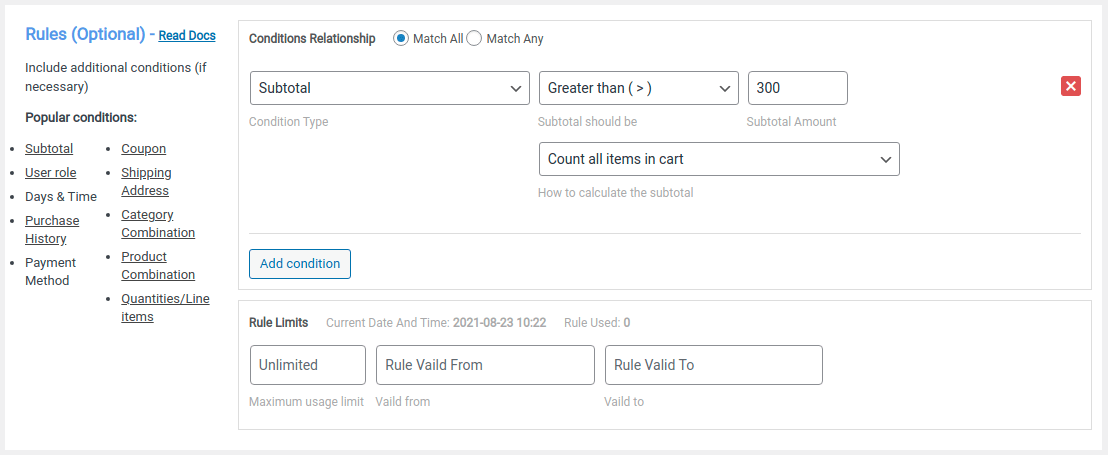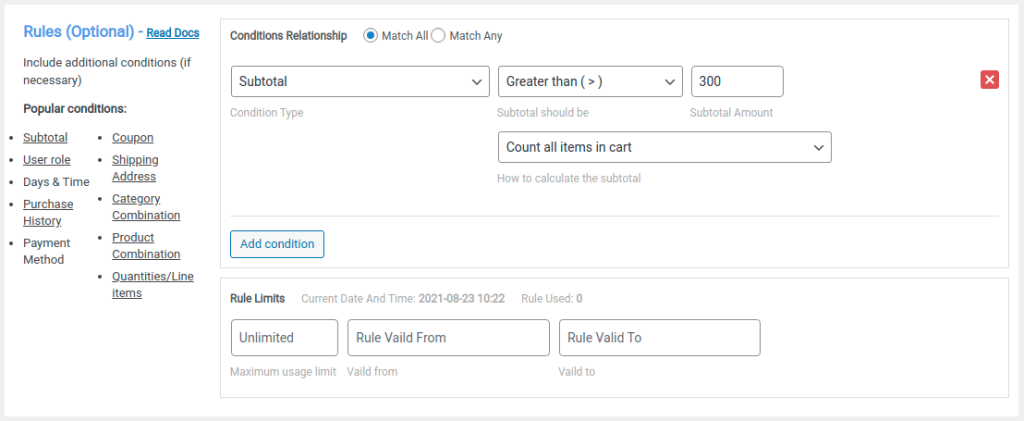 Output: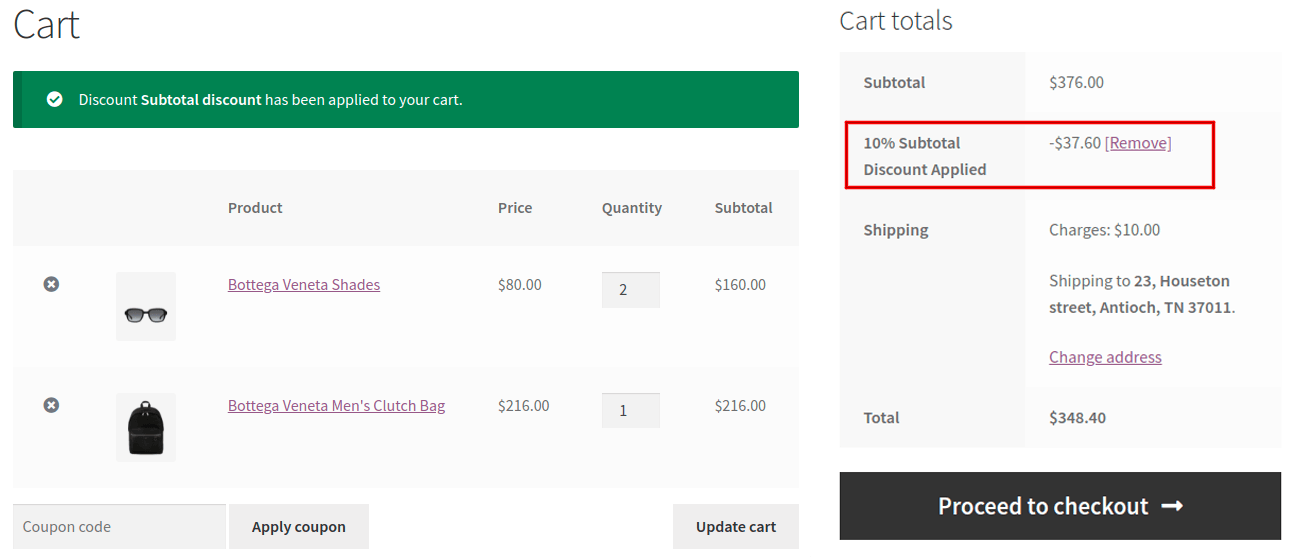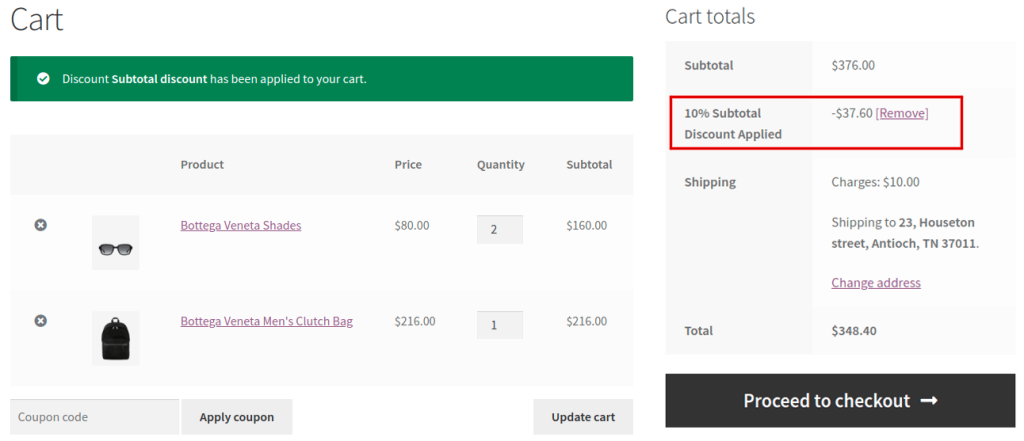 Free Product Purchase Rules: Also, you can change product price dynamically in WooCommerce at a 100% discount and provide a free complimentary offer.
It's a simple process, Choose -> Specific Product -> Create 100% discount value.


Output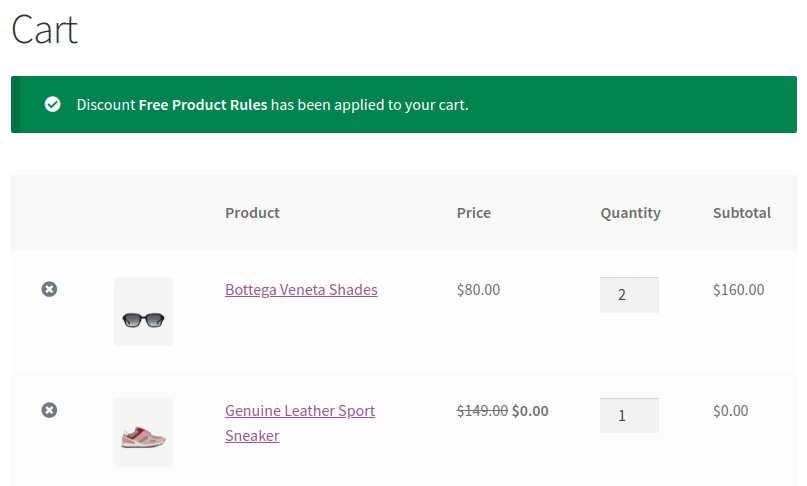 9. Coupon-based Dynamic Discounts
Who in this online shopping world doesn't like coupon discount? I bet nobody denies discount coupons.
So, ready to create your WooCommerce store coupon? Well, just make sure you have enabled WooCommerce coupons before creating one. Creating a WooCommerce coupon ain't a tough ask with this dynamic discount plugin.
Check out the simple video tutorial to enable your WooCommerce coupon functionality.
Step 1: Select the percentage discount in the WooCommerce coupon section to get started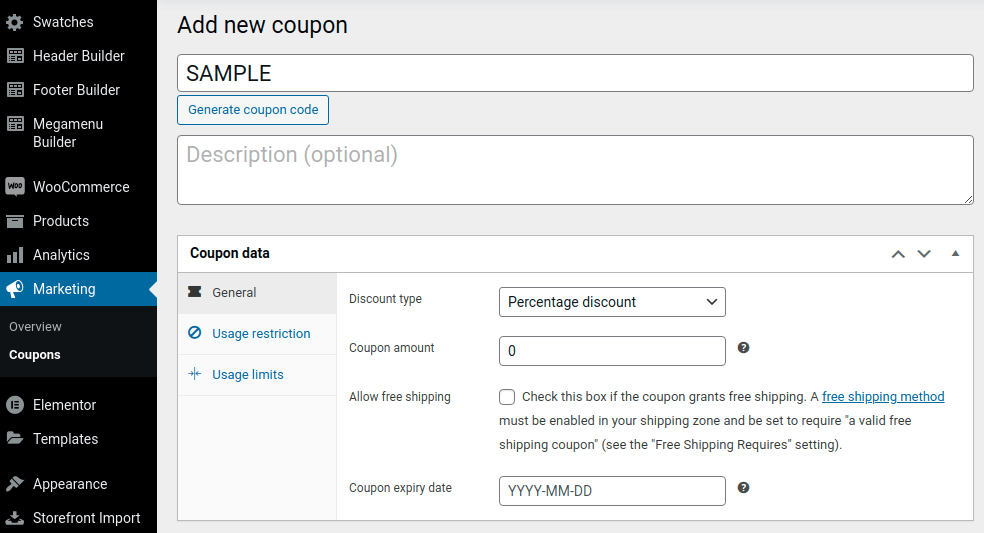 Step 2: Give your discount rules a perfect name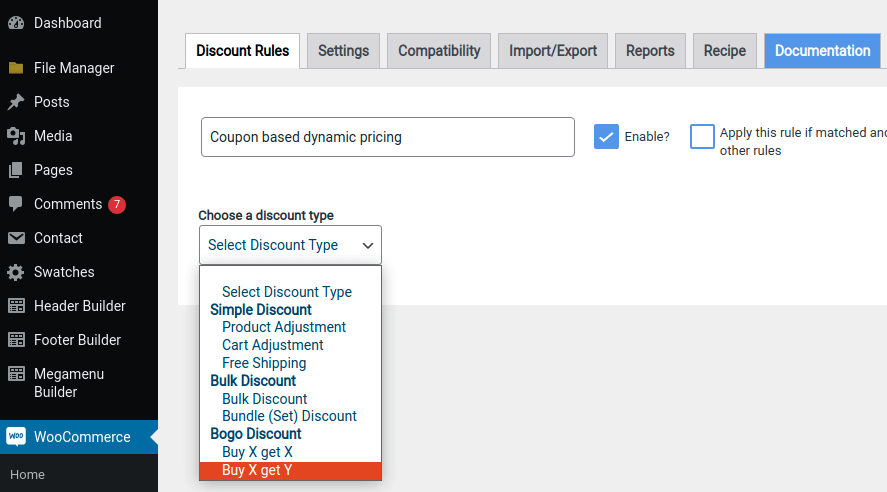 Step 3: Choose the specific product to apply the coupon
Step 4: Edit the discount price rule for your Coupon Discounts


Output: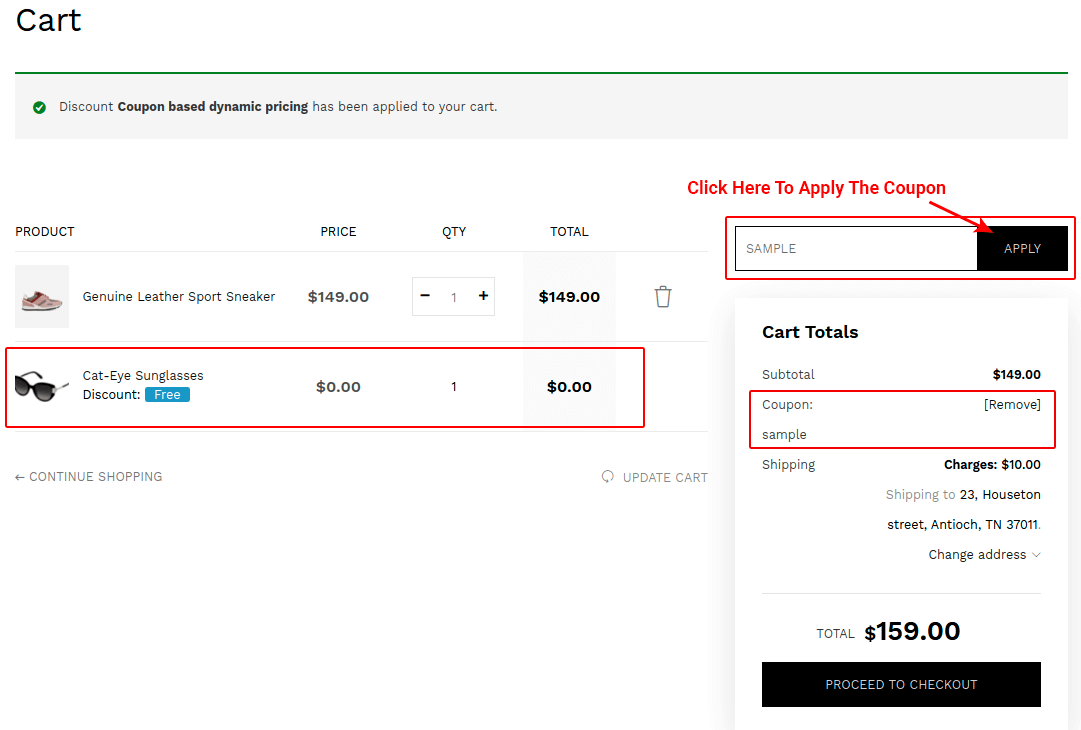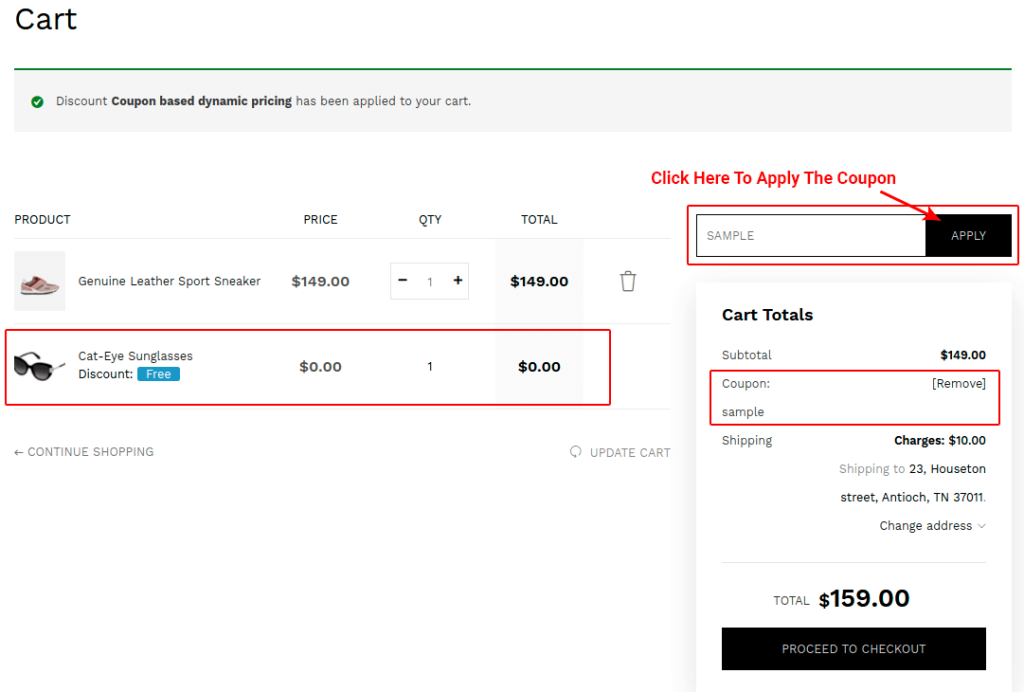 10. Percentage Discounts
The most common type of discount that everyone one of us finds both in online and retail stores is percentage discounts.
Well, you can create percentage discounts for single products, multiple products, a single category, multiple categories, single product variant, total cart and much more.
Are you just starting your WooCommerce store? Then, creating percentage discounts is the best idea to start your online discounts.
Step 1: Edit the discount rule section in the WooCommerce Discount Rule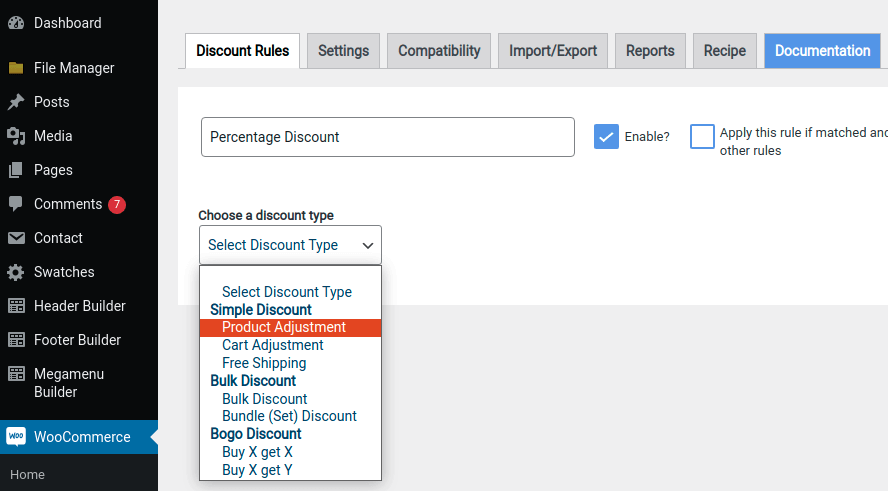 Step 2: Select any product(s) or choose all products & set the percentage value for the implementing percentage discount

11. Purchase History based Discounts / Loyalty Discounts
Has it been long since your earlier customers shopped at your online store?
Here is dynamic pricing idea to bring your old customers back. You can create discounts and coupons to your existing customers based on their purchase history. This will definitely bring your old customers shop again at your WooCommerce store. Also, the retargeting strategy works well here for up-selling your new products as well.
Before creating your purchase history based pricing discount, do check on these 7 major conditions,
First Order
Last Order
Last Order Amount
Number of orders made
Number of orders made with following products
Number of quantities made with following products
Total Spent
Purchase history based dynamic pricing deal:
So, the customer gets a 25% percentage discount on all products if the customer has purchased for a minimum of 500 till date at your online store.
Step 1: Create a New Discount Rule based on purchase history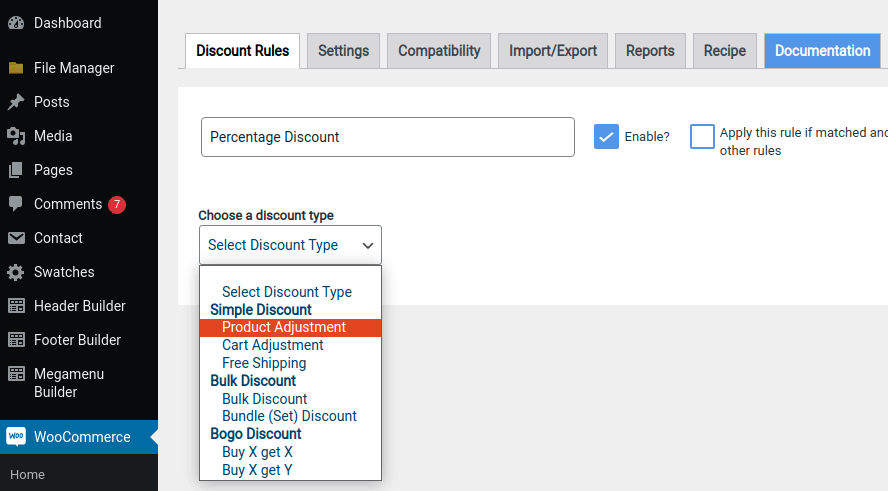 Step 2: Choose your Order Status from the drop-down menu as seen in this screenshot

Step 3: Set the Discount Value in the New Price Rule section under Discount Tab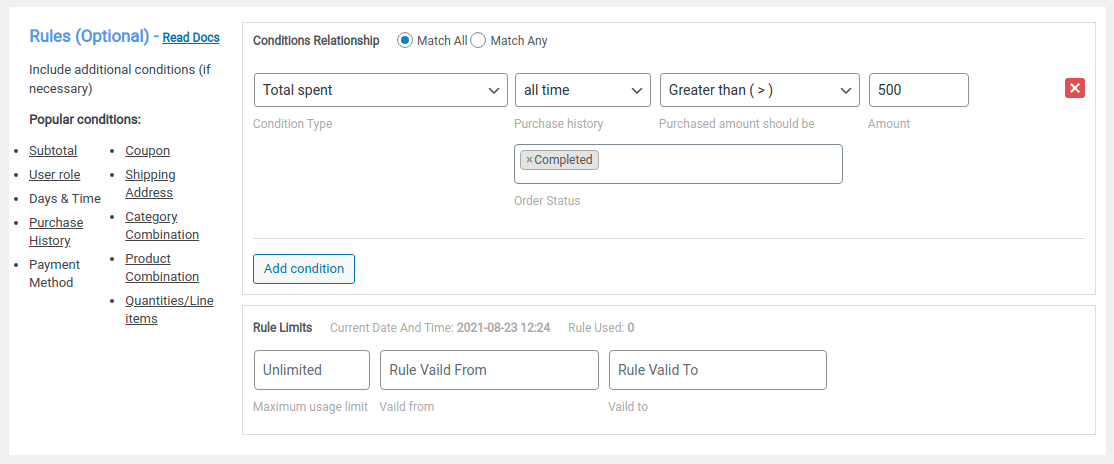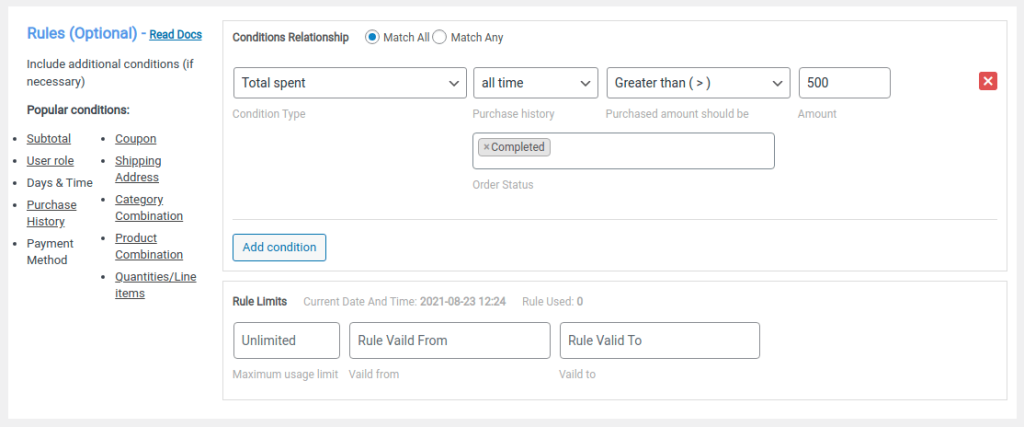 How to set up Advanced Dynamic Pricing for WooCommerce Discounts?
The first thing to do is to upgrade your WordPress website to WooCommerce store. Now, configuring of WooCommerce Dynamic Pricing can be done without any mishap.
Download WooCommerce Discount Rules plugin from the official WordPress plugin repository.
You can simply install WooCommerce Discount Rules with a single click via your Plugin section.
WordPress Dashboard -> Plugins -> Add new. Now, search for "discount rules" and install the WooCommerce Discount Rules plugin effortlessly.
Once activating the plugin, you can start creating WooCommerce dynamic discounts with the support of flycart's documentation section.
Simple Dynamic discount rule:
The following discount rule follows the most basic dynamic discount strategy. Setting discounts based on the product quantity.
Step 1:
Add a new rule in the Discount Rules tab and enter the basic details.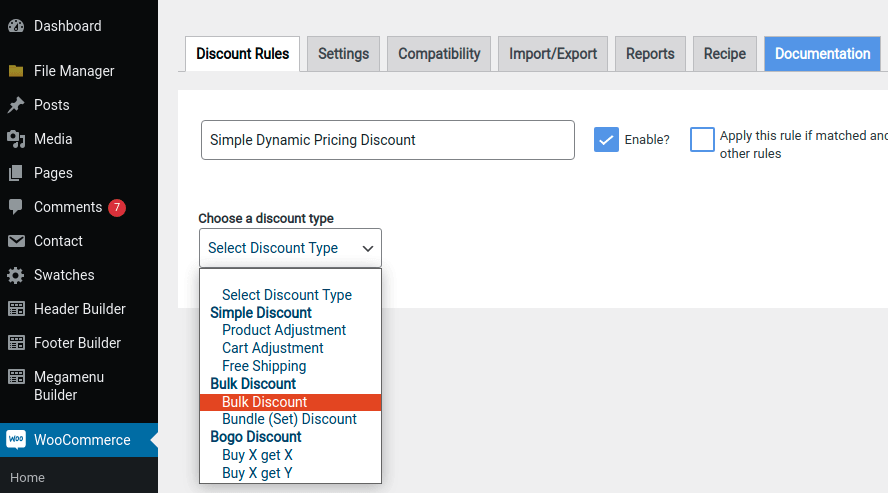 The general details include Order(Priority), Rule name, Rule description, Method, Validity. Select the method as Quantity based by product/category.
Step 2:
In the Conditions tab, you define to whom the discounts can be applied and on which product that discount rule applies.

It includes the following:
Apply to: Choose All products / Specific products / Specific categories from the dropdown and select the required products or categories. Our example requires "Specific products" to be selected because "Cap" is an individual product. You can select any number of products/categories you want.
Customers: Choose All Customers (recommended) or Only Given customers as you need.
Purchase History: Leave it unchecked as this discount has nothing to do with customer's purchase history.
Step 3:
Add as many ranges and define the different discount ranges. Let's create 3 ranges for this example.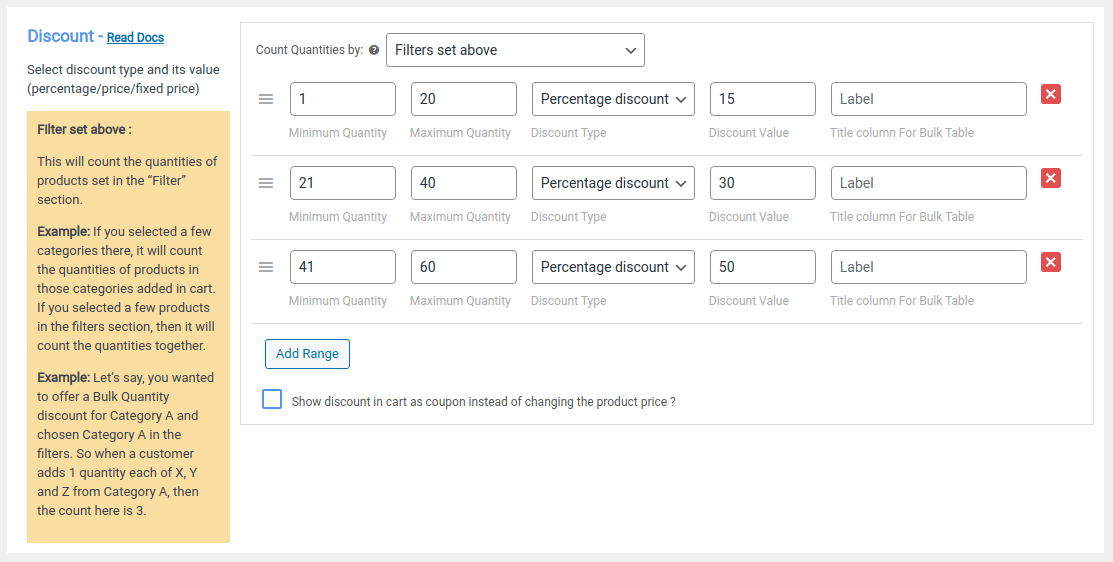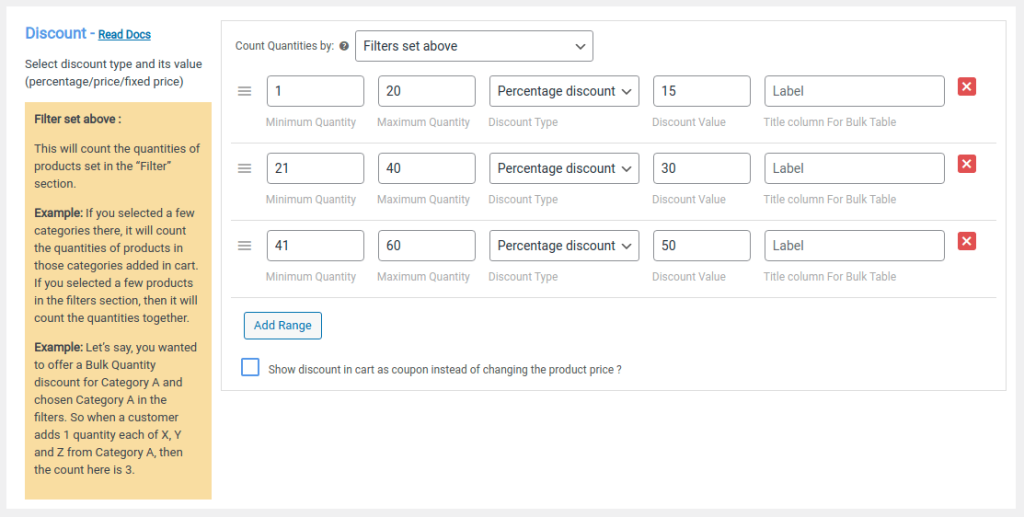 In each range, provide:
Minimum quantity – maximum quantity purchased
Discount type – Percentage discount / Fixed discount / Fixed price for item discount. We choose Percentage discount.
Value – Discount value of each range – 15, 30, 50.
Save the rule and your WooCommerce online store has implemented Dynamic pricing in the storewide discounts. So, you are targeting a larger customer base with a higher chance of purchase than any other pricing strategy.
How does it feel? Pretty great, isn't it? What are you waiting for? Let's install the plugin right away & boost your sales by 2x.
How to set up WooCommerce Dynamic Pricing?
Download your free copy from here and start configuring your WooCommerce Dynamic Pricing strategies now.
How to use WooCommerce Dynamic Pricing & deals?
Just create as many discount rules for all your product category with documentation support.
How much do WooCommerce Discount Rules costs?
WooCommerce Discount Rules extension is free forever. However, you need a Pro version for complex dynamic pricing with timely customer support.
How many WooCommerce discount rules and coupons can be created?
You can create a maximum of 3 discount coupons with the free version of the plugin. Well, upgrading to premium version will allow you to create any number of coupons.
What is an example of WooCommerce dynamic pricing?
"Buy 2 Caps and get 10% Off on your next purchase"
What are the types of WooCommerce Dynamic Pricing & discounts?
Single product pricing, Bulk product pricing, Category-wise pricing, Role-based pricing, Cart discount, BOGO deals, Product bundle dynamic pricing, Shipping address offers, Subtotal & free product rules, Coupon-based dynamic discounts, Percentage discounts and Purchase history pricing.
Is there any demo WordPress blog available for testing WooCommerce discount rules?
Check the hassle-free demo with pre-installed WooCommerce Discount rules.
What is meant by WooCommerce BOGO deals and how to create it?
BOGO – Buy One & Get One free. Refer to this article – Create BOGO deals.
Can I offer free products using dynamic pricing plugin for WordPress?
You can offer free products using dynamic pricing extension.